Realme started their European invasion with the Realme X2 Pro, which offered phenomenal value for money. The successor, the Realme X50 Pro, landed at a much higher price, it was and still is a great phone, but it was perhaps a little too close in price to the OnePlus 8 to stand out.
This year sees a shift in strategy, launching two flagship phones, this, which focuses on performance and another one next month which will focus on the camera.
This has allowed Realme to launch their performance flagship at a price point well under all the competition. It is a clever move that helps differentiate themselves from better-known brands.
Recently Featured: Huawei Watch 3 Review
Specification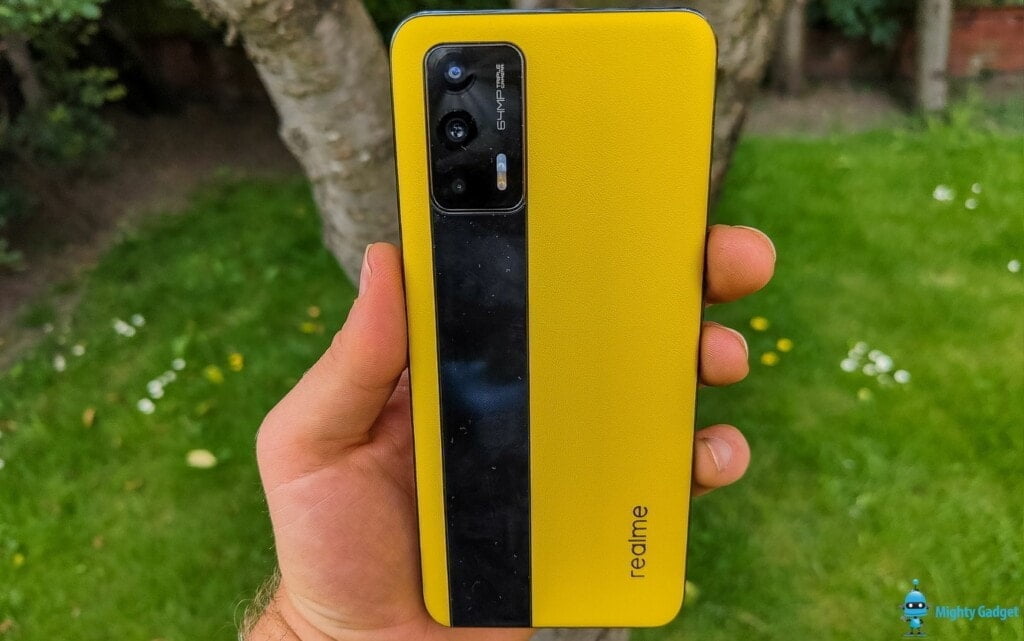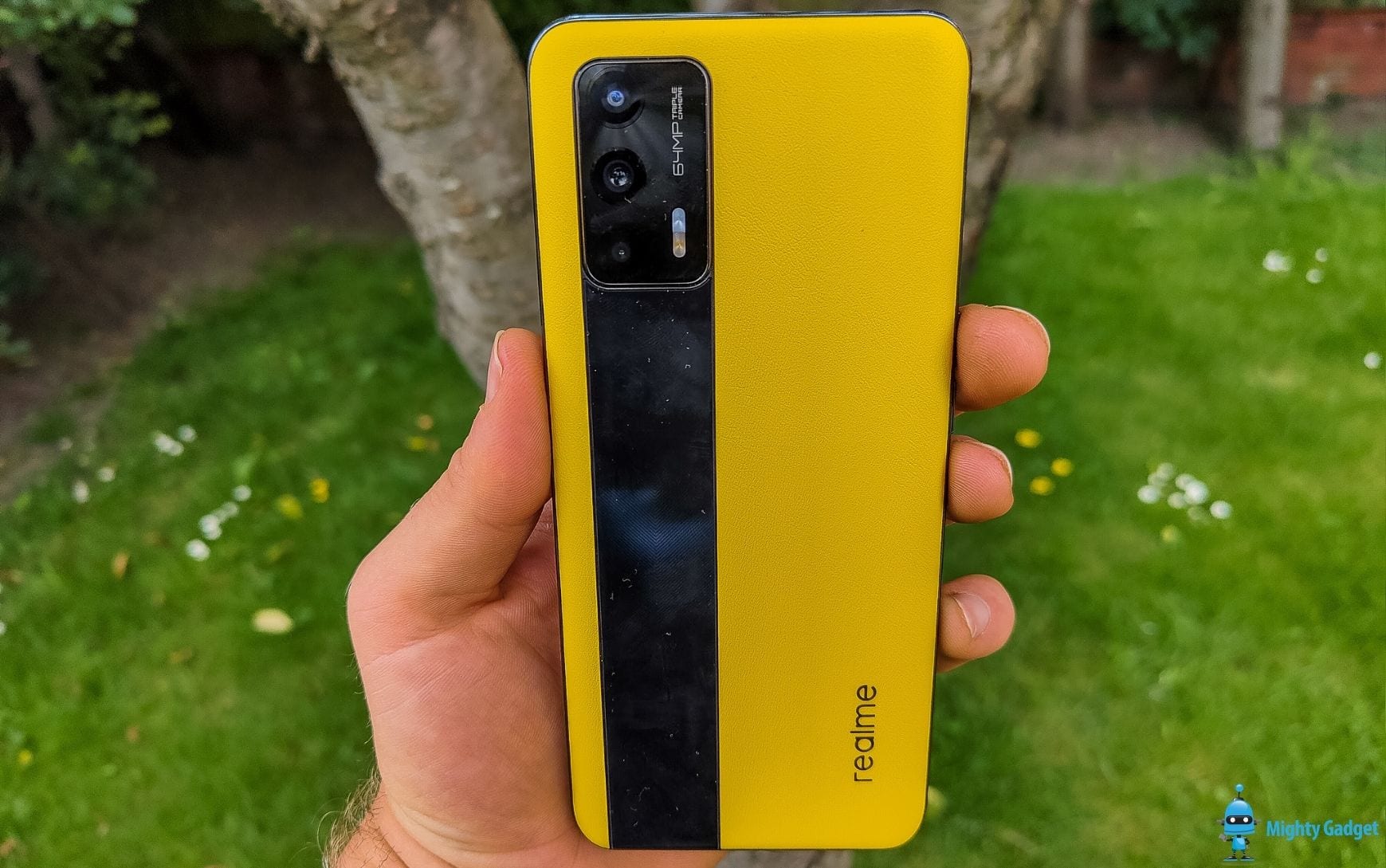 Display:

120Hz refresh rate with 360Hz touch sampling

Chipset: Qualcomm Snapdragon 888 5G
Rear Camera:

Sony IMX682 64MP primary sensor

Front Camera: 16MP In-display Selfie
RAM: 8GB or 12GB LPDDR5
Storage: 128GB or 256GB UFS3.1
Connectivity:

Dual Nano Card Slot – 5G support

Battery: 4500mAh with 65W charger
OS: realme UI 2.0 / Android 11
Audio: 3.5mm jack & SBC,AAC,APTX,APTX HD,LDAC Bluetooth audio codecs
IP Rating: None
Colours: Yellow/Black with Vegan leather, Blue or Silver with glass backs
RRP: £385 – £515
Price, Availability, Discounts and Alternatives
Normally I'd put the price and alternatives at the end of the review, but the selling point of this phone is the price. There also needs to be some consideration to how it is priced relative to the spec vs other phones equipped with the SD888 chipset.
Currently, there is no UK pricing or availability, but the EU pricing is:
8GB/128GB – 449 Euros with early bird discount of 369-Euros (£385 or £320)
12GB/256GB – 599 Euros with early bird discount of 499-Euros (£515 or £430)
Just to make things a little more confusing, the cheaper model will be available on AliExpress from 21st June, while the 12GB/256GB will be on Amazon (I assume Amazon.es) from the same day.
UK buyers should be able to get from either source but expect the 65W plug to be an EU two-pin.
Current pricing from other phones equipped with the Qualcomm Snapdragon 888:
Black Shark 4 (listed on the Black Shark website, but no stock)
OnePlus 9:
Xiaomi Mi 11
Realme is undercutting the entire market with the Realme GT 5G. However, they are launching two flagships this year, this model which focuses on chipset performance, and a second camera orientated model.
Both the OnePlus 9 and Xiaomi Mi 11 have much better camera specifications, and both have wireless charging. So, this is where some of the extra money is going. They are both amazing phones, but if you don't need all the feature they offer, the Realme is better value for money.
The Realme GT 5G has a better camera specification than the Black Shark 4, but a smaller display with a lower refresh rate and slower charging (65W vs 100W), then you save a minimum of £44, which is a little over 10% cheaper.
The best overall alternative to the Realme GT 5G would be the POCO F3 5G which is just £349 for the 8/256GB model. It has a slightly slower chipset and lower spec 48MP sensor, slower charging, but the battery should last much longer.
There is no denying that the Realme GT 5G offering incredible value for money.
Design & Display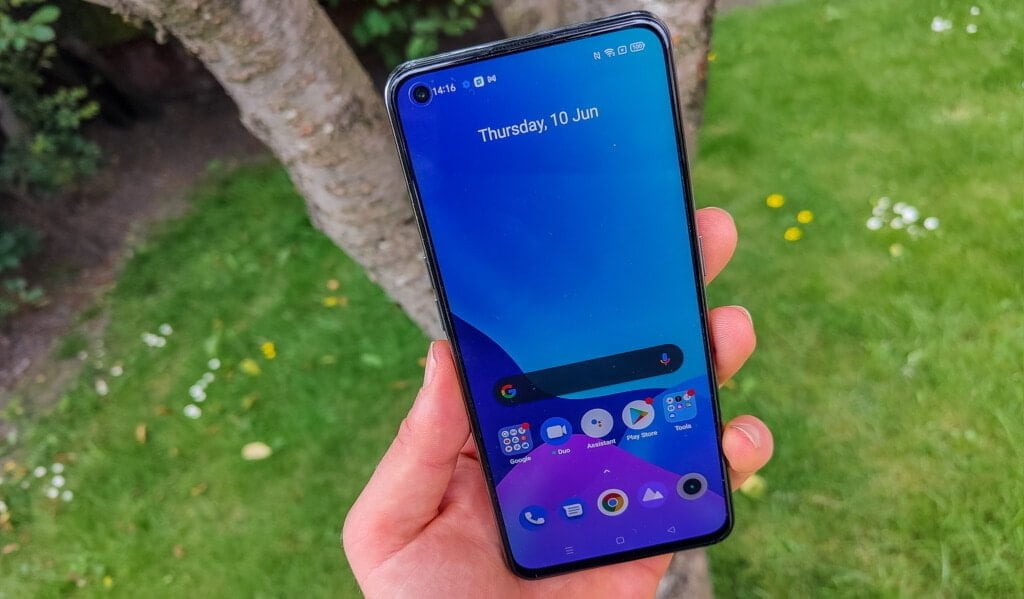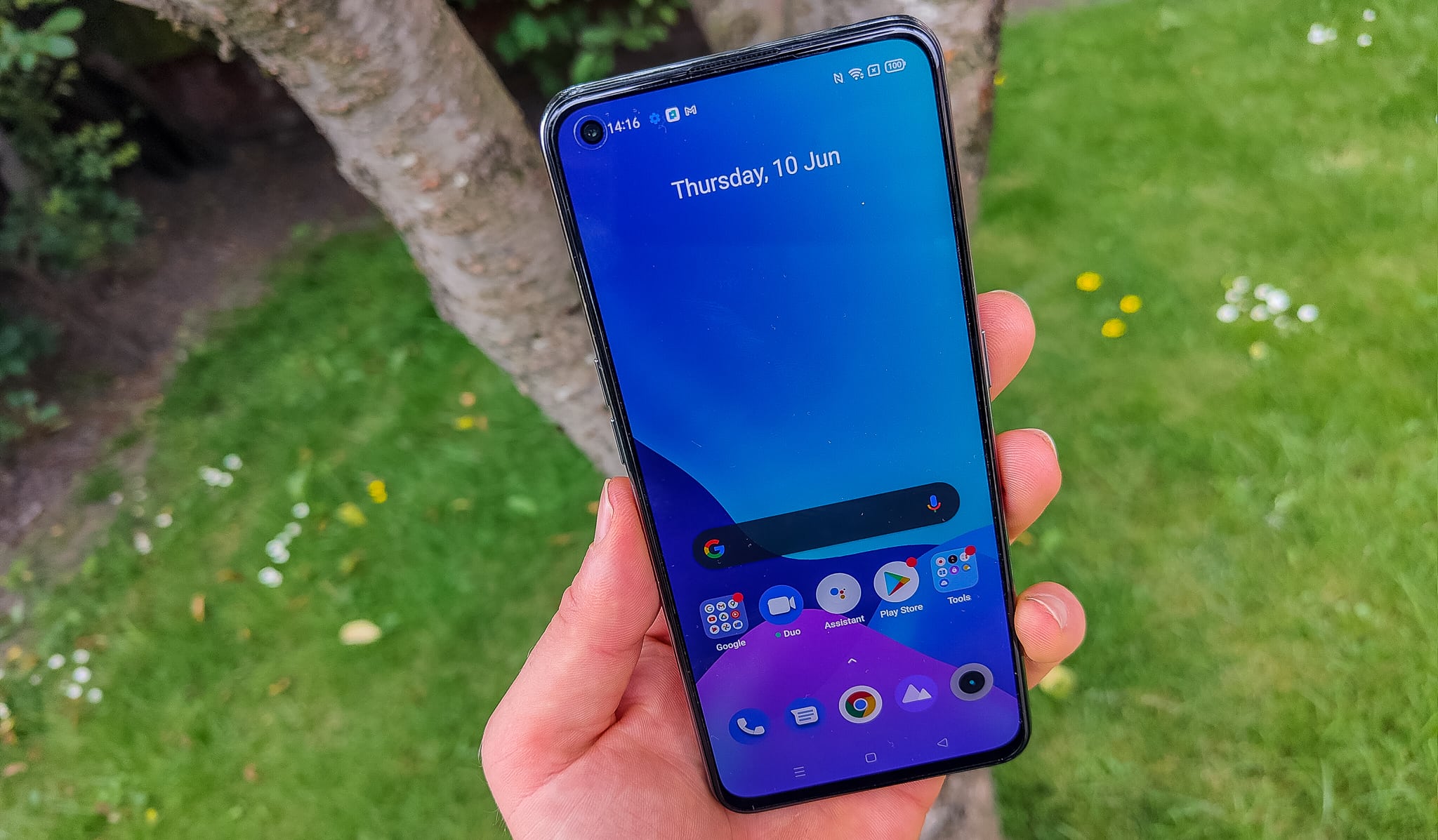 Vegan leather back
6.43″ Super AMOLED 2400×1080
120Hz Refresh Rate, 360Hz Touch Sampling Rate
1,000 nits max brightness
There are various colour options, but my review sample, and no doubt the most popular, will be the yellow vegan leather. A lot of people will comment saying that's just plastic, but that does the phone a disservice. It is textured plastic which feels like leather, rather than just a generic plastic back. It looks fantastic, and the overall build quality and aesthetics of the phone are outstanding, considering the price point.
The only two things that differentiate the design of this vs premium-priced flagships is the lack of a curved display and the inclusion of a 3.5mm headphone jack. Many people would argue a flat display is not a negative at all, and 3.5mm is a positive. The display does have moderately large bezels by flagship phone standards, it is not a huge issue, but it just looks a little less aesthetic than more expensive phones.
As far as flagship phones go, this is on the smaller end of the scale with a 6.43 inch giving you a height of 158.5mm and a width of 73.3mm. Only the Samsung Galaxy S21 and Asus Zenfone 8 are smaller, the OnePlus 9 is negligibly larger.
Like all phones with an AMOLED display, the fingerprint scanner is located under the display, but it is located quite low down in relation to the power button. As long as you make a decent scan during set-up, accuracy is good and unlock speed is excellent. Most phones perform about the same in this department now, just the occasional outlier offering superior performance.
Camera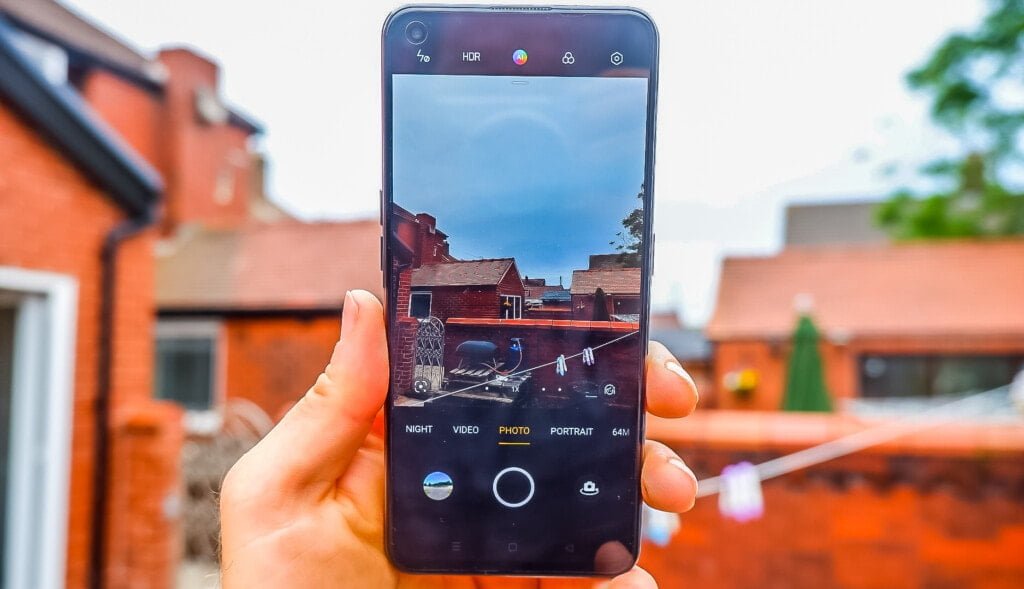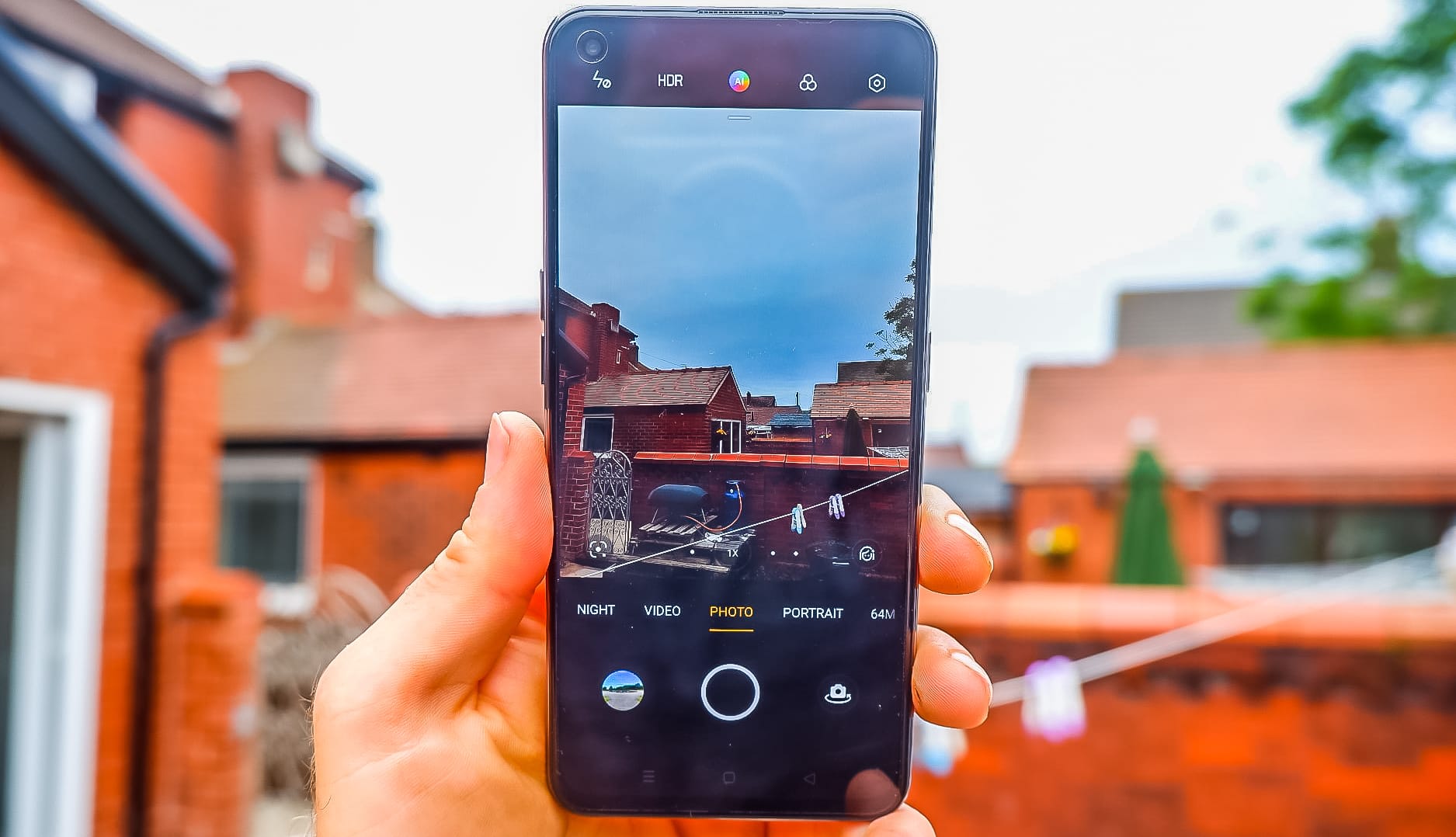 64MP Sony IMX 682 Camera
8MP Ultra-Wide-Angle Lens
2MP Marco Lens
16MP Selfie
This phone isn't being marketed as a high-end camera solution, you will have to wait for the next Realme phone for that.
The camera specification is, therefore, nothing remarkable, but the actual performance is pretty good. The 64MP Sony IMX 682 sensor is used on other Realme phones such as the Realme 7 Pro, and also the Poco X3, both of which are positioned a little lower down in pricing than this. However, it is a great sensor, and I find that the 48MP & 64MP Sony sensors comfortably outperform the equivalent Samsung sensors.
The overall performance from this 64MP camera will likely be more than enough for most users. I think everyone I know on Facebook doesn't really care that much about the camera, it is only people I follow on Twitter that obsess about performance.
The AI features of the camera greatly exaggerate colours, in particular, greens have a toxic luminescence about them. Depending on how strongly you feel about colour accuracy, you will either love it or hate it. Personally, I quite like it, photos look fun and vibrant, and I think most people prefer something visually impressive rather than realistic. 
The ultrawide camera performs adequately if the conditions are good and you don't zoom in on the details too much the images it produces are decent enough.  Colours are a little more subdued, it looks like the AI processing doesn't kick in as much.
Low light performance is OK. The night mode offers a significant improvement in picture quality thanks to the extended exposure time. It can't compete with premium-priced phones but again, it is good enough. The below two examples shows a normal shot vs night mode. There is a Philips Hue lamp switch on at its lowest brightness to the far right, so you still need a bit of light.
There is no optical zoom lens, so you won't want to zoom in too much, at 2x digital zoom, you don't lose too much detail with photos still looking good.
Camera Samples
Performance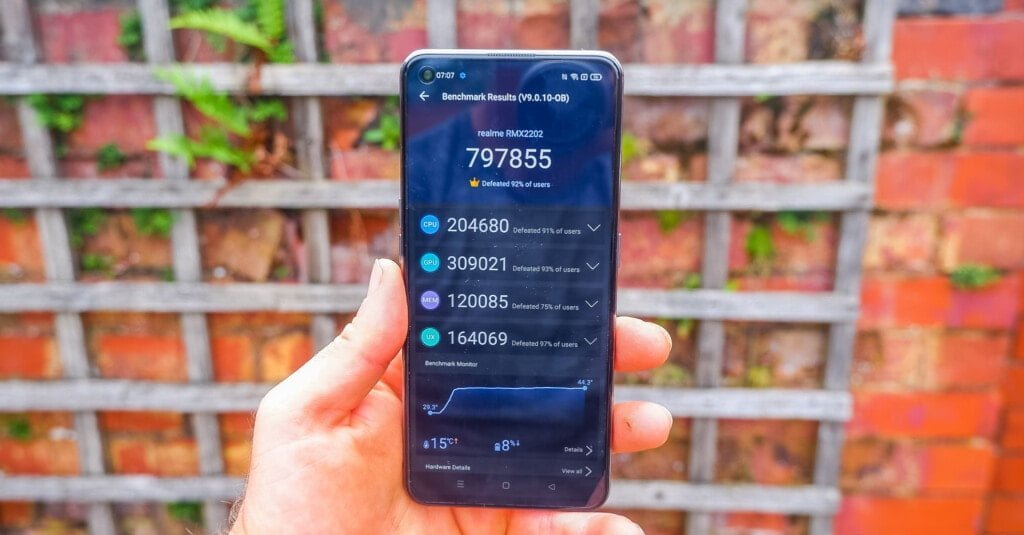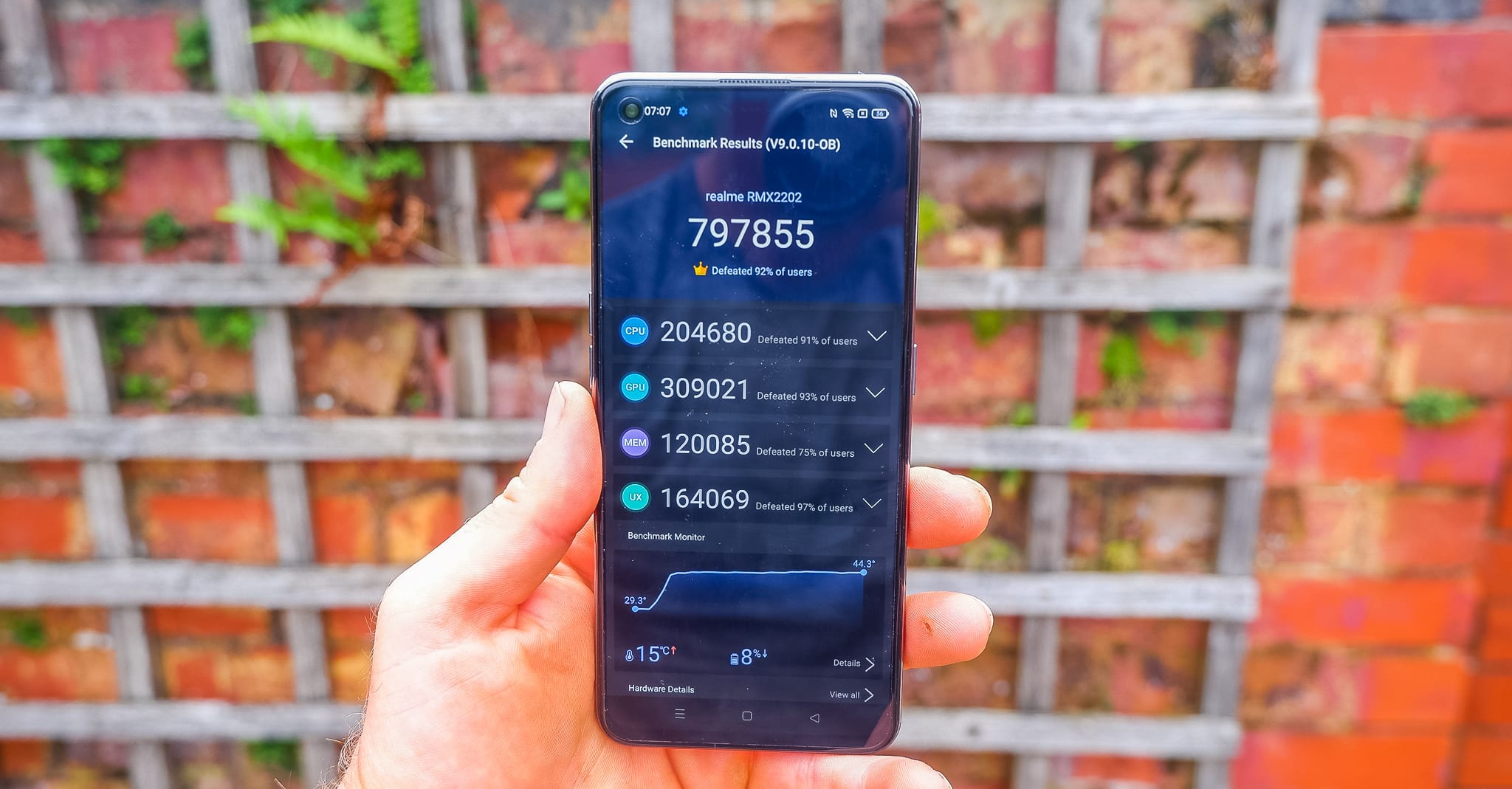 Overall performance is outstanding, which was always going to be the case with a phone running a flagship chipset. The combination of the chipset and 120Hz display means everything runs perfectly, and for my real-life usage, I never personally noticed a dip in performance.
This is an ideal gaming phone. I recently started playing Genshin Impact, which is one of the most challenging games to play on a phone, and this handles it with ease. Game Space indicates 50fps+ consistently with everything set to the max settings.
While the new Qualcomm Snapdragon 888 chipset offers an insane amount of performance, it does have a few issues affecting all phones running them. All phones appear to suffer from thermal throttling under prolonged high loads and poor battery performance in comparison to last years chipsets. How much throttling affects real-life usage is debatable. While I don't game for hours at a time, during my brief sessions with Genshin Impact, there were no obvious issues with throttling or dips in performance.
Benchmarks do reveal some severe throttling in 3DMark Wildlife, but this also happened with the OnePlus 9 Pro and Samsung Galaxy S21 Ultra.
I suspect a lot of this stems from the Arm Coretex X1 core, which specifically favours performance at the sacrifice of power efficiency.
Realme has countered a few of these issues with software tweaks and the inclusions of a stainless steel vapour cooling system.
Moving away from the throttling issues, the overall benchmarks this phone scores highlights just how powerful the SD888 is. This phone offers all the power of the most expensive gaming phones but at a much lower price.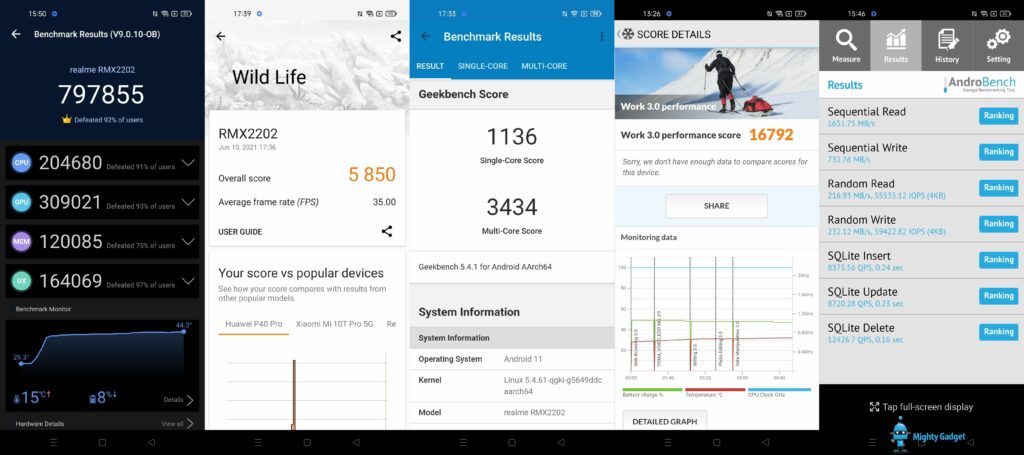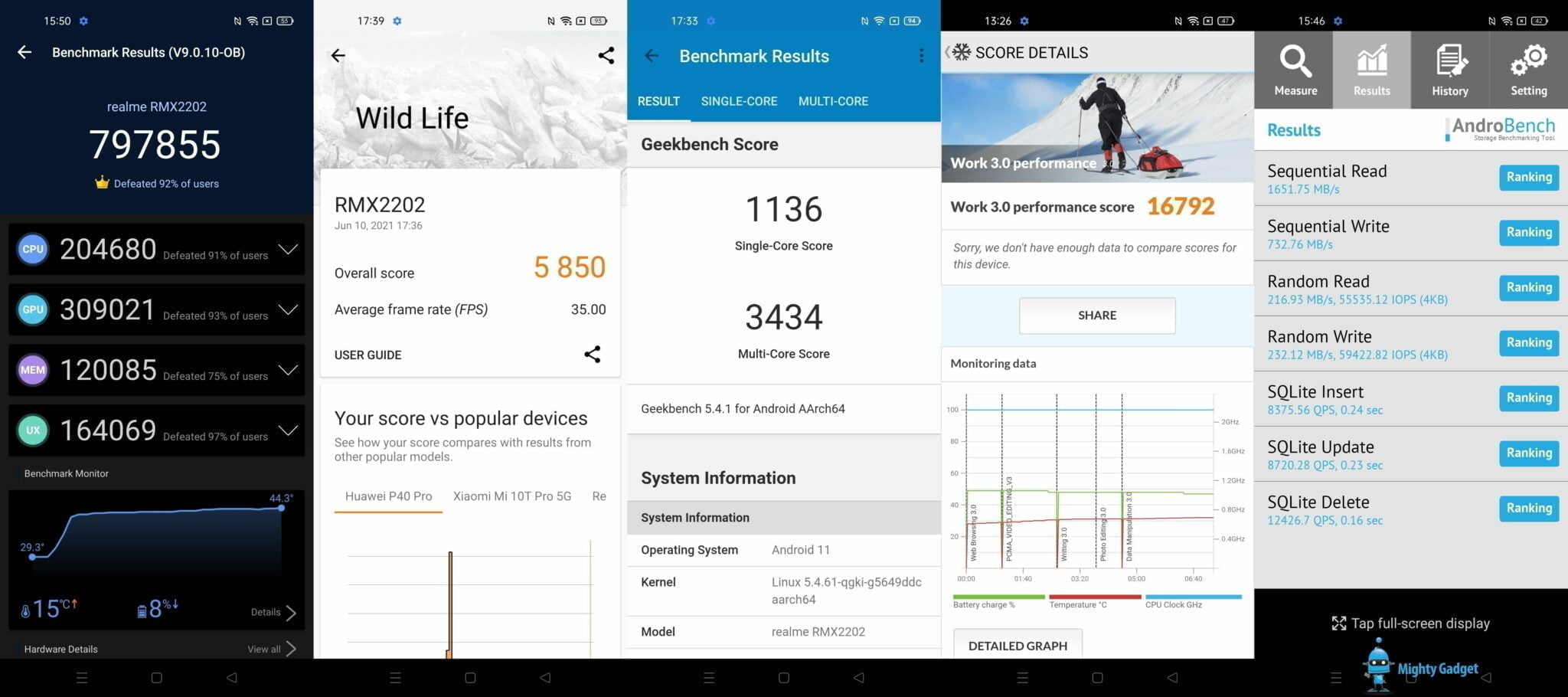 Wi-Fi
I noticed TechTablets had stated there were Wi-Fi performance issues with the Chinese import of this phone. I experienced no such issues, the phone connects at 2400Mbps with 160Mhz Wi-Fi 6 on my Zyxel access point, and it connects to my Virgin internet at 500Mbps. LAN speeds remain consistently well above 750Mbps moving around my house. In my office, it performed slightly better than the OPPO Find X3 Neo, with the signal showing stronger (33bBm vs 37dBm) on the Realme when both phones were in the exact same position.
Battery
65W SuperDart + 4500mAh Battery
No wireless charging
Battery performance turned out to be better than expected. It looks like the phone dials down the performance a little when not needed.
This is particularily true when running the PC Mark 3.0 Battery test. The first few runs appear to achieve scores of over 15K, but this quickly drops down to a little below 12K, which is still an impressive score. The end result is that this achieves a run time of 13h 58m which is 5 hours longer than the OnePlus 9 Pro and nearly 4 hours longer than last years Realme X50 Pro review. Whether this behaviour is accurate for real-world usage is a question I can't answer, but the phone does seem to perform better than I had expected.
Overall, the battery does better than I had expected, but I'd prefer better. The 65W charging mitigates some of these issues, topping up in the afternoon will take a few minutes and a full charge will take a bit over 40 minutes.
Sadly there is no wireless charging, which I have grown to love, and it is something that helps with phones that have slightly shorter battery lives.
Software
The phone runs Realme UI 2.0, which is based on Android 11. There is a small amount of bloatware installed, including apps such as LinkedIn, Booking, SoLoop, WPS Office, Agoda and a few others. It is far from the worst offender but
Realme UI itself is the same as the other Realme phones I have used, I have grown to like it.
Realme have a handy Game Space gaming overlay that allows you to view resources and apply performance tweaks. It works quite well and helps the phone compete with the competitors that are specifically branded as gaming phones.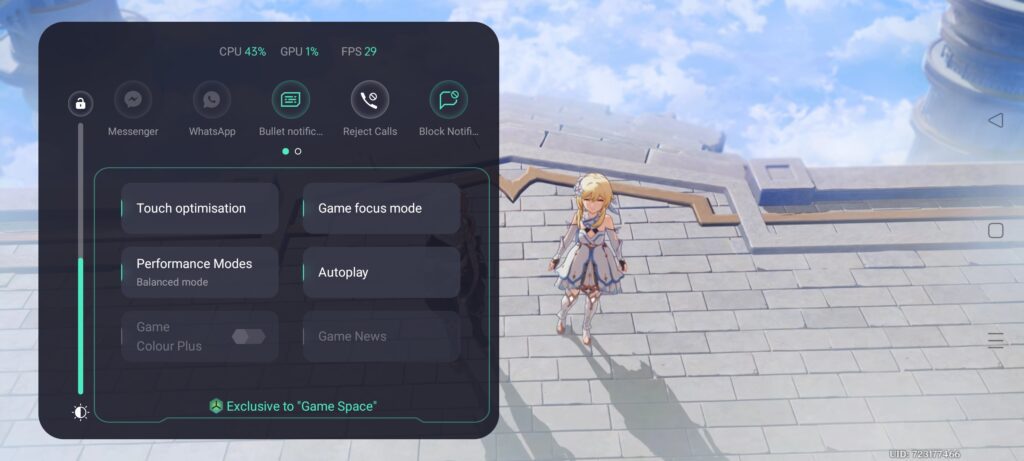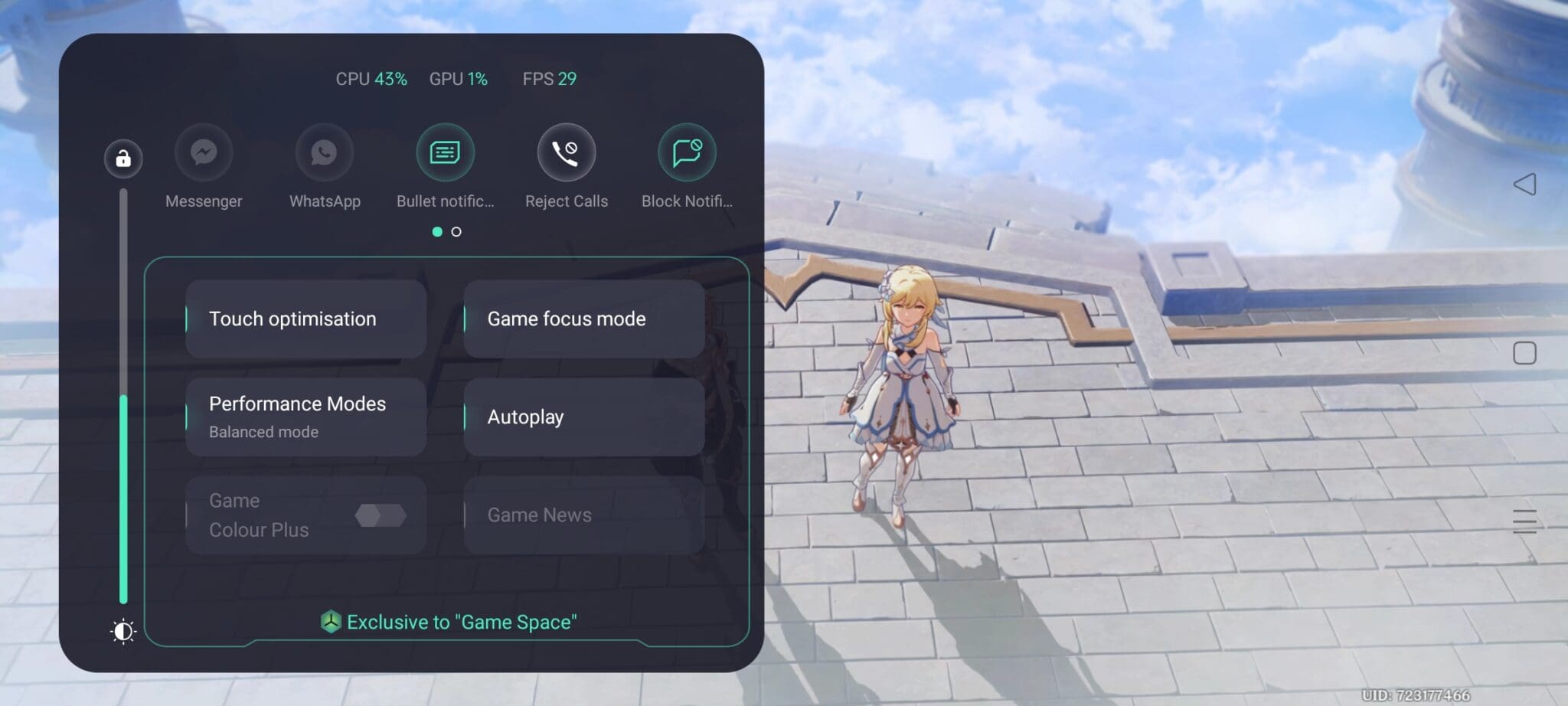 Overall
The Realme GT 5G offers incredible value for money. It is a bit of a no-frills flagship, but that's exactly why it is so affordable.
The main weakness of this phone is the camera, but even that is pretty good considering the price. The Sony IMX682 64MP primary sensor is a decent little camera that is likely good enough for most people. The 8MP ultrawide sensor is about the same quality you find on phones going all the way down to sub £200, it is OK but certainly nothing special.
The incredible performance of the Qualcomm Snapdragon 888 chipset comes with costs. Thermal throttling and middling battery life are issues, but these problems exist with all other competing SD888 phones. It looks like some software tweaks aided by the advanced cooling help reign in some of the problems with this phone, but there is still a chance you will need to top up the battery towards the end of the day if you use the phone a lot.
If you want the fastest phone possible at a reasonable price, this is it. It is a superb choice with no other phone directly competing with it, in my opinion.
Realme GT 5G Review
Overall
Posted by Mighty Gadget Blog: UK Technology News and Reviews