Following the announcement of the MediaTek Dimensity 1200, Realme were quick to tease a new phone based on the chipset, which was later confirmed to be the Realme X9 Pro.
Perhaps to get ahead of unofficial leaks, Realme have sent out the exact specification of their two new flagship devices, the X9 Pro, and then confirming the rumoured Realme Race Pro.
The spec sheet covers all the major details but doesn't go into detail about things like the exact camera specification, or other minor features like IP ratings etc.
On paper, both phones sound amazing.
Q1 2021 Launch Dates
The two phones are due to arrive in Q1 2021, I expect they will keep the launches separate to increase exposure.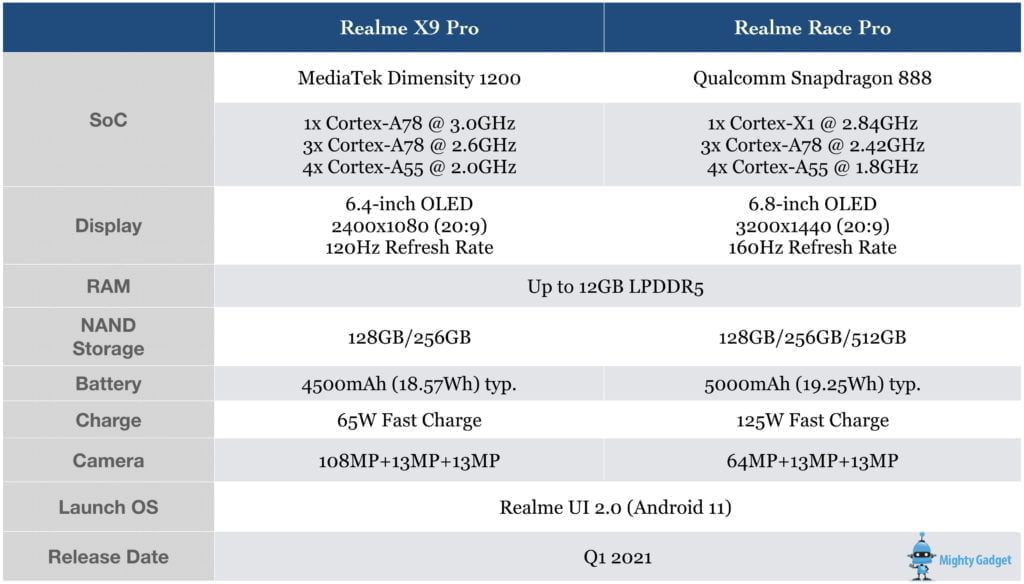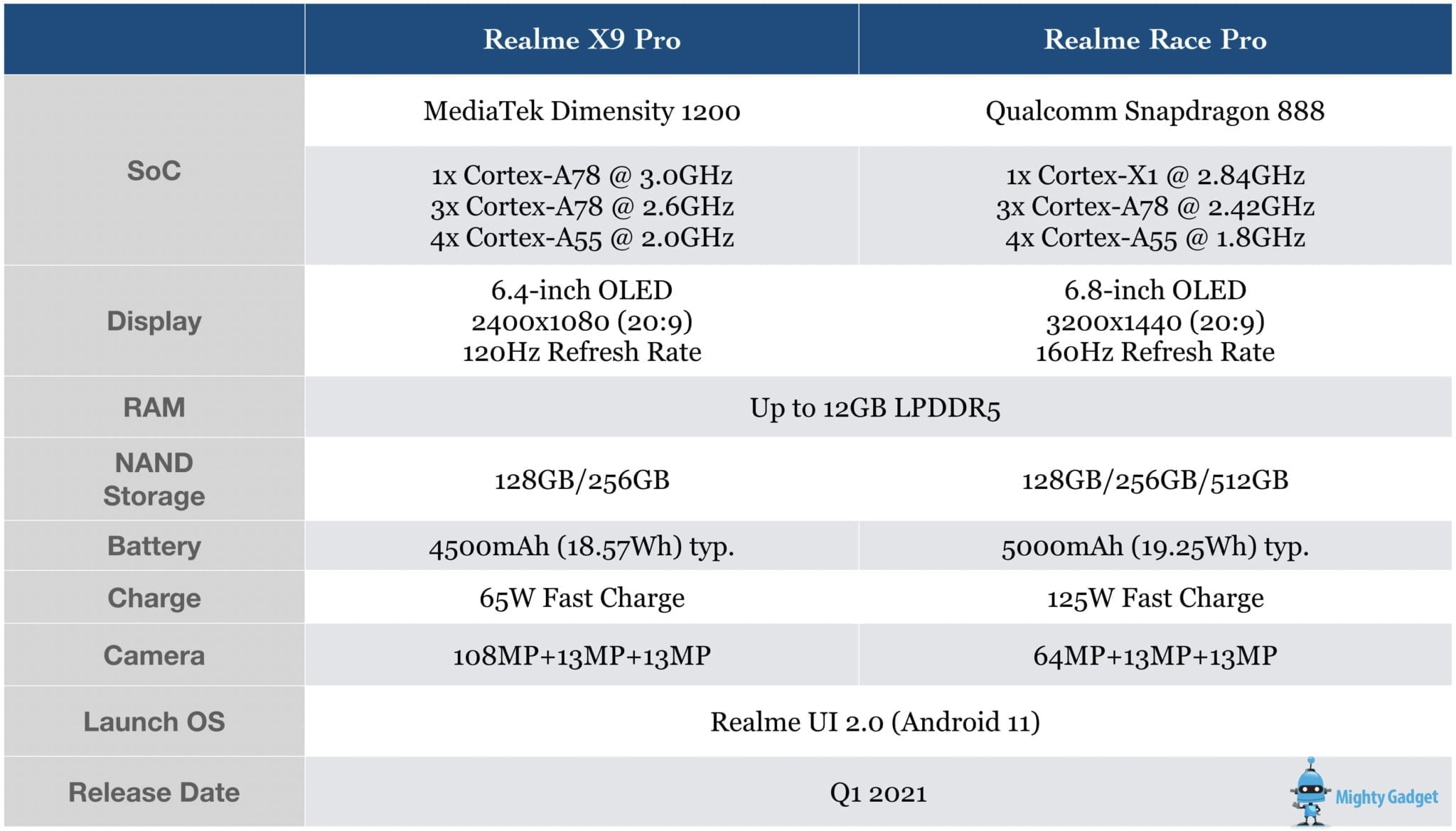 Realme X9 Pro
SoC: MediaTek Dimensity 1200
Display: 6.4inch OLED 2400×1080 120Hz refresh rate
RAM: up to 12GB LPDDR5
Storage: 128GB/256GB
Battery: 4500mAh
Charging: 65W fast charge
Camera: 108MP + 13MP + 13MP
Launch OS: Realme UI 2.0  (Android 11)
With the cameras of both phones, this is almost certainly 13MP ultra-wide with a 13MP zoom lens, likely 3x
Realme Race Pro
SoC: Qualcomm Snapdragon 888
Display: 6.8 inches 3200×1440 160Hz
RAM: up to 12GB LPDDR5
Storage: 128GB/256GB/512GB
Battery: 5000mAh
Charging: 125W fast charge
Camera : 64MP + 13MP + 13MP
Launch OS: Realme UI 2.0  (Android 11)
Opinion
I like Realme a lot, they offer amazing value for money, and they specifications of both phones sound amazing.
Perhaps the only downside is I would have liked the Race Pro to have a 108MP camera, but it depends on what sensor they use for the 64MP lens.
It will also be interesting to see how the two phones are priced. I have speculated/hoped that the new MediaTek devices will allow brands to offer flagship devices at lower price points than the over increasing cost of Qualcomm phones, so the X9 Pro could offer a similar experience to the Race Pro, but at a much lower price. That's what I hope anyway, we will have to wait to find out.
Posted by Mighty Gadget Blog: UK Technology News and Reviews