The new Argus 3 Pro sits at the top of the range for the wireless cameras from Reolink. Compared to the Argus 3, you now get 2K video, and this is the first wireless camera from the brand to offer person/vehicle detection.
Specification
Image Sensor: 1/3″ CMOS Sensor
Video Resolution: 2560 x 1440 (4.0 Megapixels) at 15 frames/sec
Video Format : H.265; H.264
Field of View: Fixed lens, 122° (diagonal)
Infrared Night:  Vision Up to 10 meters (33ft) (LED: 6pcs/14mil/850nm)
Color Night Vision: With spot light on Up to 10 meters (spotlight: 2pcs/2W/6500K/230 Lumens)
Digital Zoom: 16X digital zoom
Audio: Two-Way audio
Detection : Person detection/vehicle detection + PIR detection up to 10M
Wi-Fi: 2.4GHz/5GHz
Reolink Argus 3 Pro vs Eufy eufyCam 2C vs Arlo Pro 3
The Argus 3 Pro is competitively specced against the other options. The eufyCam 2C has a Pro option which has 2K, but that is quite a bit more expensive than the Argus.
The main weaknesses of the Argus are the reduced viewing angle and lower battery life than the others, but it is cheaper.
Set-Up
Set up is similar to all the other Reolink cameras I have used in recent months, but with a few key differences.
Once you scan in the QR code to add it to your system, you will need to set up Wi-Fi on the camera. This is done by passing the detail via a QR code on your phone screen, and the camera picks it up.
The camera should be compatible with 2.4GHz and 5GHz. However, I was unable to get it working with 5Ghz; this could be due to my overly complex home network.
With this being battery powered, the video feed is not enabled 24/7, and therefore this does not work with the Reolink NVR or ONVIF compatible NVRs such as Synology or Blue Iris. Eufy does have ONVIF, but it works a bit weird with partial recordings and can be difficult to get working.
You will therefore have to use microSD or Reolink cloud; however, cloud recording isnt available in the UK yet. When it does launch, it looks to be competitively priced at just $3.49pcm for 5 cameras, with 30GB of cloud storage/30 days.
The camera comes with plenty of accessories for mounting, more than the Eufy 2C.
In Use
Day Time Video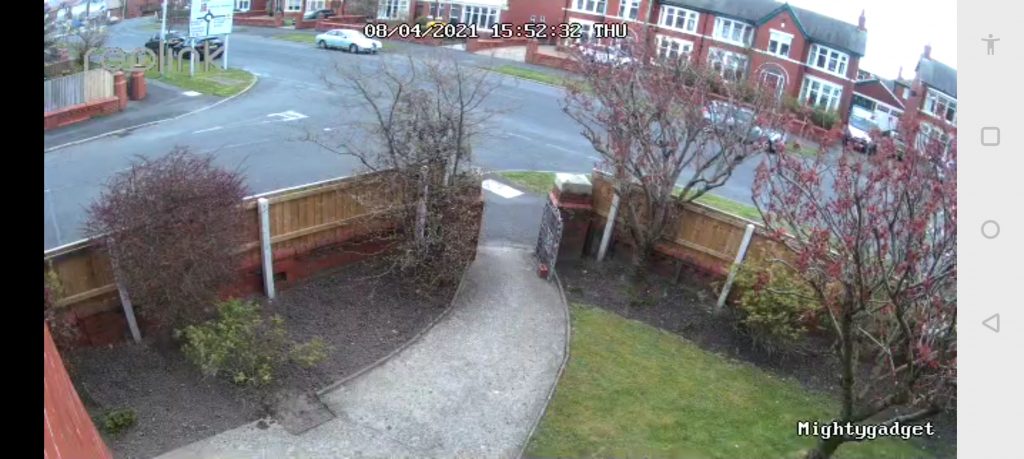 Like most cameras nowadays, day time video is good. The 2K resolution is definitely a big improvement over my Eufy
Night Time Video & Spotlight
Similarly, night time footage works well. While this doesn't use a Sony Starvis sensor when the spotlight activates, the camera switches to colour. The image pixelates a little as it switches to colour and back again, but less so than other cameras I have used.
Motion Detection
Like a lot of the recent wired Reolink cameras I have reviewed recently, and the eufyCam 2C, this includes smart object detection, which will reduce false alert by identifying people and cars.
Unlike the other cameras, there appears to be no option for zone motion sensing, so you just set the PIR sensitivity. However, this doesn't seem to have too much of a negative impact on performance as the smart detection filters out most of the unwanted notifications/recordings for you.
Person detections seem to work well; in the above video clip, it has caught my partner as soon as she enters the field of view and then provided enough footage
Battery Life
One of the reasons why I dislike wireless cameras is the battery. Eufy fixed that issue with the 1-year batter on the eufyCam 2 and the 6-month battery on the 2C
Reolink doesn't state a battery life. Just that it is 6500mAh. I have had it set up a few weeks now, and the battery appears to be around 50%. Depending on the events captured, I can see myself charging this every 6 weeks. No awful, but far from ideal.
You can extend the battery life with a solar panel, which only costs around £25. Reolink implies that this could keep your camera going indefinitely, which would give it a significant advantage over the Eufy and Arlo. I live up North, and I suspect those claims will not be quite accurate for the northern UK weather.
Price and Alternatives
The Argus 3 Pro is £108.99 per camera and does not need a home base or anything else to get up and running.
The eufyCam 2C is £229.99 with £40 off at the moment, so £189.99. That's for a two-pack then the add on cameras are £89.99. So it is cheaper if you want multiple cameras set up. The 2C is only 1080P, though. The eufyCam 2C Pro is £299.99 with £40 off currently taking it down to £259.99 so quite a bit more expensive per camera
The Arlo Pro 3 is a completely different price point at £419.59 currently.
The Arlo Essential Spotlight 3 is about the same price as the Argus 3 Pro, but 1080P and then of course, the ongoing costs of the Arlo subscription.
Reolink Argus 3 Pro Review Overall
The Reolink Argus 3 Pro is excellent and is the best alternative I have tried to the eufyCam 2C. It will likely cost a little more than the 2C, and I doubt the battery will last as long, but in return, you get 2K video and no requirements for a home base allowing you to purchase these individually.
While I much prefer wired POE security cameras as the main form of security surveillance in my home, wireless cameras are incredibly convenient. I still use the 2C in a couple of spots around my home where I have no wired up with Ethernet. With me having so many Reolink cameras with the Reolink app, I can see myself replacing the Eufy cameras with the Argus 3 Pro so I can have one unified app.