Following on from my review of the superb Reolink RLC-510A and RLC-810A cameras, I have been sent the brand new and yet to be released Reolink RLC-1220A.
It should be available soon, and you can buy it from here.
The is a monster 12MP camera offering a recording resolution of up to 4096×3072. Similar to the previous cameras, this adopts the latest smart object detection, allowing the camera to identify people and cars for improved alerts and making it easier to find important events that have been recorded.
One of my favourite things about Reolink is the flexible recording options, with this you can use the excellent Rolink NVRs such as the RLN8-410, MicroSD, FTP, or via any ONVIF network video recorder such as BlueIris.
Specification and Features
Image sensor: 1/2.49″ CMOS Sensor
Resolution: Default: 4096X3072 (12.0 Megapixels) at 20 frames/sec
Lens: f=5.0mm fixed; F=1.6, with IR-cut filter
Video Format: H.265
Built in microphone
Power: PoE or DC 12.0V⎓1A, <12W
Connectivity: One 10M/100Mbps; RJ45
Storage: MicroSD, cloud, or NVR
Set-Up
This is identical to all the other Reolink cameras I have used recently. With this review, I used MicroSD, the Reolink RLN8-410 NVR and microSD.
For microSD, you unscrew the plate, slot in the card and make sure the plate is properly screwed back down. Unlike the Ezviz C3X, there is no options to record 24/7 to microSD. You shouldn't really do this anyway, but SanDisk offer some ultra-endurance cards which should be able to handle the constant writes
Blue Iris – ONVIF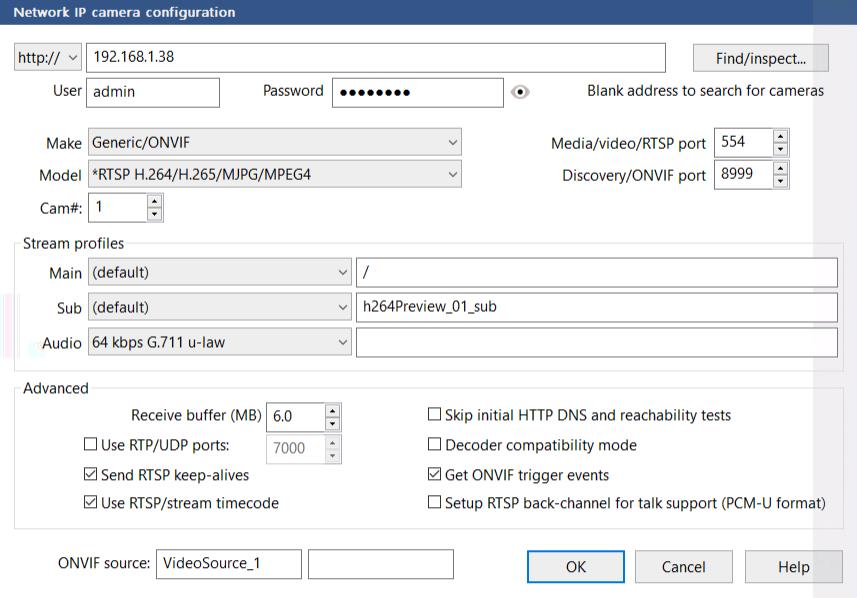 Blue Iris set up is as standard, I had no issues with the URLs, unlike the RLC-510A and RLC-810A. However, I have a moderately specced server, and when I added the camera with changing no settings, the CPU usage massively shot up.
Most people will need to enable the direct to disk recording option. You should also be able to reduce CPU usage further by enabling the sub-stream for the motion detection. The sub-stream URL is:
rtsp://admin:password@192.168.0.0/h264Preview_01_sub
With you replacing the password and changing the IP address to the camera. In Blue Iris you should just be able to add h264Preview_01_sub as the sub-stream URL.
Reolink NVR
Once I got used to the Reolink NVR it is super easy to use. The NVR auto-detects the camera so all you need to do it go into the admin on the NVR itself and type in your password.
Motion Settings and Alert Accuracy
Just like my previous reviews, this has the person and vehicle detection, this is one of the main selling points of this new range of cameras. It will dramatically reduce your push notifications and make it much easier to find specific events when you need to.
The above screenshots are actually for the 4K & 5MP cameras because I had switch the cameras over to compare video performance. For the 4K camera I had not set up motion zones, so being pointed at the main road meant I had almost solid blue on my timeline for motion alerts. Switching that to person only significant drops the number of events.
Then looking at the 5MP camera down my drive way, again, a large section of the timeline is blue, but switching it to person only drops it down to separate events which I can physically count (around 24).
Overall, there are not any significant events the camera has missed that I am aware of.
There are not technically any false positives that I can see, but it does seem to pick up things outside of the motion zone I have set up.
In general, this is all I need from a camera, however, my recent review of the Ezviz C3X has line crossing detection and object zones. It then has a built-in voice alerts and spotlight. So the security features are a bit better.
12MP Video Export
One annoying feature and this could be user error, is getting full resolution footage from the camera is not that easy.
The web interface won't run in clear mode. The mobile app appears to export in low quality.
Even the Windows app defaults to fluent quality when you try and export video (I only noticed this as I wrote this section).
So you options are to download direct from the NVR to USB, or the Windows app then switch to clear mode.
Video Quality
With 12MP, you may be concerned about the demanding requirements for storage and your network in general.
It looks like the camera will record in 30-min blocks by default to the NVR, these are typically between 1.1GB and 1.6GB with a bitrate varying between 5305 kb/s and 7921 kb/s.
Videos are in HEVC with a variable frame rate averaging 13fps to 18fps
In comparison, for a 30-min block, the RLC-810A has clips ranging from 690MB to 1.33GB while the RLC-510A is always 1.3GB which I assume is due to it being placed in a location that gets a lot of alerts.
Those file sizes may not seem that different, but the Reolink RLC-1220A is capped at 20FPS at full resolution, while the 4K model is 25FPS and the 5MP model is 30FPS. Dropping it down to 3K by 2K you can get 25FPS or 30FPS when you go down to 2304×1296.
Native resolution for the 4K model is 3840×2160 while the RLC-1220A is 4074×3072 which gives you 16:9 and 4:3 so the 12MP produces very square images. Then viewing angle for the 12MP camera is 67° horizontal and 41° verticle, but the 4K model is 87° and 44°.
So even though you have a much higher resolution, you get a more compact area of capture
Image Comparison: Reolink RLC-1220A vs RLC-810A vs Hikvision DS-2CD2386G2-I
I placed this close to where my 8MP Hikvision is located, there is probably about 1 metre separating them, but the angles are different. Zooming in on various objects, such as the road sign in the background shows that the Reolink does offer superior detail, it is a little closer to the sign and better positioned so does have an advantage, but the detail is definitely improved.
When I finished with the review I swapped the camera over with the RLC-810A. The angles are different because the camera is balanced on the ledge of my window sill.
Night vision on this appears to be strictly black and white, even though my street is very well lit. Video quality is good for black and white, but you do lose some detail. The previous road sign is completely unreadable. Things like registration plates become unreadable due to lights (though the Hivision also suffers from lights on registration plates).
12MP Reolink RLC-1220A Sample Video
Price and Alternative Options
The Reolink RLC-1220A will be priced at £98.99 direct from Reolink when it is launched. That's just £15 more than the 4K model or around £40 more than the 5MP model.
12MP cameras are quite rare and expensive.
The Zxtech BabyBullet or  Zxtech Premio are both 12MP and use a Sony Starviz sensor. I have never heard of this brand, so can't comment on the quality at all. There is no advanced object detection, but this shouldn't be an issue if you are using Blue Iris, which handles the motion detection itself.
Going with a reputable brand, you would have to fork out over £800 for the Hikvision DS-2CD55C5G0 which is not one of the models with advanced object detection or colour night vision.
Annke have the B1200 with 4X optical zoom and a price of $1100.
Neither the Annke or Hikvision are comparable really, but it shows how rare 12MP cameras are.
Overall
The Reolink RLC-1220A pads out the superb smart detection range that the brand has recently introduced.
I wrote most of this review before I knew the price. I had predicted £150, so for it to land at £98.99 is a bit of a bargain.
While the massive 12MP resolution and incredibly low price will no doubt lure many buyers in, I think the 4K RLC-810A is possibly a better option for most people with its wider angle lens and 16:9 aspect ratio. However, for others, if you have a specific spot on your property where you want to capture a lot of detail, the higher resolution and shorter angles of this would be advantageous.
Personally, I'd prefer a low light sensor over more resolution, like the Sony Starvis options used on Hikivision and Ezviz cameras. Reolink even uses a Starlight CMOS Image Sensor on their Argus range.
The Reolink RLC-1220A is still superb, it's one of the only affordable 12MP cameras on the market, and it has the benefit of the advanced motion detection that the other recently launched cameras feature.
Posted by Mighty Gadget Blog: UK Technology News and Reviews