Following on from my Reolink RLC-522 review is the RLC-511W. It is a similar camera in many regards, offering the same image quality and software features. However this camera ups the optical zoom to 4x (from 3x) and ditches POE in favour of a Wi-Fi connection (you still need to supply power).
Features

Reolink 5MP Plug-in WiFi Camera, 4X Optical Zoom, Dual-Band 2.4/5GHz WiFi Security Camera Outdoor, IP66 Waterproof IR Night Vision Motion Detection, Built-in Microphone, Remote Viewing, RLC-511W
5MP Super HD, 100ft Night Vision: 5MP WiFi camera with Varifocal Lens 4X optical zoom, long-distance night vision range up to 100ft with 24 infrared LEDs, 2.7mm-12mm autofocus lens with wide viewing angle, captures more clearer and sharper images and video.
2.4GHz or 5GHz Dual-Band WiFi: With 2T2R Mimo antennas and 2.4/5GHz dual bands, the cctv camera works more stably with WiFi router and has more network possibility. Equipped with waterproof housing, the bullet camera can be installed inside and outside, such as gate, front door, garden, backyard, garage, corridor, kitchen, living room, etc.
Micro SD Card Recording, Remote Playback: Built-in Micro SD card Slot, it maximum supports 64GB micro SD Card for local recording (micro SD card is NOT included). It will record whenever motion detection is triggered. Video can be replayed via Reolink App and Client. If more than 4 cameras, Reolink PoE NVR is better for 24-hour storage in HDD. This IP camera is only fully compatible with Reolink NVR and supports third party Onvif 2.1.
Multiple Motion Alerts: Flexible motion detection (set detection zone, schedule detection time and adjust sensibility), real-time and accurate movement alerts via App push notification, email, supports automatically upload motion-triggered image captured and recording to FTP.
Remote Access and Control: Rich features and functions in Reolink App for iPhone, Android, Windows PC, Mac, no subscription fee. Multiple channels with Reolink PoE NVR for 24-hour recording, intuitive and easy to navigate.
5-megapixel (2560×1920)
4X optical zoom
31°~90° viewing angle
100ft night vision with 24 infrared LEDS (B&W night vision)
Dual-band 2.4Ghz & 5Ghz Wi-Fi
Motion detection with zones and sensitivity
Alerts via push notifications and email
Email Photos and video clips
FTP, Blue Iris and Reolink NVR support
RLC-511W vs RLC-511
There are two models, almost identical. The RLC-511W is the Wi-Fi model and does not have POE.
The RLC-511 does not have Wi-Fi but does have POE.
Furthermore, if you look at the Amazon listings, that indicates the RLC-511 does not have a microSD slot, but the Reolink website says it does.
Set-Up
Installing the Camera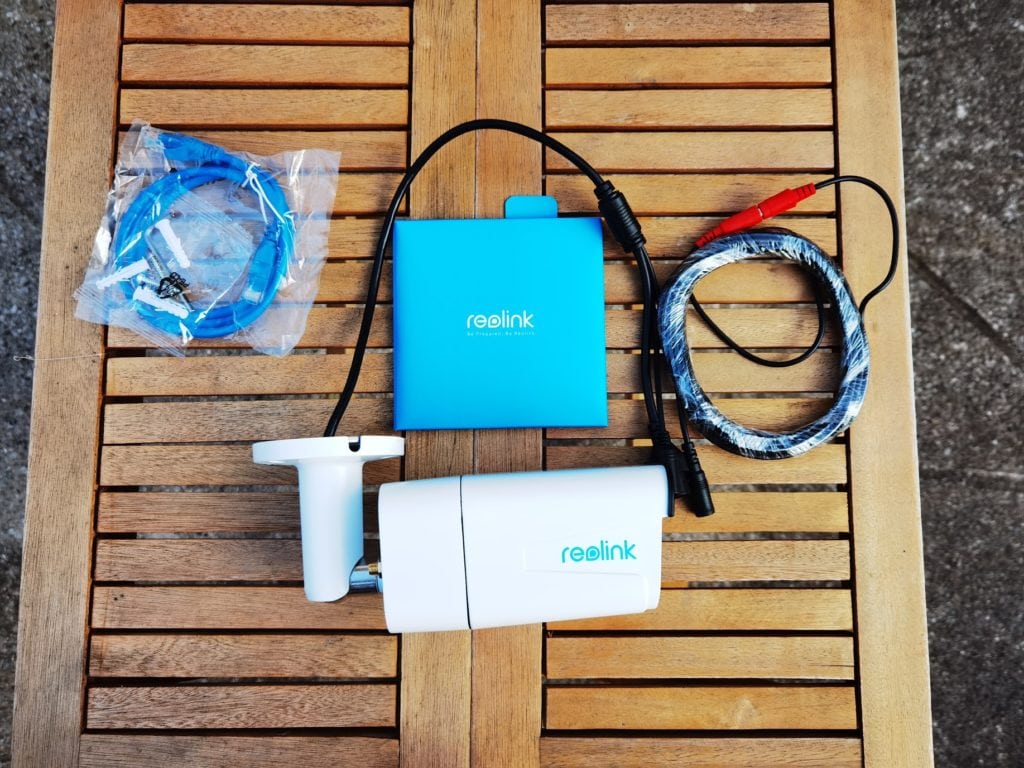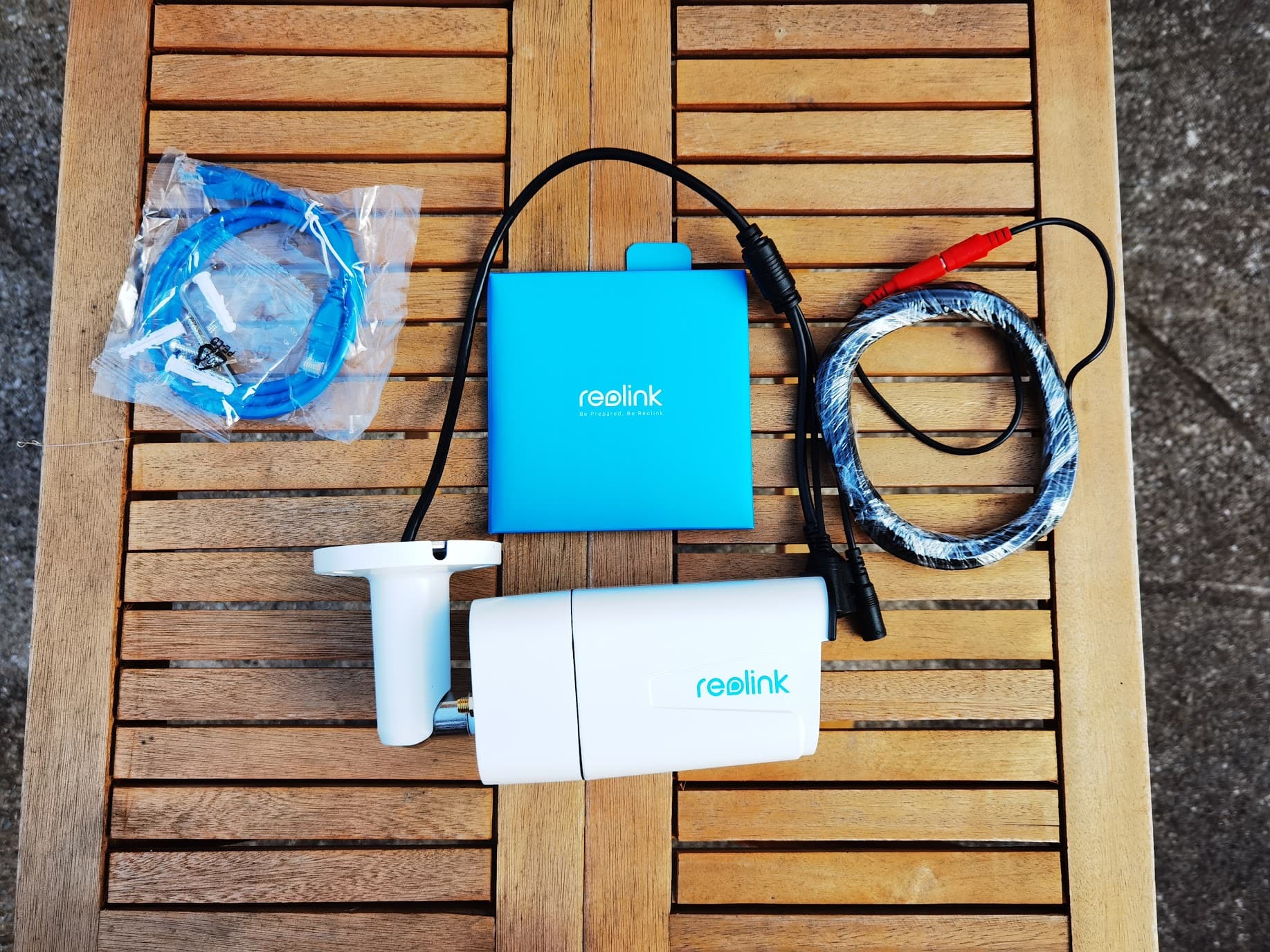 When you buy this camera, you should be aware of how large it is. It is massive. Much bigger than any other Reolink camera I have reviewed, even the 3x zoom RLC-522. I am not sure if it is quite as big as my Hikvision, but due to it being a turret camera, it looks a lot bigger.
It is best to install a microSD card before fitting the camera, as the slot sits at the back so it would be hard to get to.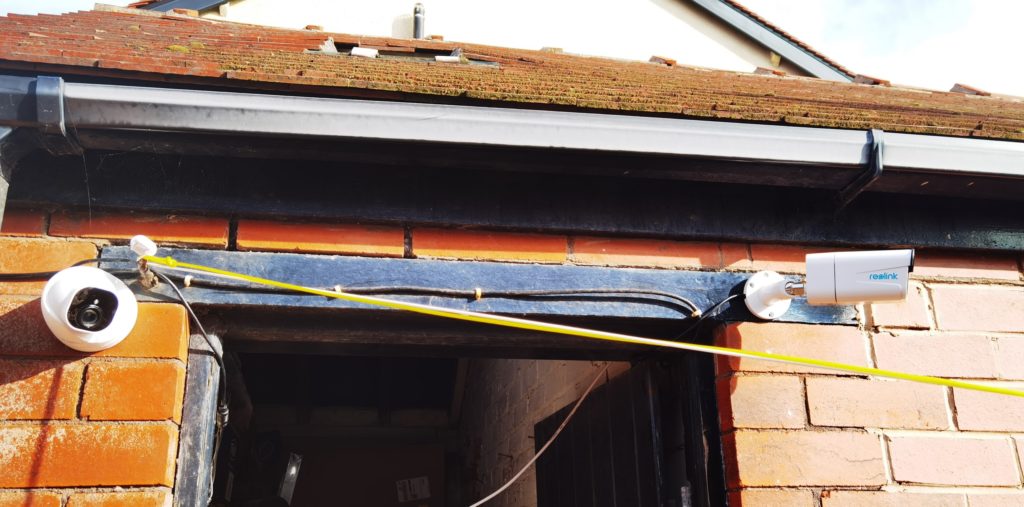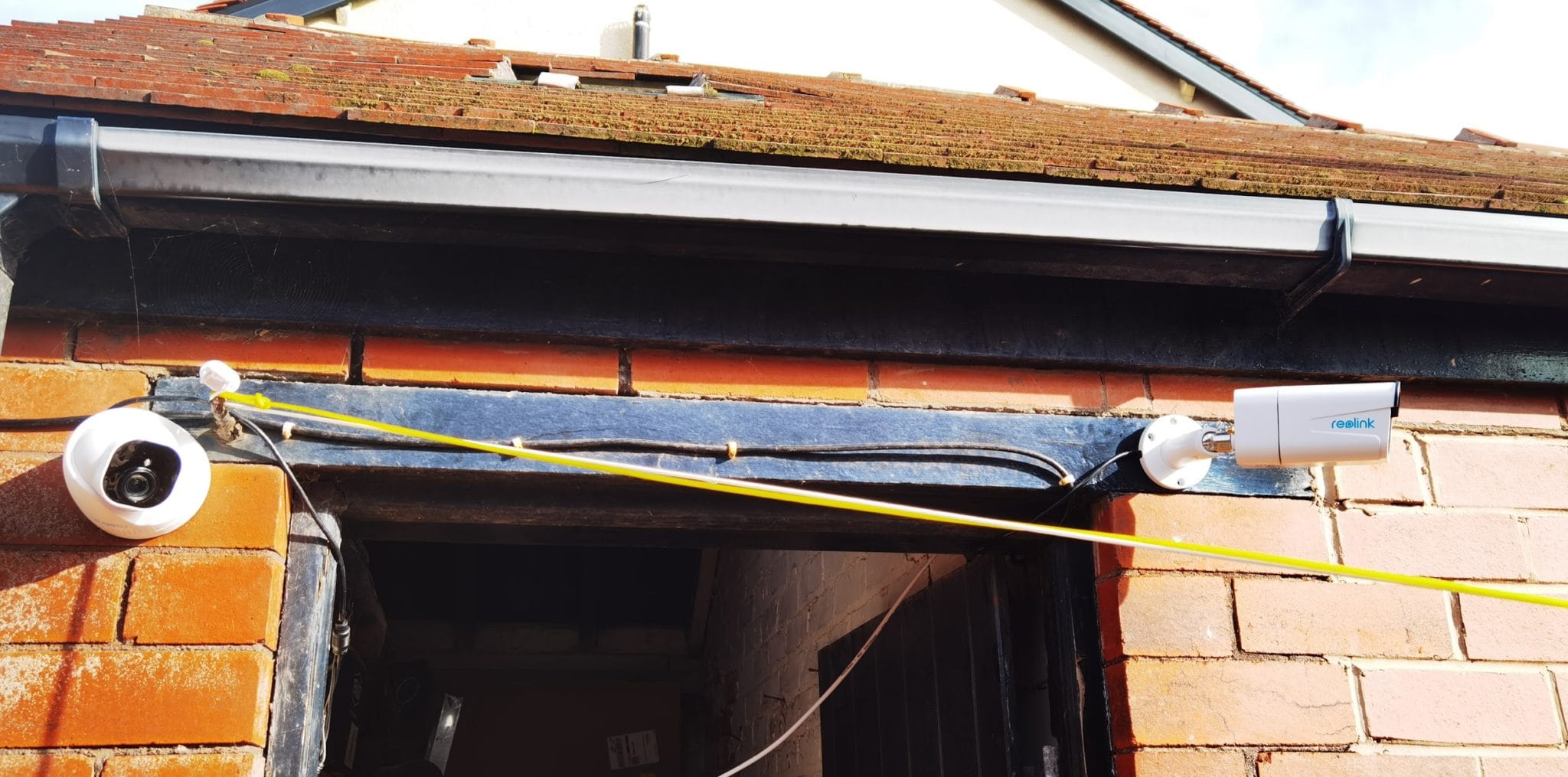 With it being a turret camera, it is easy to install; the screw holes are built into the base. Where I install test cameras, there is a wooden beam that I screw them into, but I am normally lazy and screw into the mortar rather than using a backbox.
This is not POE, so wherever you do install it, you will need to run a power cable to it. Reolink includes an adaptor and an extension cable so you don't need a plug socket too near. However, I do find Wi-Fi and power cable camera solutions less convenient than POE.
There is ethernet should you decide to drop the Wi-Fi connectivity. For this review, I did everything on Wi-Fi.
App Set-Up
Within the app, you just scan the QR code and follow the setup procedure of passing over the Wi-Fi details and assigning a master password. It is this password that you can use for Blue Iris.
The Reolink App is quite basic, but it does most of the stuff you need
This includes motion zones and sensitivity; you can add new users, set up FTP upload and tweak the motion detection.
This does not have AI motion detection, but Reolink is launching cameras with this soon.
Blue Iris / ONVIF / NAS / Network Video Recorder
Reolink is a little confusing in that some but not all cameras work with Blue Iris or other ONVIF NVRs. The battery-powered Wi-Fi stuff does not work, which is a given. However, the exclusion list also includes the Reolink E1, B400, D400, B800, D800, and Reolink Lumus.
In particular, the POE 4K D800 and B800 don't work. Not sure why, they would make a great affordable 4K option for Blue Iris.
Anyway, this one does work, even with Wi-Fi.
Set up is the same as the Reolink RLC-522. Reolink advises you to go into the camera settings via the web browser, set the stream to Base Line. Then in Blue Iris, I just type in the IP address and do find/inspect and it auto-configures.
In Use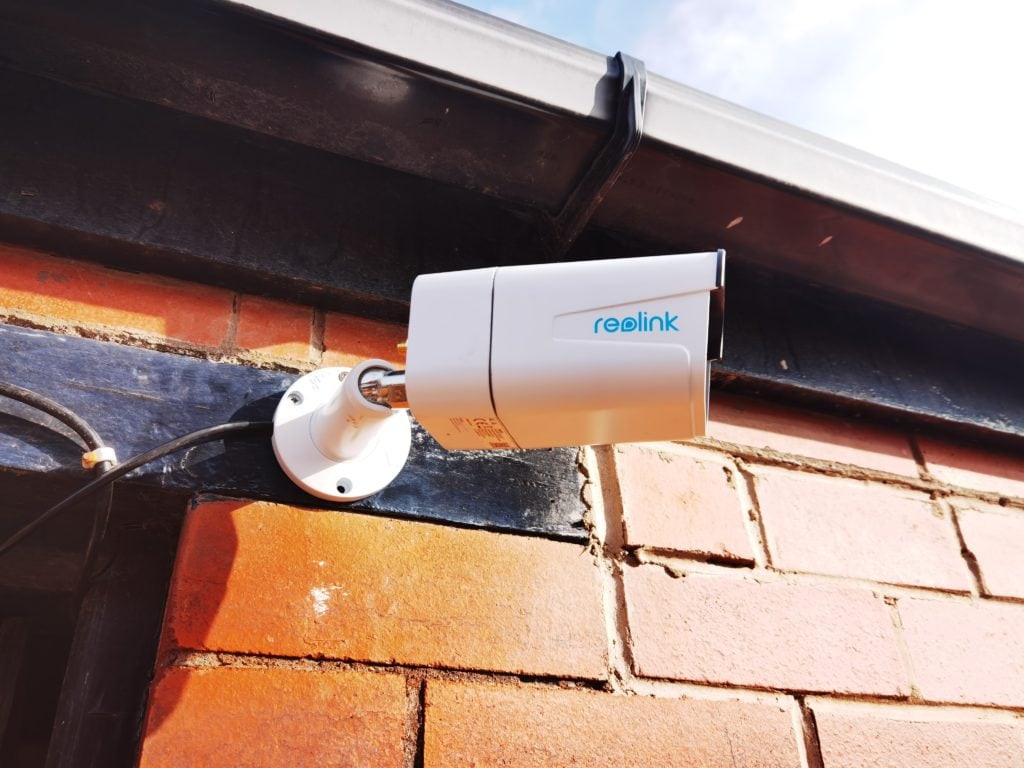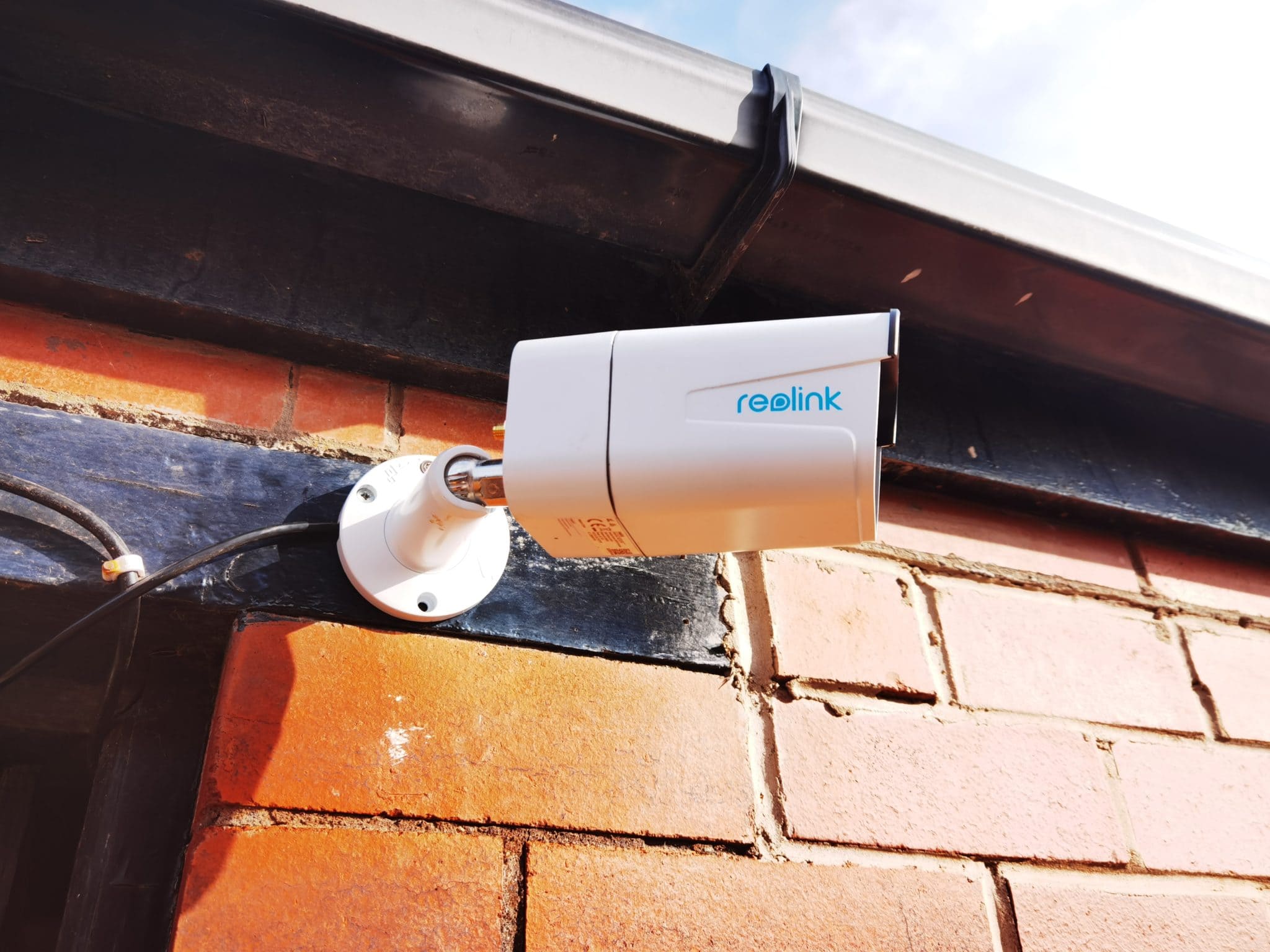 Once set up, it works just as well as the Reolink RLC-522 I previously reviewed. The spec of the two cameras is very similar; it looks like they are the same 5MP camera sensor, and they have the same software features.
The two differences are that this has 4x zoom and it looks like it has a wider horizontal viewing angle. So it can capture a wider angle and therefore more of your property.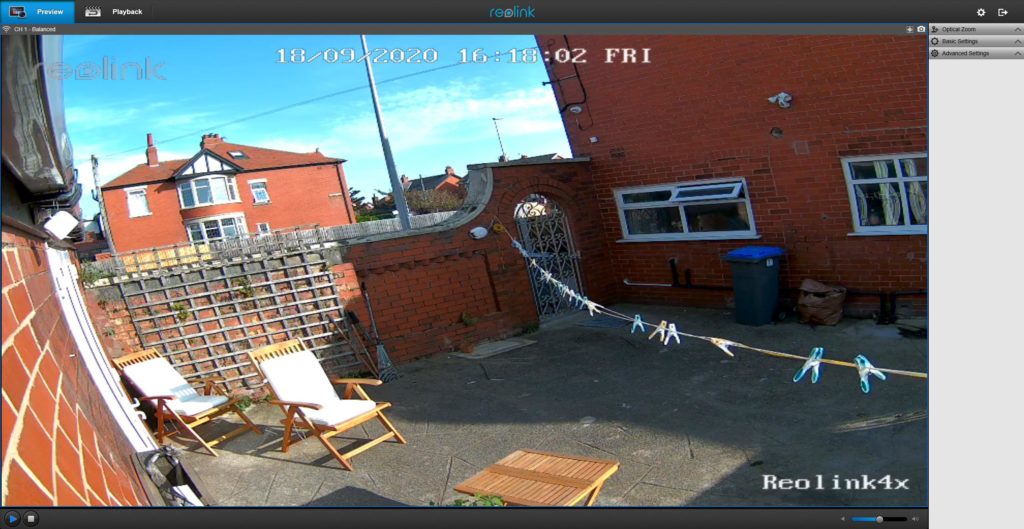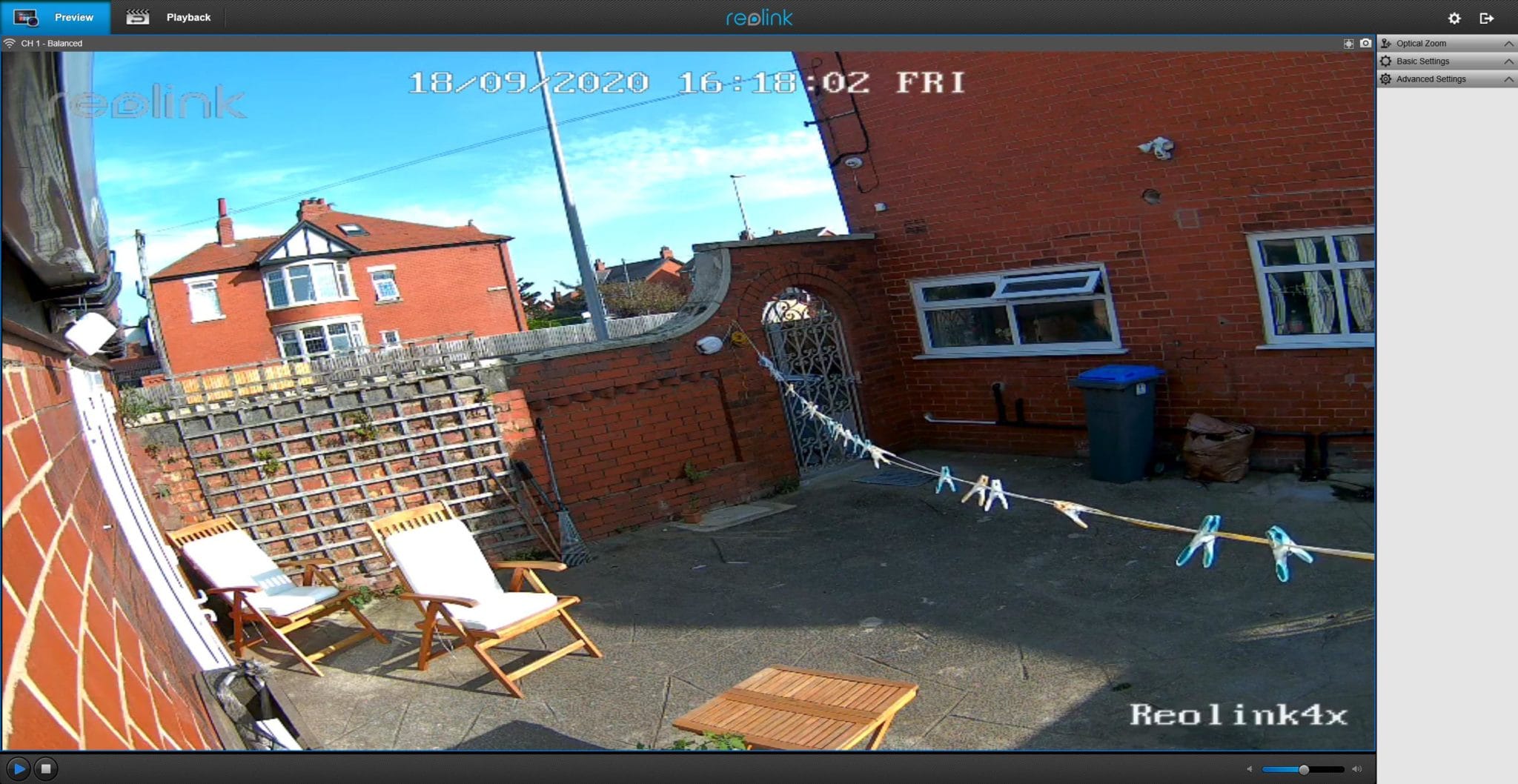 Just like the RLC-522, there are not PTZ features apart from the zoom. I think the whole point of this camera is to allow you to get an up-close viewing angle even if you mount it high up or far away.
In my set up, the 4x zoom is a little unnecessary with the camera being in my back garden and just above head level. At zero zoom, the camera captures the full garden, however when I zoom into full the camera zooms into right where my gate is, so I can easily capture the details of people entering the garden.
Like the last review, the night vision of this is restricted to B&W. It is good enough but not quite as good as some of the newer colour night vision cameras. However, I did find this switched to colour when a small amount of light was generated from my Eufy 2C.
Price and Alternative Options
This is currently £79.18 on Amazon, the POE RLC-511 is just £75 then the RLC-522 is £84, but you can apply a voucher to take it down to £67.
Similar to my last review, there are not many optical zoom cameras out there that don't also have pan and tilt. So there is not much of an alternative option.
Reolink is again probably the best option if you do want a full PTZ option. The RLC-423 offers POE, ONVIF, and PTZ with 4x optical zoom, but the price jumps up to around £200. All the competing brands appear to be completely unknown random names.
Overall
If 3x zoom wasn't enough for you, then this is the logical next step up. The price difference is negligible at the moment, so technically either this or the POE based RLC-511 is a better buy the 3x zoom RLC-522. The one downside is the overall dimensions of this are bigger and less discrete than the dome camera.
As always, Reolink offers one of the best options in terms of cost/performance. So if the features of this camera tick the boxes of your requirements then it is a great buy.