The Reolink RLC-522 is the latest POE security camera for the brand and is quite unique in that it offers 3x optical zoom, but not PTZ. It is significantly cheaper than its PTZ optical zoom counterparts, and the advantage here is that you have a bit more flexibility about where you locate the camera.
Specification
2560×1920 (5.0 Megapixels) at 30 frames/sec
3x optical zoom
H.264
IP66-rated
Auto-switching IR-cut filter
Black and white night recording
MicroSD card slot (support up to 64GB)
10M/100Mbps POE
DC power port
ONVIF 2.1
Recording Options
You have two recording options with this camera, either microSD or a network video recorder. If you go down the NVR route and only ever plan to use Reolink cameras you can opt for one of their affordable NVRs such as the RLN8-410. The benefit of using that would be computability with all of the wired Reolink cameras, including the 4K D800 and B800.
If you want to mix and match your cameras, then any ONVIF 2.1 compatible NVR will work. In my case, I used a custom server running Blue Iris.
Within the app, there is also FTP upload options, and if you go to the browser-based interface, you have the option for emails with an attached picture.
Set up
I mounted this onto the side of a garage wall, the camera has a twist-off plastic backplate, it is not quite as secure or well made as other dom cameras I have reviewed, but it is adequate and easy to mount.
There is a wide range of adjustment in the dome, so I was able to twist it around to face the right way up for my system and get the best angle possible.
I use POE, but you can optionally use DC power and ethernet, there is no option for Wi-Fi.
With the camera physically installed and powered up, I set it up via the Reolink app. The app auto identified the camera on my network and prompted me to create a log in password, so it is more secure than some cheap POE cameras.
You can modify the settings via the browser, and from here, you get more option than within the app. Unfortunately, Reolink still use Flash Player to stream the actual footage
Set up in Blue Iris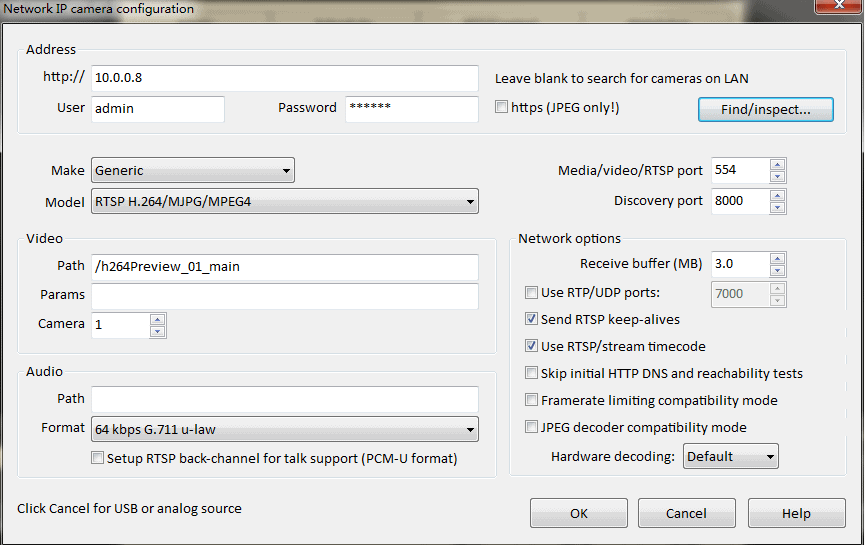 Many of the Reolink cameras are ONVIF, but not all, so if you buy one, make sure it works. This one does.
Reolink state that you need to change the encoding profile to base, but all three profiles appear to work for me.
To make the change you will need to go to the IP of the camera in a browser then login with the username admin and the password you set up during the installation of the camera within the app.
Then Device Settings -> Recording -> Encode, select Base Line for H.264 Profile (Check the Record Audio if it is available).
Within Blue Iris it is more or less business as usual, go to add a camera, type in the IP address then username and password and git find/inspect, Blue Iris should do the rest.
Reolink states that you need to use the discovery port 8000, which is the default ONVIF port, so you shouldn't need to change anything. Their screenshot of the config also suggests a path you should use, but again, I didn't use this.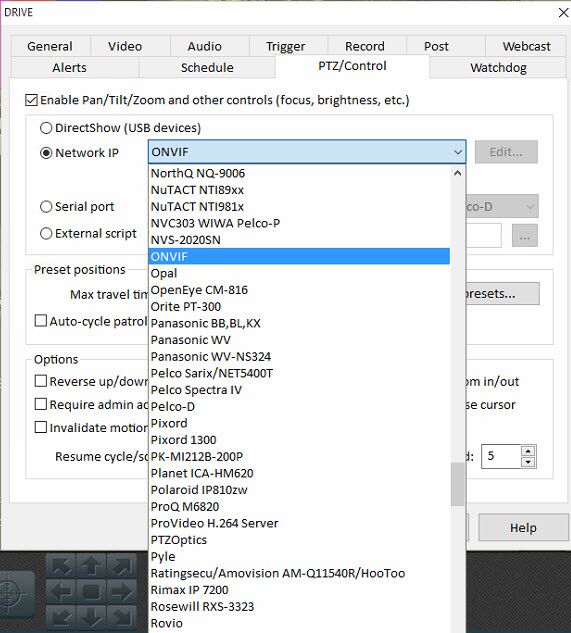 App Features
The app has limited settings compared to competing brands, but you get the important stuff.
This includes motion zones and sensitivity, but there is no AI object detection like more expensive options offer.
Within the camera recording section, which will be used for microSD you can set a schedule, the post motion recording during and whether or not it overwrites recordings.
Video Quality & Zoom
Video quality is good, about what you would expect from a semi-decent 5MP camera. The standard resolution is 2560×1920 so a little more square-shaped than some cameras, and the horizontal field of view is 80° which is also less than some options, but it does capture more detail than wider angle options.
Night vision is good, its black and white, whereas for not much more you could get a colour night vision POE camera (without optical zoom). Where I live the street lights are quite bright so the camera has plenty to work with so there shouldn't be any issues identifying someone should they enter my garden.
The zoom is what differentiates this from most of the cameras I have reviewed before. It is quite slow and takes a while to focus, with the lack of PTZ you won't be tracking people entering your property either. However, it offers you some flexibility with your placement, allowing you to locate the camera higher up such as your roof eaves but then zoom in so the camera captures much more detail at ground level (I place some of mine below the first floor window for easy access).
Price and Competition
There are not really that many cameras out there that are static but offering an optical zoom. Most of the options I can find are PTZ cameras which all cost quite a bit more.
The Reolink RLC-511 costs a little more at around £75 but offers 4x optical zoom, though this lacks a microSD
If you don't particularly need zoom, you could save a bit of money by getting the RLC-520, confusingly the Reolink website states this has microSD while Amazon says it does not. The model on Amazon is just £39.99, which is a bargain.
If you wanted to spend a little more money, you could opt for either colour night vision or 4K cameras. H.View have a 4K camera at £68; the Annke 4K C800 is £79. Then the Annke colour night vision options are the BR200 at £55 or the C500 at £75.
Overall
If you specifically need an optical zoom camera and want to keep the costs low, this is excellent, it allows you to mount the camera much higher up on your property while retaining high-quality images as if you are at ground level.
Set up is easy, and ONVIF/Blue Iris support is always a big plus for me.
There is around a £20 premium to pay compared to the none zoom Reolink model, which I don't think is unreasonable.