Reolink is quickly padding out their smart detection camera product line-up. I have previously reviewed:
The new Reolink RLC-822A is a 4K dome camera with the addition of 3x optical zoom. This additional feature incurs a small premium of £10 compared to the two other 4K models.
Reolink RLC-822A vs RLC-820A vs RLC-810A – Some other differences
The other 4K models, RLC-820A and RLC-810A, are identical apart from the design, one is dome, one is bullet. Dome vs bullet tends to be a personal preference, I have noticed a lot of people complain of spider webs with a bullet, but its lip over the lens also offers some rain protection.
The Reolink RLC-822A is a little different, while it is still a 4K sensor it has changed to accommodate the 3x zoom. So this is now a 1/2.8″ CMOS sensor compared to 1/2.49″. The lens is no longer fixed at 4.0mm with F=1.6 , it can now go from 2.8-8mm and has F=2.0.
For me, a key difference is the field of view, this has improved with:
Reolink RLC-822A
Reolink RLC-810A / RLC-820A
There are some negatives to having an increased field of view, but I prefer the wider viewing area, and I would bet the same is true for most home or SMB users.
Reolink RLC-822A Specification
A quick overview of the spec:
Image Sensor : 1/2.8″ CMOS Sensor
Lens: f=2.8-8mm, F=1.6, with IR cut
Field of View
Video Resolution: Default: 3840X2160 (8.0 Megapixels) at 25 frames/sec
Video Format: H.265
Day & Night: IR-cut filter with auto-switching
PoE: IEEE 802.3af, 48V Active
DC Power: DC 12.0V⎓1A, <12W
Ethernet: One 10M/100Mbps RJ45
Audio: Built-in microphone
Storage: Micro SD card slot (Max. 256 GB)
Set up
Set up is identical to all the other cameras, it is quick and simple. I use the Netgear GS110TUP 240W fanless POE++ switch to run my test cameras, with it powered up I scanned the QR code with the Reolink app then went through the basic initialisation process.
With the camera set up in the app, I also added it to the Reolink NVR. All I needed to do here was select the camera and type in the password I had created.
I have not installed a microSD during this review, but they have worked well with my previous reviews, and you could happily use a Reolink system without an NVR. You would need a high endurance card to avoid corruption, and if you want 24/7 recording, you may want something like the SanDisk Max Endurance which is rated for 120,000 hours recording.
Blue Iris & setting up the sub stream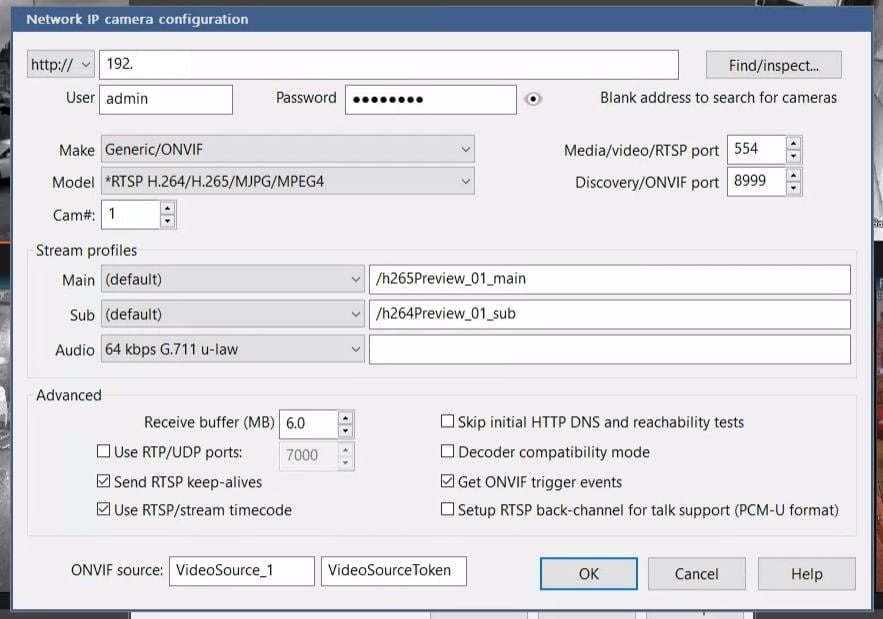 The Blue Iris set up is the same as the other cameras too, Reolink makes it nice and easy. You can set up a unique user, or use your admin user. With the IP and user details inputted, I scan hit search, and Blue Iris does the rest.
You can reduce CPU load by declaring the sub-stream and using it for motion detection. In my earlier review of the 12MP model, a Reddit user tried to call me out for using the h264Preview_01_sub saying this is incorrect. However, it is not, I double-checked this time.


For the main-stream you use:
rtsp://admin:password@192.168.1.XX:554//h265Preview_01_main
For the sub-stream you use:
rtsp://admin:password@192.168.1.XX:554//h264Preview_01_main
This is different from the Reolink documentation, so it may not apply to every camera. Using h265 generates a failed to start error.
Performance
With this review, I tweaked some of the default settings to improve the quality of the video. February in the north of England is dull, and during the night I have very bright street lights.
So, for this camera, I switched the automatic IR lights off but had the backlight setting to dynamic. This resulted in brighter clearer images during the daytime, then at night, there was no IR reflection of street signs and number plates.
As usual with my reviews, the camera is placed precariously on my window sill, so the cameras are in the same place, but the angles are different. With this being a dome, it was hard to face the lens downwards into my garden.
Day time – Zero zoom & 3x zoom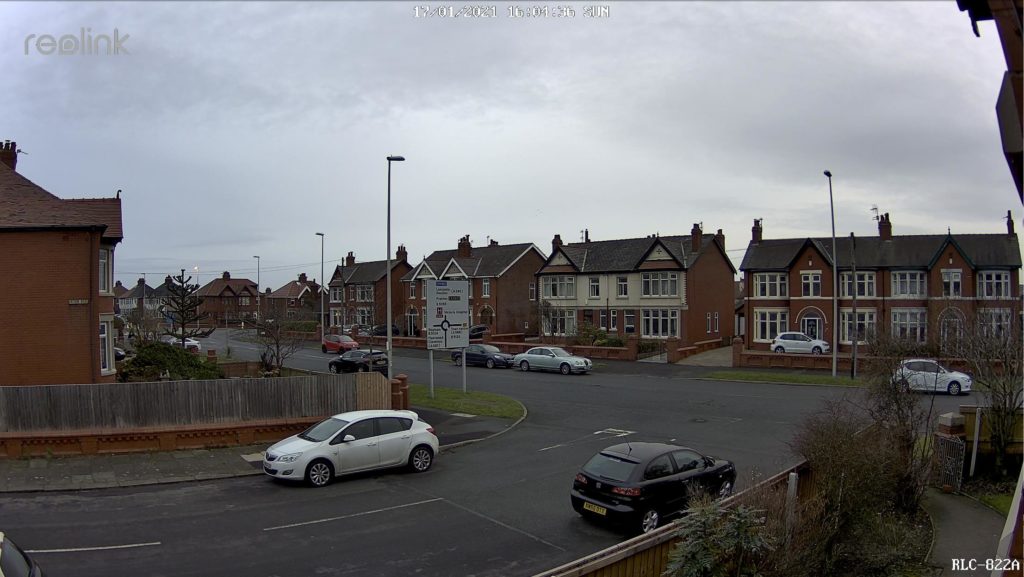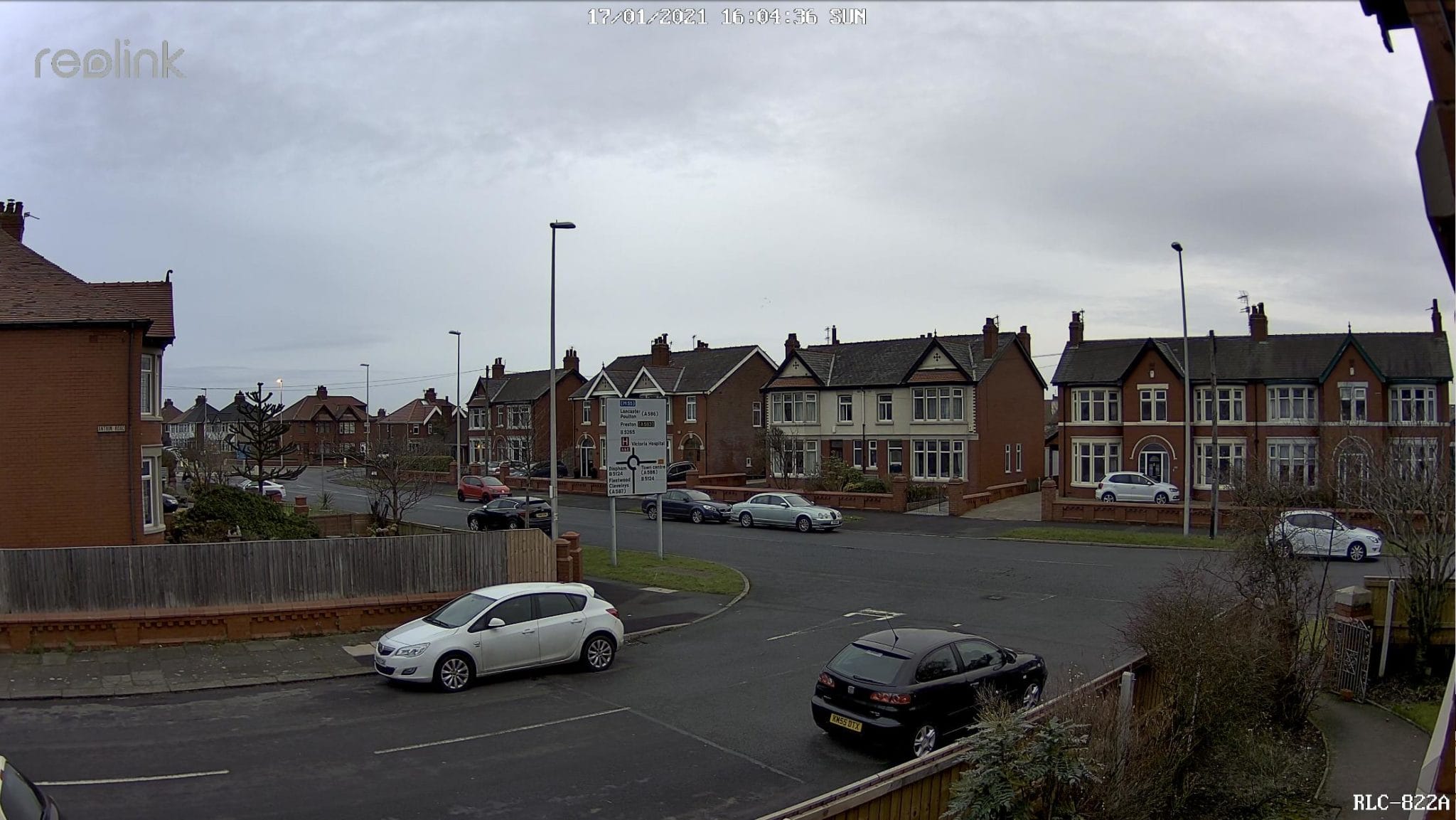 I took several video samples for this review. The zoom samples were done before I tweaked the image settings. The zoom lens works as you would expect, allowing me to zoom right up to the street sign for clear coverage of across the road.
Most of my reviews have the words on the street sign as either barely legible or a pixelated blur. With this camera, the lettering is easily readable at all zoom lengths.
Night time – Zero zoom & 3x zoom
With my street lighting, I could just about get away with leaving the camera in colour, but there is considerable noise.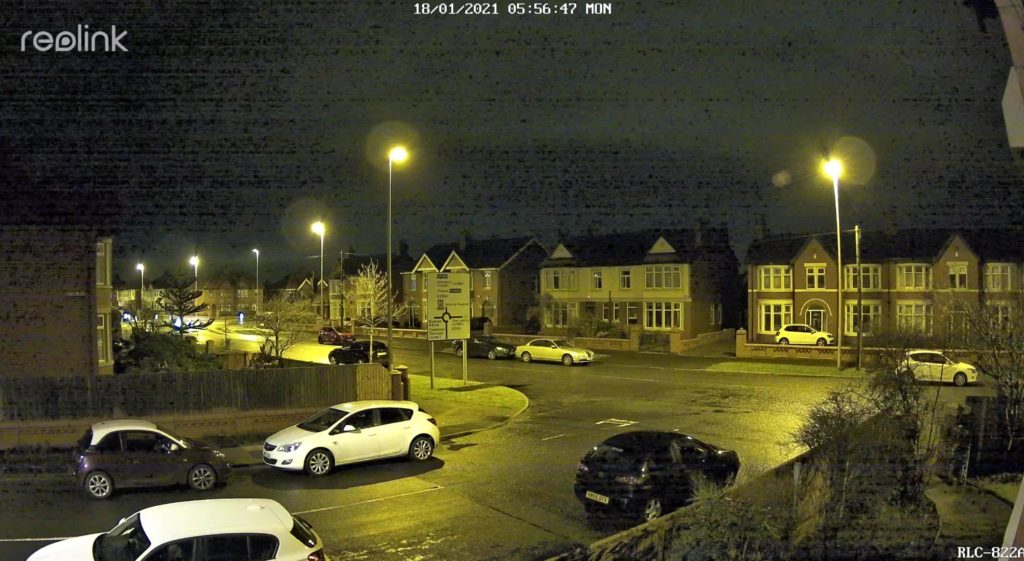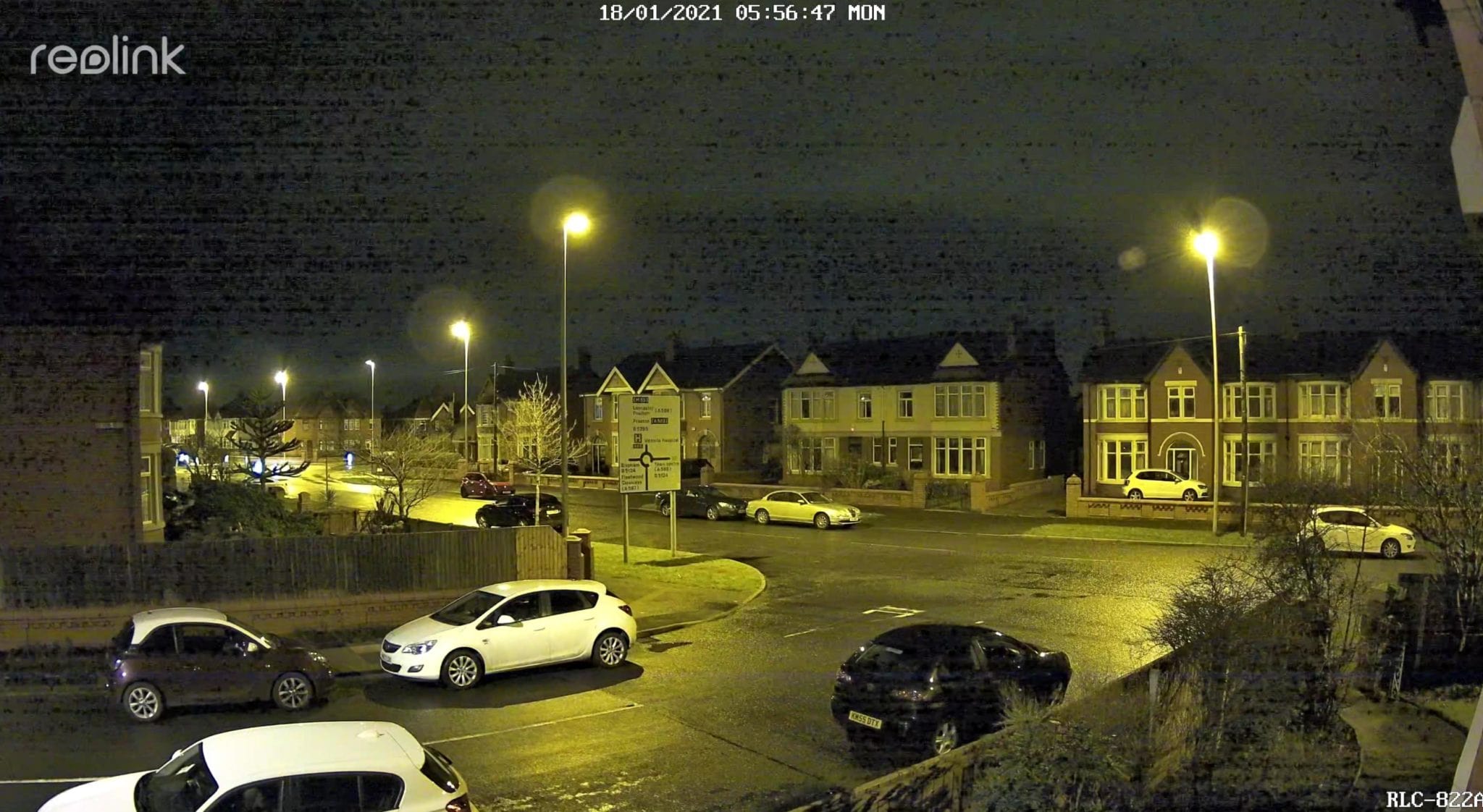 With the IR lights switch off, the street sign becomes easily readable, and parked cars also have visible number plates. However, car lights immediately cause too much glare.
With the IR lights off, and dynamic backlight on, overall night footage is excellent for my well-lit road. It will never be quite as good as full-colour offer by some competing brands but a camera with 4K colour night vision with smart detection is going to cost you £200+.
Motion detection
Motion detection is identical to the other cameras, with the angle I have the camera facing it constantly detects things, but with it faced down a garden path, it is superb for finding footage of people.
Price and Alternatives
The Reolink RLC-822A has an RRP of £93.99 on the Reolink website, £10 more than the RLC-810A and RLC-820A, which would be the obvious alternatives. There appears to be no current stock for the 4K cameras on the site at the moment.
It is worth noting the RLC-810A is available on Amazon with 20% off, so about £67, which is an amazing price for a 4K camera.
The RLC-1220A could be a consideration, it has a narrow viewing angle, but if you want to monitor a specific spot on your property, the 12MP sensor may offer some advantages.
PTZ cameras offer greater flexibility, and the RLC-423 goes up to 4x zoom, it is only 5MP though and will set you back £227.99.
If this camera's features have piqued your interest, there are not really any comparable alternatives from other brands worth mentioning.
Overall
With this costing just £10 more than the other 4K cameras but offering 3x zoom and a wider viewing angle, I would say the RLC-822A is better than the already excellent RLC-810A/820A.
3 times zoom gives you a lot more flexibility where you place the camera, this could be used for a higher more secure and convenient placement (I place mine near windows for easy access). Or you can use it to zoom into entranceways with the hope to capture more details of a person entering or even car registration plates.
Overall, this is a superb camera from Reaolink, I'd say it is my favourite out of the new smart detection range, and I will likely use it full time, swapping one of my other cameras out.
Posted by Mighty Gadget Blog: UK Technology News and Reviews