Ring has been on one with product launches recently; with pressure increasing from competing brands, they will likely want to establish their dominance (in the doorbell market at least).
Ring Video Doorbell 4 with colour pre-roll for £179 – No Plus model?
I was provided with an embargoed announcement to write this up, which is woefully thin on details about the new Ring Video Doorbell 4.
The new camera will be available from the 5th of May for £179.
There is no mention of a plus model, so it could be that they are doing away with the pricier model and providing all the features in one, effectively saving you £20 since last year.
The camera will now have colour pre-roll footage making it a little more usable for identifying people and events.
The lack of details makes me suspect this will be identical to the excellent Ring Video Doorbell 3 Plus, but with colour pre-roll and a lower price.
Pricing and Availability
Ring Video Doorbell 4 will be available from the 5th of May for £179 via Amazon & Ring
Ring Floodlight Cam Wired Pro for £219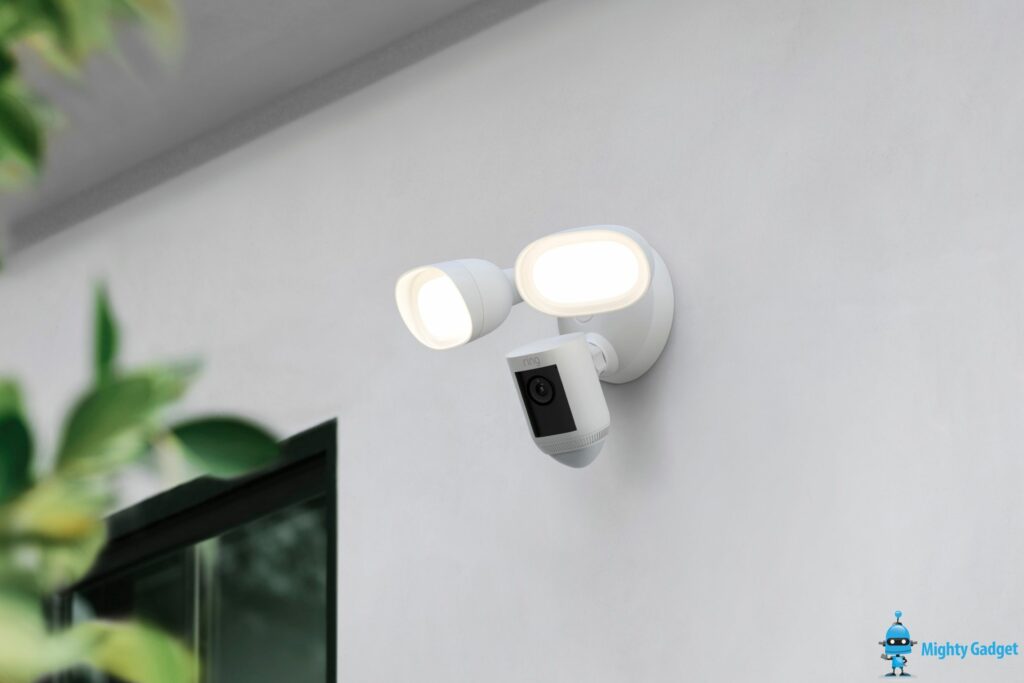 I am a big fan of Floodlight cameras, and for a time, Ring was the only player in town, but that has changed with Eufy, Ezviz and Arlo. Spotlight cameras have also improved a lot, offering a lot of lumination, which then offers colour videos.
The new Ring Floodlight Cam Wired Pro takes the old floodlight and introduces much of the tech we have seen on other Ring cameras.
Now the most advanced outdoor camera in Ring's lineup, the newly redesigned Floodlight Cam Wired Pro is equipped with Ring's new innovative features, 3D Motion Detection and Bird's Eye View, a siren and Colour Night Vision. Additionally, the new Audio+ helps users hear what's happening more distinctly, with crisp, clear sound thanks to an array microphone for enhanced audio and echo cancellation. Floodlight Cam Wired Pro connects to Wi-Fi and can be hardwired to the outside of the home for around-the-clock power. Floodlight Cam Wired Pro enables customers to check in on their property anytime from anywhere from their mobile or Alexa-enabled device, and see and speak with visitors in real-time.
Designed with privacy and security in mind, Floodlight Cam Wired Pro includes advanced features such as Customisable Motion Zones that trigger an event, and Privacy Zones that exclude areas in the camera field of view from capturing video for added privacy.
Expanding 3D Motion Detection At the Home
Committed to providing customers with new features that make their cameras work better for them, Ring is expanding its 3D Motion Detection technology to Floodlight Cam Wired Pro to give customers more control of the motion alerts they receive.
With 3D Motion Detection technology, Floodlight Cam Wired Pro allows homeowners to customise which areas of their property to monitor by selecting distance thresholds. The radar sensor determines when an object crosses the distance threshold by measuring its specific distance from the camera, and the camera then only activates once that threshold is crossed, sending homeowners a motion alert.
Powered by 3D Motion Detection, Bird's Eye View provides an aerial map view of the motion events in front of the floodlight camera and clearly shows the path visitors take when visiting the property. Also available on the Ring Video Doorbell Pro 2, this new feature creates a visual representation of the path traveled once a visitor crosses the selected threshold but before a motion alert is sent, so the homeowner has a greater understanding of what's happening when viewing individual videos from each device in the Ring App.
Pricing and Availability
Floodlight Cam Wired Pro will be available for purchase in the coming months for £219 Amazon and Ring
The original Ring Floodlight Cam is now available for the low price of £179
Posted by Mighty Gadget Blog: UK Technology News and Reviews
Thanks for reading, check out Mighty Gadget Blog: UK Technology News and Reviews for more Tech news!