The Safely DIY home alarm system by SafelyTeam is the latest smart home alarm system to enter the market. This is a new company hoping to compete with big players like Ring and SimpliSafe.
The Safely alarm system is more advanced than many off the shelf solutions from the likes of Ring and Eufy, offering far more sensor options and 24/7 management.
Safely Product Options & Price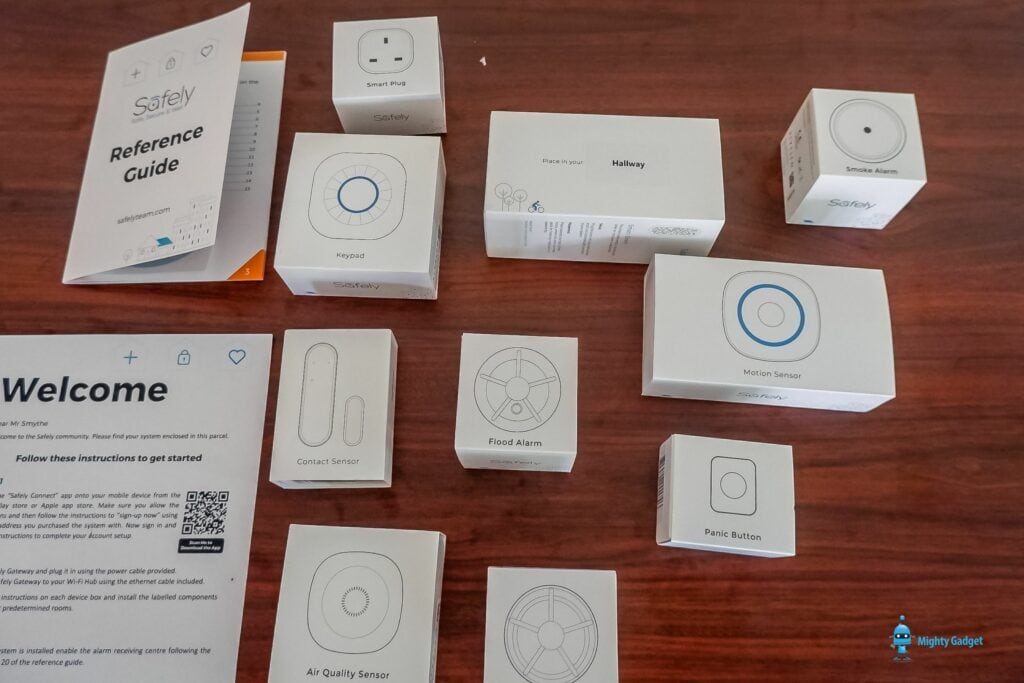 The Safely home security system has to be one of the most extensive on the market. They offer three different packages, or you can build bespoke systems.
Indiegogo Offer
All the below information is pricing from the SafelyTeam website, for a limited time, you can grab a system at a reduced price from Indiegogo with shipping in May. There is between 16% and 25% off the various package options starting at just £229.
Individual Components
There are a total of 12 unique devices that you can choose to add . These options include:
Gateway – not really an option because you need this
Keypad – £75
2-in 1 siren – £75
2 in 1 Contact Sensor – £30
2 in 1 Motion Sensor – £35
2 in 1 Smoke Alarm – £50
2 in 1 Heat Alarm – £50
3 in 1 Air Quality Sensor – £65
2 in 1 Flood Alarm – £45
Panic Button – £30
3 in 1 Smart Plug – £30
Key Tags – £5
The excessive use of 2-in-1 and 3-in-1 is SafelyTeam trying to point out that these devices do a little more than the specific sensor name suggests. All the 2-in-1 sensors also monitor the temperature. While a lot of Z-Wave/Zigbee sensors are multi-sensors, Safely will likely be wanting to highlight that their sensors are multi-sensors while Simplisafe and Ring are not.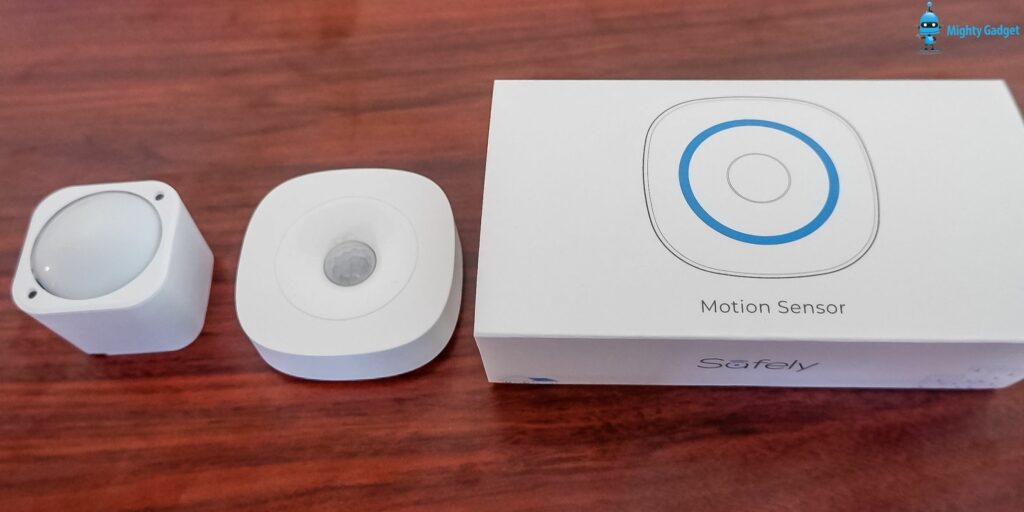 The plug is 3-in 1 because it has a status indicator, consumption and total consumption. They could have just called it an energy monitoring smart plug.
You may note the lack of an outdoor siren; this is/was quite common in the world of smart alarms. Eufy lacks one, Ring has only just launched one, and I don't think SimpliSafe had one at launch (they do now). I am not too fussed about this; everyone ignores outdoor alarms. I want an alarm to alert me and warn intruders, so the indoor alarm and phone notifications is what I need.
Safely Pre-made packages
The pre-made packages are:
Defender Package for £279
Including  – Key Tags, 2 in 1 Motion Sensor, 2 in 1 Contact Sensor, 2 in 1 Siren, Keypad, Gateway
Habitat Package for £299
Including 2 in 1 Flood Alarm, 2 in 1 Heat Alarm, 3 in 1 Air Quality Sensor, Gateway
Then the Habitat + Defender Package, which is £519 having 9 unique products in total.
Bespoke Systems
However, the bespoke system comes with three separate options asking if you want to focus on security, safety or wellness. This then gives you a different configuration with prices from £390 for just wellness up to £535 for the Safety package. Selecting all three options is then £690.
These prices will then vary depending on the number of bedrooms, floors, and doors you have.
Pre-set up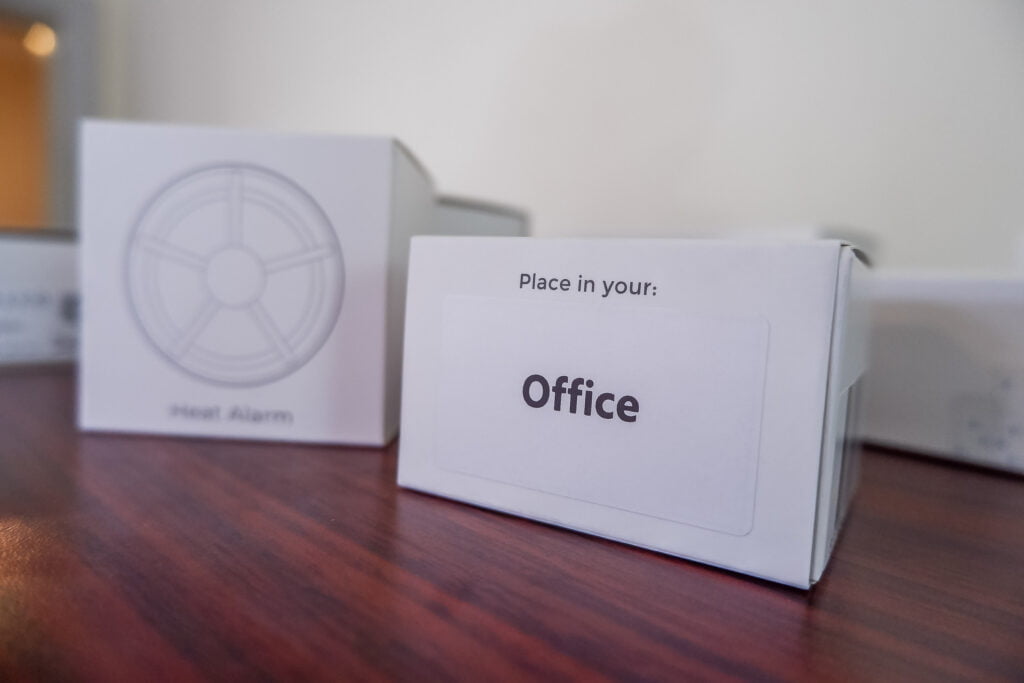 So the range of options is extremely extensive, which makes the thought of setting this system up a little daunting. However, SafelyTeam does everything for you.
When you purchase one of the systems, either the pre-defined ones or a bespoke system, once you pay, you will be asked where you want each of the sensors to go.
SafelyTeam will then pair up all the sensors to the main up and stick labels on the boxes informing you which room it belongs in. So when you get the system, you just need to download the app, sign in with the same email as your order and power everything up. It should all just work.
It is worth noting, because of this, when you order as system delivery isn't next day like you may be used to from Amazon and the like. SafelyTeam have to set it up for you, I think it was only a couple of days from ordering to delivery.
Subscription Plans
Like a lot of smart home products now, there is a monthly fee. Unlike some alarm systems, there is no contract here; you can cancel whenever you want and change the subscription level as you please.
The base option is just £4.99 per month, giving you full access to the system with all third party integrations, instant app notifications, smart rules, and remote arm/disarm.
The Silver plan at £9.99 per month adds cellular 4G backup and battery backup.
Finally, the gold package works like a fully monitored alarm system, similar to Ajax/Simplisafe/ADT. This costs £18.99, includes all the previous features but then adds:
24/7 Live Monitoring for:
Security Alarms
Assistance Alarms
Safety Alarms(Flood & fire)
Complete system health monitoring and tamper alarms
White Label Develco Products & Safe4 Onesti Products
SafelyTeam were quite eager to point out they were a team of engineers rather than a large company with a marketing depart. During my call with them, it was implied that as engineers, they had made design decisions in the development of the hardware; for example, most of the sensors offer temperature sensing.
However, the system is actually based on white label products, with Danish company Develco Products providing the sensors. Then the gateway appears to be the Safe4 Onesti HomeGate AiO.
By all accounts, the Safe4 & Develco system is almost turnkey, it is not just hardware, but they have developed most of the app (see Homely for similarities). They will even allow you to customise both the design and packaging of the products in several ways and can provide customised user manuals.
I don't bring this up to discredit SafelyTeamn, and I appreciate that advertising you are using a white label product may not exactly sell the company. However, in this case, for me, the use of a well developed white label product is preferred.
Develco has been around for over a decade now, and last year they claim to have shipped 3 million. When it comes to smart home tech and something as important as a smart alarm, I much prefer that a large established manufacture has developed this system.
An example of why self-developed smart home tech can be bad, would be Den Automation, which went bust (now back). They used a proprietary communication system, so when their servers went down, so did all the functionality.
The Safely/Develco system uses Zigbee for its communication protocol so there is nothing to concerning for me about this system, even if the company is very young.
Product Roadmap
SafelyTeam have a product roadmap for the system which looks to go beyond what Develco provide; this is likely where their engineering skills come in:
Police Dispatch – Awaiting final certification – Q2 2021
Amazon Alexa/Google Home Integration 2H 2021
More 3rd party integrations – Switches, Bulbs, Thermostats etc – 2H 2021
Smart Door Lock with the capability to manage users, codes etc – Q2/Q3 2021
Rule Machine (Experiences) – Enables users to create basic and advanced home automation rules – Q3/Q4 2021
Integrated NVR (Hub as a camera recording device) – Q4 2021 – We may also introduce our own video camera and doorbell camera along with this

Provides local camera storage – Privacy
Most IP cameras can be integrated
Storage on hub and/or on cameras

Fall detection sensor and reporting for elderly – 2022 Planned
Set-Up
As I previously mentioned, this system is fully preconfigured before arrival, so this was the easiest smart home product I have used to get up and running.
With the app downloaded and signed in, you will need to power up your gateway and get it connected. I always used Ethernet for devices like this, but you can optionally use WIFi, and there is also cellular backup (and it has battery backup).
When you first log in you will be asked to create a keycode, this is what you will then use to arm and disarm the system.
With all the sensors, they just need the battery tabs pulling out, or in the case of the siren, plugging it in.
You will then need to mount all your sensors in wherever you want. Everything is plastic, and all the sensors come with 3M tape pre-applied so you can get things up and running within minutes. Most of them also have screw holes too, should you wish to mount them more securely.
Ezviz / Home Surveillance Camera Integration
I only have one Ezviz camera up and running at the moment, and it turns out that it is no longer connecting to my wireless, so I will need to climb up some ladders to reset it. However, the Safely system logs into Ezviz fine, and I test this properly when I have things working properly.
In Use & App
The app is reasonably well designed, it may not offer a fancily designed UI, but everything is laid out logically with easy to access information. Typically small companies developing their own apps have ugly, glitchy and unintuitive apps, so this is one of the reasons I like that this is mostly a white label system.
As an alarm system, it works exactly as you would expect. With the keypad, you can use this as an old fashioned wireless alarm system, type in your code, press the alarm button, and you will get a 30-second countdown before the alarm arms.
You can, of course, then arm and disarm the system via the app.
The alarm will then trigger if any of the typical sensors are activated, so the contact sensor or motion sensor.
There is then an SOS button which you can carry with you; pressing this will send an alert regardless of the alarm state.
Alerts come through as a push notification, which then gets pushed to my Garmin Fenix 6 Pro. So I am alerted to any events wherever I am without annoying neighbours with a loud outdoor siren.
Within the app, it is possible to customise what each sensor does. So, for example, when you activate night mode, you could have the motion sensors work as normal, but the contact sensors activate the alarm.
The indoor alarm works well. It is certainly loud enough to wake you if you are in the house and probably loud enough to wake any adjoining neighbour. The alarm itself is wired, which is good, so it always has power, however, the cable is very short. The alarm itself can be stick to the wall, so it ends up being a bit more convenient to place than a siren you would plug directly into the socket.
Air Quality Sensor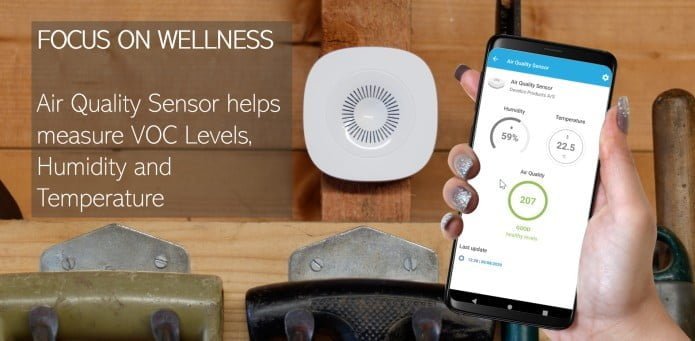 The Air Quality Sensor works fine, but it doesn't do that much, you get a humidity, temperature and air quality reading, and that is it. It looks like the air quality is measured by the Volatile Organic Compound (VOC) levels only.
As far as indoor air quality sensors go, this is a bit poor. Normally I would expect historical data to show when a room is prone to poor air quality. Most IAQ sensors monitor more things, too; particulate matter (PM2.5 & PM10) is something that bothers my breathing more than VOCs.
Most IAQ sensors are very expensive, so while this is not amazing, it is OK for £65, and the only alarm system I know that features one.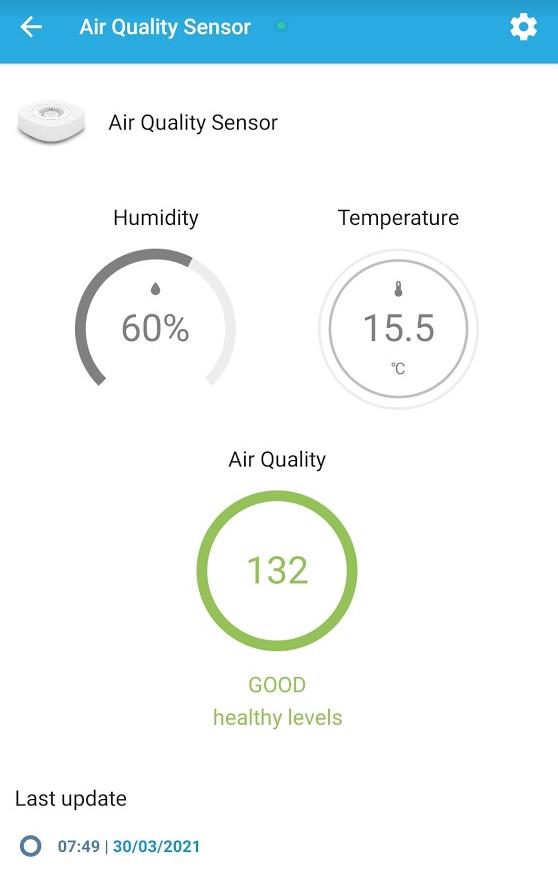 Smart Home / Home Automation Rules and Scenes
Like all good smart home products, Safely offers a way to set up home automation events based on certain triggers and carrying out certain actions.
However, this appears to be quite limited and needs development. For me, I was only able to add the smart plug to a group and scene. Then its triggering event could only be the temperature from one of the 2 or 3 in 1 sensor. So when a room gets too hot, you can have a fan automatically switch on.
There seems to be a major omission here; they have an air quality sensor, it is not much use if it then can't be used to automate things properly. I should be able to switch the plug on, which is connected to my Dyson Purecool air-purifying fan, which would then reduce the VOC levels.
Similarily you could also have any of the motion sensors or contact sensors trigger the plug, allowing lights to be turned on when people enter a property.
SafelyTeam vs Ring vs Eufy Price / Alternative Options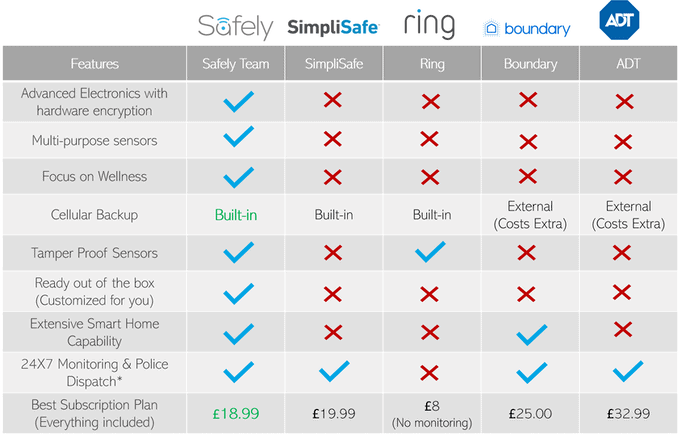 The Safely Defender Package costs £379
The Ring 10-piece pack is £314, currently discounted to £219. The Ring system is a bit more limited than Safely though in particular, they lack – smoke, heat, and flood sensors, nor are they things like a smart plug or key tags.
The same applies to systems from Yale and Eufy, they are cheaper but don't offer quite the range of options.
I'd say the AJAX Alarm is the closest match to Safely, and they have a better range of alarm equipment plus extensive alarm monitoring services.  Ajax don't sell direct to customers and is more designed for installers, but a starter kit will cost £361.80  and consists  of:
1x Hub
2x Motion detectors
1x Opening detector
1x Home siren
1x Street siren
2x Key fobs with panic button
Ajax lacks things like the air quality sensor, but they do have a smart plug.
Then you have SimpliSafe, they have a more comprehensive alarm system than the likes of Ring and Eufy, and they have indoor cameras included in some of their packs. They do have a flood and a water sensor, but they don't have heat or air quality.
Then when looking at Ajax, SimpliSafe and other advanced alarm services, you have the monthly costs
Overall
I think the SafelyTeam Smart Home Alarm is good. Without a doubt, the best feature is the simplicity of the set up, this allows the system to widen its appeal to anyone that wants an alarm system, rather than just people who feel comfortable with technology.
The system works well, in particular, the alarm and safety features work exactly how you need them to and offer a similar experience to traditional alarms but with the added bonus of notifications via your phone and the ability to arm/disarm things.
There is definitely a lot of room for improvement, the smart home and home automation features are one area that lets the system down. Competing solutions don't really offer smart home features. SimpliSafe/Ring/Eufy doesn't have smart plugs, Ajax does, but I am not sure if they have UK sockets. None of the systems offers air quality monitoring.
SafelyTeam have a lot in the works, and it looks like this system will improve a lot with time.
Pricing is similar, if not slightly higher than established alarm systems from AJAX and SimpliSafe, but the monitoring service is lower (vs SimpliSafe at least).
Overall, this is the sort of system I'd recommend to family or friends on Facebook who aren't tech geeks. The pre-paired system allows anyone to have this up and running in less than an hour then with all the sensors using 3M tape; you require no DIY skills at all.
Posted by Mighty Gadget Blog: UK Technology News and Reviews
Thanks for reading, check out Mighty Gadget Blog: UK Technology News and Reviews for more Tech news!