Today, Samsung took the wraps off their latest upper mid-range chipset, the Exynos 1080. This is the second 5nm chipset to be announced, with the Huawei/Hislicon Kirin 9000 5G being the first, and this will be the official successor to the Exynos 980.
However, Samsung has upped their game this year, and the Samsung Exynos 1080 looks to be far more than your typical generational improvement. The overall specification is not far off what you would expect a flagship chipset to be like. If Samsung are launching their mid-range chipset with this sort of calibre, it could make the flagship Exynos 2100 a very exciting chipset for 2020.
So how do the new Exynos 1080 stack up against the older Exynos chipsets, and the only other 5nm chipset on the market?
Specification Comparison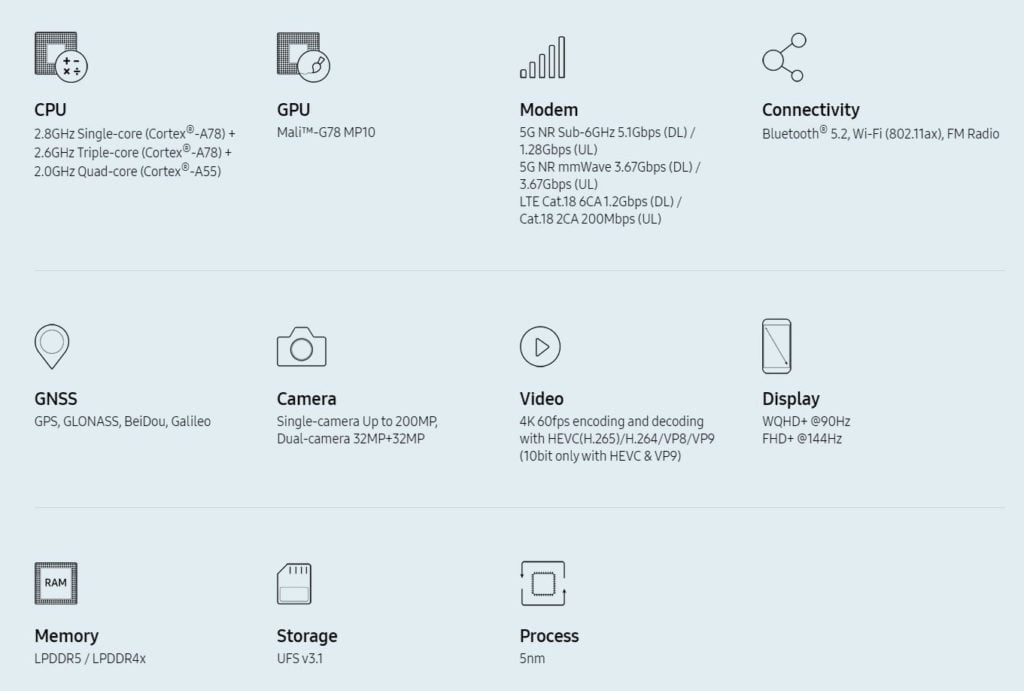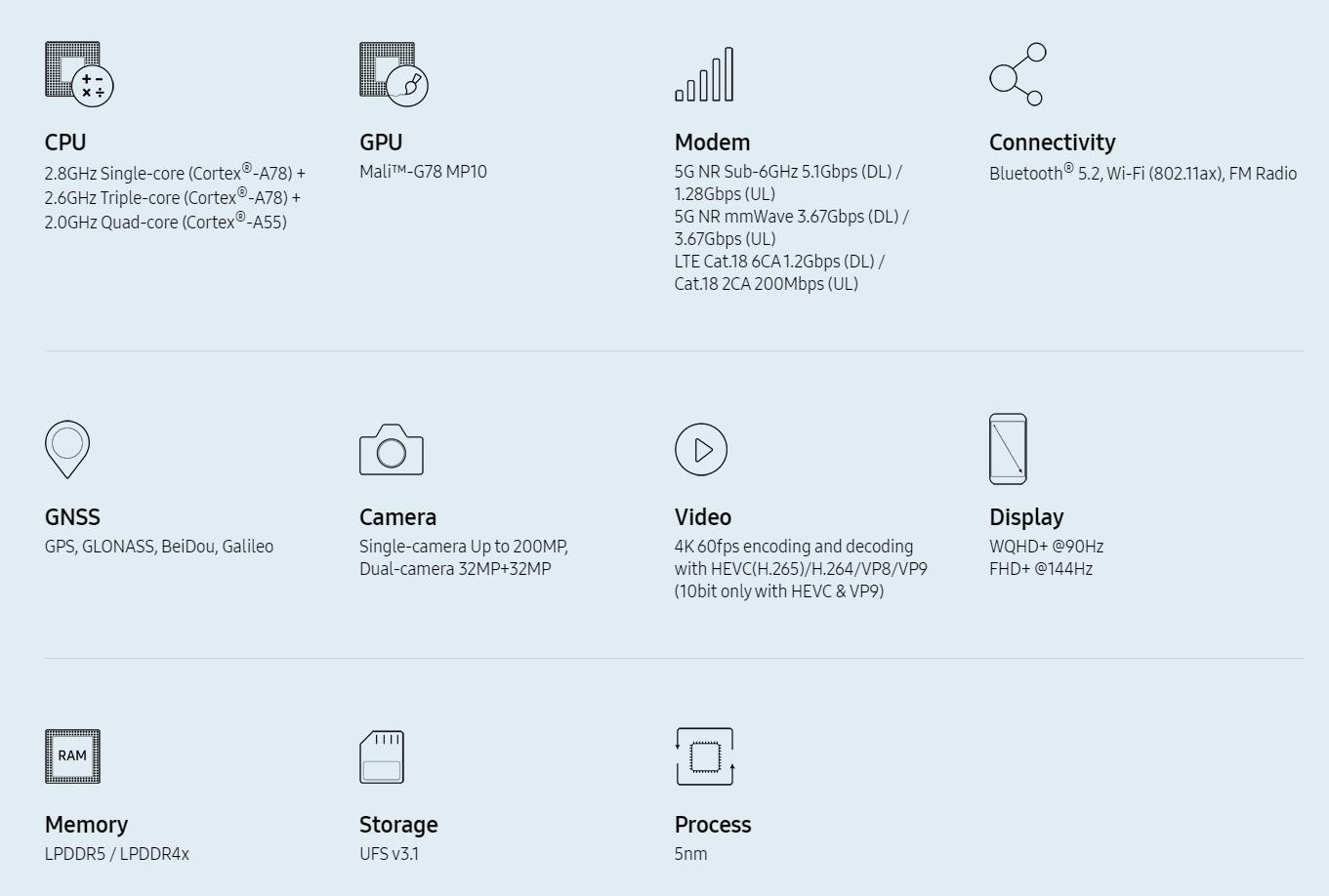 SoC
Exynos 1080
Exynos 980
Exynos 990
Kirin 9000
CPU
1 x ARM Cortex-A78 @ 2.8GHz
2x Cortex-A77@2.2GHz
2x Exynos M5 Cores
@ 2.73 GHz
1x Cortex A77
@ 3.13Ghz
3 x ARM Cortex-A78 @ 2.6GHz
2x Cortex-A76 Cores
@2.5 GHz
3x Cortex A77
@ 2.54Ghz
4x ARM Cortex-A55@1.8GHz
6x ARM Cortex-A55 @ 1.8GHz
4x Cortex-A55 Cores
@ ?GHz
4x Cortex A55@
2.05Ghz
GPU
ARM Mali-G78 MP10
Arm Mali G-76 MP5
ARM Mali-G77 MP11
Mali-G78
24 Cores
APU / NPU / AI Proc. / Neural IP
Dual NPU + DSP
Dual NPU + DSP
Dual NPU + DSP
2 big core, 1 tiny core
Memory
LPDDR5 @ 2750MHz
LPDDR5 @ 2750MHz
LPDDR5 @ 2750MHz
LPDDR5 / LPDDR 4X
ISP/Camera
200MP
32MP+32MP Dual camera
Single Camera – 108MP
Dual Camera – 20MP+20MP
Single: 108MP
quad-core, 6th gen ISP

Integrated Modem
Integrated 5G modem
5.1Gbps with mmWave and 3.67Gbps with Sub-6GHz
Integrated 5G modem
3.55Gbps download speed and up to 1.38Gbps for upload speed.
Exynos Modem External
(5G NR Sub-6)
DL = 5100 Mbps
(5G NR mmWave)
DL = 7350 Mbps
Balong 5000
4G + 5G NR NSA+SA Sub-6GHz
Process
5nm
7nm
7nm
TSMC
5nm
CPU
Typically we see brands use two big cores and six smaller cores for their upper mid-range chipset, this is the case with the Exynos 980 and Qualcomm Snapdragon 765G, though Mediatek bucked that trend with their Dimensity 800 series.
Samsung has adopted a 1x3x4 design this year with four Arm Coretex A78 cores with one running at 2.8Ghz and the other three at 2.6Ghz.
This will likely give the Exynos 1080 considerably more processing power than the flagship Exynos 990 from last year, and will quite likely beat the flagship Kirin 9000 from this year
GPU
The GPU has had a huge upgrade too, it has skipped a generation going from the Mali G76 to the G78 then doubled the number of cores! That is just not something you see with generation improvements.
It will quite likely offer more GPU grunt than the Exynos 990 too, that has one more GPU core but uses the generation behind with the Mali G77.
While Exynos 1080 will likely have more CPU power than the Kirin, it doesn't come close to the 24 cores on the Kirin chipset.
Benchmarks
An early benchmark for Antutu was revealed for the Exynos 1080, which indicated a massive score of 693,600.
The Kirin 9000 has scored as high as 686,835 though this is with the benefits fo performance mode.
The current Samsung Galaxy S20 Ultra 5G with the Exynos 990 only manages 536835
Overall
The Samsung Exynos 1080 looks like it could be the most powerful upper mid-range chipset for the up and coming year. However, the main issue is the availability of devices using it. Currently, Samsung list just four devices with the Exynos 980, including the Galaxy A71, A51 then the Vivo S6 and X30. Vivo has almost no presence in western markets.
Posted by Mighty Gadget Blog: UK Technology News and Reviews