Samsung have announced their latest affordable 5G chipset which is not that much different than the Exynos 980 that was launched back at IFA 2019 and features in the popular Samsung Galaxy A71 5G and A51 5G.
Specification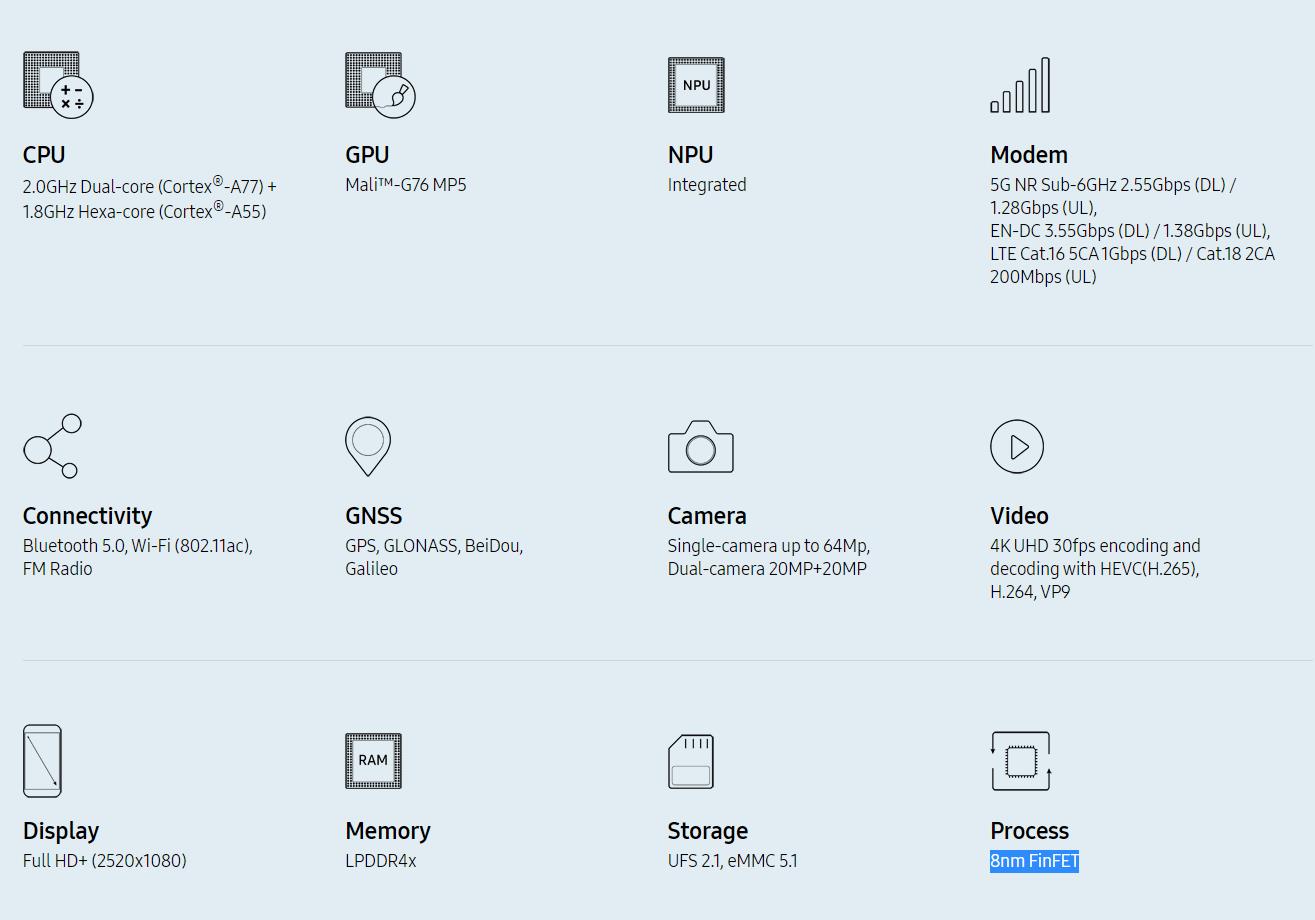 Fabrication Process
CPU

2.0GHz Dual-core (Cortex-A77)

1.8GHz Hexa-core (Cortex-A55)

GPU
Modem

5G NR Sub-6GHz 2.55Gbps (DL) / 1.28Gbps (UL),

EN-DC 3.55Gbps (DL) / 1.38Gbps (UL),

LTE Cat.16 5CA 1Gbps (DL) / Cat.18 2CA 200Mbps (UL)

Connectivity

Bluetooth 5.0, Wi-Fi (802.11ac),

Camera

Single-camera up to 64Mp,

Video

4K UHD 30fps encoding and

decoding with HEVC(H.265),

Memory
Storage
Samsung Exynos 880 vs Samsung Exynos 980
So there is not much difference between the two chipsets. They are both the same design, but the Exynos 980 has 10% higher clocks on the two A77 cores at 2.2Ghz. The GPU spec remains the same but we don't know the frequency.
However, camera, video and display specs differ with the Exynos 990 being able to go up to WQHD+ (3360×1440) on the display then a single camera up to 108MP and 4K UHD 120fps encoding and decoding
Samsung Exynos 880 vs Snapdragon 765G vs MediaTek Dimensity 800
CPU & Fabrication Process
Samsung use the 8NM fabrication process for their Exynos 880 and 990 whereas the other companies all use the smaller 7nm process.
However, Samsung are the only company to use the new Arm Cortex A77 cores on the CPUs. Technically there is the MediaTek Dimensity 1000l too, which has a batter spec, but that is only used on one phone which is only available in China.
Exynos 880:
2x Cortex-A77 @ 2.2GHz
6x Cortex-A55 @ 1.8GHz
Snapdragon 765G
1x Kryo 475 Prime (CA76)@ 2.4GHz (765G)
1x Kryo 475 Gold (CA76) @ 2.2GHz
6x Kryo 475 Silver (CA55)@ 1.8GHz
Dimensity 800
4x Cortex A76 @ 2.6GHz
4x Cortex A55 @ 2.0GHz
GPU
For the GPU the Samsung uses last years flagship Mali G76 with 5 cores, Qualcomm use their own Adreno 620.
Then MediaTek use the new but upper mid-range Arm Mali-G57 with 4 cores.
Benchmarks
We don't have benchmarks of the Exynos 880 yet, but it should be a little lower than the similarly specked Exynos 990 which scores 332400 in Antutu
The Qualcomm Snapdragon 765G scores 298925 on the Xiaomi Redmi K30 5G
It has been reported that the Oppo A92s which uses the MediaTek 800 achieves a score if 325776
So the Exynos 880 should hold its own against the Qualcomm but be a bit behind the MediaTek
Specification Comparison Table
Exynos 880
Exynos 980
Snapdragon 765G
Mediatek Dimensity 800
Mediatek Dimensity 1000L
Manufacturing Process
8nm LPP
8nm LPP
Samsung
7nm EUV (7LPP)
7nm
7nm
CPU
2x Cortex-A77 @ 2.2GHz
6x Cortex-A55 @ 1.8GHz
2x Cortex-A77 @ 2.2GHz
6x Cortex-A55 @ 1.8GHz
1x Kryo 475 Prime (CA76)
@ 2.3GHz (non-G)
@ 2.4GHz (765G)
1x Kryo 475 Gold (CA76)
@ 2.2GHz
6x Kryo 475 Silver (CA55)
@ 1.8GHz
4x Cortex A76 @ 2.6GHz
4x Cortex A55 @ 2.0GHz
4x Cortex-A77 @
@ 2.2GHz

4x Cortex-A55 @ 2.0GHz

GPU
Mali G76 MP5
Mali G76 MP5
Adreno 620
Arm Mali-G57 MC4
Mali-G77 GPU
RAM
LPDDR4x 2133MHz
LPDDR4x 2133MHz
2x 16-bit CH

@ 2133MHz LPDDR4X / 17.0GB/s

LPDDR4x 2133MHz
LPDDR4x 2133MHz
Modem
Shannon Integrated 5G
(LTE Category 16/18)
DL = 1000 Mbps
5x20MHz CA, 256-QAM
UL = 200 Mbps
2x20MHz CA, 256-QAM

(5G NR Sub-6)
DL = 2550 Mbps
UL = 1280 Mbps

Shannon Integrated 5G
(LTE Category 16/18)
DL = 1000 Mbps
5x20MHz CA, 256-QAM
UL = 200 Mbps
2x20MHz CA, 256-QAM

(5G NR Sub-6)
DL = 2550 Mbps
UL = 1280 Mbps

Snapdragon X52 Integrated

(LTE Category 24/22)
DL = 1200 Mbps
4x20MHz CA, 256-QAM
UL = 210 Mbps
2x20MHz CA, 256-QAM

(5G NR Sub-6 4×4 100MHz
+ mmWave 2×2 400MHz)
DL = 3700 Mbps
UL = 1600 Mbps

Mediatek M70
Mediatek M70
AI
Integrated
Integrated
Hexagon 696
HVX + Tensor

5.4TOPS AI
(Total CPU+GPU+HVX+Tensor)

Integrated
Integrated