Samsung's latest ridiculous monitor is now up for pre-order for just £1,279.99.
Samsung Odyssey C49G95T Specification
The Samsung Odyssey C49G95T is a monster 49-inch 5120×1440 display with a refresh rate of 240Hz which is features with AMD's FreeSync 2 technology while also being G-Sync Compatible.
The display features a 1000R and has a DisplayHDR 1000 rating.
With such a high resolution and refresh rate, Samsung's Odyssey G9 must utilise DisplayPort 1.3/1.4 to maintain the screen's required bandwidth levels.
This screen uses a VA panel and uses QLED (Quantum Dot) technology to deliver VESA DisplayHDR1000 certified HDR support, a wide colour gamut of 95% DCI-P3 and 92% Adobe RGB coverage. This screen also supports full 10-bit colour depths and used edge-lit local dimming to deliver deeper blacks than standard PC monitors.
Dual-Wide 27-inch 1440p
A 49-inch 5120×1440 display sounds completely bonkers and the sort of thing people with more money than sense buy. However, I reviewed the Samsung C49RG90, and it totally won me over, so much so I ended up buying it.
Admittedly I fell in love with this format more from a work perspective than a gamer. You basically end up with two 27-inch 1440p displays side by side with no bezel in the centre. The lack of a bezel is obviously advantageous for gamers allowing you to use one monitor vs three in multimonitor gaming.
For gaming, you could get more affordable 1080P super ultra-wide monitors which would be less taxing on your GPU. For general use, especially work such as writing or coding and even web browsing 1440p is much more convenient.
You can, of course, get less wide 3440 x 1440 but then you lose out on the horizontal width which is less immersive for gaming and (for me) no use for work with side by side pages.
Price – isn't as bad as it looks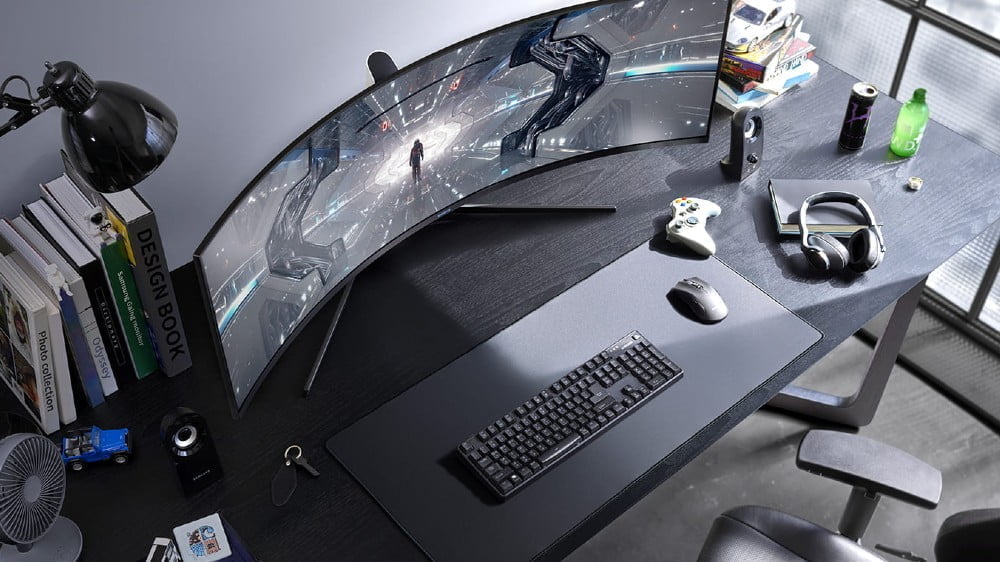 There is no denying that £1,279.99 is a huge price tag for a monitor, it is possibly more expensive than my whole PC. However 240Hz monitors are very expensive regardless of the size, the 27-inch 1440p HP Omen X 27 will set you back £549.99, and there are very few other options available, you have to drop down to 1080p for most options, and these all cost £400+
Can DisplayPort 1.4 support the bandwidth required?
Likely not. For the current C49RG90 you need to set the panel to 100hz in order to get 10bit.
Display port 1.3–1.4a can support 25.92 Gbit/s. Using the maximum settings of this monitor it will require 60.62 Gbit/s.
If they use DSC 2x this will drop to 30.31 Gbit/s so they would need to go to 2.5x or 3x to get the data down to 20.21 Gbit/s.
Samsung Odyssey C49G95T vs C49RG90
Apart from the faster refresh rate the big difference is the curvature of the display, the C49G95T has a very deep curve which is suppose to be more immersive, I think it would be a little excessive.
| | Samsung Odyssey C49G95T | Samsung C49RG90 |
| --- | --- | --- |
| Screen Size: | 49 Inches | 49 Inches |
| Resolution: | 5120 x 1440 QHD | 5121 x 1440 QHD |
| Curve | 1000R | 1800R |
| Aspect Ratio: | 32:9 | 32:10 |
| Panel Technology: Vertical Alignment(VA) | Vertical Alignment(VA) | Vertical Alignment(VA) |
| Refresh Rate: | 240Hz | 120Hz |
| Response Time: | 1 ms | 4 ms |
| Contrast Ratio: | 2500:1 (Static) | 3000:1 (Static) |
| Brightness: | 420cd/m2 (1000 cd/m² Peak) | 600 cd/m²(1000 cd/m² Peak) |
| Colour | – 1.07 billion (8-bit + FRC) | – 1.07 billion (8-bit + FRC) |
| Colour Gamut | 95% DCI Coverage, sRGB Coverage 125%(Typ.), Adobe RGB Coverage 92%(Typ.) | 95% DCI Coverage, sRGB Coverage 125%(Typ.), Adobe RGB Coverage 92%(Typ.) |
| Stand: Heigh | Yes | Yes |
| Stand: Tilt | Yes | Yes |
| Stand: Swivel | Yes | Yes |
| VESA Compatibility: | Yes (100 x 100) | Yes (100 x 100) |
| Connectivity: | DisplayPort 1.4 x 2,HDMI0 x 1, USB 3.0 x 5, 3.5mm Jack | DisplayPort 1.4 x 2,HDMI0 x 1, USB 3.0 x 5, 3.5mm Jack |
| Dimension (W x H x D): | 47.22" x 20.59" x 77" | 47.22" x 20.59" x 77" |
| Weight: | 16.7 kg with stand, 14.1 kg without | 14.6 kg with stand, 11.6 kg without |