I was previously very impressed with the SecureDrive BT flash drive, offer people a more convenient way to secure their data compared to key code thumb drives.
SecureDrive recently sent me their 2.5-inch external drive to try out, it is much the same but with options going all the way up to 8TB if you have pockets deep enough.
These sorts of drives are perfect for archival of sensitive work data, or for any sort of media storage such as unreleased videos, high resolution product photography or product designs.
Features
FIPS 140-2 Level 3 Validated: Certificate #3349
OS/Host Independent. Works with any device with a powered USB port
Hardware Encryption – AES256-bit XTS
Interior Parts Covered in Epoxy – No Intact Media Removal for Hackers
User Authentication w/ Secure Wireless Mobile App w/ Encrypted BT (iOS/Android)
Remote Wipe, 2 Factor Authentication, FaceID/Touch ID Authentication, Password Retrieval
Admin/User Mode, Read-Only Mode, Time Out Auto-Lock
Remote Management Ready 
Preloaded with DriveSecurity® ESET Antivirus (1 Year License Included)
Slim: 12.5mm (1TB & 2TB HDD) , (256GB-8TB SSD)
Standard: 20.5MM (up to 5TB HDD)
2 Year Limited Warranty (HDD Model)
3 Year Limited Warranty (SSD Model)
Set Up
Set up is identical to the Flash Drives I have reviewed from both SecureDrive and iStorage. The app is the same as are the features.
Once you have downloaded the app, when you plug the drive in the app will show the drive being connected and encrypted. When you click on it you will need to use the factory default password of 11223344. With the drive unlocked you can set it up how you want.
As well as changing your password you can enabled 2FA for increased security and then you can use biometric unlock allowing you to use your fingerprint instead.
With the drive encryption being tied to your phone, you can then have the drive auto lock when you move away from a PC. Something you can't easily do with the physical keycoded drives.
In Use
While the storage type has changed, everything is the same as the Flash Drive. It is incredibly easy to use. With the drive plugged in when you load up the app all I have to do to unlock it is use my fingerprint. With my desktop under my desk and the USB ports quite far away, being able unlock from my phone vs a keypad is far more convenient.
Drive Performance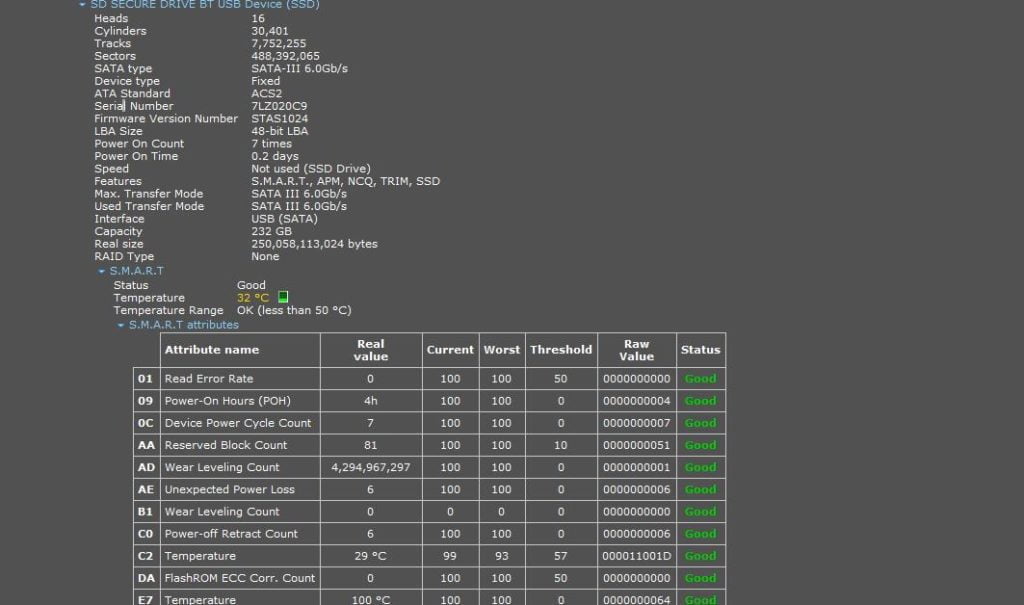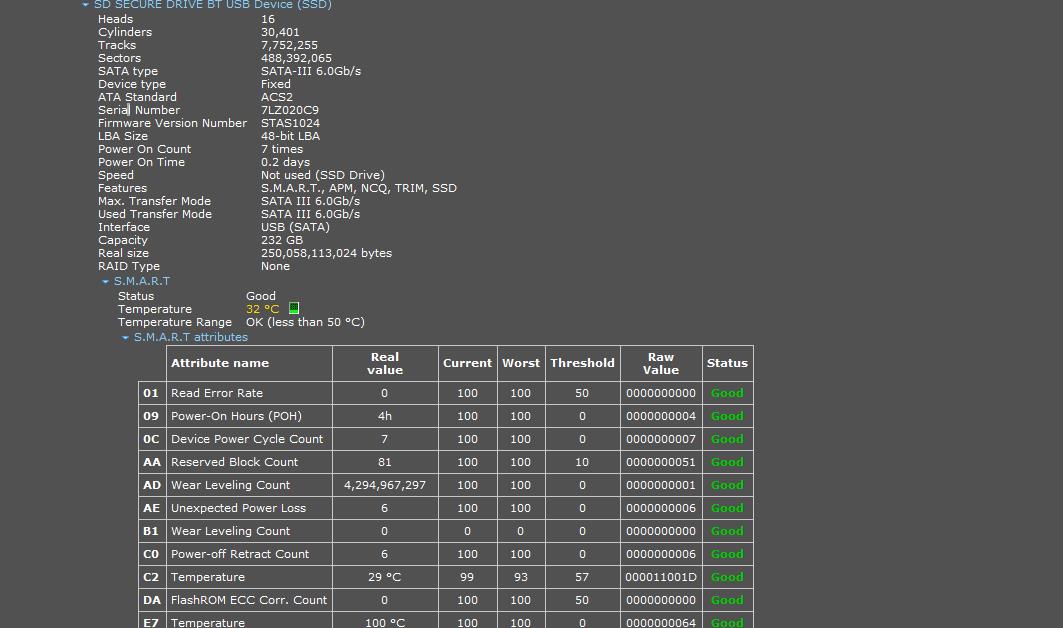 With this being an SSD, it offers superior performance than the more affordable HDD models. It looks like the drive used inside is a Seagate BarraCuda SSD based on the firmware of the drive. This should be rated at:
Sequential speeds up to 560 MB/s read, 530 MB/s write
Random read and write 90,000 IOPS
SecureDrive state speeds of up to 355 MB per second read and up to 333MB per second write.
During my testing sequential read and write speeds were a touch lower at 304MB/s and 301MB/s for rear and write using Crystal Disk. Writing to the drive with a large MKV file the speeds were more like 280MB/s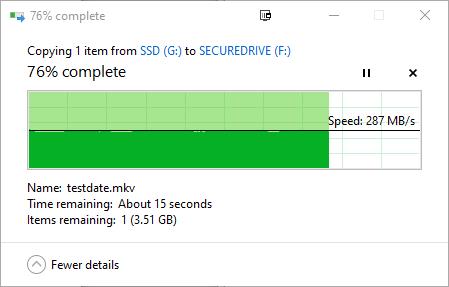 Speeds dropped much lower than I would have expected for the random read write tests, I am unsure if this is an issue with CrystalDisk when testing encrypted drives, or if this is the actual performance of the drive. However, even with the unexpected results, it is still considerably faster than the USB Flash drive I tested previously.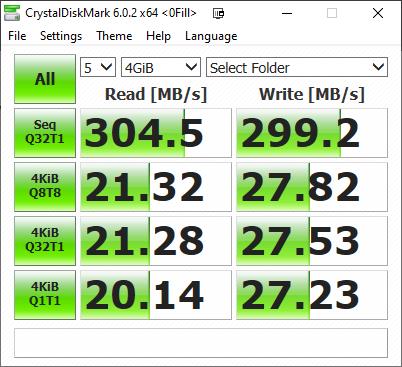 Remote Management
I have not used the remote management feature from Secure Drive but it uses the same licenced technology from ClevX as iStorage, so will offer the same excellent functionality.
This includes being able to assign users to a drive, monitor when and where a drive is access as well as limit access to the drive based on location and/or time.
Price and Alternative Options
At the time of writing there are no other companies offering an app controlled encrypted portable drive.
There are both HDD and SSD options with the most affordable being the 1TB HDD for just £220 or if you need the speeds an SSD offers the 250GB model is £246.
Prices escalate quickly. But the HDD models stay semi affordable with the 5TB model costing £432.
The keypad based drives are only £7 different for the 250GB SSD SecrueDrive. The closest equivalent I can find from iStorage is the 256GB diskAshur PRO2 SSD which is £256.80, so in this scenario it is SecreDrive that works out more affordable.
Overall
I personally love the app based Bluetooth encryption method. I don't know enough about security to state if this is more or less secure than the physical keypad options, but he fact that it is more convenient makes it much more likely I am to use it.
In my review of the iStorage I concluded they were a better option due to more attractive pricing (at least for UK buyers). However, in this case the SecureDrive BT HDD and SSD options are unrivalled, there is no other product on the market offering this amount of storage using Bluetooth encryption.
So once again, I think the SecureDrive BT is a superb choice.
Pricing can get pretty crazy if you opt for the 8TB SSD option but if you are looking secure large amounts of data the 5TB HDD model at £432 offers a huge amount of storage for less than a tenner extra compared to the SecureDrive KP model
Posted by Mighty Gadget Blog: UK Technology News and Reviews