The Sharp GX-BT180 is the smallest of three Bluetooth speakers from Sharp and adopts a design very familiar to the superb Ultimate Ears speakers but with a better USB location.
Pricing is keen at just £38 on Amazon for this model or £56.60 for the larger GX-BT280 and finally £99 for the GX-BT480 which ditches the vertical design and sits horizontally.
£39.00
in stock
3 new
from £39.00
Amazon.co.uk

Last updated on 22nd July 2019 6:43 am

You get stereo-spatial sound from 2 x 7W RMS high-quality
speakers and this diminutive speaker claims to offer powerful bass thanks to
its two passive bass radiators
With the two bass diaphragms exposed at the top and bottom,
this doesn't achieve the IP67 rating that Ultimate Ears has, but it is dustproof,
water-resistant, rugged and tough. The two diaphragms are protected by a metal
disk with the Sharp logo on it, so they should be durable, but I also wouldn't want
to prod anything down too hard on this section.
Like most portable speakers, this has two methods of connection, Bluetooth or 3.5mm. The speaker also comes in three colours, red, black, and the blue I have been reviewing.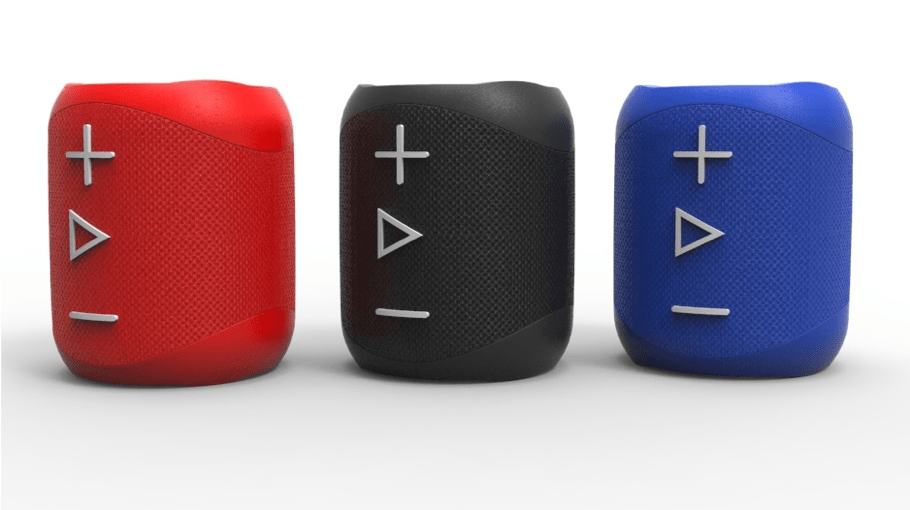 Performance
The speaker is both louder and bassier than you might imagine such a small device could be, though like most speakers you will be rewarded with superior sound quality by keeping the volume at a more moderate volume to avoid distortion. As with all speakers, size matters, so this is never going to compete with the UE Megaboom or Soundcore Flare+, but it does fair well against other similarly sized speakers.
With the speaker having two passive radiators on what you assume is the top and bottom of it, you will probably be best to place the speaker sideways to limit muffling of one of the radiators. With both radiators exposed its bass response is superb for such a small speaker, you don't get the same level of tininess as many other portable speakers.
Mids and trebles are well represented with a decent separation
of frequencies, and the speaker was able to handle multiple genres well from
acoustic, blues, metal, electronica and hip hop.
Perhaps the only criticism I could find with the audio was a slight harshness in the high-pitched range on a few tracks.
Battery life is rated at 10-hours and I would say this is approximately right and puts it around the same as the other speakers I have reviewed at this price and size.
With a built-in microphone, you can use this for phone calls if needed. It is not something I would ever choose to do, but if using the speaker when a call comes in, it is just quicker and easier to do this. The microphone performed perfectly well on the couple of occasions I used it, at least the person on the other end didn't have too much issue making out my northern drawl.
Comparisons
While I have not covered too many speakers at this specific price point, the Anker Soundcore Icon and Icon Mini are possibly the closest. This sits somewhere between the two speakers in terms of price and size. If you don't mind the bulkier design, this would be a better buy than the Icon Mini due to the improved sound quality thanks to the reasonably good bass.
Overall
The portable speaker market is saturated, to say the least,
but this little speaker does enough to stand out crowd. Specifically, it offers
a good balance of affordability and audio performance while also looking good.
Perhaps the only disadvantage it has to its competitors is
the IP56 rating vs IP67. While it is not an issue for me personally, you wouldn't
want this dropping in a poor or taking it in the shower with you.
Post from: Mighty Gadget – Gadget and Technology Blog