Simba is the most successful mattress in a box company within Europe, unlike other brands, they are not just a memory foam mattress but offer a hybrid technology with micro springs which offer increased comfortability.
I reviewed the original Simba Hybrid at the end of 2018 and found it to be superb, it is still one of my main recommendations out of the mattress in a box options.
Since my review, they have doubled the trial length to 200 days, only Nectar Sleep offers a trial longer than this at 365, and with this trial length, you get a bit over six months of use out of it. That should be more than enough for you to decide if you like the particular characteristics that memory foam offers.
Simba has now followed up that mattress with a new Pro variation, and I have been using it as my main mattress the past few weeks to see if it is worth the relatively high price in comparison to the standard model and its counterparts.
Simba Hybrid vs Simba Hybrid Pro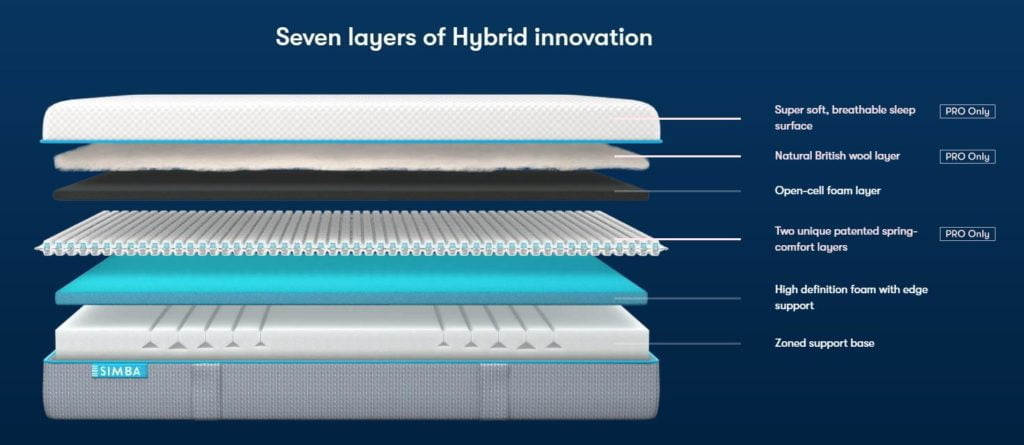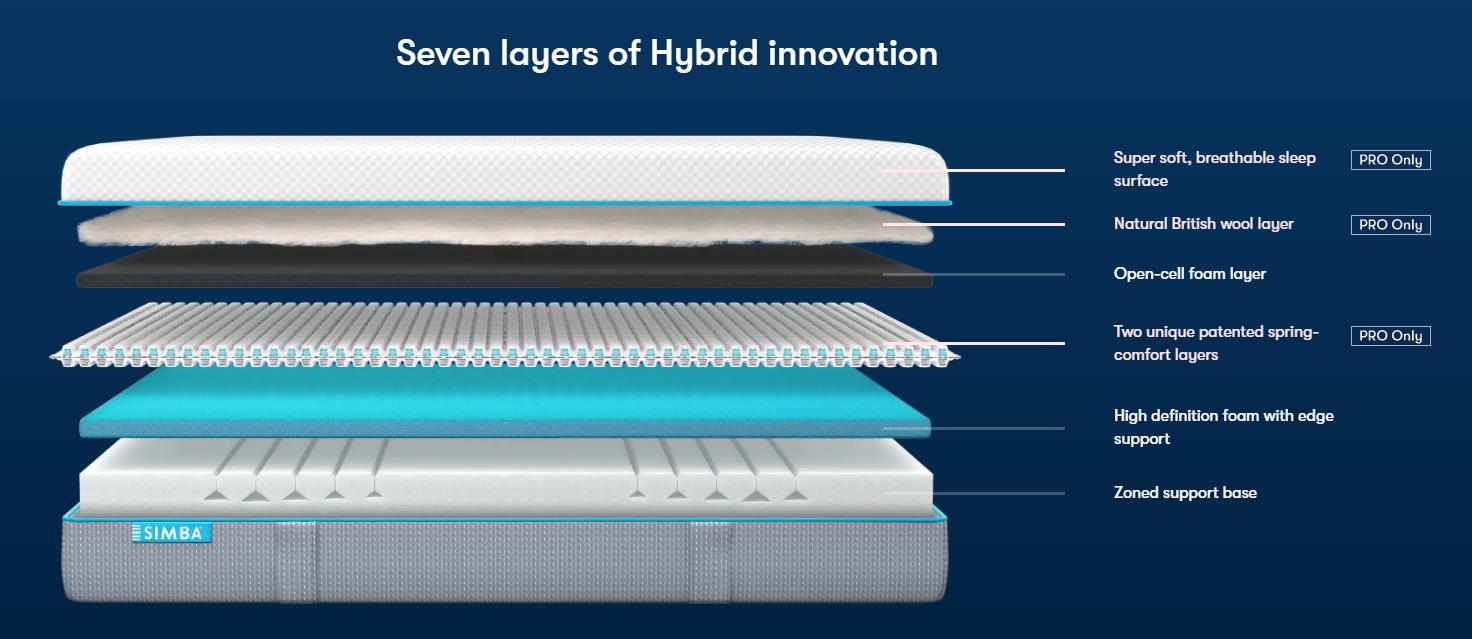 Simba Hybrid Mattress Pro
Simba Hybrid Mattress
Depth
28cm deep
25cm deep
Pocket Springs
Up to 5,000 25mm conical pocket miQro springs.
Enclosed in a 100% polyester pocket
Up to 2,500 25mm conical pocket miQro springs.
Enclosed in a 100% polyester pocket
Cover
750g Hypoallergenic knitted cover
500g Hypoallergenic knitted cover
Wool Layer
100% Heat regulating
moisture wicking British wool
No wool layer
Reflex support layer
Yes
Yes
Zoned support base
Yes
Yes
Open Cell Simatex Foam
Yes
Yes
Handles
4
4
King Size Price
RRP
£1199
£849
The standard Simba has 5 layers, and the Pro has 6. Both have:
Breathable surface (Pro gets a nicer one
Open-cell foam layer
Conical 25mm pocket miQro springs layer (Pro gets double)
High definition foam with edge support
Zoned support base
Pro-only features
You basically have three upgrades with the Pro model:
Pocket spring count has been doubled from 2500 to 5000 in a two-layer design
A natural British wool layer has been added between the sleep surface and the first open-cell foam layer – which will provide superior moisture wicking and ventilation allowing you to regulate your heat better
The cover has been upgraded from 500g to a 750g Hypoallergenic knitted cover
All this results in an added 2cm of depth to the mattress, giving it a more luxurious and premium feel.
Price differences
This results in quite a large price difference. The Kingsize pro model without any discounts is £1,199 .
The standard model in King is £849, giving you a £350 price hike.
Then a double is £300 different going from £749 to £1049.
Is the price difference worth it?
It very well could be, yes. In particular, if you find yourself ever getting hot at night, the wool layer and double spring depth will allow superior ventilation and moisture-wicking, which will allow you to regulate your heat more.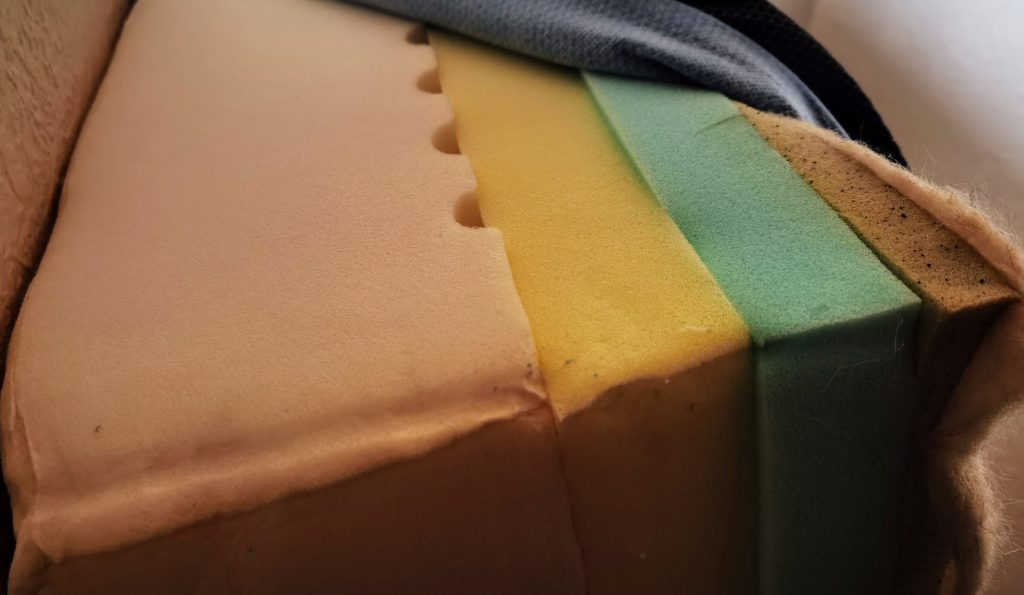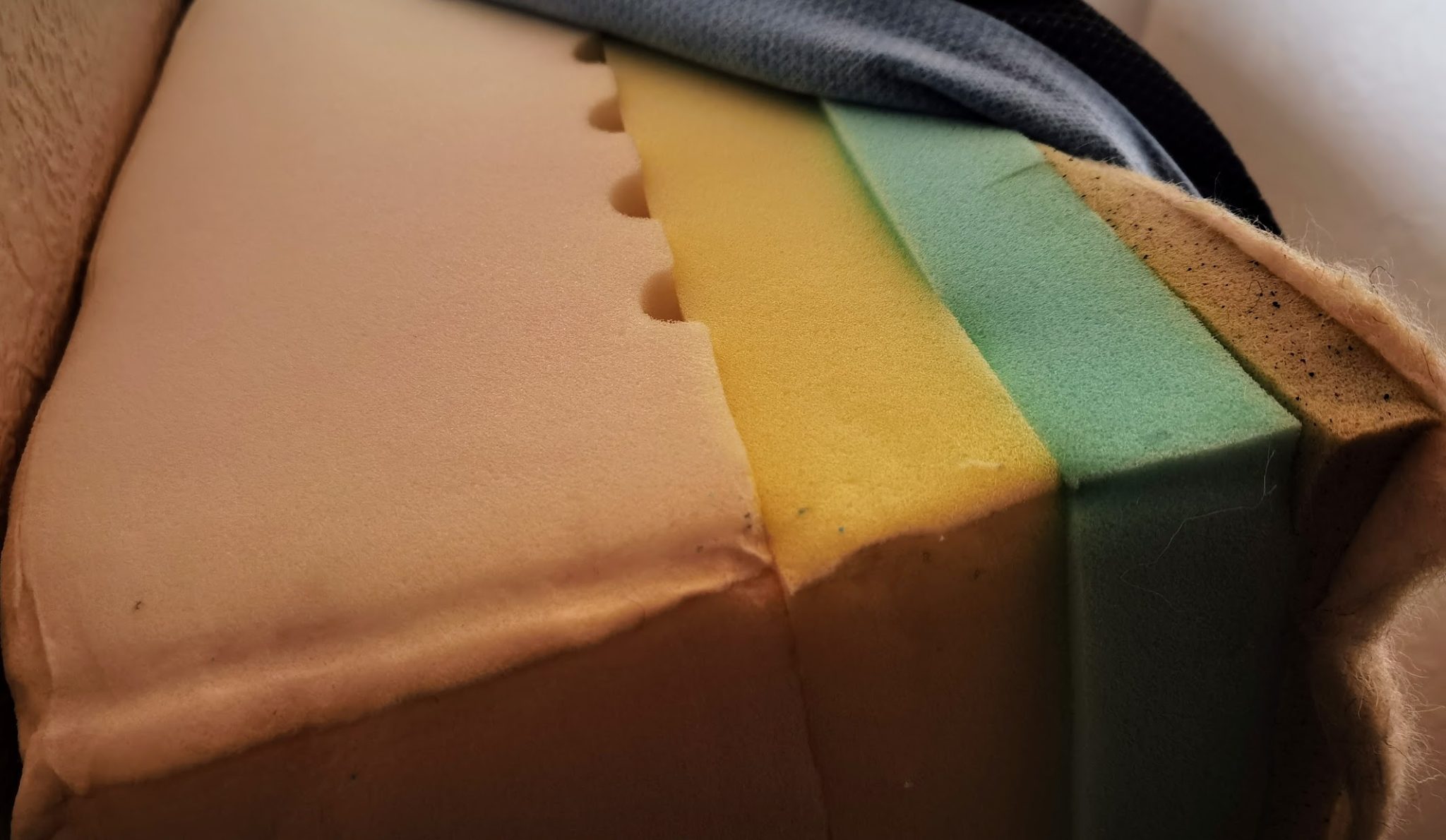 Memory Foam/Hybrid advantages and disadvantages
This applies to most of the options out there, but it is worth mentioning if you are considering a Simba.
Advantages:
They mould to your body shape providing support for your specific ergonomics. This can be particularly useful for relieving the pain on pressure spots. If you have arthritis or joint pain, then these beds might be able to help.
They tend to be more durable with a longer life. Pocket springs wear out, memory foam generally doesn't (dependant on quality and other factors).
Reduced motion transfer means you are less likely to wake your partner up.
People with substantial weight differences won't roll into each other as much
Memory foam is synthetic, so it is can be hypoallergenic and less chance of dust mites.
They can be vacuum packed which makes logistics very easy, and the cost to manufacture is lower than a pocket spring. This is why you can have 200-day trials and long guarantees, whereas most pocket spring companies don't offer anything like this.
Disadvantages:
Without a doubt (at least to me) heat regulation is the largest issue. It's a synthetic foam. It does not breath at all. Companies get around this by using open-cell designs, and various layers, but they will never be quite as breathable as a pocket sprung mattress with natural fibres.
It's a different feel to a pocket spring, there is no bounciness, and you tend not to immediately sink in.
Memory Foam vs Pocket Spring & Latex
Taking into account the above advantages and dissadvantes, memory foam has become a popular option because for many, it is more appealing than traditional pocket springs. That doesn't mean the other options are bad though:
Pocket Sping – A good quality mattress will cost a lot more, there are rarely trials and always shorter warranties. They can be very heavy and awkward to deliver. However, with natural fibres, heat regulation will be better; you can normally get them in various levels of tension too. Expensive options sometimes even have two tensions for either side for partners of different weight.
Latex – Its like memory foam but from a natural material (assuming natural latext), these have a natural open cell structure offering improved breathability. Latex is also hypoallergenic. They tend to be very heavy, and good quality ones very expensive with limited or no trials and shorter warranties.
Delivery and Set up
If you have never had a mattress in a box style mattress before, it is a pleasantly simple experience. As you can guess, it arrives in a box, but thanks to the memory foam design, unlike traditional mattresses, this arrives vacuum packed and rolled up. It is still heavy and cumbersome but much easier to handle than a traditional mattress. This, therefore, means it is easy to get it upstairs and around corners.
For the delivery, you'll receive your allocated three-hour delivery window the morning of your chosen delivery date. You'll have access to live tracking to see where the driver is on route and the number of deliveries ahead of you.
Due to the current issues we are facing, my delivery was left outside, I had no issues getting it inside and upstairs myself. If you are not particularly strong or have mobility issues, it is probably best to have someone else there with you for the delivery. The Kingsize box states it is 40Kg (88lbs).
Also, it is worth noting, Simba used to offer a removal service for your old mattress, they can not currently do this with Coronavirus.
Getting it out of the box is the hardest part, again this would be made easier with two people.


Simba includes a handy slicing tool which allows you to slice away the plastic vacuum packing without nicking the mattress itself. So with he rolled up mattress on your bed, you just need to slide the tool down the edges of the plastic opening it up.
Once opened the mattress will quickly inflate, it is a weird experience watching it go from flat and rolled up to a full-sized mattress.
You should leave the mattress to settle for a few hours before you use it. Many mattresses do something called gassing, which can lead to an unpleasant smell at first. This is due to them being vacuum packed immediately after production. I didn't personally notice any odours, but you should still allow it to breath for a few hours. Any smell should dissipate completely after a few days.
Single person comfort & firmness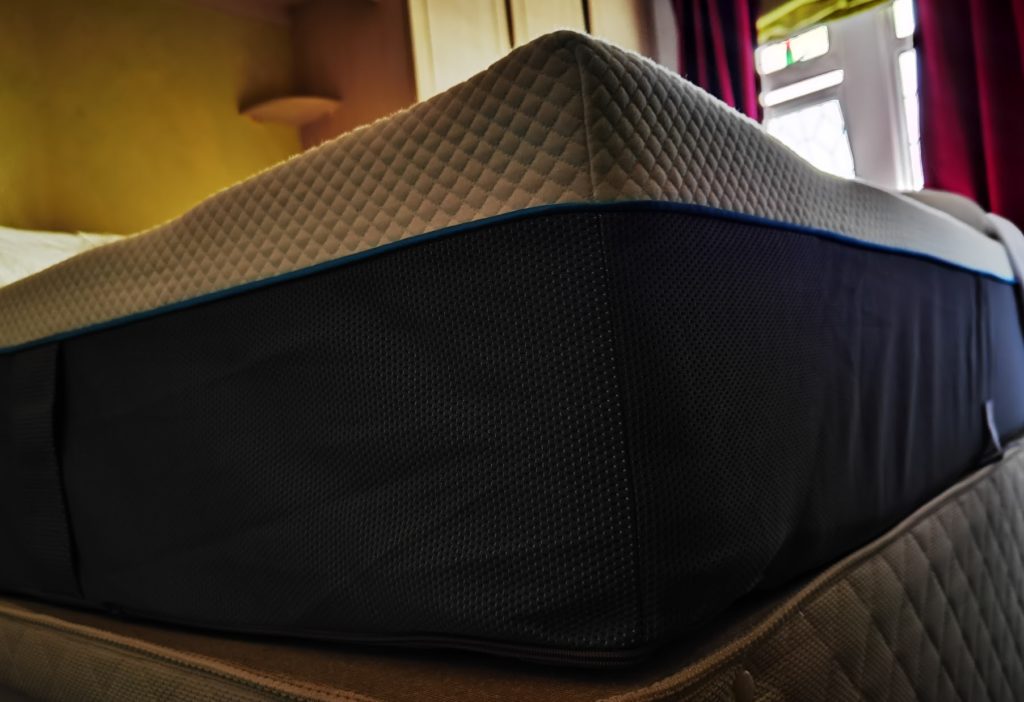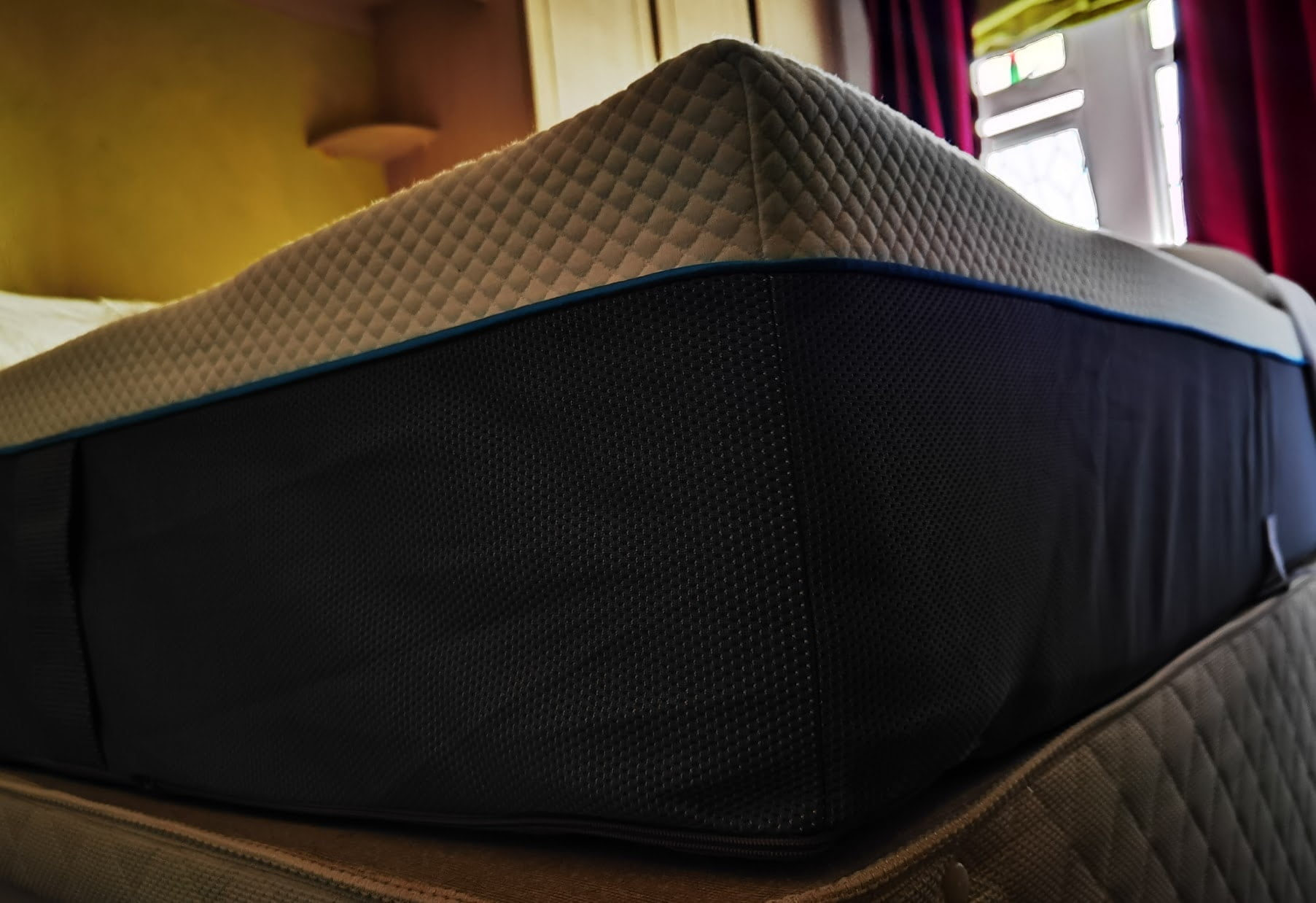 Due to my peculiar sleep patterns, during the week, I sleep in the bed myself. This is the best option for your comfort regardless of the mattress.
I weigh 13st/182lbs/82kg, and I am 6ft 1/185cm, technically I am pushing the upper end of the normal BMI, but I am lighter than the average person my height.
For me, the mattress sits somewhere between medium/firm like most memory foam offerings. You don't sink into the bed as you get in, but the idea is the memory foam will mould around you in a supportive ergonomic way.
General comfort is good, with the medium-firm, because you don't sink immediately into it, it doesn't always seem like it will be super comfy at first, but importantly I never found myself uncomfortable during the night.
I don't have any chronic ailments so I can't state how good this is for bad backs and the like, but during my use of it, I have experienced none of these issues myself.
Two people comfort and motion transfer
While sleeping by yourself is the best option for sleep quality, most people in a relationship do not do this. Depending on the weight difference between the two people, this can be very problematic for some mattresses, with the heavier person causing the lighter person to roll into them.
Memory foam doesn't suffer from this problem very much, because the foam moulds around your rather than the pocket springs flattening out.
My partner is 10st/140lbs/63.5kg and 5ft5/165cm, so again a healthy weight and there is not a massive difference overall between us. As expected, there were no issues with weight distribution between the two of us.
This also means that motion transfer in the night is kept to a minimum, so if you are a restless sleeper, you shouldn't bother your partner too much.
Is the Simba Hybrid Pro Mattress hot to sleep in?
My mattress arrived a few days before the hottest day of the year, which is convenient timing for testing. I am an extremely hot sleeper, I rarely use a proper duvet, even on the coldest winter nights. With this, I have not experienced any issues so far, I still overheat with a sheet on my, but there is no difference between this and the Latex Pocket Air Sprung Mattress from Soak and Sleep, which I bought specifically due to my overheating issues.
My partner insists on using a duvet, even on the hottest nights, and she has had no significant issues so far either, with her subjectively thinking it is better than the Nectar memory foam mattress we also have.
Price and Competition
There is not much in the way of direct competition, as this is the premium version of Simba with a premium price tag. I am not aware of any other memory foam or mattress in a box company that offers any wool layer.
All prices are based on King size.
Eve Sleep is one of the few with a premium offering in both a hybrid and standard model both costing around £1050. The original is four layers at 24cm while the premium is 28cm with fives layers adding a floatfoam layer with active cooling. Their Premium Hybrid is the same but ditches the base layer in favour of 1500 12cm depth pocket springs. Eve only has a 100-day trial.
Nectar is one of my main recommendation normally, they are priced a touch cheaper than the normal Simba RRP and include two pillows. They also offer a superior trial of 365 days. They don't have a premium option though, there are no springs at all, nor a wool layer.
At this price, you could opt for a more traditional mattress. John Ryan By Design has the Artisan 1500 for £1050 which uses pure wool on top then poly/cotton blends further down combined with pocket springs. You then also have the option to choose different tensions with firm, firm/media and medium as options. The downside here is you only get a 5-year guarantee and a 60 days love it or return it trial (which is the best you can get for pocket sprung options).
Current 25% off deals
Single
Double
King Size
Super King Size
Overall
The Simba Hybrid Pro is superb, it is the best memory foam based mattress I have tried so far, and I would say it is better than the latex/pocket spring mattress I was already using.
There is a notable difference in heat when sleeping on this and the Nectar memory foam mattress we have, I wouldn't say it is night and day, but considering I am such a poor sleeper that is prone to overheating, any help is welcome.
This difference is critical in evaluating whether or not the Simba Hybrid Pro is worth it. If you have used memory foam mattresses before and have no overheating issues ever, then the £300 difference may not provide that much of a benefit.
Personally, I think if you can afford it, it is worth spending a little extra on a mattress; it is going to be something you own for several years with you hopefully getting thousands of hours of use per year.
Thanks to the long trials of this sort of mattress, I always recommend people to go for one of these first to find out if they like it. So as long as you can justify the cost, there is no reason not to try the Simba Hybrid Pro.