I was impressed with the portable battery-powered Sound BlasterX G6 when I reviewed it last year, so the new Sound Blaster GC7 from Creative sounds quite interesting.
The GC7 is the first in its series of premium game streaming USB DAC and AMP, which looks to sit somewhere between the lower-spec G6 or X3 but more affordable than the flagship X7.
DAC Features
The Sound Blaster GC7 is an audiophile-class DAC (AKM4377 ) that offers a lower noise floor, lower distortion, and more distinct individual sound effects. Users can also stream at up to 24-bit / 192 kHz PCM playback and can support up to 7.1 virtual surround on both headphones and speakers along with Dolby Digital decoding for a cinematic audio experience for gaming, as well as movies and music.
Connectivity
One of the things I looked for when buying a DAC last year was multiple inputs, allowing me to switch between the NVIDIA Shield and my PC depending on my usage. The Sound Blaster GC7 easily ticks the boxes for my requirements with line-in, optical and USB.
Controls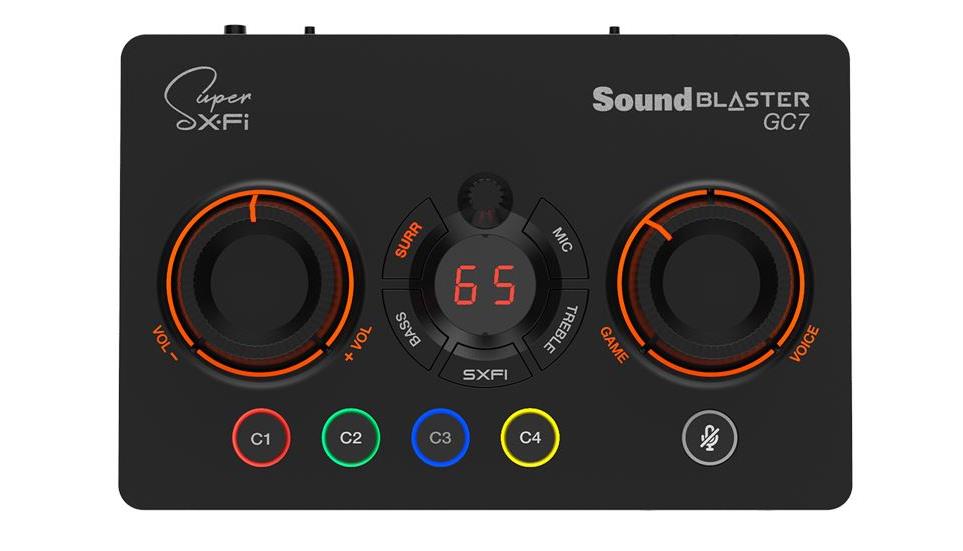 One thing that made me opt for the FIIO K5 over the Sound BlasterX G6 was the big volume knob and easy switching between the source (though the G6 could do this too). The new GC7 is much more to my liking, with multiple physical controls allowing you to control the volume of speakers and mix easily.
It then includes various preprogrammed EQ option and audio enhancement buttons.
Finally, it has 4 programmable buttons which you can customise to do what you want, including launching apps.
Sound Blaster Acoustic Engine and Super X-Fi
This isn't just a normal audio DAC. Creative have many audio enhancements which will help your gaming.
When using speakers, users can enjoy Sound Blaster audio enhancements like Crystalizer and Smart Volume through the Acoustic Engine suite, that has been fine-tuned with more than 30 years of audio processing experience, to deliver the sound signature of a top-of-the-range Sound Blaster. Additionally, Scout Mode brings something different to the table as it focuses on detection through enhanced audio cues that highlight every move just as it happens. Whether it's the sound of the enemies reloading their gun or the faintest of footsteps, Scout Mode will amplify the cues so users always remain one step ahead of their opponents.
When using headphones, Super X-FI will immerse users with hyper-realistic audio holography that recreates the same expansive soundstage of a multi-speaker system. Moreover, Super X-Fi's new SXFI BATTLE Mode drives users ahead of the game as it delivers realistic audio cues that not only highlight the direction, but distance as well. Users can then pinpoint the enemies' exact locations with greater precision, and gain that much-needed competitive edge to clinch the win. 
Pricing and Availability
Sound Blaster GC7 is attractively priced at US$149.99 and is available at Creative.com.
UK price and availability is not confirmed yet, but should arrive soon.