With many laptops easily costing over £1,000, if you travel or commute a lot with your laptop, investing in a protective bag of some form is a necessity. I have had a laptop screen crack while walking to a meeting in the past, which was both extremely inconvenient and very expensive.
The STM 28L Myth Backpack could possibly be one of the best options for protecting your expensive gear, but is the high price tag worth it?
Features
28L capacity (also comes in 18L)
Slingtech laptop pouch that protects the laptop from all sides
CableReady Cable routing
PassPort Luggage passthrough
Air channel back-panel-and-yoke system – It helps keep you back dry
AirPod pocket offers quick, easy access to your wireless headphones
Dedicated place to keep earbuds safely stowed, corralled, and untangled
TPU coated webbing handles with rivets ensures durability
Water repellent C6DWR coating applied to the fabric
Air channel back panel system promotes airflow, keeps you cool and comfortable
Reverse coil zippers protect teeth, keep moisture and grunge out
Internal fleece-lined sunglasses pocket
In Use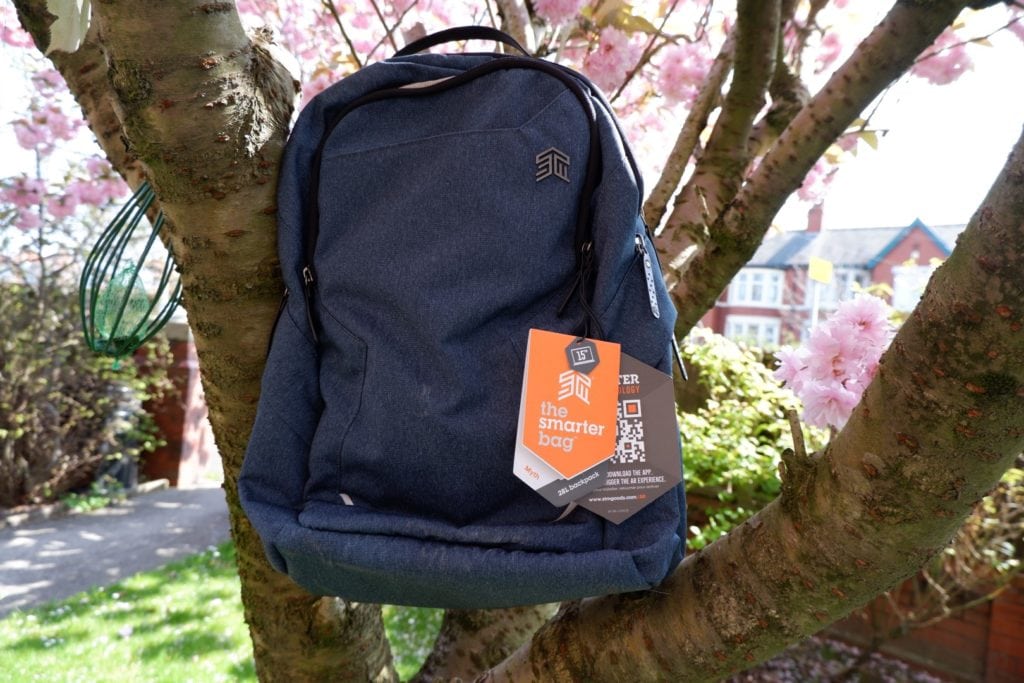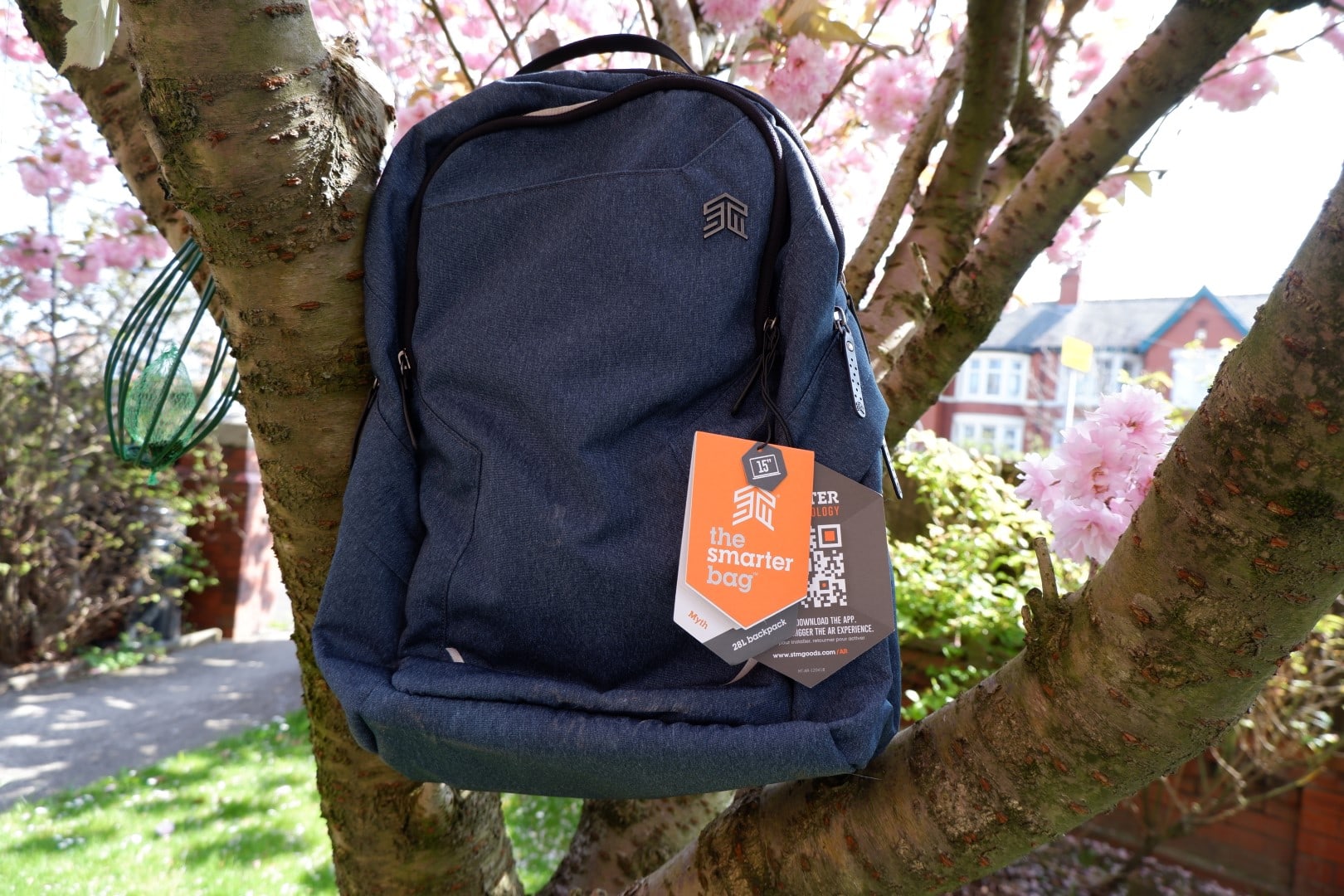 Due to the timing and current stay at home orders, testing of this backpack hasn't been quite as thorough as I may typically have done. I have certainly not been on any flights or long trips with this. Though I have relocated my work laptop to it, plus all the crap in my bag, and used it a few times.
As you can see from the features list, there is a lot more going on with this than just a bog-standard backpack. This is very specific as a laptop/work backpack. Its durable nature is ideal for commuting or a carry on bag for flights to secure your essential electronics.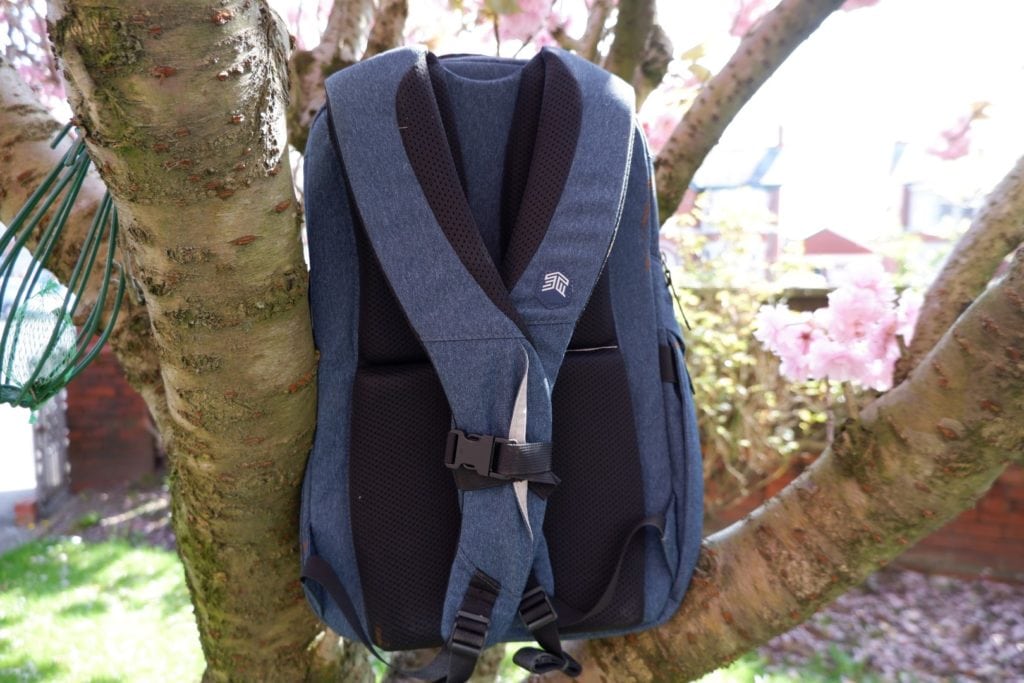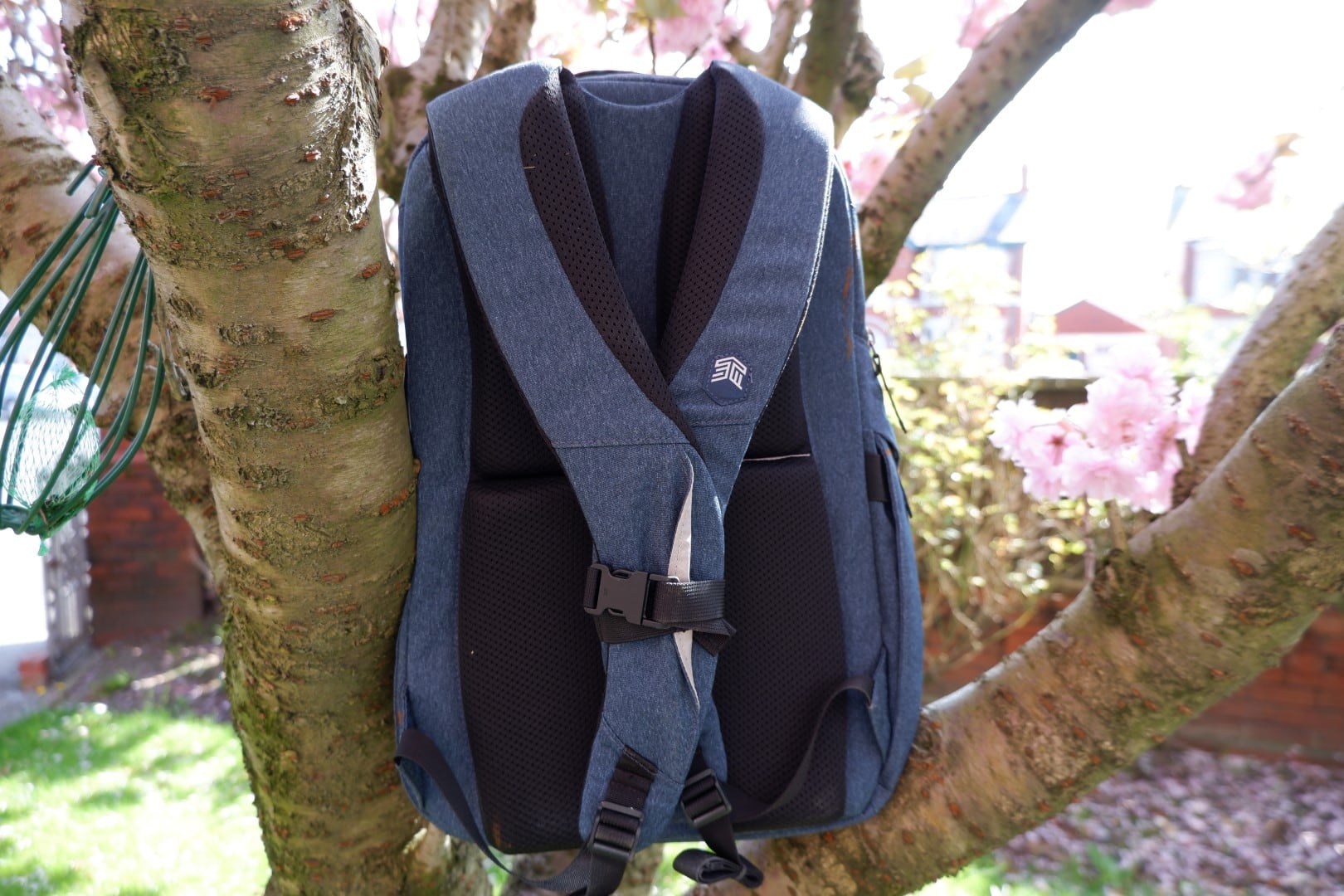 Unlike most business or practically orientated backpacks, this looks quite attractive, as far as a backpack goes. From pictures, the Windsor Wine looks more attractive than the blue model I was sent, though all three colours look smart.
The star of the show is the Slingtech protection that features extra padding and gapless corners that suspend your device away from the edge of the bag, isolating it from the bump zone. I feel confident that this design should protect your laptop from the most serious of knocks and falls.
The downside to this is that it makes the bag quite stiff, and it feels like it is not as spacious as it could be. The zips don't go the full height of the bag, so the front compartment does have quite a bit of space, but when you open it up, it feels small.
The cable routing holes are a nice addition, you have two, one from the laptop compartment which also has a small pouch pocket so good for tablets, then another from the main compartment into the front. Again this is located conveniently next to a zip pocket so you could have you phone in that and headphones routed through, or something on charge with a powerbank.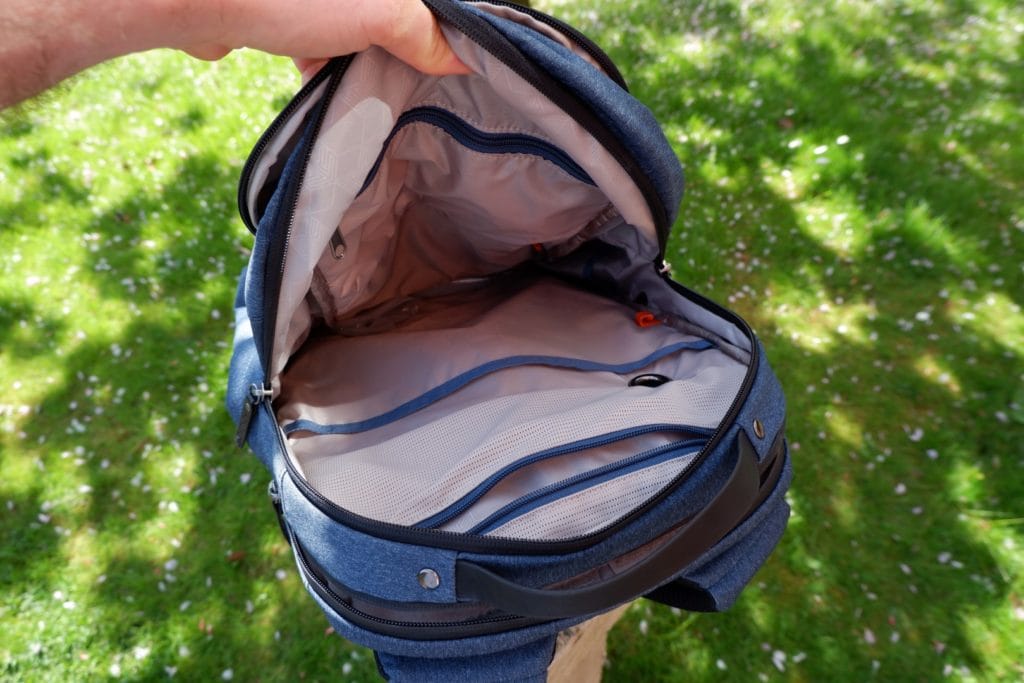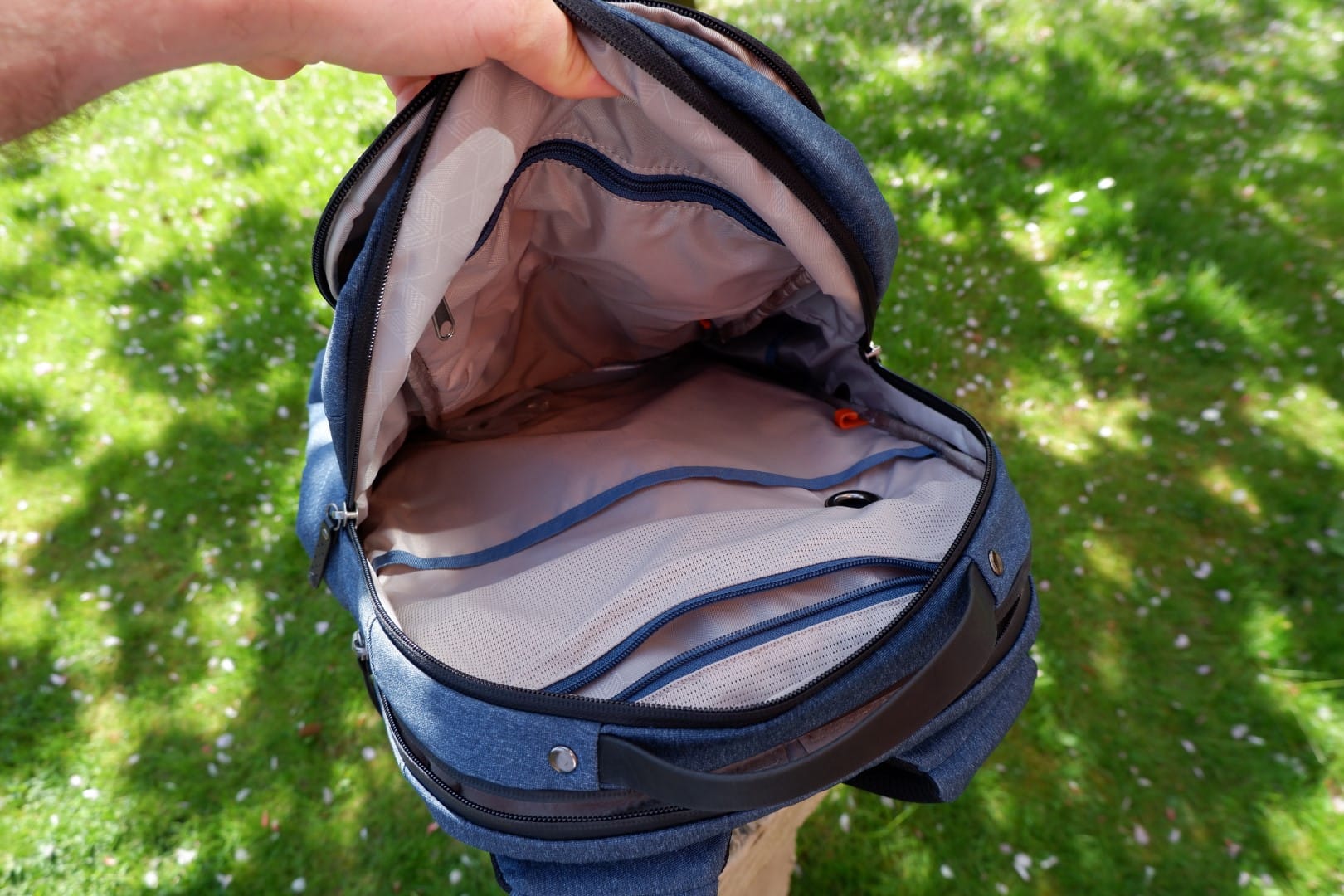 At the very front of the bag is quite a useful and spacious none zipped pouch. This is easily big enough to fit a pack light waterproof jacket, umbrella, or a large water bottle.
There are too many compartments to list, but I think I count 10 in total. Great for organisation but again this does reduce usable space slightly.
I have not been caught out in the rain with it, but the water repellent coating will likely be much appreciated come winter (assuming we are allowed out of the house by then).
Similarly, I haven't use the luggage passthrough section, but it will no doubt be very useful for avoiding having to wear your bag while dragging your luggage around.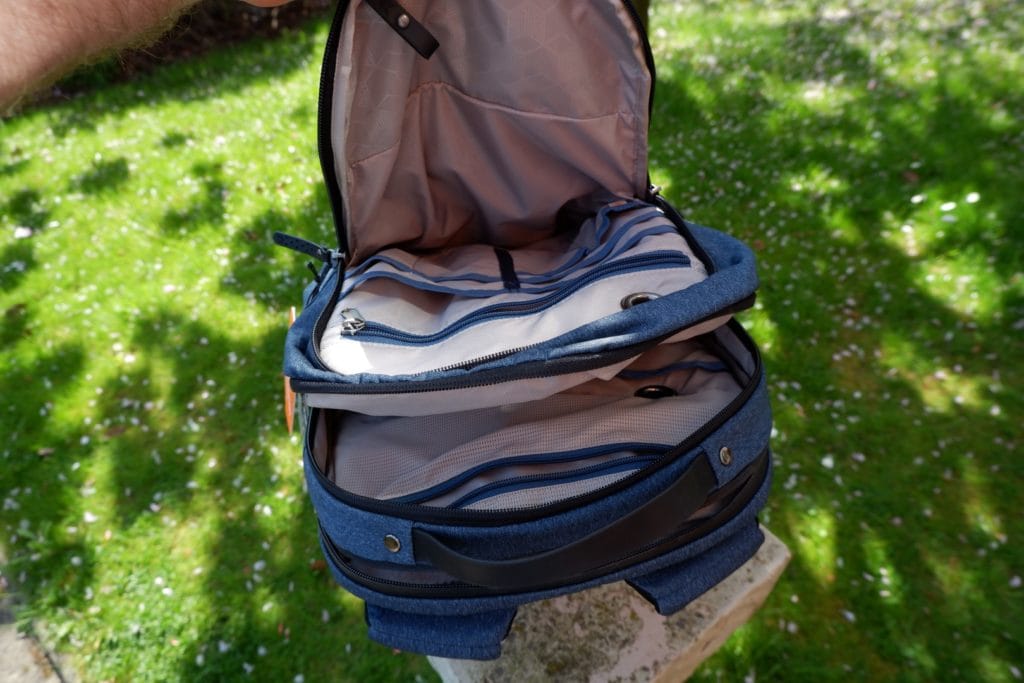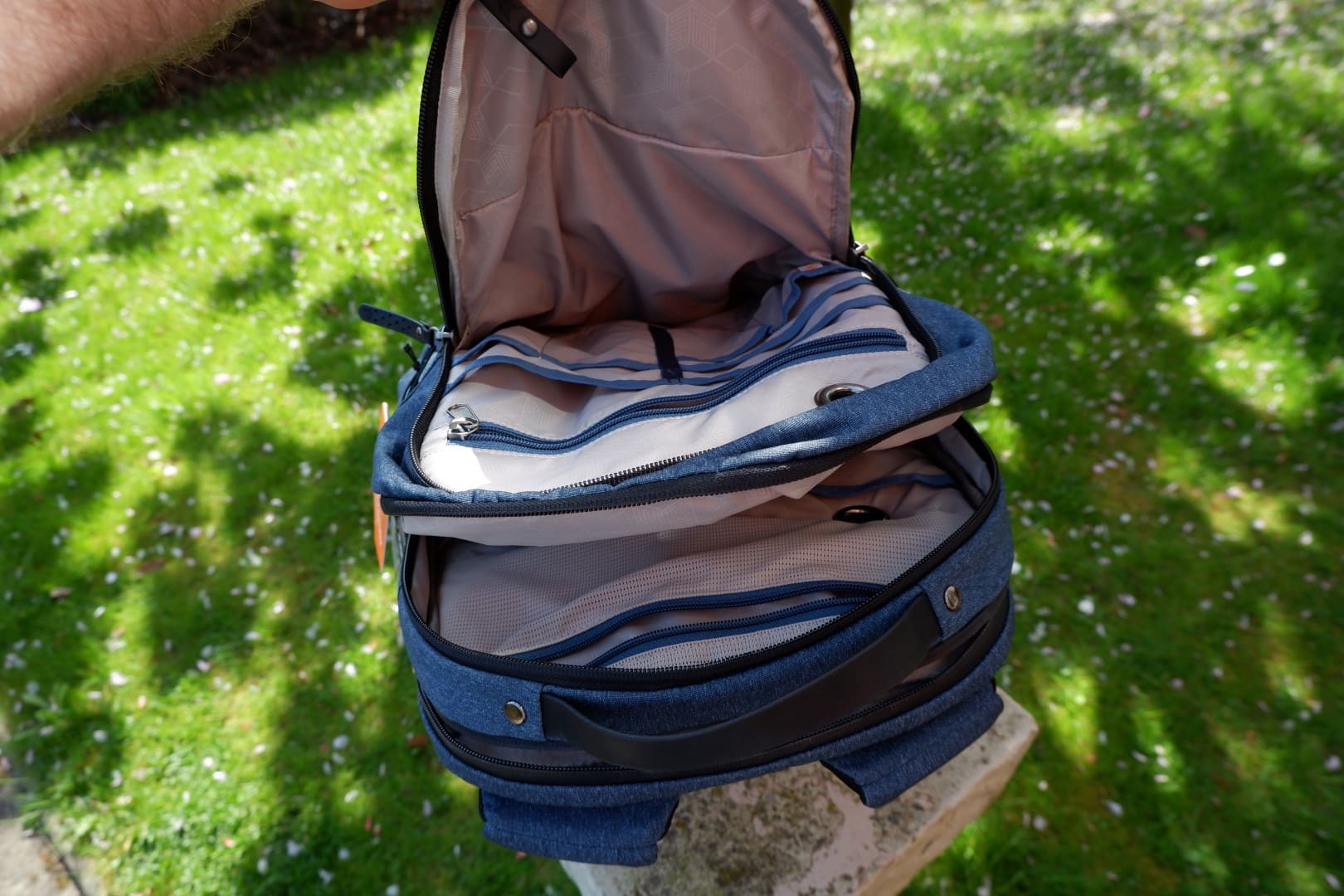 Price and Competition
Finding like for like comparisons is difficult. There are thousands of laptop backpacks many much cheaper than this, but not really any with this specific feature set.
If you go for a big brand name or well-specced option, prices start to get similar to this.
The Thule Crossover 32l Backpack is well-reviewed on Amazon and is £90. It is crush-proof, but the internal design doesn't look like it will be quite as protective.
The Everki Studio for £90 is also very well reviewed, this has things like trolley handle passthrough and is felt-lined.
The larger Everki Titan is very popular but that is £150 and an excellent example of how ugly laptop orientated bags can be. It seems to be an excellent option for flights, though.
Or there are cheaper options such as the Targus Urban Commuter, or Targus CityLite Security Backpack for just £37.
Overall
I would regard this as strictly a backpack for carrying your laptop around. The design of it means that it is perhaps not the most space-efficient for general use.
However, assuming you want a backpack for carrying around your laptop, this is superb. I can't think of any bag I have tried that would keep your laptop safer than this. All the pockets and cable routing make this magnificent for anyone with a lot of tech.
It is also considerably better looking than all the generic black laptop backpacks you find, or even worse backpacks targeting gaming laptops.
While it is not particularly cheap, if you commute with your laptop every day, or very frequently this will be a very wise investment. The physical cost of damaging a laptop, and the downtime from having it break will easily eclipse the cost of this bag.