The Sunnto 5 is the latest mid-range watch from the Finnish brand, this delivers many of the features from the Suunto 9 but at a more wallet-friendly price. At £299 it is perhaps in the most popular price bracket for this type of watch, competing with the Garmin Forerunner 245 Music, Forerunner 645 none music and the Garmin Fenix 5 none plus.
£299.00
in stock
2 new
from £299.00
Amazon.co.uk
Free shipping

Last updated on 15th July 2019 1:11 pm

Key Features
Screen Resolution: 218x218px
Size: 46mm x 46mm x 14.9mm/15.7mm (some bezels can be slightly thicker)
Weight: 66 g / 1.98oz.
Intelligent Battery Modes – 14-day standby, 20hrs GPS+oHR. Up to 40 hours with power saving options
All day stress & recovery
Wrist HR
80 Sport Modes
24/7 Activity Tracking
Personalised Training Plans: Cardio – these are the adaptive training plans covered earlier and which are based on the training effect of your workout and other factors.
Sleep Quality Assessment – uses heart rate and movement to detect how well you sleep
VO2max – Not accurate but should give you an idea of your overall fitness. The main things is to keep it going up or maintaining
Fitness Age – will show you what the normal age is for someone with the same VO2max as you
50m Water Resistance


Added Features from Suunto Spartan Trainer
Increased battery life from 10hrs to 20hrs in
regular modes, and 30hrs to 40hrs in extended modes
Changed from plastic bezel (base option) to
stainless steel bezel
Changed from plastic screen (base option) to
mineral glass
Added adaptive training plans
Added sleep quality metric
Added stress tracking metric
Added body resources metric
Added VO2Max fitness level
Changed GPS chipset from MediaTek to Sony
Changed GPS recording track modes from
Best/Good/OK to Best/Good
Added additional GPS options: GLONASS, Galileo,
and QZSS
Added intelligent battery modes: Performance,
Endurance, Custom
Made the bezel appear slightly more swanky than
the plasticky looking Spartan Trainer
Approx. the same weight: 66g for Suunto 5, to
57g/66g/74g for Suunto Trainer variants
Differences Between Suunto 9
No barometric altimeter
No compass
No adjustable brightness level
No touchscreen (buttons only)
No access to legacy Movescount platform
Does include stress, body resources, sleep
quality, and adaptive training.
Design and screen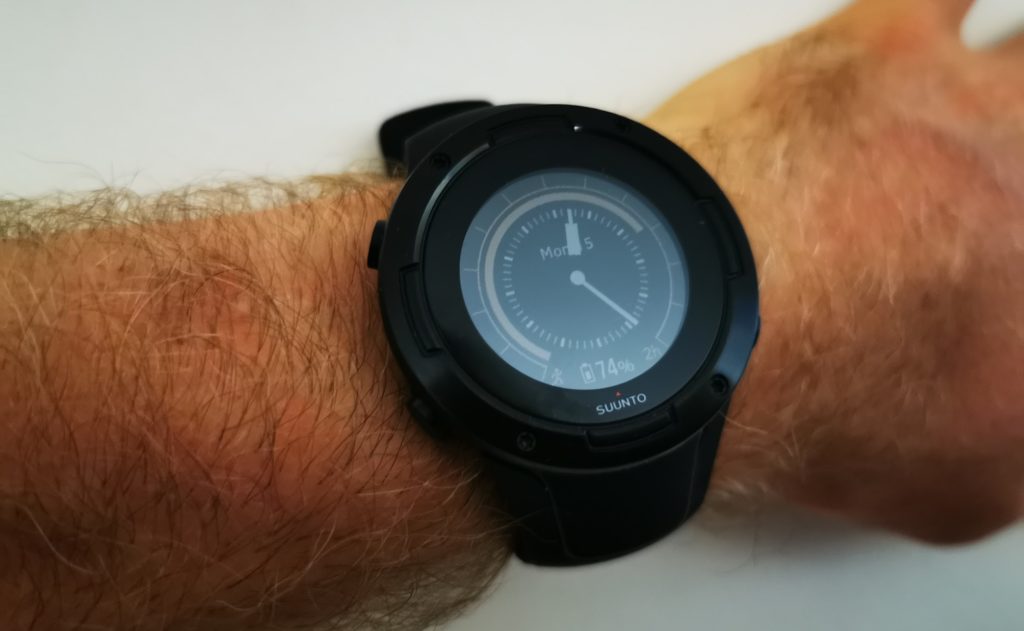 Design wise this is similar to the Suunto Spartan Trainer Wrist HR, and smaller on the wrist than the Suunto 9. Its sporty looking watch but good looking and well made. The all-black design lends itself well to being worn for most casual scenarios.
The buttons feel sort of squidgy and require a firm press,
this can lead to not pressing it when you expect to, but conversely, it should
avoid you stopping activities by mistake. Or a common issue I had with the
Garmin 235 was to start an activity in my sleep, only to be woken by the watch
vibrating.
The screen is quite small compared to the overall watch face,
this gives it some chunky bezels. Working with mobiles a lot, and their obsession
with zero bezels, it does look a bit dated, but once I got used to it, there were
no issues.
The display is perhaps not quite as readable as the Garmin Fenix 5. It is a bit darker, which probably helps with the battery. Neither watch can compete with the bright displays of smartwatches.
App
Love it or hate it, Suunto has ditched Movescout completely
with this watch; this now means there is no web access to your data, which I am
not a big fan of, I love to be able to digest all my stats on a big screen.
Also, while this may not apply to a lot of people, due to the
app only interface getting the FIT files was a chore compared to Garmin. I had
to download them to my phone, go to the download folder then share with Google
Drive or Telegram, so I could access them from my desktop. It is a minor but
notable inconvenience.
That being said, the Suunto is well designed, easy to use,
and has all the data you need to access. It now supports plenty of third-party
apps including Strava, and is probably one of the reasons why they don't bother
with a web app, as everyone just uses Strava.
Importantly, you have all the geeky stats you may want to
check out including pace, HR, cadence, steps and then also PTE (Peak Training
Effect) and EPOC (Estimated Post-Exercise Oxygen Consumption).
Even though this does not have a barometer, you still get ascent and descent data, but it is a guess and nothing close to what you really did.
Training Plans
The Suunto 5 auto generates 7-day training plans based on
the goals you set – with the choice to 'Maintain', 'Improve' or 'Boost' your
fitness.
For each recommended session, you get a target duration, and
intensity and the watch provides real-time updates during your session to keep
you working at the right rate.
Alternatively, the adaptive plan will adjust the targets
based on your previous sessions and recovery.
In reality, it is quite basic, though with this being priced more affordable than the Suunto 9, it could attract more casual users. The adaptive plan is useful to get to grips with the idea of recovery.
Health Stats and Sleep
Suunto has introduced various features to match Garmin. This
includes stress, recovery, resources, and also sleep tracking.
Most of these are heart rate based, with the stress being
classed as Active, Inactive, Stressed and Recovering is refreshed every 30
minutes.
Resources (Garmin calls it your Body Battery), a percentage
score that should help you identify when your body is at its most responsive
and ready to capture the maximum benefit from your efforts.
Sleeping tracking uses heart rate, movement and pre-defined
sleep times. I used it for a few nights, and it was reasonably accurate as far
as these things go. This is another health metric that I have found notoriously
inaccurate to track for almost every device I use. Garmin has a bad habit of getting
my sleep times wrong so sometimes I will be classed as having 11 hours sleep.
The Suunto seems to have done well in this regard and looks like it was semi-accurate
for the days I used it.
Battery Life
While it can't compete with its bigger brother, battery life
is exceptional. There are two different battery modes plus the option to customise
your own. If you realise you are running low of juice during your Ironman, you
can switch to a more conservative mode mid-event.
You can do things like change the GPS accuracy from off/ok/good/best
which changes the frequency that your location is marked.
The end result is 20hours tracking for regular use and up to
40 hours in power saving, plus a 14 battery life. In comparison the Forerunner
645 has 7 days in smartwatch mode; 5 hours in GPS mode and the Fenix 5 Plus 12
days in smartwatch mode and 18 hours GPS.
On my last run with this watch, I tried the endurance mode
compared to the Garmin in normal use. Both from full charge  Garmin dropped 20% in battery while the Suunto
was just 10%.
Hear Rate Accuracy
Wrists based HR accuracy is an awkward one for me, it is
never great depending on the sport, and I have criticised it quite a bit in the
past. For newish people getting into these watches, you don't expect to pay
£300 then have poor tracking results. However, it is not the manufactures fault
really, just our bodies, the wrist has to be one of the worst places to locate
a sensor due to movement and hair. Placement can improve things, moving it up
your arm, and sometimes flipping it over to the inside.
So the results here are expected, for things like runs, if the placement is good, accuracy is decent but you still get a few peaks and troughs.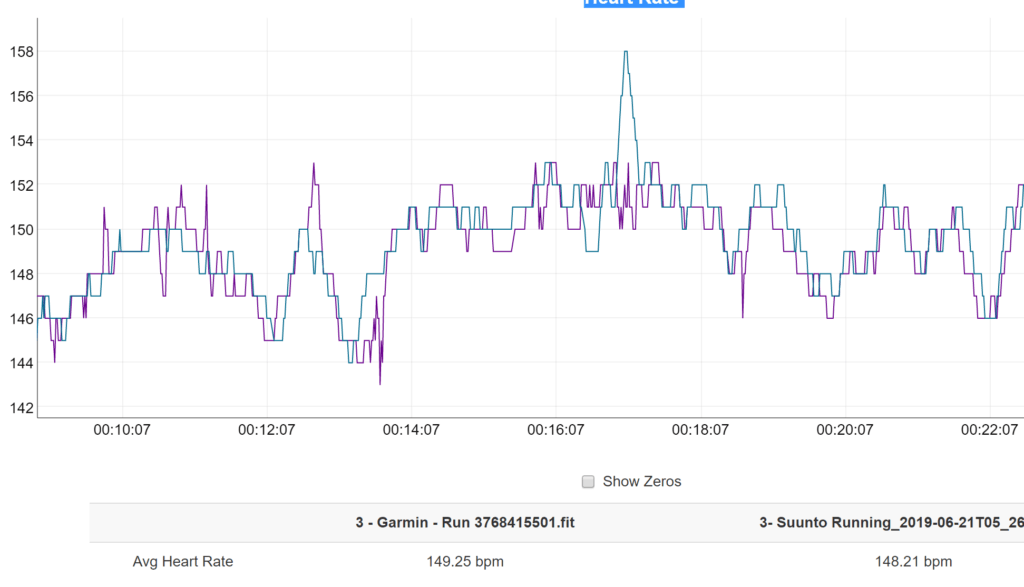 If you don't have perfect placement, results will be not so good. For me, this is far to easy to do, I'm normally rushing around before a long run and always forget something. So changing the position of my watch is rarely something I do.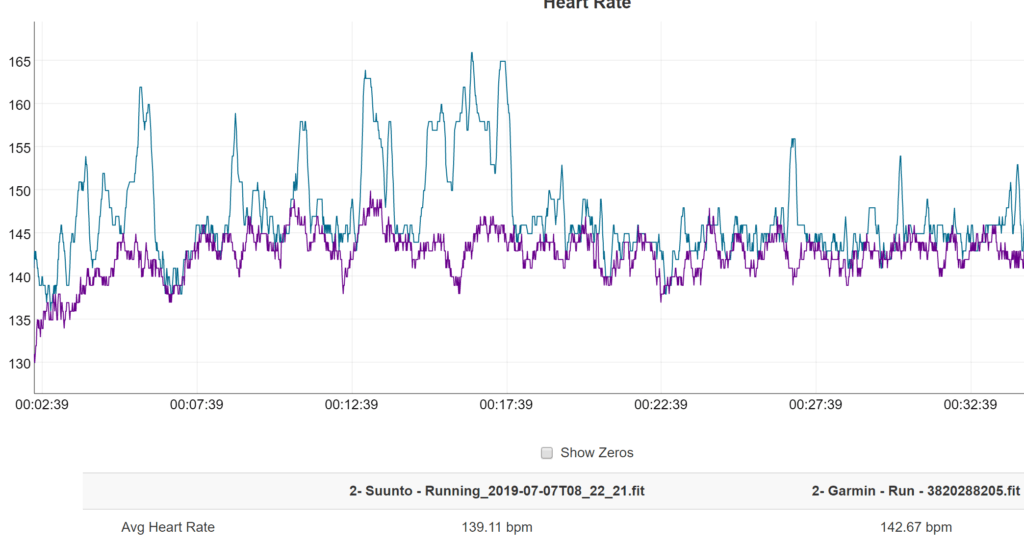 Cycling accuracy is always poor for me, and I assume most
people. In my 65Km ride, the watch actually did really well until the last 10
mins where it bottomed out totally and decided my HR was about 70, which
resulted in a lower average heart rate. In my slightly longer 70km ride it was
all but useless with regular drops of around 10 mins or so, which resulted in
an average of 99.81 bpm vs the 123.06 bpm chest strap on the Garmin.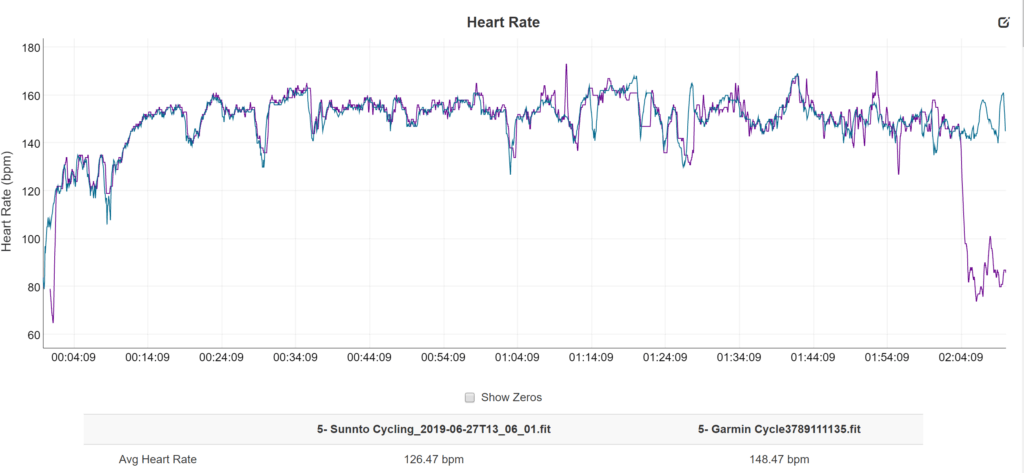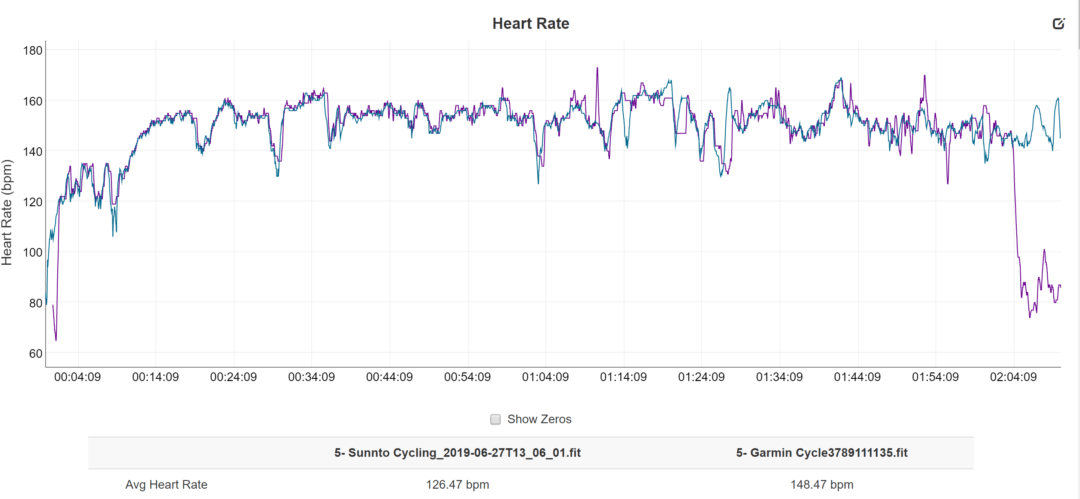 Indoor cycling suffered from the same issue I have experience with all my Garmin watches, it won't read the HR properly for the first 10 mins, but then be quite accurate throughout the rest of the session.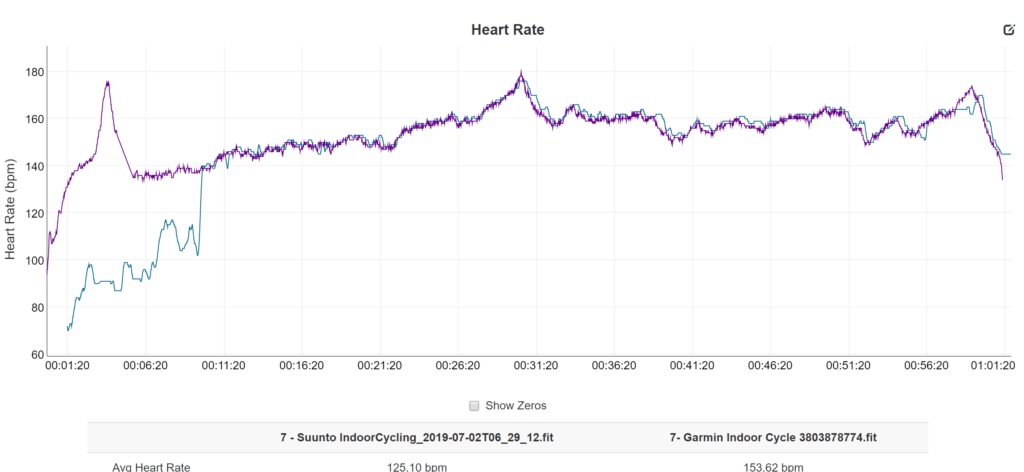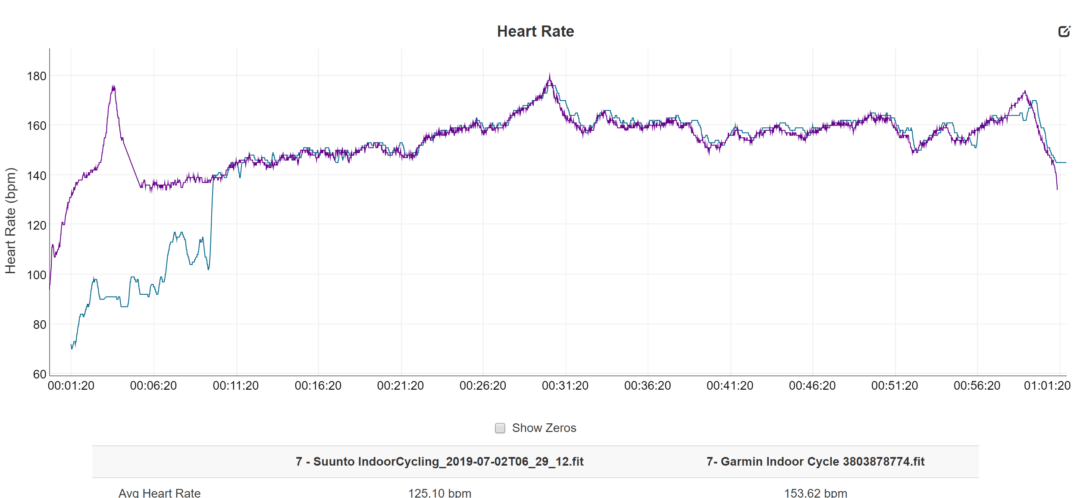 Overall, my recommendation for every sports device is to use the wrist OHR for 24/7 tracking, which is very accurate, then use an optical arm strap like the Polar OH1 or a chest strap whenever you can for things you want to track accurately.
GPS Accuracy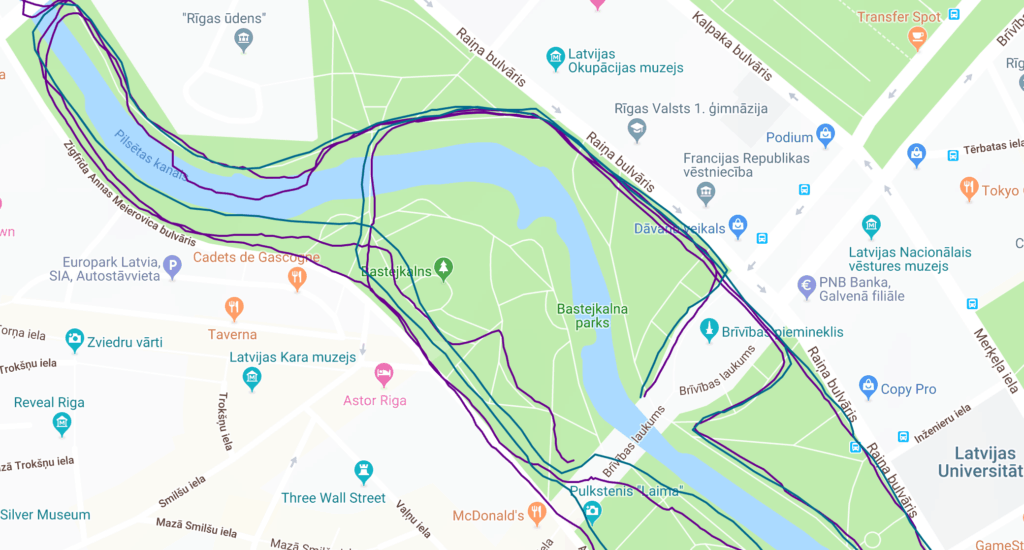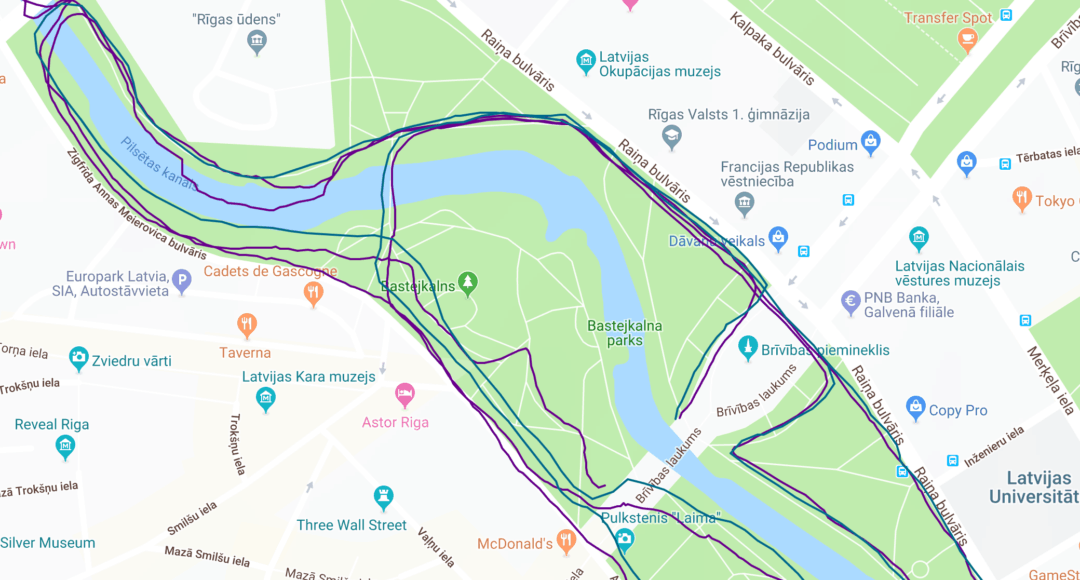 I have to admit; GPS accuracy is pretty low on my list of
priorities with a sports watch. I suppose the most important thing is that it
tracks the correct distance for races so that Strava identifies it as such.
There is some variance in my bike rides with the end result being around .5km compared to the Garmin 520 bike computer. However, the Fenix 5S and Suunto 5 are within .1km of each other so I would say this is the correct distance and a difference of 0.13% between devices.
Similarly, for runs, the total distance is almost identical with
a maximum of 0.2% variation.
In the endurance mode, the differences increase, but surprisingly,
it is still quite accurate. The Garmin recorded 25.79km for my last run while
the Suunto had 25.55km which is less than 1% difference.
Looking at the maps of the endurance mode, it doesn't look overly accurate, and you can see exactly how it is saving battery. The GPS sampling is much less, so all the lines are perfectly straight. As I ran quite a straight route, in general, it was perhaps a little more accurate than it should have been. A windier route may not be as accurate. In general, though, I would only use this if I forgot to charge my watch, or on some ultra-endurance event. That being said, it is a feature that will be extremely useful in these situations, it is quite easy to forget to charge your watch before a big run or bike ride.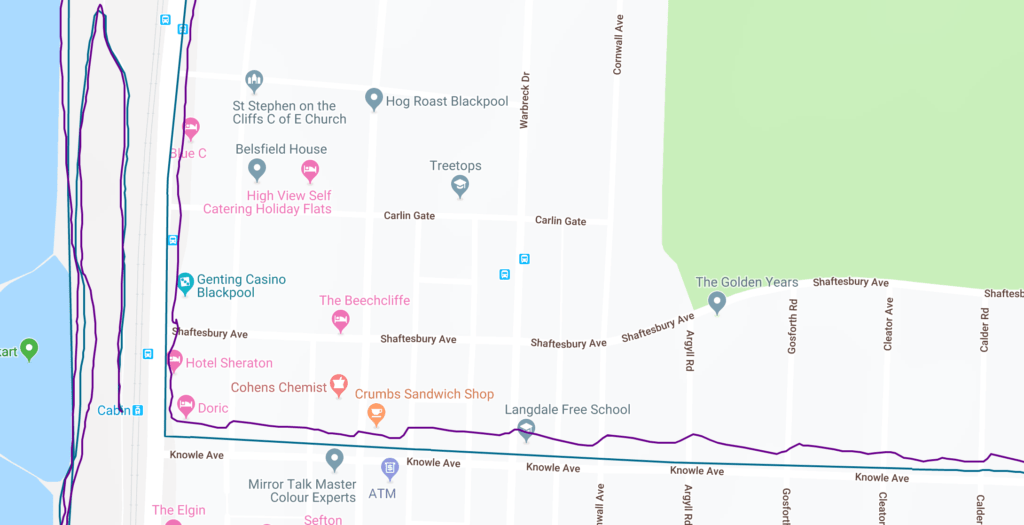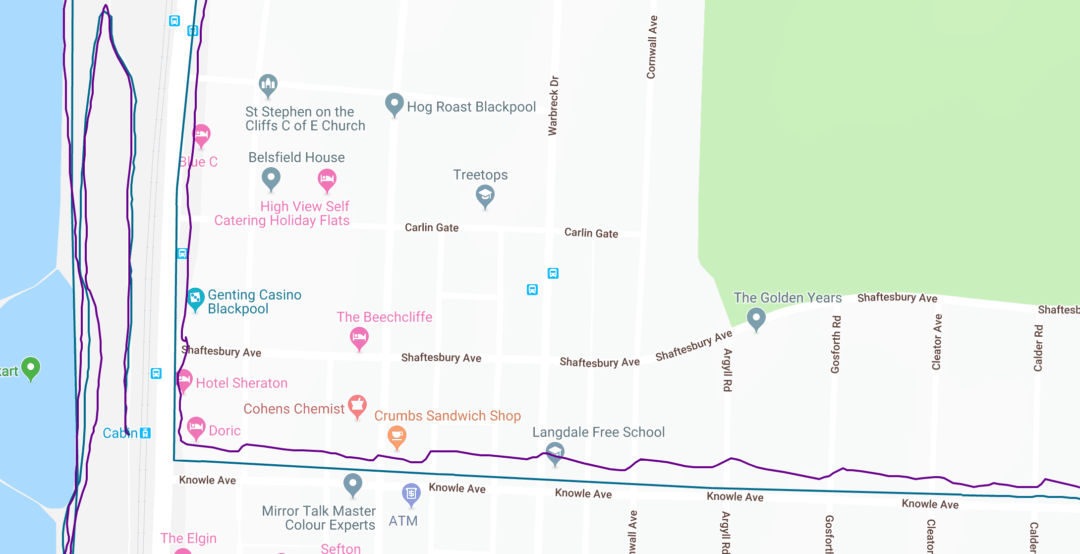 Overall
The Suunto 5 is an excellent upgrade from the Spartan
Trainer, while also sitting nicely below the Suunto 9, being much more
affordable, and not sacrificing many features. As nice as a barometric
altimeter and compass are, I never really make the most of them. Obviously how
important they are will be dependent on your regular activities, if I didn't have
a bike computer, I would probably want this data on my watch.
Importantly, it does everything I could want from a
multisport watch and in a reasonably attractive frame. It has enough features
that I don't use most of them, the adaptive 7-day plan and adaptive workouts
are quite a big improvement and are excellent additions for recreational
athletes wanting some form of guided structure.
Optical heart rate accuracy is good, or at least as good as
you can expect it to be for this often inaccurate placement.
Similarly, GPS accuracy appears to be excellent, though I
have never been one of those people that nickpicks at minor discrepancies with
it.
The battery life is the big selling point for me, it easily
outlasted my Garmin, and saved me in Riga for my runs when I realised I didn't
have either charger. The Suunto was still happily going while my Garmin was
precariously low on charge. For endurance athletes or people that just don't
want to charge their watch too often, this is fantastic.
Comparing to Garmin, things get a little harder, there are
not quite as many features compared to some Garmin options. Similarly, the
Garmin software is more feature rich. That being said, I doubt you would miss
anything if you opted for Suunto, and that battery life is something that could
easily win over serious fitness enthusiasts.
Post from: Mighty Gadget – Gadget and Technology Blog
Suunto 5 Review – An affordable running / triathlon watch with an exceptional battery