Following on from yesterdays SwitchBot Bot review, I have also been using their smart humidifier.
This is not currently discounted on Amazon UK for Prime Day, but it is is available directly from SwitchBot for just £24.60 vs £45 on Amazon.
Features:
Set the desired humidification efficiency from 1-100%
3.5L/0.9Gal tank, it can work up to 48 hours. 360° rotating nozzle ensures an even level of humidity distributes in the home. High spray mist up to 24 inches avoids fogging and wetting nearby furniture.
Less than 36 dB (which is quite audible, but not annoyingly so)
Works with Switchbot Thermometer/Hygrometer
Works with IFTT and voice control when used with Hub
Set-Up
Unlike the other SwitchBot devices, this connects to Wi-Fi, the set-up is still very simple. Within the SwitchBot app, you just add a new device, it will auto-detect the humidifier, and you then pass the 2.4Ghz Wi-Fi details to it
In Use
Filling the humidifier is quite easy, the water tank lifts off the base, and the lid is removable, so it is very easy to fill from any tap.
With the SwitchBot Smart Humidifier set up, you have three modes to choose from within the app.
On auto mode, set the Humidity level to what, and the SwitchBot will turn on or off based on the level of humidity.
With speed humidity, the humidifier is switched on, and you have the options to have it on high, media, low or auto.
Then with the schedule, you can have the humidifier to turn on/off at any time of the week, with different output settings of High, Medium, Low or Automatic.
If you have some of the other SwitchBot devices, you can also set this up in a scene.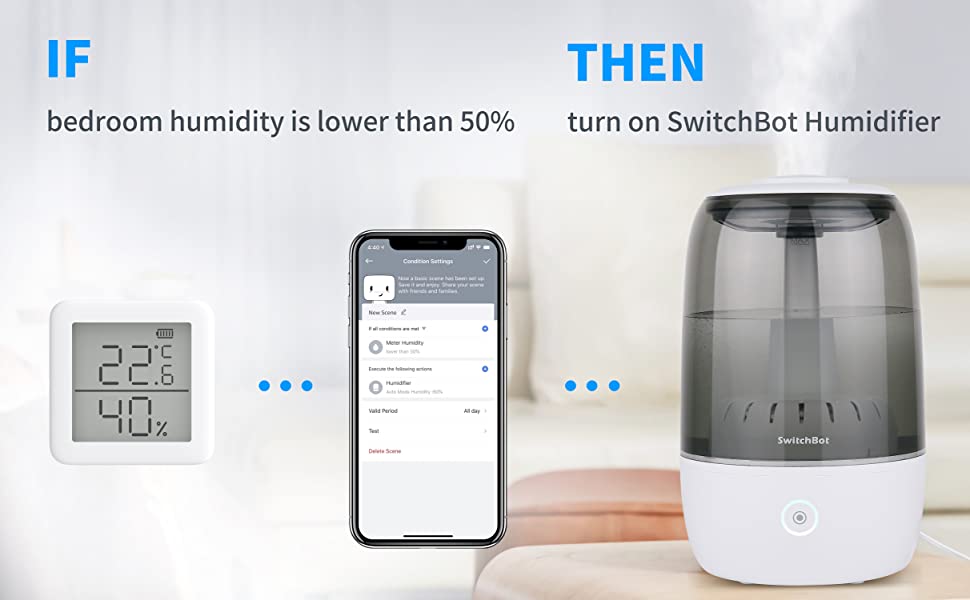 So if the SwitchBot Thermometer/Hygrometer has a low level of humidity, then you can switch the humidifier. This can then also be combined with a schedule, so if at 3pm the humidity is below 50% you can have it come on.
Being an ultrasonic humidifier, the SwitchBot Humidifier does not heat up the water. Instead, it atomizes the water into a cloud-like then, blowing the mist with a fan via a long spout neck that runs from the base of the 3.5 litre capacity water tank. This, therefore, has no effect on your room temperature.
In the base of the humidifier is a small tray that can be used for essential oils. I used this function to try and improve my sleep quality by having the humidifier come on before bedtime using lavender oil, which is supposed to help you fall asleep. It didn't seem to diffuse the oil as well as a proper electric oil diffuser, nor did the lavender help much!
Price and Alternative Options

SwitchBot Wi-Fi Smart Ultrasonic Humidifier, Large 3.5L Cool…
Simple & Smart – Add the Humidifier to the…
Works with SwitchBot Ecosystem – Works with…
Well Performance & All Day Use – With a…
Ideal Humidifier for Bedroom – Monitor and…
The SwitchBot Smart Humidifier is £45 on Amazon (there is currently a 30% off voucher too) or just £24.60 if you buy direct from SwitchBot.
There are various smart humidifiers on Amazon, most of which are Wi-Fi app-controlled, but they lack a lot of the additional smart features SwitchBot has, such as setting up scenes based on various scenarios.
Or the 6L Levoit Top-Fill Humidifier is £55.99
Overall
I don't have much experience with humidifiers as I have never felt the need for one, but as far as I can tell, this is excellent.
In particular, it works well within the SwitchBot ecosystem, you have a greater range of control than some of the competing options. Perhaps one addition to the Switchbot range of products that would be good is a motion sensor, allowing you to have the humidifier switch on when someone enters a room. This would also work well with the Switchbot Bot. I am sure you could find an alternative solution via IFTTT.
Posted by Mighty Gadget Blog: UK Technology News and Reviews