I am not a big fan of the open fit Apple AirPod design, but my partner hates silicon tipped earphones, so I can appreciate the need for the two designs.
TaoTronics are the latest company to adopt this design, the earphones themselves are not complete clones, they have a slightly unusual look to them with a very elongated stem.
Features and Specification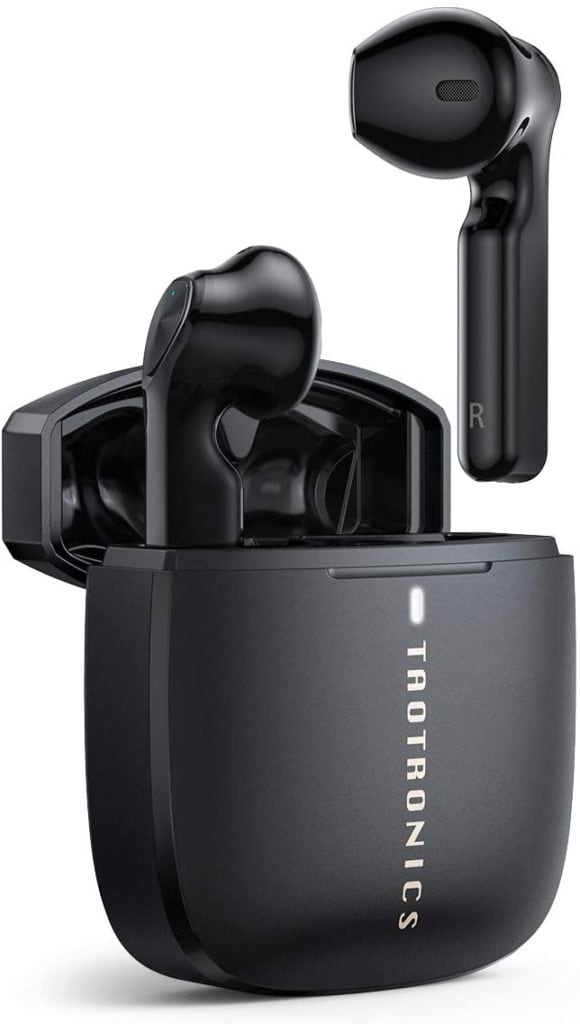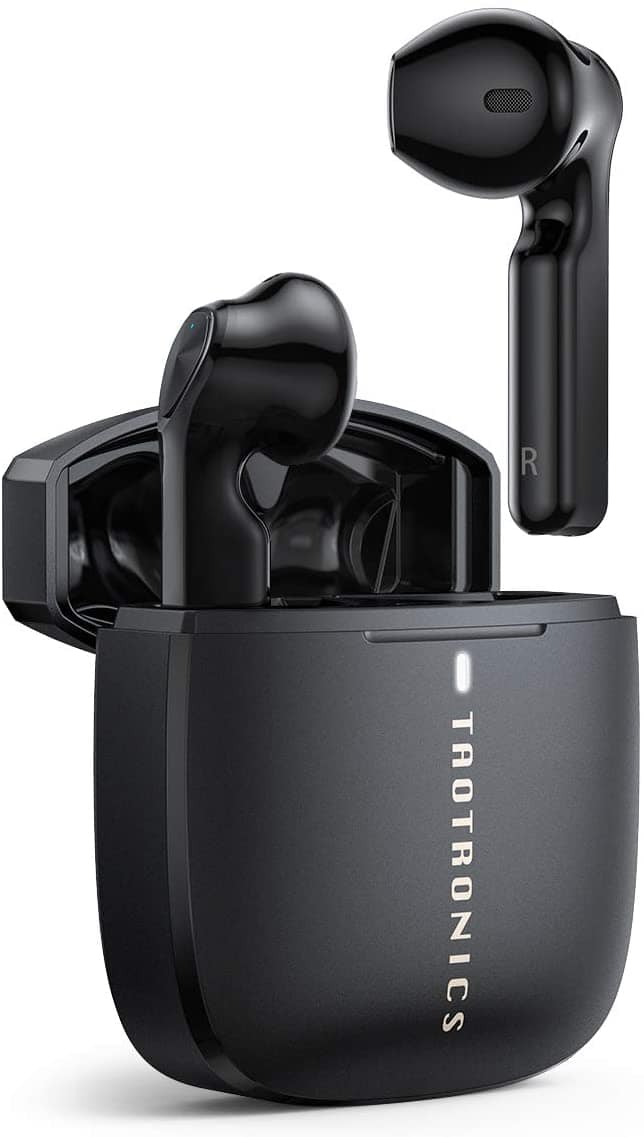 Switch in 1 Second: Flip between Mono and Twin Mode in a second
Superior Audio Quality: 13mm PU + Protein Membrane Drivers delivers Superior Hi-Fi Stereo Sound
30 Hours Playtime: 420mAh charging case to provide extra playtime
Semi In-ear Design: Acknowledge your surroundings as you listen to your tunes
USB-C Quick Charge Case: Supports 1 hour of playtime after 5 min quick charge
IPX8 Waterproof: Ideal for sweating in the gym or running outside
Fit
Open fit earphones with no silicon tips just do not suit my ear anatomy, I have never had a pair that fits comfortably in my ear without the feeling they will fall out. A loose fit will negatively affect the sound quality too, so I am often disappointed all around by these earphones. I love the Huawei Freebuds 3, but I have to wear silicon ear tip adaptors to use them.
With these, they fit better than normal, but still far from perfect. I can walk to the shops with them not falling out, but there is a looseness to the fit.
Weirdly, I used the same silicon adaptors I use on the FreeBuds 3, and while it improved the fit considerably, it ruined the sound quality. I guess some of the silicon must cover part of the speaker.
Sound Quality & In use
Thankfully I was pleasantly surprised by the sound quality of these without the silicon tips, the design of them will never make the most bassy earphones, but these perform much better than I expected.
Bass is surprisingly good, at least better than I had expected, but it is still lacking compared to close fit designs. Guitar heavy tracks can be grating at higher volumes, I think the mids and highs overwhelm what bass there is making is a little harsh for my ears.
In general, though the sound quality is reasonable, if not good once you factor in the price of these.
Noise isolation is limited, like all earphones this design, so they are not ideal in noisy environments, but they are good if you want/need some environmental awareness. Wind noise can be an issue outdoors, though.
Like most earphones nowadays these use a touch-sensitive control. I am not a fan. More-so with this design of earphone, where I quite often re-adjust them inevitably pausing, skipping or adjusting the volume. Also, it is a single touch to adjust the volume, which I find less intuitive pressing (which instead launches voice assistant).
Price and Competition
At this price not much, and it depends on what design you want. Anker SoundCore have plenty of options around this price, all of them sue a silicon ear tip though
This includes the Soundcore Anker Life P2 for a bit less than £40 with the voucher.
Or the Anker Soundcore Life Dot 2 for around £46
Overall
These were much better than expected, £36 for a pair of open-fit Airpod like earphones did not sound very promising to me at all.
Because of the none adjustable fit you can't guarantee the design of these will work well for everyone, and by proxy, the sound quality, but for me these worked well.
While the sound quality was good for the price, and they stayed in my ears better than normal, I would never use these for any fitness-related activities, which is a shame due to their IPX8 rated design. Again, my partner runs in her AirPods, so the same won't apply to everyone.
The 5-hour battery life is average and should be plenty for most users, but it does fall short of some premium-priced models.
Overall these are good earphones, I am still not a fan of this specific design, but if you are, then I think these should work well. In particular, the price is very attractively, and they punch well above their weight.