The Taotronics Tri-Band AC3000 tri-band mesh system is the first mesh system from Taotronics, and by the looks of things, their first attempt at networking products in general. They are better known for their affordable TWS earphones, which I have reviewed plenty of.
They haven't messed about either; this is a tri-band WiFi 5 system that's the cheapest on the market. It has an RRP of  £209.99 on Amazon, but currently with £50 off taking it down to £159.99. Pricing history indicates this is never above £200.
There are, of course, cheaper solutions on the market, but these are dual-band, so the data connection between the router and satellite extender gets shared, causing significant signal loss and dropping of the throughput speeds by around 50%. So I would generally always recommend a tri-band system if your budget permits.
Specification & Features
AC3000 Tri-Band WiFi:

400Mbps on 2.4GHz
866Mbps on 5GHz
1733Mbps on 5.8GHz (which is just normal 5GHz really)

Full Coverage, No Dead Zones: Entertain or work with seamless roaming, your device scouts the prime connection from the whole home mesh routers and switches in only 40ms; we recommend placing one per floor, 1 routers for 2,500 square feet home area, 2 routers for 5,000 square feet and 3 for a 6000 square feet home area
200 Devices for Each Router: Build your smart home with this powerful WiFi router as the foundation and enjoy a high-speed WiFi network strong enough for high-demand devices like a 4K streaming TV box; each router supports a stable connection for up to 200 devices
500Mbps Max. Band Width: Efficiently delivers the full wireless band to all your smart devices – especially 200Mbps or higher speeds from your service provider – upgrade your old router with the TaoTronics mesh for a fast lane experience courtesy of the mesh technology
Easy App Controls: TT Mesh app on both Android and iOS provides easy network setup in 10mins (one wire needed!), private guest WiFi, smart parental controls, network protection, network management, remote control of home devices, etc.
4 Gigabit Ethernet Wired Connection: Delivers a fast wired connection to your high-speed devices like an Xbox console; connect a flash drive or SSD for NAS local cloud service; thanks to the aluminium alloy heat sink and upright heat dissipation, the mesh router operates smoothly in years to come as it stays cool when working with full loads
Set Up and App
Setting up the Taotronics mesh system was quite straight forward, the devices are not pre-paired like Netgear Orbi is, but it only takes a couple of minutes to add new devices.
The TT Router App used to manage things doesn't have the best of reviews but I haven't experience any issues with it myself.
I had issues getting it set up next to my TV, so had to set it up close to the doorway at first, but then I later relocated it to the TV, and it seems to work fine.
The TT app has a surprising number of options, you can control the channel width, set up a guest network, use as an access point, and there is even a basic file server option using the USB port.
No Ethernet Backhaul
My home is fully wired up with Ethernet, so I use access points normally. Many mesh systems offer the option for Ethernet backhaul, allowing you faster connections with a  greater range if you can get a cable there.
This didn't seem to work at first, but I think you need to reboot the device for it to establish the cable connection
Access Point Mode = Bridge
At first, I thought there was no option to switch off the router settings and use this strictly for WiFi only. However, if you go to network settings then switch it from DHCP to bridge, this will allow it to function on your existing network without creating double NAT.
WiFi Performance
Performance is OK or good for the price you are paying. I have recently been trying to retest my samples with iperf3 and realised I only really I much more expensive WiFi 6 devices to compare it against. So I have struggled to find a comparable performing system.
Testing methodology
My current testing methodology is to test the router in my office in short-range to my main PC which uses the MSI X570 Unifi motherboard which has a built-in Intel AX200 WiFi 6 card.
For the other tests, I use the Huawei Matebook 13, and I test this in the room directly below, then also in the front room which is downstairs then two rooms over through two brick walls. The satellite extender is then also set up in the front room.
I use both iperf3 and OpenSpeed Test, which are both hosted on a Linux server on Docker.
Wi-Fi 5 Router Performacne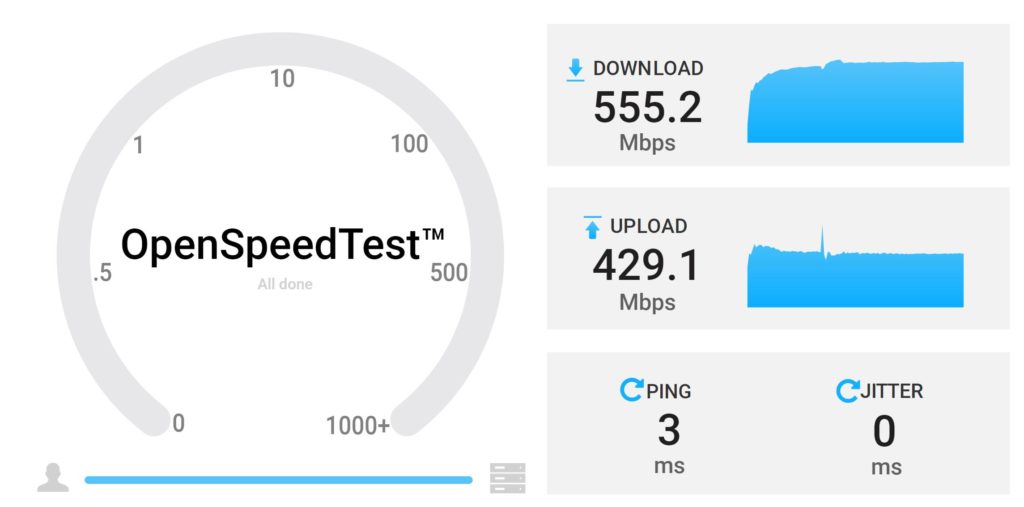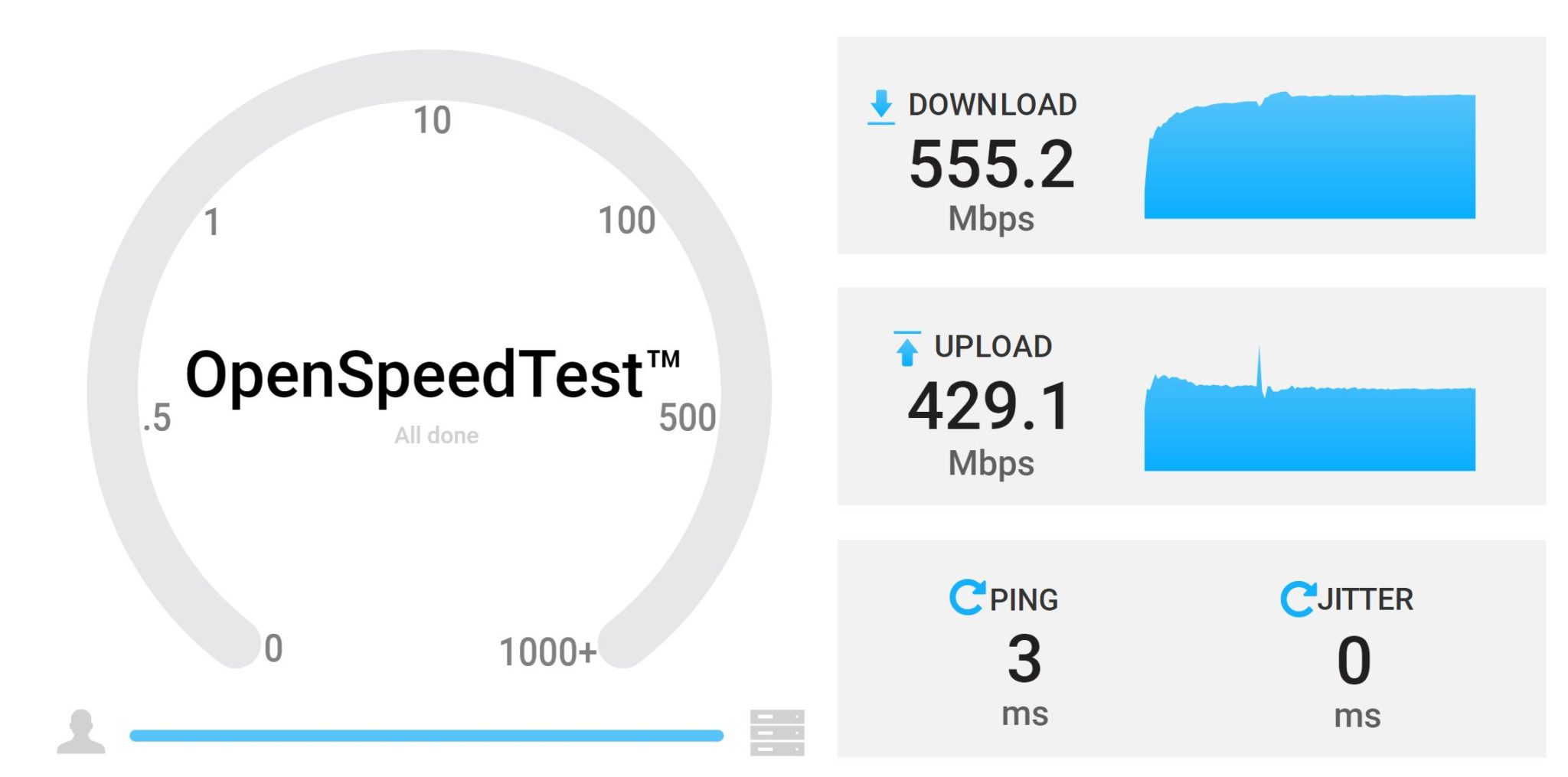 Close range to the main router, I was able to achieve over 450Mbps easily, which is an acceptable speed for a WiFi 5 system. OpenSpeedTest is a little more forgiving with download speeds hitting 555Mbps.
This places it lower than options I currently have in my possession, but in reality, it is comparable to many WiFi 5 routers.
Performance dips off sharply, moving into the living room with speeds of 308Mbps. Though a dip in throughput of 1/3  is probably to be expected when travelling distance and through wooden floors.
2×2 MIMO only
Connecting this to the Asus USB-AC68 which offers 3×3 MIMO WiFi 5 provides a data connection of 866.7 Mbps, indicating that this router only has 2×2 MIMO for the 5Ghz channel , which was to be expected considering the price and they do state this speed on the spec.
WiFi 5 Satellite Extender Performance
I had mixed results with the satellite extender, it is both excellent and mediocre at the same time. With me struggling to set it up next to the TV, I tested this with the router near the door, in this position performance is excellent. I was able to achieve speeds of 400Mbps, whereas a dual-band system would offer around half of this performance.
The 5Ghz backhaul channel makes a massive difference compared to dual-band counterparts.
However, most of my other reviews are done with the extender placed near the TV. So it was only fair to test this the same. The results here gave very inconsistent results at first of 90-250Mbps with a signal quality of 4 bars. However, after rebooting the device, I seemed to get a consistently 5 bars of signal, and speeds consistently over 350Mbps.
This result is excellent, but I would caution that with my initial poor results, I can't guarantee consistency long term, so you may need to tweak the location if you experience a lower signal quality.
Extender + Ethernet Backhaul
With Ethernet backhaul, performance is superb, I actually achieved better results on this than I did the router in my office, with speeds closer to 500Mbps.
2.5Ghz WiFi Performance
I avoid 2.4Ghz for my main devices like the plague, restricting it to IoT devices like speakers, robotic vacuums and security cameras. However, in the unfortunate event, you need to connect with this frequency, I was able to achieve 122Mbps within close range, which is actually pretty good, the adaptor connects at 144Mbps.
Price and Competition
The TaoTronics Mesh WiFi TT-ND001 is a 2-pack system, and they don't appear to sell additional units, something TaoTronics should reconsider. The Taotronics US website does sell a 3-pack for $349.99.
It has an RRP of £209.99, but currently, there is £50 off taking it down to £159.99 and therefore £80 per unit, which is an amazing price for a tri-band system.
The Linksys WHW0302 Velop is currently £219.99 and has been as low as £179.99 recently, so between £90 and £110 per unit. I'd say this is well worth considering as an alternative option, it is a well-established brand, and the system has been out for a few years now so it should offer stable performance.
The Tenda MW12-3 Whole Home Mesh WiFi System is £269.99, but this is a 3-pack system so £90 per unit I have only reviewed the lower-end Tenda system before, but I was generally very happy with it, and this would make a good solution if you want to cover a larger area.
Overall
The Taotronics TT-ND001 Tri-Band mesh router turned out to be considerably better than expected. There were a few performance glitches to iron out, but eventually, this settled down to offer the same sort of performance you would get from much more expensive tri-band mesh WiFi 5 systems.
The price of this puts it in the range of many big brand dual-band systems. Amazon eero is a similar price, either £99 for one or £250 for 3, and this system should easily offer superior performance throughput through the satellite extender.
The poor app reviews would be my main concern, so I'd recommend buying from a reputable retailer like Amazon so you get easy returns should you have a less positive experience compared to me.
Overall, this is an excellent mesh system, and I would strongly recommend buying it over any dual-band solution.
Posted by Mighty Gadget Blog: UK Technology News and Reviews