The Android tablet market is a bit of a shambles, if you want a big brand name, the only two doing it are Samsung and Huawei.
I loved the Huawei MatePad 10.4, at the £200 price point, you get an incredible specification and build quality for the money, but like most new Huawei devices, it lacks Google Play.
So if you are looking for an affordable well-specced tablet in 2021, you will have to look at some of the more random brands.
I have previously reviewed the Dragon Touch Max10 and the Vankyo MatrixPad S8, which are OK for the money but quite underpowered if you want to use it a lot.
Teclast is one of the better known Chinese brands offering affordable hardware, and the Teclast M40 is priced at just £136.74 on Aliexpress. Unlike the Dragon Touch and Vankyo, this is imported from China, so delivery will be quite slow, and you may get stung with customs fees (but not always).
With customs, this would work out at around £160, which still undercuts the Huawei price considerably, and is only a bit more expensive than the Dragon Touch Max10.
You can buy this on Amazon UK, but it costs between £170-200.
Specification vs Dragon Touch Max10 & Samsung Galaxy Tab A8 & A7 (2020)
A quick overview of the specs for this tablet compared to other options on Amazon UK
| | | | | |
| --- | --- | --- | --- | --- |
| | Teclast M40  | Dragon Touch Max10  | Samsung Galaxy Tab A8  | Galaxy A7 (2020) |
| Display | 10.1″ 1920 x 1200 px | 10.1″ 1920 x 1200 px | 8.0 inches 1280x800px | 10.4 inches 2000×1200 |
| Chipset | Unisoc Tiger T618 |  Unisoc SC9863a | Snapdragon 429 | Snapdragon 662 |
| RAM | 6GB of LPDDR4 | 3GB LPDDR3 | 2GB LPDDR3 933 MHz | 3GB LPDDR4  |
| Storage | 128GB EMMC + microSD | 32GB eMMC + microSD | 32GB eMMC + microSD | 32GB + microSD |
| 4G | Yes | No | No | No |
| OS | Android 10 | Android 9 | Android 9 | Android 10 |
| Price | £136 imported | £145.99 | £129.99 | £215.95 |
Unisoc Tiger T618 vs Unisoc SC9863a vs  Snapdragon 429 vs Snapdragon 662
The Unisoc Tiger T618 chipset on this may not be amazing, but it is better than comparably priced tablets. The Dragon Touch use the Unisoc SC9863a which the Samsung Galaxy Tab A 8.0 uses the Snapdragon 429 and the Samsung Galaxy Tab A7 10.4 has the Snapdragon 662.
A quick comparison of the specs:
Unisoc Tiger T618 
SC9863a 
Snapdragon 429 
Snapdragon 662
Fabrication
12 nm FF
28nm 
12nm
11 nm LPP 
CPU
 2x ARM Cortex-A75 @ 2.0 GHz
 6x ARM Cortex-A55 @ 1.8 GHz
4 x Arm Cortex A55 @ 1.6Ghz
4x Arm Cortex A55 @ 1.2Ghz
4x 1.95 GHz – Cortex-A53
 2 GHz @ Kryo 260 Gold – Cortex-A73
1.8 GHz @ Kryo 260 Silver – Cortex A53
GPU
ARM Mali-G52 MP2
PowerVR IMG8322 /GE8322
Adreno 504
Adreno 610 
RA<
6GB of LPDDR4
3GB LPDDR3
2GB LPDDR3 933 MHz
3GB LPDDR4 
So the Unisoc Tiger T618 is superior by some margin, you also get more RAM and storage compared to the others.
Set-Up / Software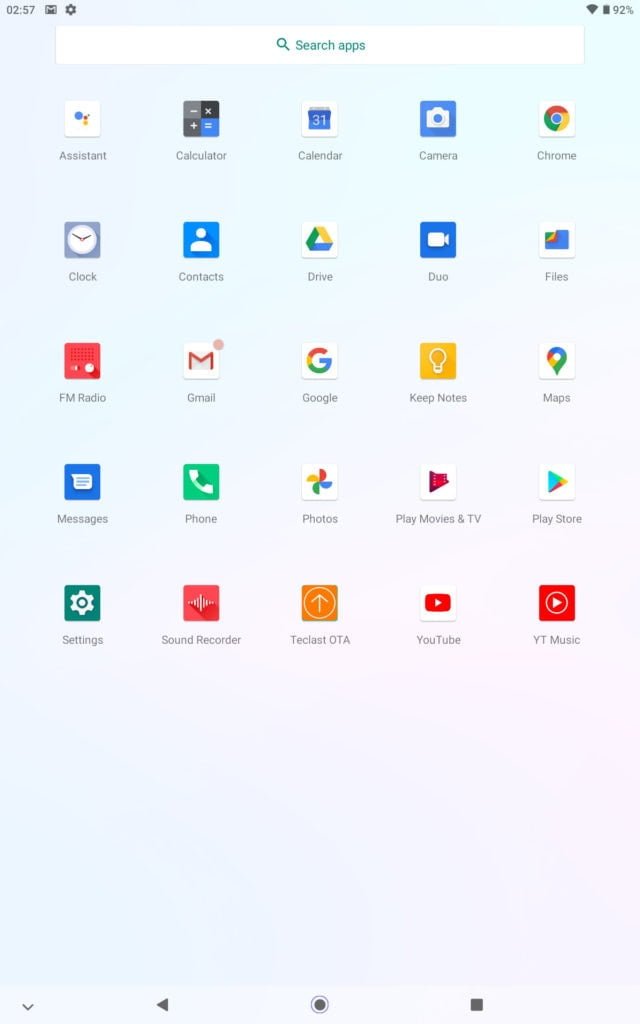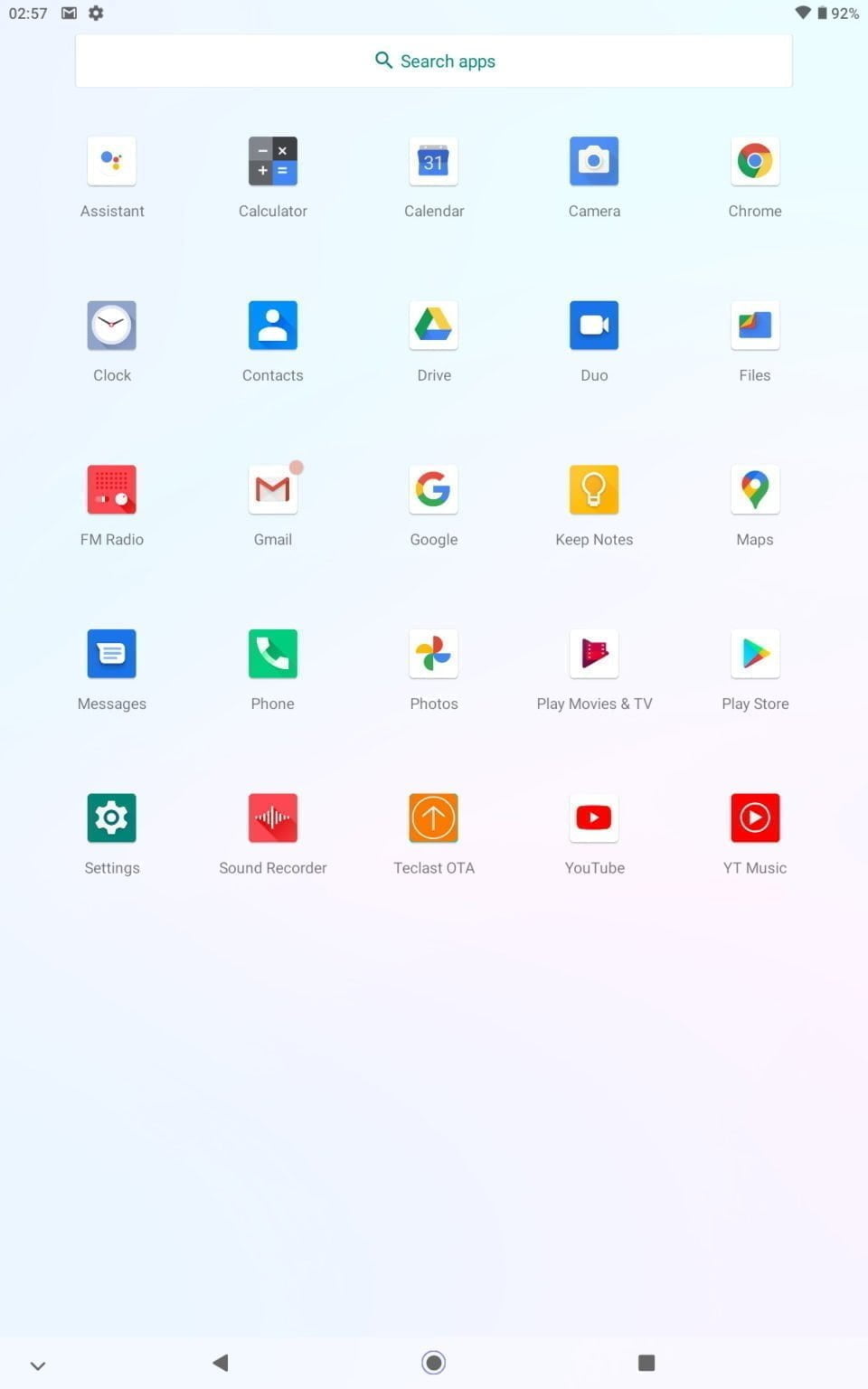 The Teclast M40 runs Android 10, so pretty much the latest Android version you can expect on a tablet. Most importantly, it has Google Play Store, so you have access to most of the apps you need.
However, it is not Widevine authenticated, so Netflix was not available to install via Google, I had to install it via APKPure instead. Because it lacks the appropriate DRM, you can only view content in SD. You will have the same problem with all affordable tablets, and also the Huawei if you sideload apps.
Other streaming apps will have the same issue, and Disney Plus will not work at all based on their DRM requirements.
This seems to be running stock Android, so there is no bloatware at all. The lack of bloatware seems to help keep things running smoothly, too.
Display, Design and Build Quality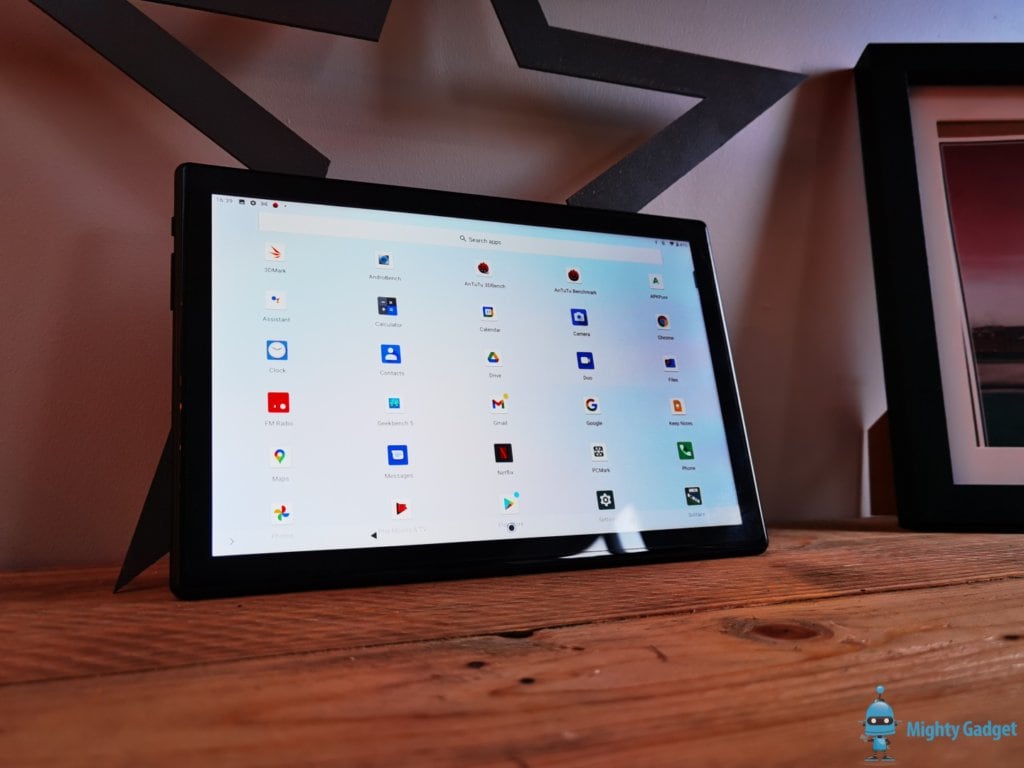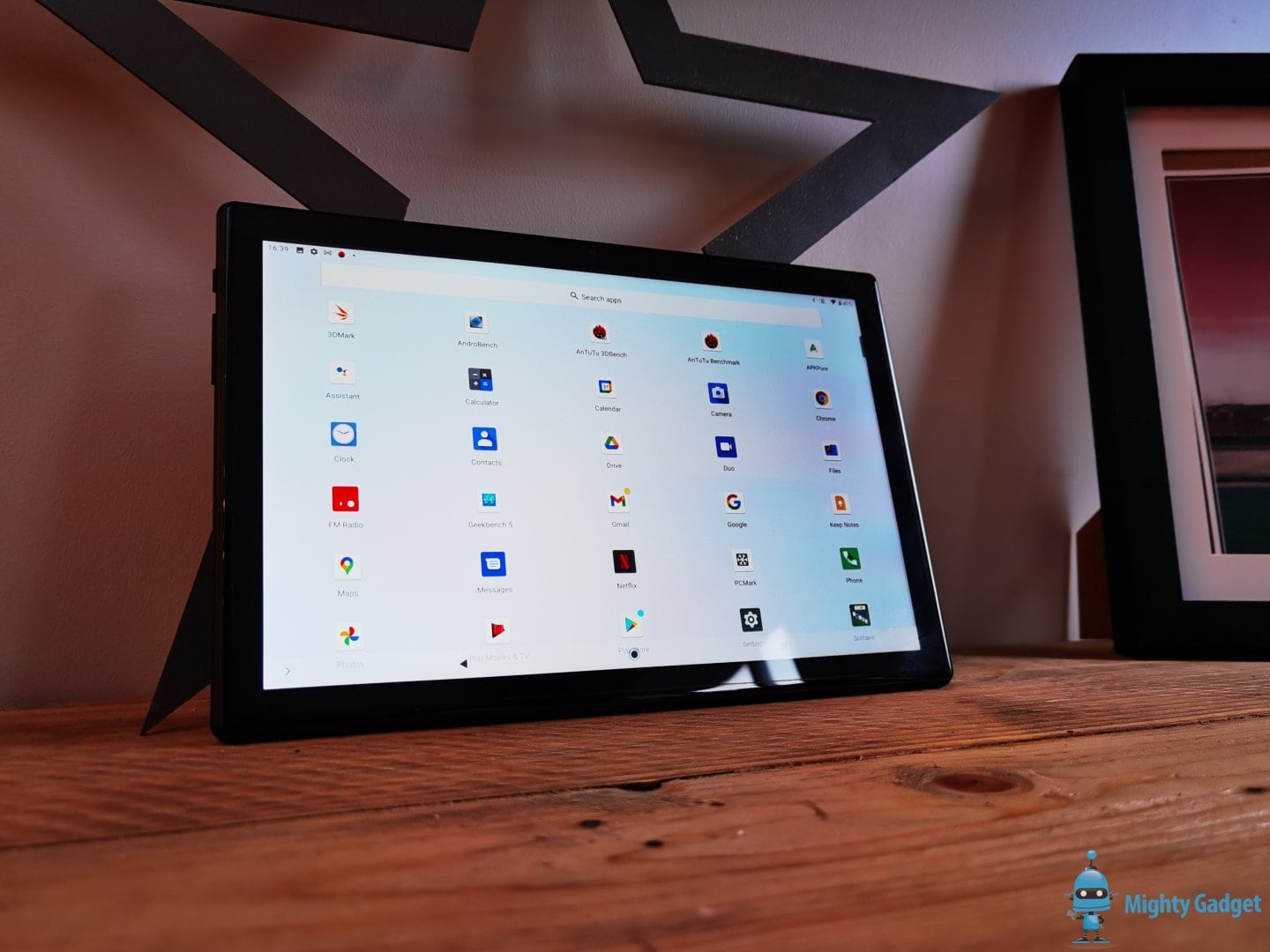 All these affordable android tablets tend to be on the chunky side, especially when compared to the slim Huawei MatePad 10.4. This one feels well made, but it has quite thick bezels and is reasonably thick overall.
The volume and power buttons feel a little cheap, but there is nothing wrong with them.
The display itself is a 10.1 inch IPS screen running at 1920×1200, it is pretty good, orders of magnitude better than the Dragon Touch but not as nice as the Huawei.
It is not laminated, and it suffers from poor brightness, but the colours seem to be decent, and it doesn't look too washed out.  It is also highly reflective, so the combination that and low brightness means you probably want to avoid using this outdoors.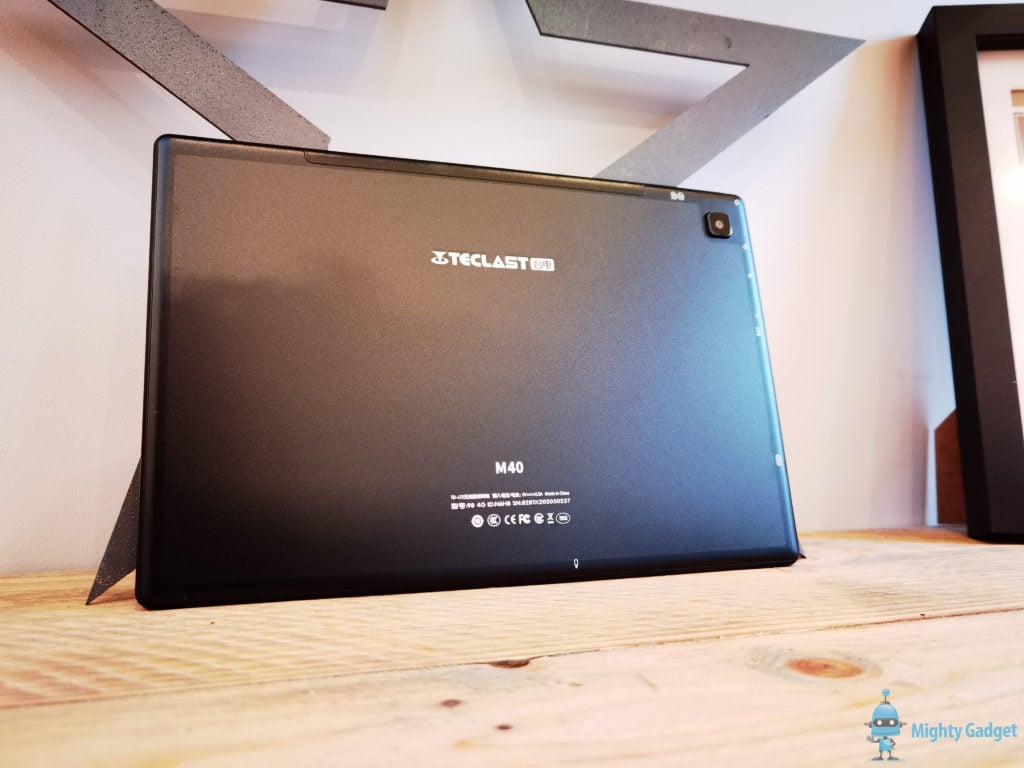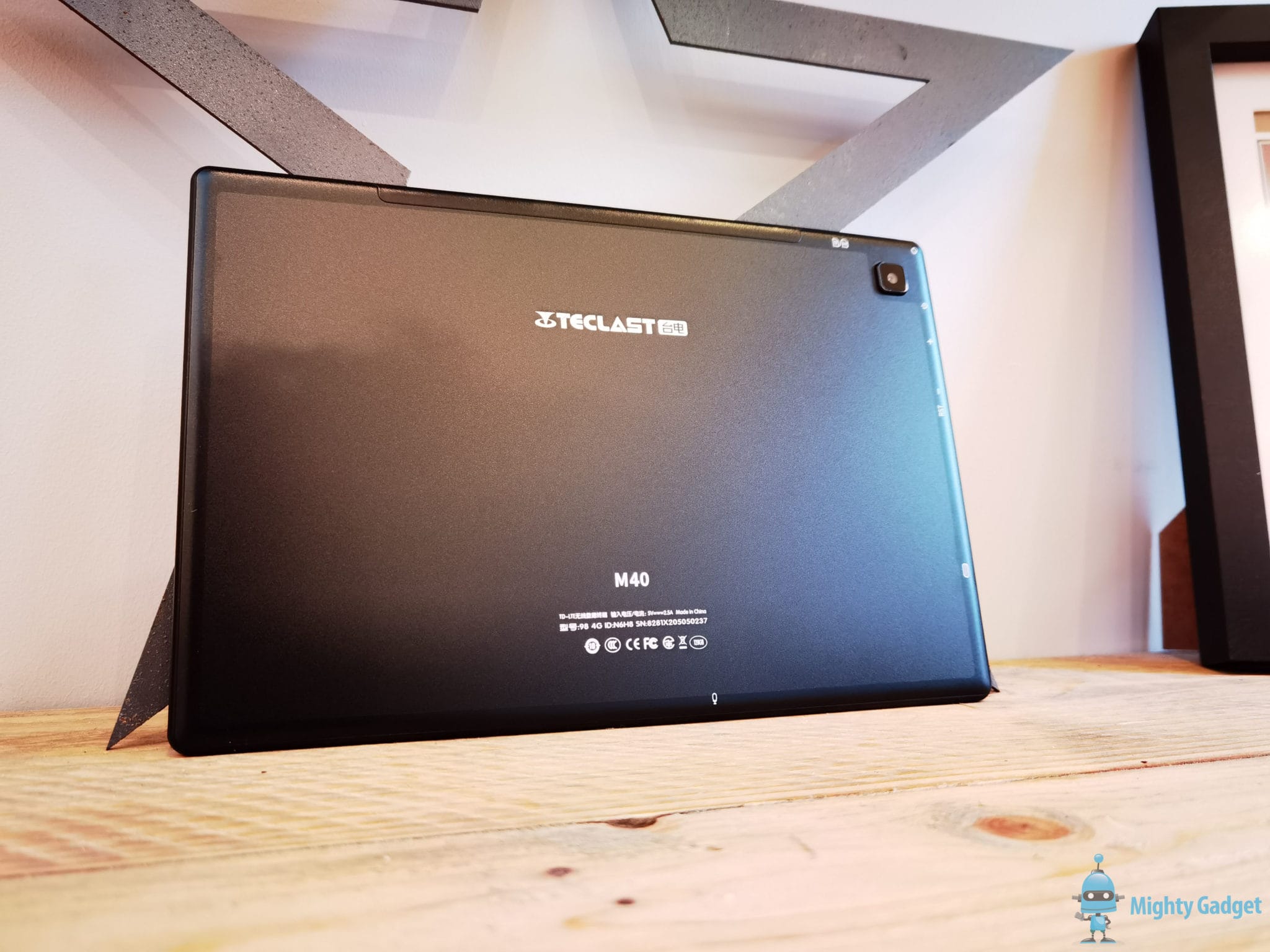 Performance and Benchmarks
While this isn't amazing, it is pretty good, considerably better than the other affordable tablets I have reviewed.
General day to day use is generally decent, there is some sluggishness with the touchscreen, but apps themselves seem to run well, and this even has enough grunt for some decent games too.
While synthetic benchmarks don't provide the best indication fo real-world performance, you can see how much better than Unisoc Tiger T618 is vs the Unisoc SC9863a on the Dragon Touch.
Over twice, the difference in scores is going to translate well for real-world performance.
Then for Geekbench, you are looking at 2.5x difference for the single-core results and around 50% difference for the multi-core.
The eMMC drive is nice and big, but it is incredibly slow, sequential read speeds of 82MB/s and random reads of 25MB/s will likely hinder the overall performance of the relatively good chipset. You may even be better off having a fast microSD card used for app storage.
Battery
Battery life wasn't amazing either, I am not sure if this is a Unisoc issue, as I didn't have the best performance with the Dragon Touch either.
For this, the PC Mark Battery life test showed a little under 7 hours performance, but again, it was still better than the Dragon Touch.
Charging is quite slow too, and I found that when using USB-C power delivery plugs and cables, it wouldn't take charge at all. So I have to use USB-C Type A cables and older plugs.
Price and Alternatives
This is £136.74 on Aliexpress and it is around £170 on Amazon UK. I think this represents excellent value for money.
The Dragon Touch Max10 Tablet is £145.99, which is a poor tablet in comparison to this.
Alldocube has the iPlay 40 which uses the same Unisoc Tiger T618 chipset but has a slightly better spec overall. However, it costs £171.78 from Banggood
Samsung is the only big brand name offering affordable tablets that have Google Play. The Samsung Galaxy Tab A8 is £130 which the Samsung Galaxy Tab A7 is £215
Overall
For the price and the specification you get, this is better than anything else you can buy on Amazon right now. Even other cheap Chinese imports struggle to compete with the value for money and overall specification offered here; there is just the Alldocube iPlay 40, which has a slightly better spec but costs more money.
This ticks a lot of boxes for me, I like to have a cheap tablet that I can use and not worry too much about damaging or losing when travelling. Even though it is not the most powerful tablet out there, it offers plenty of performance for watching media, social media, browsing the internet and general work.
While I am impressed with the general performance, you get for the money, but it would have been good to have a better screen and faster storage.
Posted by Mighty Gadget Blog: UK Technology News and Reviews