Original post – January 2019
August 2019 Update highlights:
Updated review and price data
BT, Lynksys have all dropped in price.
TP-Link has jumped up to 4.4 for the average review score
Added % of 1 star reviews – This can be a good indicator of how problematic some devices can be
In the past couple of years, we have seen a growing number of Mesh-based WiFi routers released. While some brands chase after the absolute fastest WiFi speeds via a single router, mesh technology aims to eliminate the biggest problem with WiFi – Range.
Traditionally if you live in a large house you would have to resort to repeaters or additional routers. However, if you did not set up the Wi-Fi correctly, you would get issues. Most routers are not intelligent enough to know which router you are accessing when you are on the same SSID.
Mesh Wi-Fi routers eliminate this issue and employ multiple access points that work on the same SSID. Unlike the problems stated above, they have the intelligence to know what router is best based on your location, and pass off the Wifi to that router. Quite a lot of the systems available only have single ethernet ports, so they can only provide WiFi and no wired router options.

Last updated on 15th August 2019 6:49 am

If you live in a small flat, a router such as this will likely be irrelevant, but most UK hoses, especially brick built ones, would benefit from them.
At the moment, all these routers are just routers; there is no modem built into them, so you would still need to use the ISP supplied device to connect
The best Mesh Wi-Fi options available in the UK now include:
Amazon reviews should be taken with a pinch of salt, apart from fake reviews, some companies pool up products together which increases the review count. They can also do the reverse, seperating products. This can result in review numeber jumping up or down, and also the overal scores.
Name
Price
Reviews
Average
1 star reviews
Pack Size
Speed
Ethernet
5GHz Backhaul
Wired Backhaul
Comments
BT Whole Home Wi-Fi
£49
985
4.1
15%
3
AC2600
1
No
No
Multiple options on one page
TP-Link Deco M5
£183
355
4.4
7%
3
AC1300
2
Yes
Yes
Multiple options on one page
Linksys Velop Tri-Band
£249
776
3.9
13%
3
AC6600
2
Yes
Yes
Multiple options on one page
NETGEAR Orbi
£290
851
4.0
12%
3
AC2200
2
Yes
Yes
Multiple options on one page
RBK23 Review
ASUS Lyra
£344
16
2.9
33%
3
AC2200
2
Yes & optional
Yes
Ubiquiti Amplifi
£368
87
4,3
8%
3
AC1750
5/0
No
No
Google WiFi
£299
182
4.2
13%
3
AC1200
2
Yes
yes
Zyxel Multy X
£369
14
4.7
0%
3
AC3000
4
Yes
No
One a 2 pack option, additional extension is £129.99 making this quite expensive
Tenda NOVA
£68.99
300
4.1
11%
3
AC1200
2
Yes
Yes
Huawei A1
£179
16
3.3
31%
3
AC1200
3
Yes
Includes VDSL, ADSL and 4G modem
D-Link COVR
£119
38
3.9
18%
3
AC1200
2
Yes
Scouring the internet for reviews and the Netgear Orbi is the one system to get the most consistently positive reviews, this is also seen in the Amazon reviews. It doesn't have the same rated speed as the Linksys, but these numbers seem to vary a lot depending on the page you read. The critical part of a WiFi network is getting a strong connection. A fast router with a poor connection will likely be slower than a slower router with a strong connection.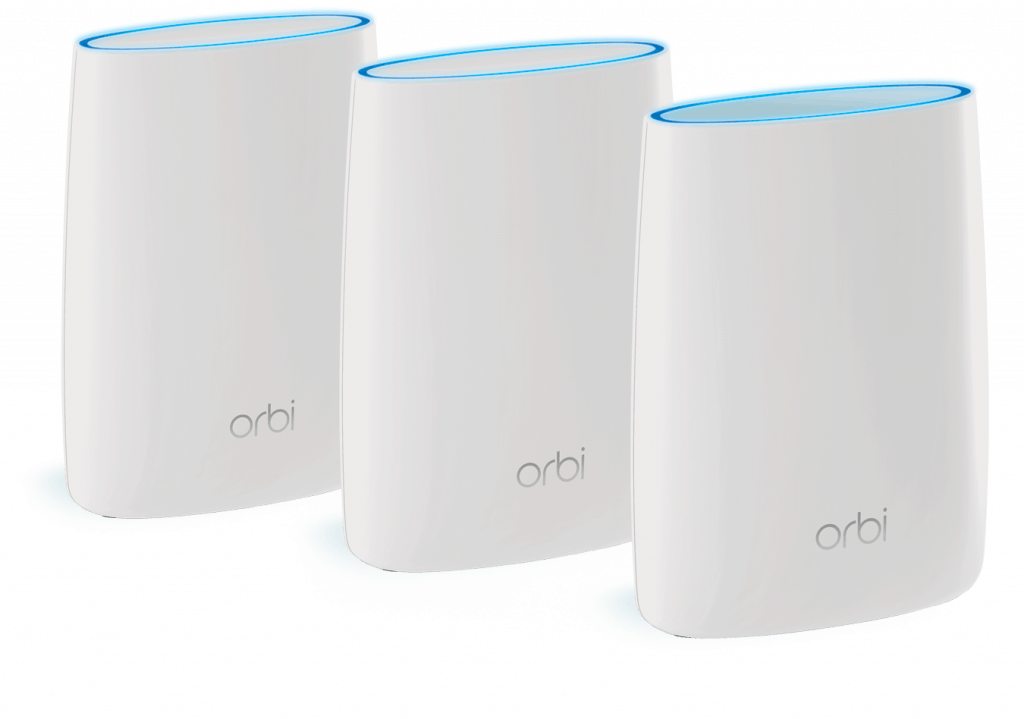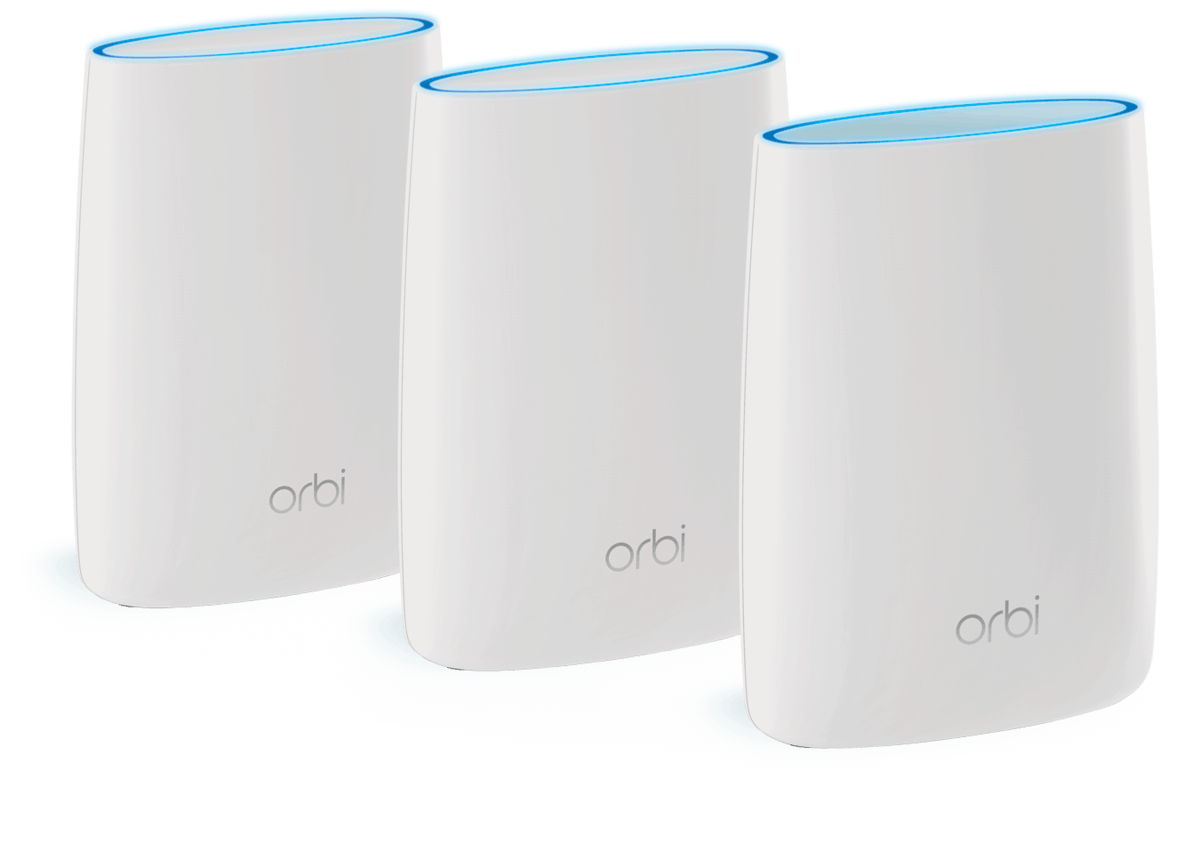 Most of the routers listed have just one ethernet port, whereas the Netgear has 4, this should allow it to replace all the standard routers primary functions.
Many of the systems come in 2 or 3 packs, and this includes the Netgear if you have a smaller house you can pick up a dual pack for just £159.99.
Overall Recommendations (updated August 2019)
I have based the recommendations on Amazon reviews in the past which indicated that Netgear Orbi, BT Whole Home or Linksys were the best options.
In recent months this has changed a lot, in particular, the Tenda NOVA Mesh WiFi System has become one of the best-reviewed options, and based on the price this could be the best budget options. I feel the reviews are likely a little skewed here though as they have 6 options on one page, with the cheap MW3 option costing just £82.30 and the MW6-3 costing £160.
Linksys used to be the best reviewed but has dropped down significantly, the price has dropped down to £249, but that is still higher than some other options. Due to its drop it ratings and resonably high price tag I have removed this off my overall recomendation.
Netgear has broken down their product page into multip pages for each version. I have personally reviewed the Netgear RBK23 Orbi and it is superb always a good buy, at the time of updating this post, it is £290, which perhaps makes it a bit too expensive when comapring with competing brands.
The RBK53 system is £435 which may price it out of most peoples budget. It has dropped as low as £299 and if you can get it at this price I would definitely suggest going with that option.
Recently TP-Link Deco has gainled a lot of reviews, dropped in price and has a low number of 1-store reviews, so this is quickly becoming one of the best options on the market. I have reviewed the TP-Link Deco P7 which is a 2-pack that uses powerline for the backhaul. I found the system was superb, easy to set up, consistant performance and the ethernet backhaul worked better than any other brand I have tried.
New Mesh Wi-Fi systems for 2019 using 802.11ax / Wi-Fi 6
At CES this year many vendors announced new products or updates for existing products. Most of these incorporate the latest Wi-Fi 6 / 802.11ax protocol which improves the overall performance of the network in congested environments rather than focussing on raw speed. This means that more users will be able to connect at the same time while retaining a high data throughput. So this will be great for households that stream a lot of 4K content, or with homes that have invested heavily in Wi-Fi enabled smart home devices such as home security cameras, and AI smart speakers such as Amazon Echo.
Netgear is updating their RBK50 Orbi systems which claim to offer up to gigabit speeds using MU-MIMO and the available streams for this has gone up to 12. It will be available in the middle of 2019 and will likely come with a premium price tag but it will be the most future proof option so it could be worth the extra cash.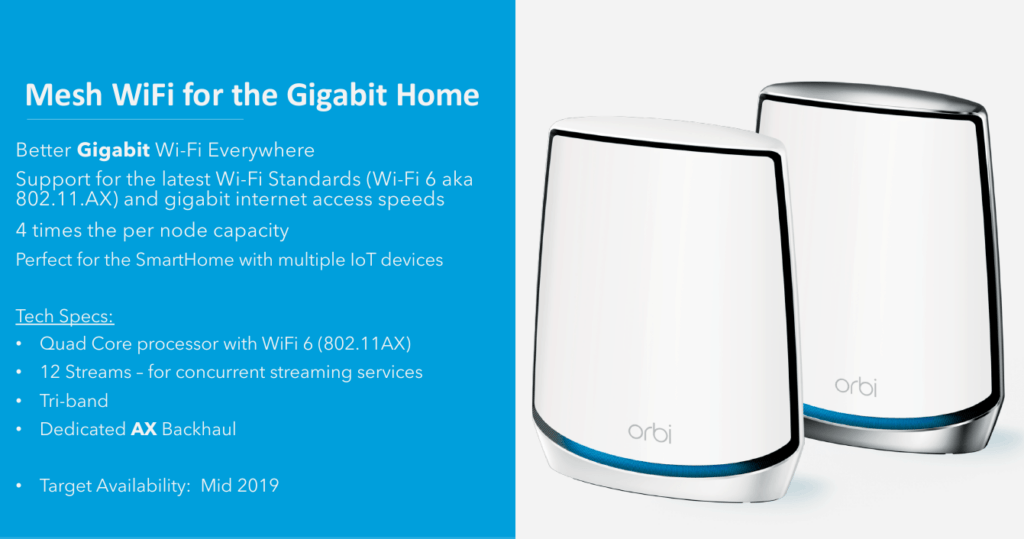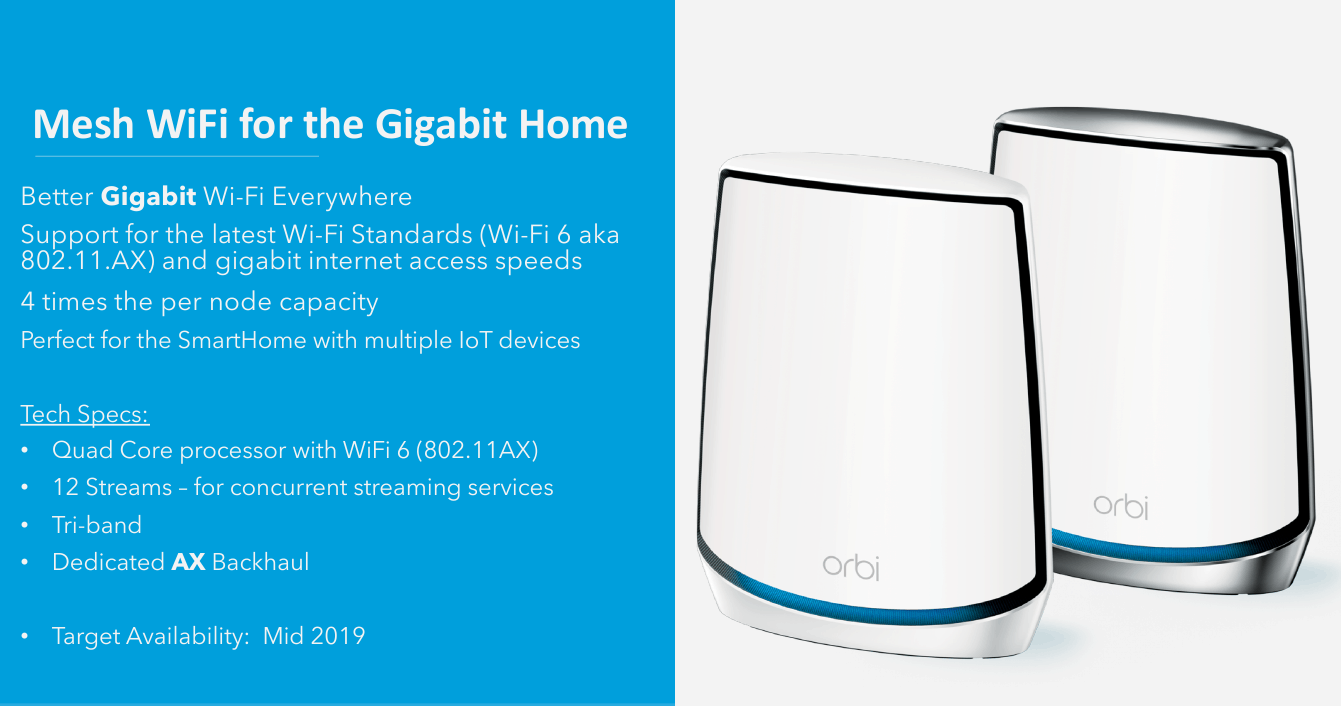 Similarly, TP-Link is updating their Deco system with the X10 which will be available in Q3 of 2019.
In the near future the only devices that will be able to work with this new standard are Qualcomm Snapdragon 855 based phones, though expect laptops to launch this year plus USB adaptors.

Last updated on 15th August 2019 6:49 am

Post from: Mighty Gadget – Gadget and Technology Blog