When I originally wrote my best mesh WiFi routers posts back in 2019, times were simpler. WiFi 6 was a future tech with no clients able to support it, WiFi 6E hadn't been officially announced and we were still allowed to go to the pub.
Fast forward to 2021, WiFi 6 has gone mainstream, all flagship phones launched since 2020 feature it and most laptops launched since then feature it too. We have also just had the launch on WiFi 6E routers and WiFi 6E mesh systems are on the horizon.
So, my old post has become a bit confusing with a mish-mash of WiFi technologies with wildly different price points.
If you are looking for a Mesh WiFi Router/System for 2021 that's using the latest technology then this post may be more appropriate.
Dual band vs triband WiFi 6 mesh routers
As ever with these systems, you need to decide on what you want, either based on your budget or your specific requirements.
There are typically two types of system, dual band and tri band. A tri band system offers the best performance, it uses that third radio as a dedicated wireless connection between each device allowing the client side radios to work unencumbered. However, the third radio dramatically increases the cost.
A dual bad system has just two radios and one of them will get shared for both the client connections and sending data back to the primary router. This typically sees the maximum throughput drop by half but the benefit is that they are cheaper and some options are quite affordable.
While a tri-band system will always offer the best performance and therefore be the system I recommend, depending on your requirements you may not need one regardless of budget.
If you are lucky enough to be able to place your main router central to the house, or in the most used spot in the house, the main router will offer the same speeds you find on much more expensive systems. If you then use the satellites to cover the less important blackspots around your home, you probably won't notice the drop in overall throughput.
Also, if you are only interested in getting the same speed as your internet on your WiFi, again, you may not need the expense of a tri band system. A satellite on a dual band system should be good for 300Mbps+ which should cover the vast majority of households.
2×2 vs 4×4 5Ghz WiFi 6
Another factor in price is the MIMO capacity of each band. All WiFi 6 clients are 2×2 so a single user will never be able to fully utilise the performance of a 4×4 design. However, for the older WiFi 5, some devices offer 3×3 providing superior speeds to a 2×2 WiFi 6 client in some scenarios.
With mesh systems, if it is high specced enough it will be able to utilise 4×4 when connecting back to the router, so you should get an increased throughput on the satellite.
With a system using two 5Ghz bands on 4×4, individual users won't benefit much, but in a congested environment with lots of users, it should, in theory, be able to handle this load much better. The ability to handle dense environments is one of the main aspects of WiFi 6, how much of an effect this has on home users, I am not sure, as I live in a house of 2.
The Best Mesh WiFi 6 Routers for 2021
Premium Price – The best tri-band WiFi 6 mesh routers for 2021
If you want the best performance and money is no object, this is the section for you. If it is the best performance you want, and considering the high price of these, I'd also suggest looking into wiring up your home with Ethernet and using WiFi 6 access points.
Offering about the best spec you can get for a mesh WiFi system, the Netgear Orbi RBK852 is a superb mesh system. With a 12 stream design, you get 4×4 on each one of the bands, so this will excel in large homes and work particularly well in business with a lot of users (though in that case, the Orbi 6 Pro may be worth considering).
I hear nothing but good things about the Ubiquiti Amplifi Alien and by all accounts, it is one of the best systems on the market. It doesn't get a higher top spot for a couple reasons
The price in relation to specification isn't as good as others. It is £370 per unit with no multi-gig Ethernet. Thee Netgear RBK852 works out at about £40 cheaper
Not as much stock in the UK. I would never buy directly from the Ubiquiti EU store again as the customer service is appalling – Ebuyer have it in stock though
Less expensive tri-band WiFi 6 mesh routers for 2021
As great as the aforementioned system is, most households can save a few quid and opt for a slightly lesser specked solution
For installations with fewer users, the Netgear Orbi RBK752 will offer similar, if not identical performance to the much more expensive RBK852 – you can read me RBK752 vs RBK852 comparison for a better idea of the differences.
The same WiFi design as the RBK752 but with the added benefit of 2.5GbE on the WAN port.
Affordable – The best dual-band WiFi 6 mesh routers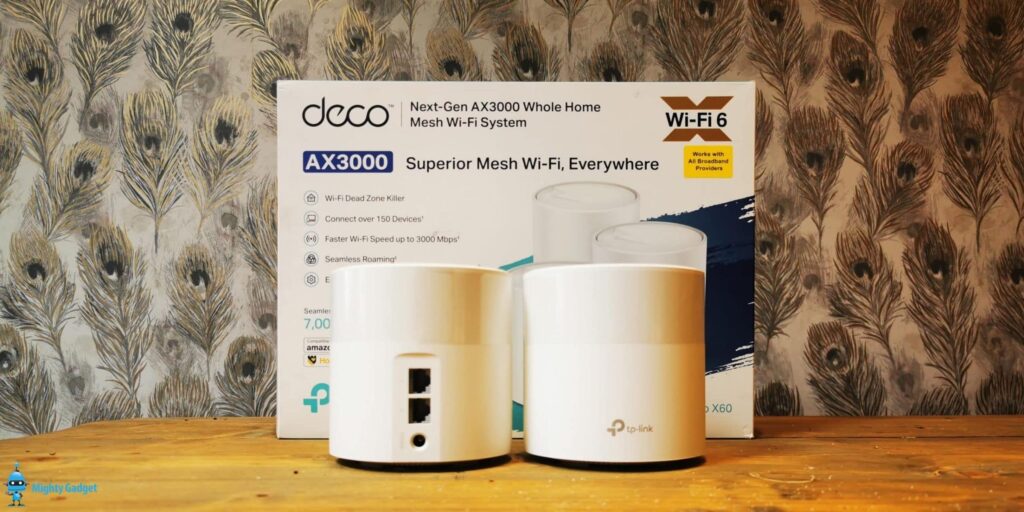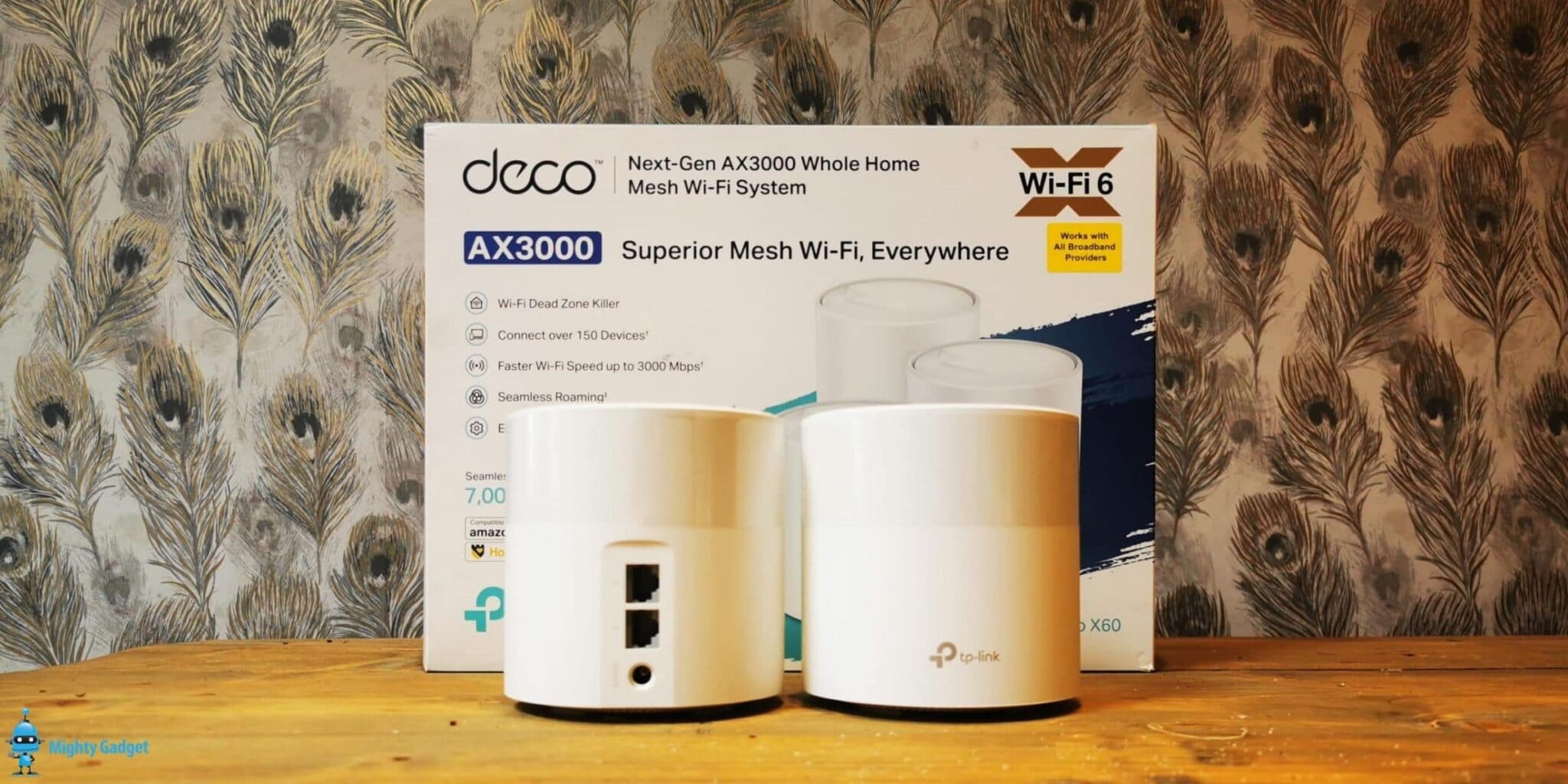 A dual band system will offer much lower performance via the satellites, if you want the best speeds possible, they are still worth considering if:
You can wire them up with Ethernet backhaul – in this scenario, there is almost no reason to opt for a more expensive system
The satellites are only needed to extend the WiFi to lesser used parts of your home – the wired router will offer the same performance as more expensive units
Rather than declare a runner up, I think these two systems are equally good.
The Netgear MK63 is more affordable and it is one of the first systems to supper EasyMesh which will, in theory, allow you to mix and match other EasyMesh products from different brands, should you wish to expand your system.
I like the TP-Link Deco X60 because I find the Deco systems work with Ethernet backhaul with ease out of the box. My complex home network sometimes causes issues for Netgear (my Zyxel Nebula switches do something funny). With dual band systems working best with Ethernet backhaul, this is why the X60 is equal first.
The best Mesh WiFi 6 Routers for 2021
I was trying not to be a complete Netgear shill, but I have more hands-on experience with their products and know they work well. Asus and Ubiquiti AmpliFi recommendations are mainly based on price/spec and other user or professional reviews.
Therefore, my overall pick for the best WiFi 6 mesh system for the year (so far) would be the Netgear Orbi RBK752.
The specification isn't far off the more expensive Netgear and real-world performance in a normal size household will be about the same. You then save £250. It is certainly not cheap, but it offers the best balance of price and performance.
I have not used the Asus ZenWiFi AX but it should be a serious consideration over the Orbi RBK752. On amazon it has been as low as £362.
They have the same WiFi MIMI design with 2×2 on 2.4Ghz and 5Ghz then the third 5Ghz radio with 4×4. However, the Asus has a 2.5G BaseT for WAN and the AiMesh technology means you can pair it up with other Asus routers.
Posted by Mighty Gadget Blog: UK Technology News and Reviews