Buttons and switches are a superb addition to any smart home system allowing you to carry commands without reaching for your phone or shouting at Alexa.
When I started this post, I knew there were a lot of options, but it turns out there are way more products that I realised.
I have been looking at replacing my SmartThings button, which I find to be quite temperamental, which I think is battery related. I use this button to control multiple Hue bulbs and also some TP-Link bulbs, allowing me to switch my bedroom, hallways and office lights on when I wake up.
Previously I used the Devolo Home Control paddle, and that worked flawlessly, but I swapped the controller out for SmartThings, and the paddle is not compatible.
If you have Philips Hue, the wireless dimmer switch is a much buy. At less than £15 frequently on Amazon, it works well, and the battery lasts a long time.
So this list is me going down a rabbit hole of what is available.
Wireless Z-Wave Switches & Buttons for automation & mapped commands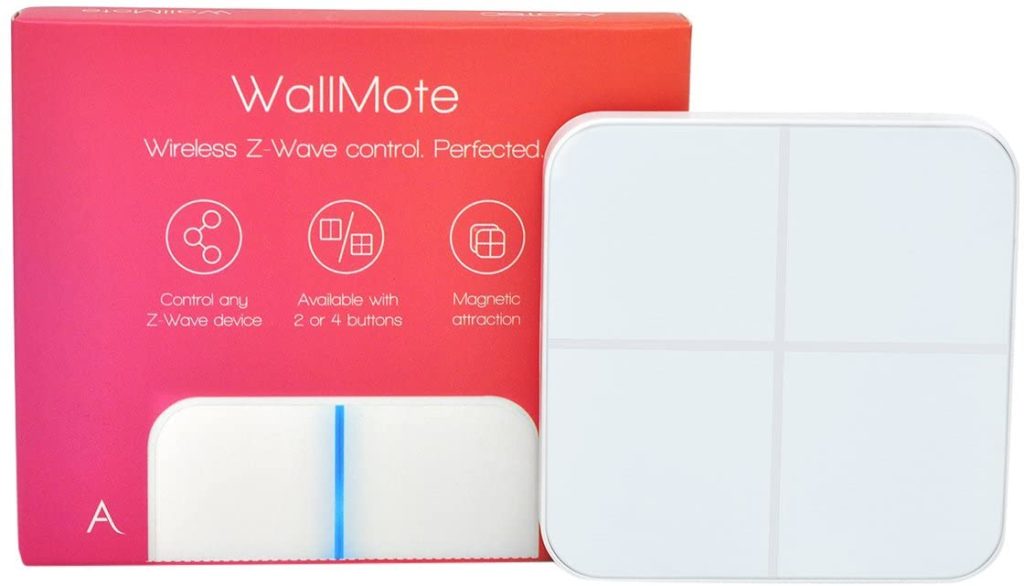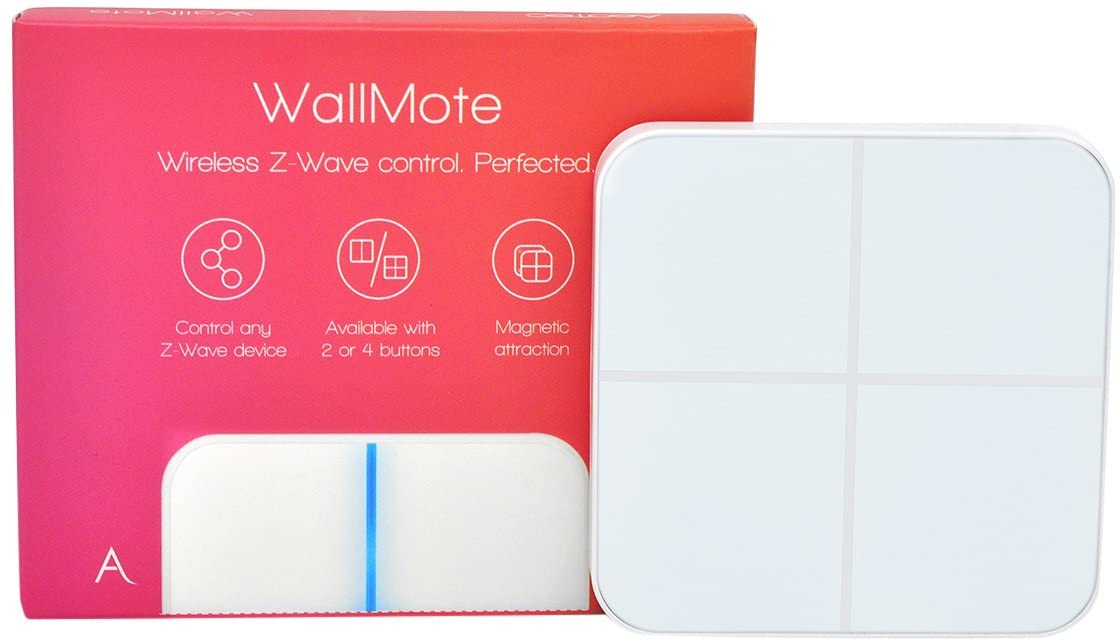 The biggest problem with Z-Wave switches is that they are painfully expensive. It looks lIke I am just going to have to suck it up and pay for one though.
This seems to be one of the most recommended solutions. It has 4-buttons capable of 16+ scenes via tap, tap and hold, slide up, and slide down.
It has a rechargeable battery and is charged via microUSB, so this is a big bonus for me.
It is certified Z-Wave gateways Including Samsung SmartThings, CastleOS, eedomus, HomeSeer, Indigo 7, Jeedom, openHAB 2, Open Z-Wave, and Zipabox.
Probably not worth it over the WallMote if you want it in a fixed spot. But this is a small little 4-button switch that can easily be carried around with you on a keyring.
Big and quite ugly, but it has six buttons that can detect single presses, double presses and long presses giving you 18 commands.
Similar to the NanoMote, this is designed to be carried around with you. It has 6 buttons, and is cheaper than the NanoMote so probably a better buy.
Z-Wave Hank Scene Controller 4 Buttons is a portable and wall-mounted Z-Wave Plus Scene Controller that can control up to 3 scene / devices per button.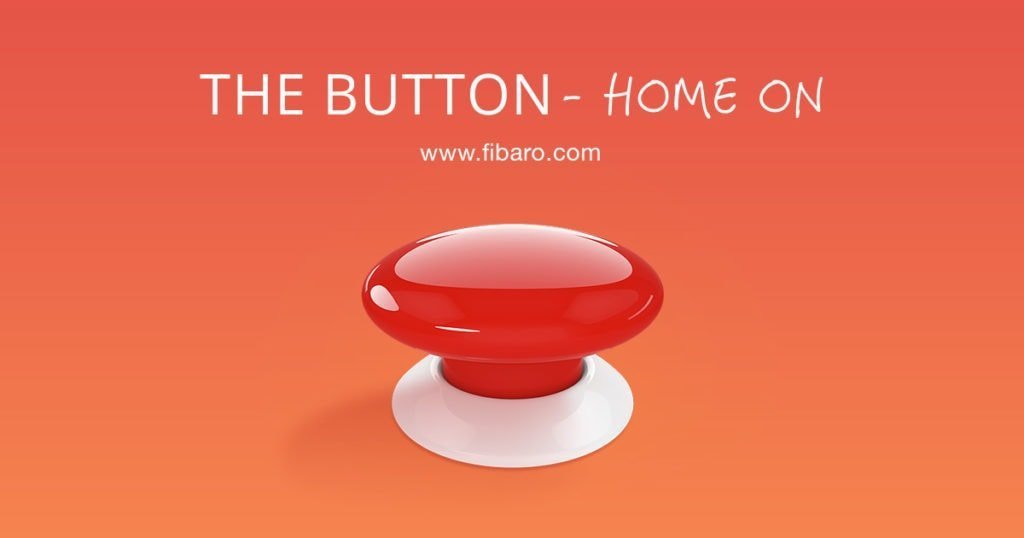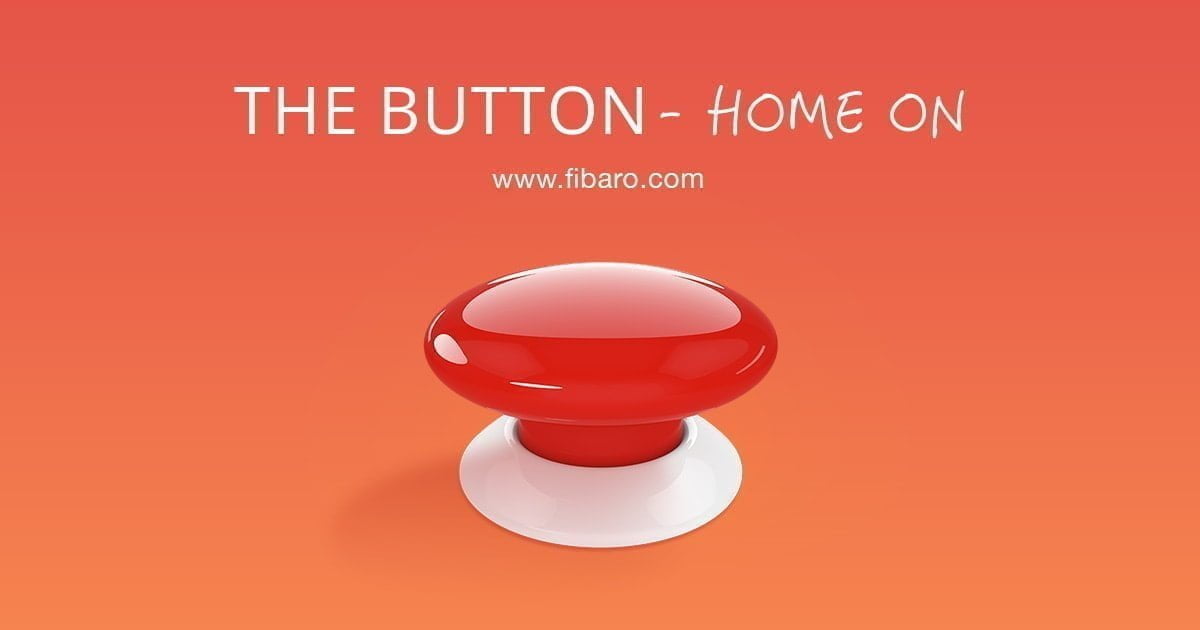 This generally has bad reviews, so probably best avoid it.
Different actions may be triggered with one to five clicks or by holding the button down. In panic mode, each press of the button results in triggering of the emergency scene.
This is both a button and dimmer, you can turn it to carry out commands,
Four button wireless remote controller that is spill and shock resistant
Random brand but this 4-button controller is quite affordable and uses a rechargeable battery.
Wireless Zigbee Switches & Buttons for automation & mapped commands
SmartThings and Xiaomi Aqara use Zigbee both of which have buttons at a fraction of the price of the Z-wave equivalent.
This is probably the most affordable options at just £23.50 per button or £99.99 for 5.
It is very well-reviewed, and I have been happy with SmartThings myself. But for me, I find the button becomes temperamental a few days after replacing the battery. It seems to take a while to wake up, and this problem worsens until I change the battery.
Aqara Smart Wireless Switch – £9.22
This technically should work with SmartThings but you may have to jump through some hoops to get it to work.
Overpriced when you compared it to the previous two, but this requires no charging as it uses kinetic energy to keep the switch going
Wi-Fi and other buttons & switches
Making dumb switches smart. Not particularly attractive, but if you have a physical switch that you would like to make smart this is a superb solution.
Another clever alternative. This is a button to control commands on your phone. It works independently with your phone via Bluetooth, or you can get a hub giving you a more control over other devices.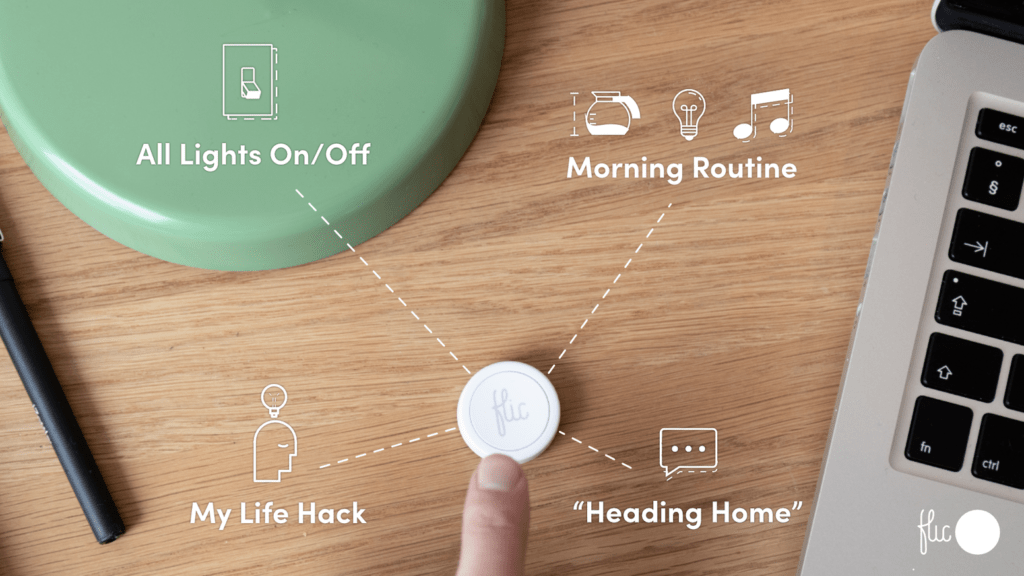 Wireless Light Switches
If you have Hue, you probably already have one of these. They are fantastic value for money, and you can buy mounts that cover your physical switch.
Like the dimmer but more expensive and with more buttons. and three times the price.
Wired Light Switches
This will need a Lightwave hub as it is a proprietary system, however, this is one of the few options that is available for 2-wire UK light switches
This is the other option I know of that does not require a neutral wire
This dimmer switch fits into a standard 25mm back box (25mm – 1-gang, 35mm – 2-gang) and once replaced smartens your circuit allowing you to dim up to 250W of LED or Halogen. Smart Slave Mode enables the switch to be used as a 2 way dimmer with a master or control groups of smart lights via Zigbee.