THX, the renowned audio company originally founded by George Lucas, has traditionally never developed hardware. THX itself is a quality assurance system guaranteeing that the sound produced by something meets its standards. Originally this was for movie theatres ensuring everything was perfectly set up to replicate the sound of movies perfectly. This certification then trickled down to home theatres and then both consumer hardware and video.
They were acquired by Razer in 2016, and with the hardware skills Razer has developed, they are finally entering the hardware market with a portable DAC.
You would maybe expect a THX DAC to be a big tabletop affair but they have opted for a tiny portable DAC that will work with mobile and desktop alike.
Price & Availability
While not cheap, it is not expensive either, costing US$199.99 / EUR $209.99 MSRP and available to buy now.
Features
For that, you get listening options including standard, high resolution, Direct Stream Digital (DSD) and Master Quality Authenticated (MQA).
Then inside the DAC is a THX AAA-78 amplifier chip which apparently is the highest-powered mobile THX Achromatic Audio Amplifier configuration and the first portable DAC/amp to use the component
THX explains that the AAA-78 makes the Onyx just as powerful as a desktop DAC or amplifier setup, but it's much smaller. The chip reduces three types of distortion by up to 40dB and maximizes output power for more dynamic range and sound pressure level (SPL).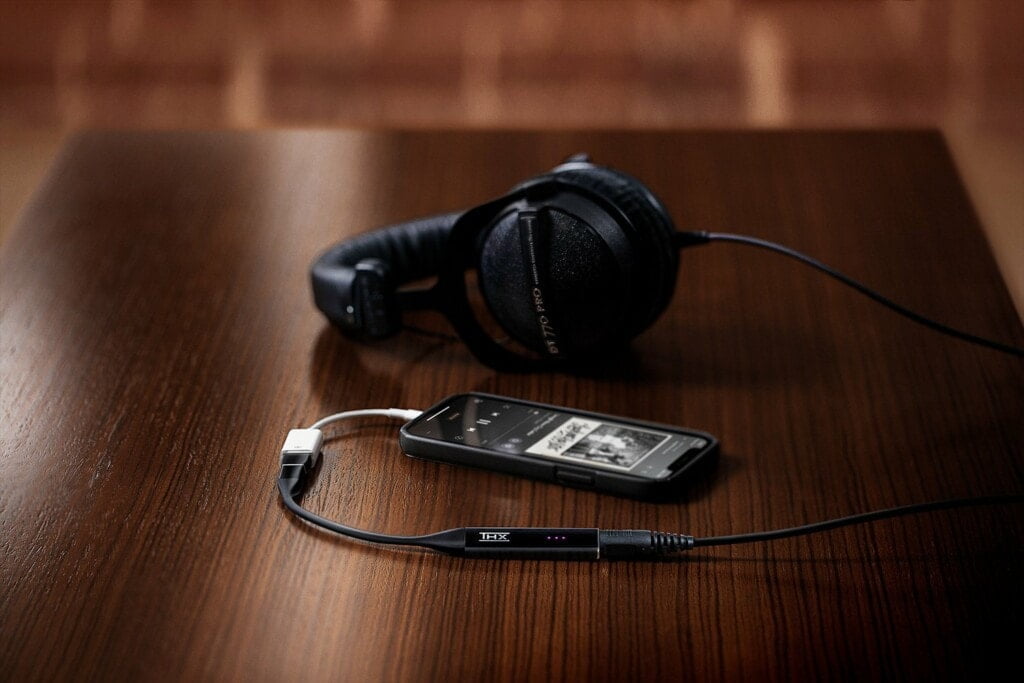 Full Press Release
THX Ltd., a world-class audio and video certification and technology company, today announced the global launch of its first consumer electronics device, THX Onyx™. Staying true to its mission to empower high fidelity for entertainment, the company unveiled THX Onyx with improvements over traditional DAC (Digital-to-Analog Converter) amplifiers by including THX AAA™ amplifier technology onboard to ensure lossless, pure sound that empowers listeners to hear content the way the artist intended. THX Onyx has both THX AAA and ESS Pro DAC chips inside, as well as MQA support, creating the best-in-class portable DAC/Amplifier solution on the market today at this price for powering wired headphones.            
"THX was founded on the principle that quality matters. We've remained dedicated for more than 35 years to innovation that ensures whatever an artist creates can be enjoyed by the audience in the manner intended," said Jason Fiber, chief operating officer, THX Ltd. "Consumers looking for the best audio experience over wired headphones may have found the quality is compromised, so we're stepping up with a flexible, high-quality, and affordable solution with the launch of our first consumer product, THX Onyx."
THX Onyx is ideal for enhanced music, movies, streaming and games. Whether enjoying the distinct audio timbre of a Bach sonata, hearing a fuller range of emotional frequencies within the musical score of a favorite feature film, or gaining the competitive edge by hearing every nuance of an approaching enemy in a video game, THX Onyx brings the clarity and joy of pure, undiluted sound. It connects seamlessly through the USB output port of any device to vastly improve the audio quality when listening over wired headphones, headsets, earbuds, or from desktop speakers. It features best-in-class design elements including smart magnetic cable management to keep headphone wires tangle-free. It is also accented by a quality all-metal CNC-machined body, and by a 3D THX logo, the latter of which is a decades-long symbol representing high fidelity audio excellence.
THX Onyx is the first portable DAC/Amp to feature THX AAA-78, the highest-powered mobile THX Achromatic Audio Amplifier (THX AAA™) configuration. With THX AAA-78, THX Onyx has the same power as a desktop THX AAA DAC/Amp, but in a dramatically smaller package. This patented technology ensures the ultimate no-compromise headphone audio experience by delivering extreme highest fidelity audio with infinitesimally low levels of noise and distortion.   THX AAA nulls conventional distortion mechanisms to reduce harmonic, intermodulation, and crossover distortion by up to 40dB, resulting in a realistic and fatigue-free listening experience. This technology also enables maximum output power for greater dynamic range and sound pressure level (SPL).
It features an ESS ES9281PRO DAC for flagship studio sound quality. And, THX Onyx boasts cross-platform compatibility for convenient, plug-and-play feeding of any power-hungry headphones to play satisfyingly loud (up to five times more powerful than other portable USB DAC/Amps).
In addition to the ultra low distortion and maximum dynamic range, THX Onyx has on board a Master Quality Authenticated (MQA) renderer to reproduce the sound of master recordings. MQA technology captures and authenticates the original performance from the master recording, then 'folds' it into a file small enough to stream. MQA rendering in the THX Onyx adapter can 'unfold' MQA music from streaming services like TIDAL, where millions of "Masters" tracks are available worldwide, unlocking the ultimate listening experience.
"THX Onyx is the perfect introduction to high performance audio for mainstream music fans who want the best listening experience on the move," said Mike Jbara, chief executive officer, MQA. "Consumers know that the THX brand represents premium entertainment, and we are proud that MQA has been integrated into the first-ever THX consumer product."
THX Onyx meets the same high standard as any rigorously tested THX Certified product, and its design incorporates the technology from a rich portfolio of THX AAA patents. THX Onyx is available today at thx.com/onyx and razer.com in North America, Europe and APAC, with a US$199.99 / EUR $209.99 MSRP.  In China, THX Onyx will be available on JD.com and Tmall.com.
Posted by Mighty Gadget Blog: UK Technology News and Reviews
Thanks for reading, check out Mighty Gadget Blog: UK Technology News and Reviews for more Tech news!