The Archer AX 90 is the latest premium Wi-Fi 6 router from TP-Link. This has many of the high-end features I saw on the TP-Link Archer AX11000, but it has one new feature not seen on the older routers.
This is one of the first routers from TP-Link that supports Whole Home OneMesh Wi-Fi, so you can then pair it up with the RE505X Wi-Fi 6 range extender to create a whole-home mesh system.
I have broken the review down into two separate pieces, this review will cover the TP-Link Archer AX90 and then a separate review covering the performance of the TP-Link Archer AX90 using the RE505X as a mesh system.
Specification
Tri-band 8 stream

5 GHz: 4804 Mbps (802.11ax) 4×4 & 160Mhz

5 GHz: 1201 Mbps (802.11ax) 2×2 & 80Hz

2.4 GHz: 574 Mbps (802.11ax)

Ethernet:
USB:
HomeShield Security – free and paid options
VPN – OpenVPN & PPTP
OneMesh support for mesh system expandability
Set-Up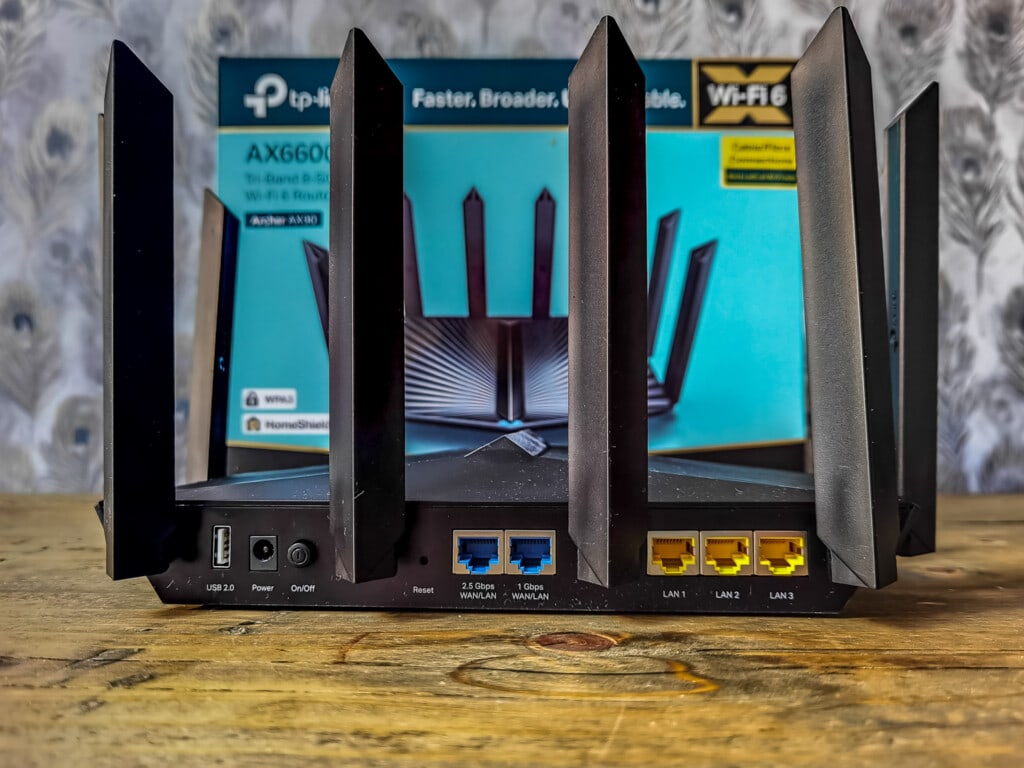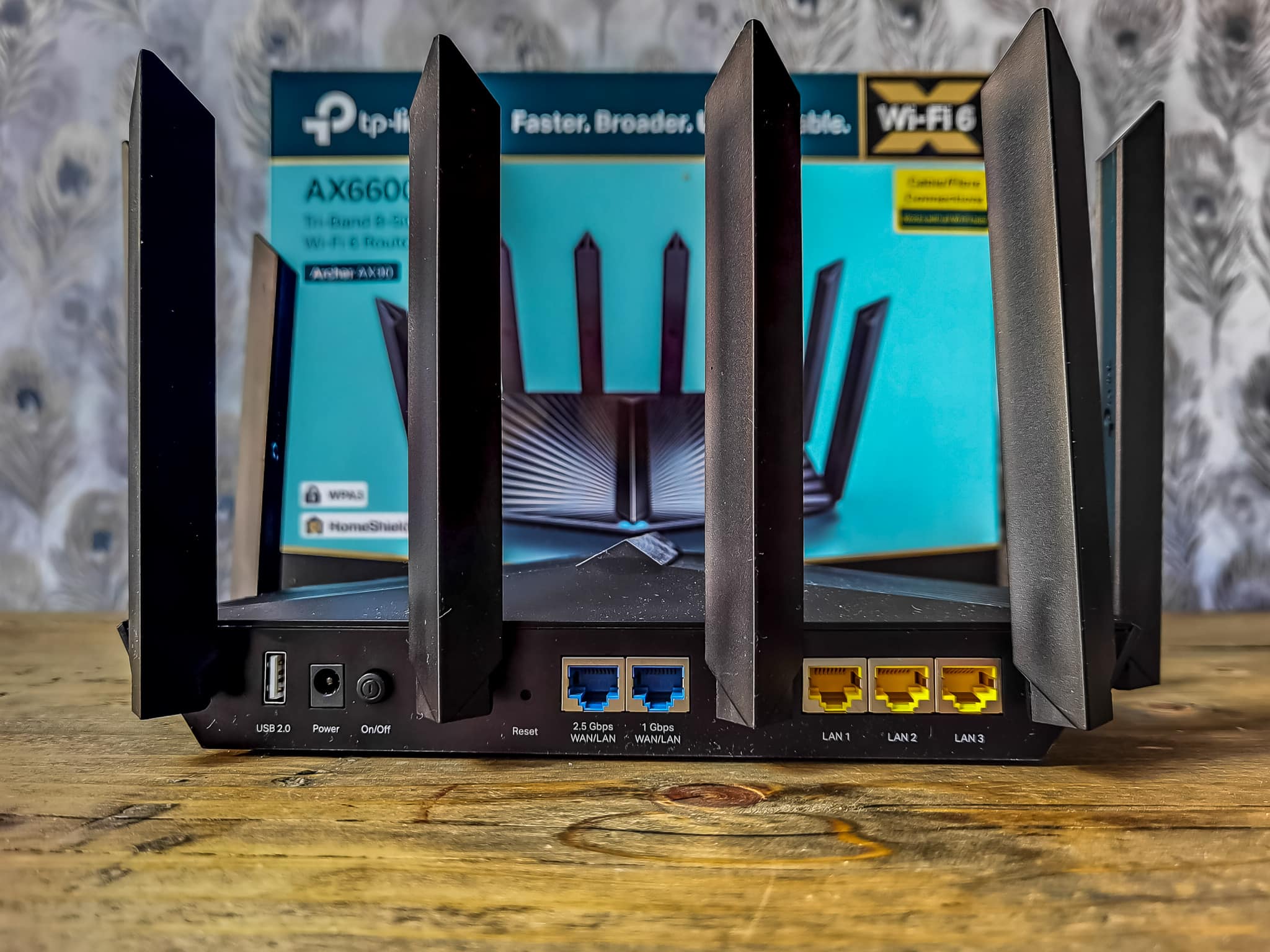 I like that TP-Link allows you to use either the 2.5GbE or a 1GbE port for the WAN. It doesn't make much sense to use the 2.5GbE for WAN, but Netgear insists on using it for that port. So with this, I can connect my Virgin M500 Fibre Broadband to the 1 gig port then the 2.5GbE to the TRENDnet TEG-S350 so all the important devices on my network can be running at 2.5GbE.
To set up this router I used the TP-Link Tether app, I assume you can use the old-fashioned web browser method too.
You should just be able to connect via Bluetooth to set up the router, but I had some issues with this, so I instead had to connect to the pre-defined Wi-Fi SSID, which worked fine.
App vs Web Settings
Management of the router is a little frustrating with different options across app and web. Neither choice provides you with complete control over the router.
The app has extremely basic networking settings with key options missing. If you want to customise anything other than the SSID, passwords, and smart connect, you will need to use a browser.
Things like 160Hz and enabling OFDMA are not available via the app. Two big selling points of Wi-Fi 6 and this router.
However, the web interface lacks the HomeShield features such as QoS, Parental Control, Online Protection
So management can be a bit annoying. This isn't an issue exclusive to TP-Link. The Netgear apps are somewhat limited, too.
Wi-Fi Performance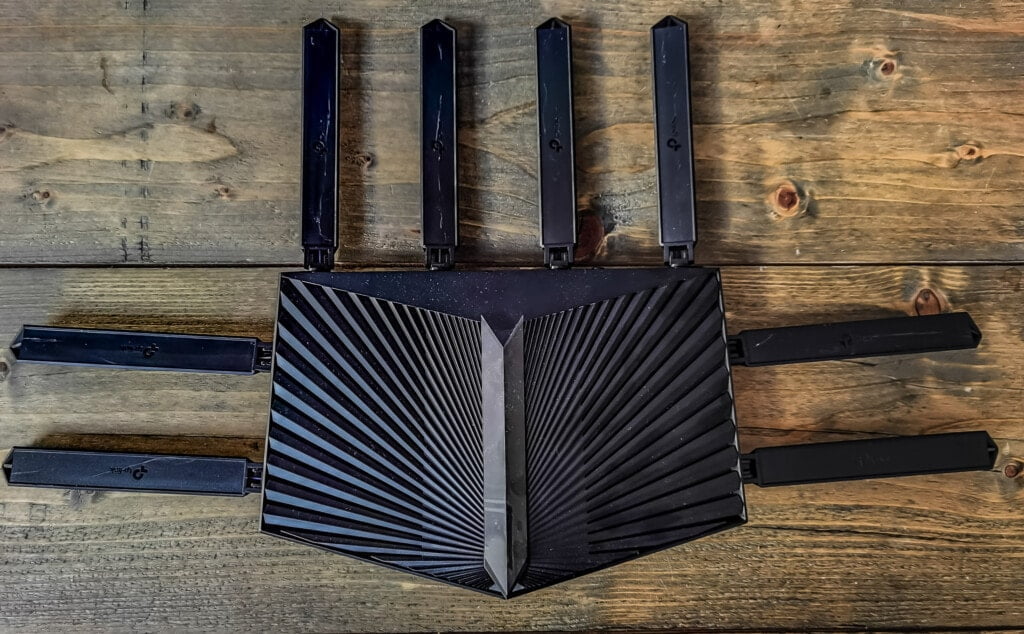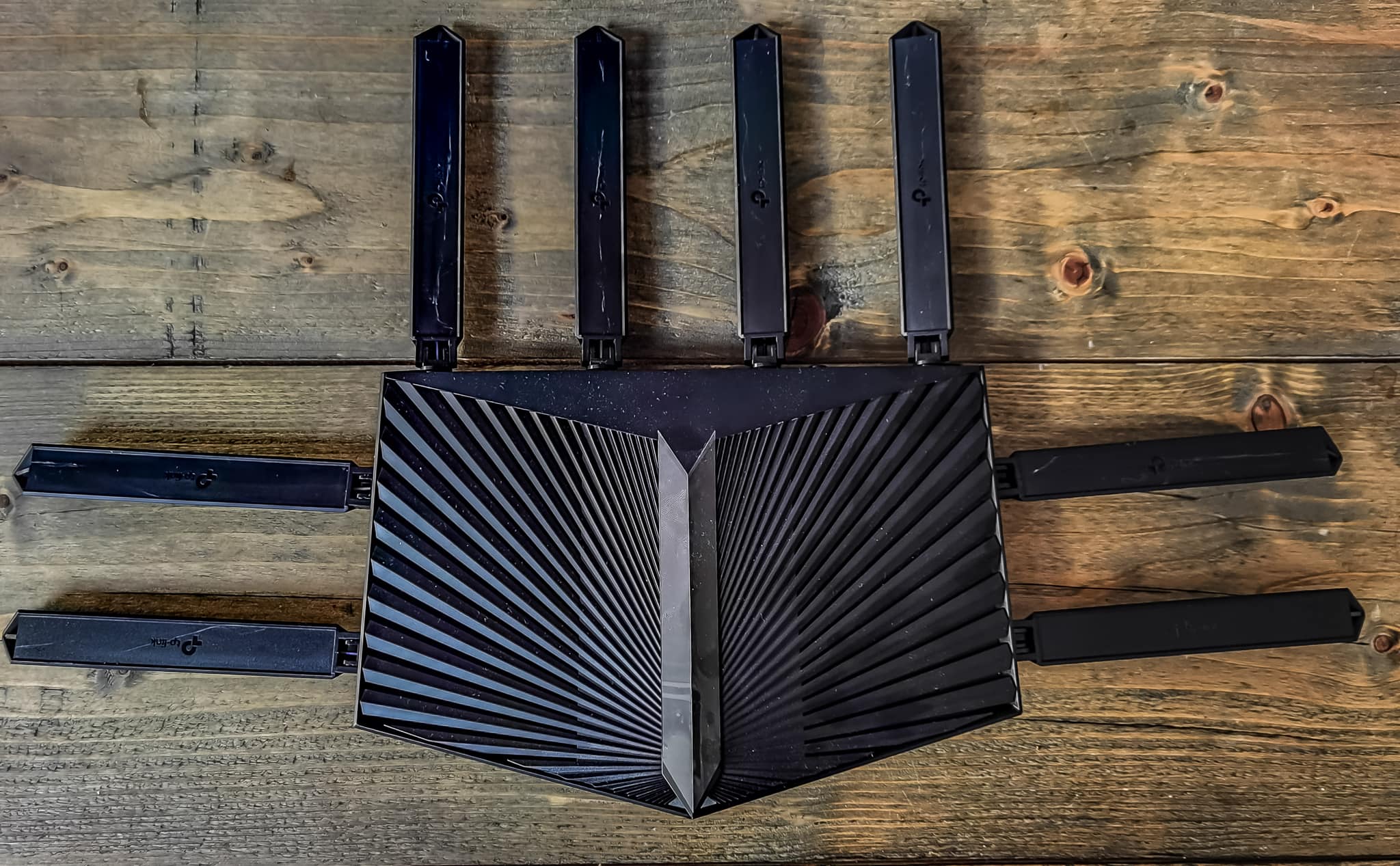 For Wi-Fi, it is important to remember that the two different 5Ghz bands have different specifications, and at first, I struggled to achieve a connection over 1200Mbps.
The 5GHz-2 band is the fastest, having 4×4 160Mhz giving you a theoretical 4804 Mbps but a maximum theoretical speed of 2402Mbps for 2×2 clients.
So, for the sake of testing, I split up the Wi-Fi channels, ensuring I connect to the correct option.
For the 5GHz-2 running at 160Mhz, you are limited to use channels above 100, which are all DFS. This can cause some issues with radar, and you may struggle to achieve 160Mhz. It took me some experimenting to get it to work.
Close Range Performance
5Ghz 160Mhz: 1217Mbits/sec
5Ghz 80Mhz: 901 Mbits/sec
2.4Ghz: 198 Mbits/sec
Mid-Range (Downstairs, wooden floorboards)
5Ghz 160Mhz: 919 Mbits/sec
5Ghz 80Mhz: 671 Mbits/sec
2.4Ghz: 162 Mbits/sec
Long Range (Downstairs, 2 rooms away, brick walls)
5Ghz 160Mhz: 526Mbits/sec
5Ghz 80Mhz: 430 Mbits/sec
2.4Ghz: 111 Mbits/sec
Longer Range (Garden/Garage entrance)
5Ghz 160Mhz: 312 Mbits/sec
5Ghz 80Mhz: 268 Mbits/sec
2.4Ghz: 9.47 Mbits/sec
Other Features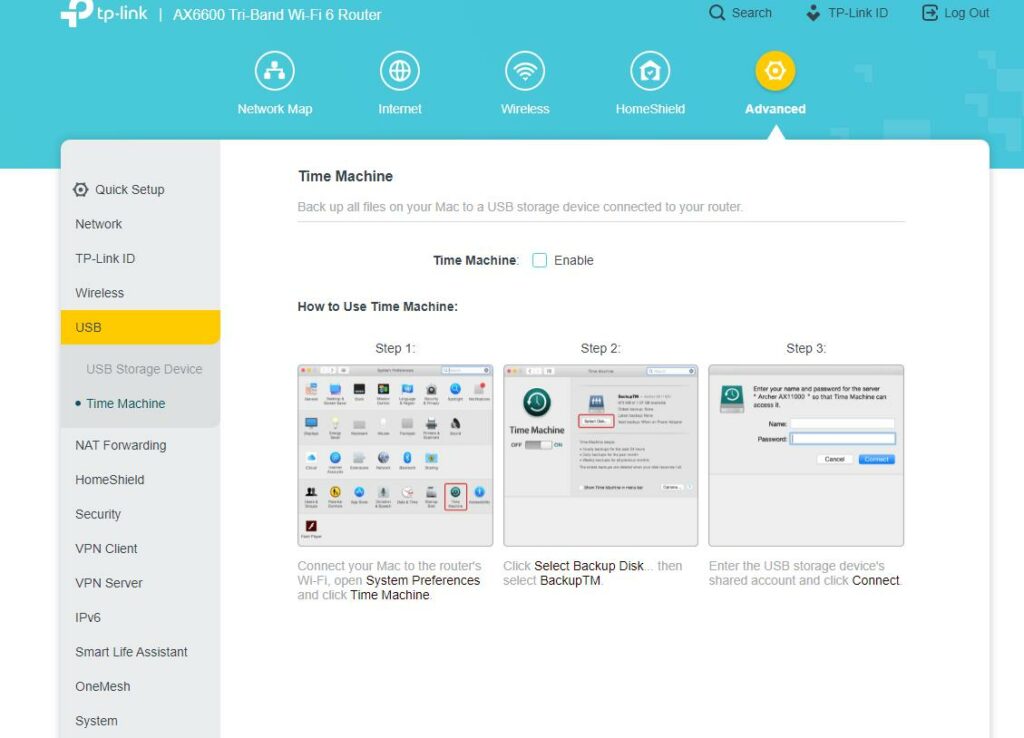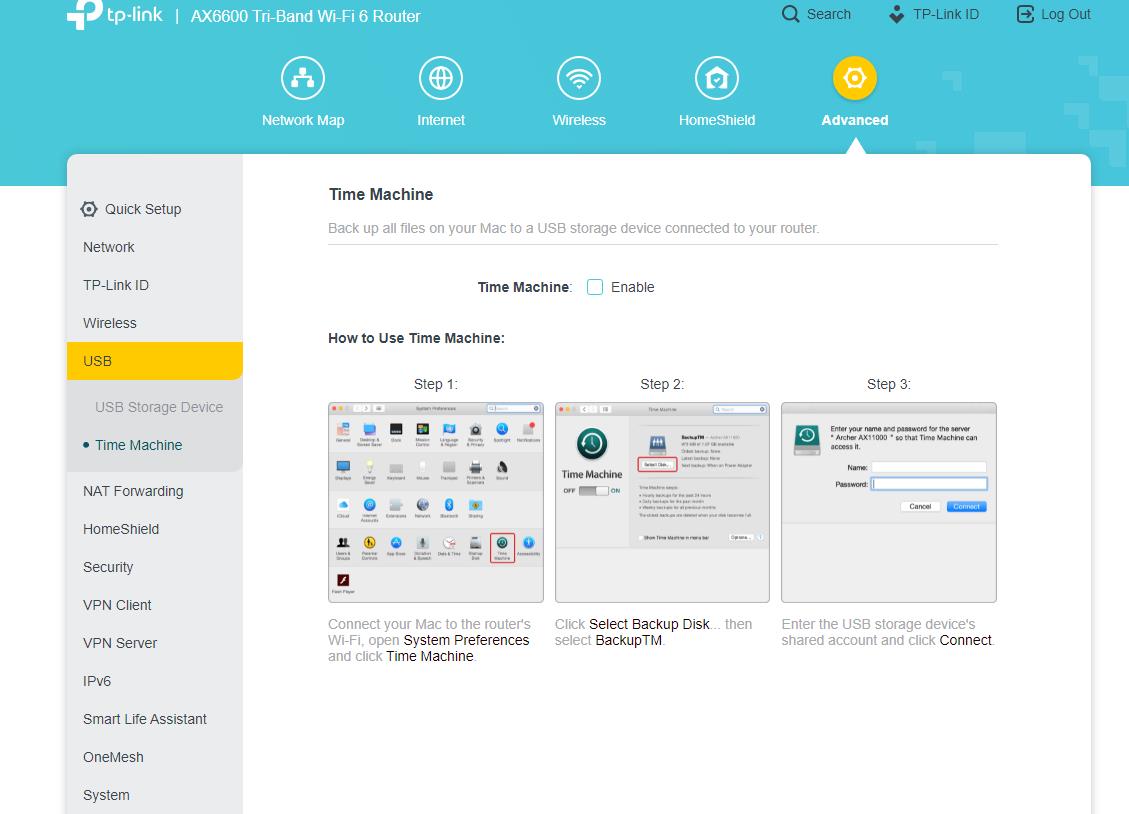 The router has 2 USB ports, but you will want to make sure you only use the blue USB 3.0 port as the yellow USB 2.0 port will severely limit your performance.
The USB functionality allows you to create a network share, and there is Time Machine functionality too. USB performance isn't the best, but it is fine for basic backups. It will hit around 90MB/s max for file transfer.
Like all routers, you can run this in router mode or access point mode.
There is also Alexa built-in allowing you to prioritise gaming or your game device, switch off your router's LEDs or ask Alexa to read out the password of the guest network, all without stopping what you're doing.
HomeShield vs HomeCare – A switch in names so they can roll out a subscription-based Pro service
In the past, I have criticised Netgear for their paid only security and praised TP-Link for their free HomeCare.
However, things are different here. TP-Link previously ditched the subscription-based HomeCare Pro. They have now changed their minds, again. They have rebranded as Hameshield so they can then introduce a Pro tier.
Basic is free to use but is much more limited than Pro or even HomeCare. There are useful features within the free version, such as parental controls and QoS, but these are on other routers for free too. The paid features include real-time protection, which is one of the main selling points of these added services.
The HomeShield Pro subscription service is £5.99 PCM or £53.99 per year. Netgear Armor works out at £50 per year (they quote $69.99).
Price and Alternative Options
The TP-Link Archer AX90 is £245 on Amazon then the RE505X mesh range extender is £59.99. The router and range extenders make for an attractive proposition when compared to similar options from other brands, however, there are not many like for like options.
Netgear has the RAX70, which has 2.5GbE and 160Mhz channel support. They also have their own EAX20 which has a similar spec but more ethernet ports. The RAX70 is £230 and the EAX20 is £135 There is also the much higher specced EAX80 mesh range extender, but this is £235.
Most of the Asus routers have AiMesh allowing you to pair them up together but you would need the ASUS GT-AX11000 for 2.5GbE and 160Mhz. The ASUS ZenWiFi XT8 mesh system has 2.5GbE and is a bargain at £399
RE505X Mesh Extender Performance
I will review the RE505X mesh extender separately, but it is worth mentioning in this review. This extender is a 2×2 dual-band device capable of 300 Mbps at 2.4GHz and 1200 Mbps at 5GHz.
Like all dual-band Wi-Fi systems, you see a significant drop in performance for the mesh connected node due to signal loss over the shared band.
So, the whole home performance of this running as a mesh system will be lower than that of a tri-band mesh system. But, the router itself has the capacity to offer greater performance than the wired router of any tri-band mesh system on the market. It is also a lot cheaper.
So, you will have to evaluate your needs before committing to this system. Depending on your home arrangement, if the router is located centrally or in the most used part of the home with the satellite nodes covering the black spots, this system will likely be a better buy than a tri-band mesh system.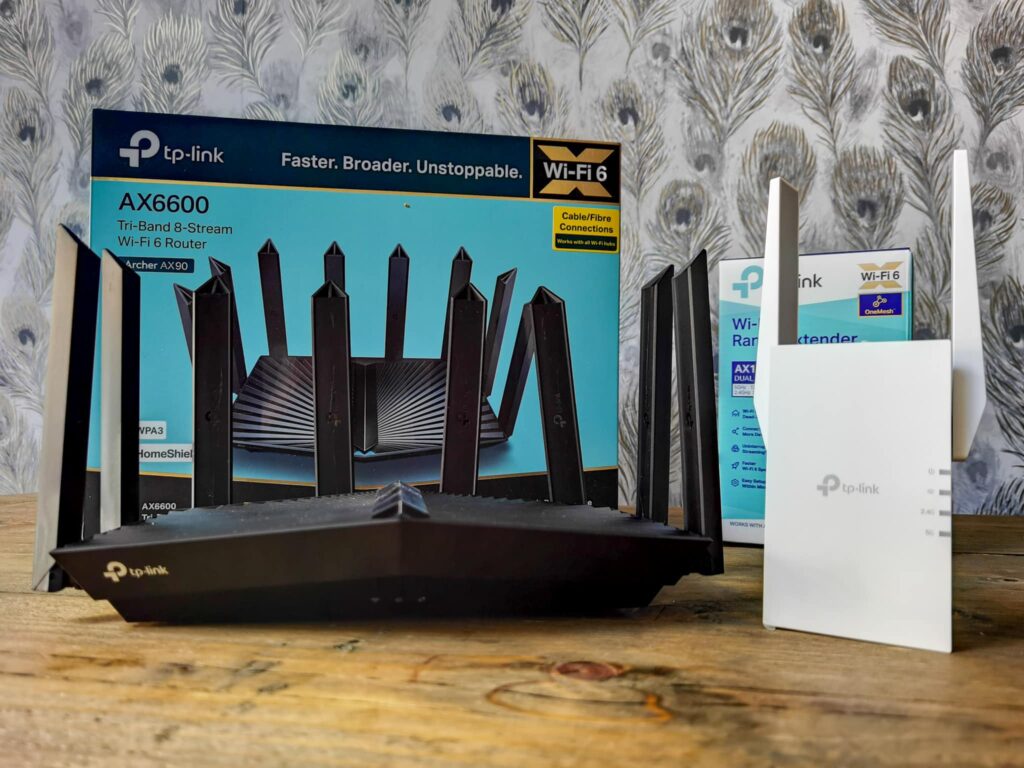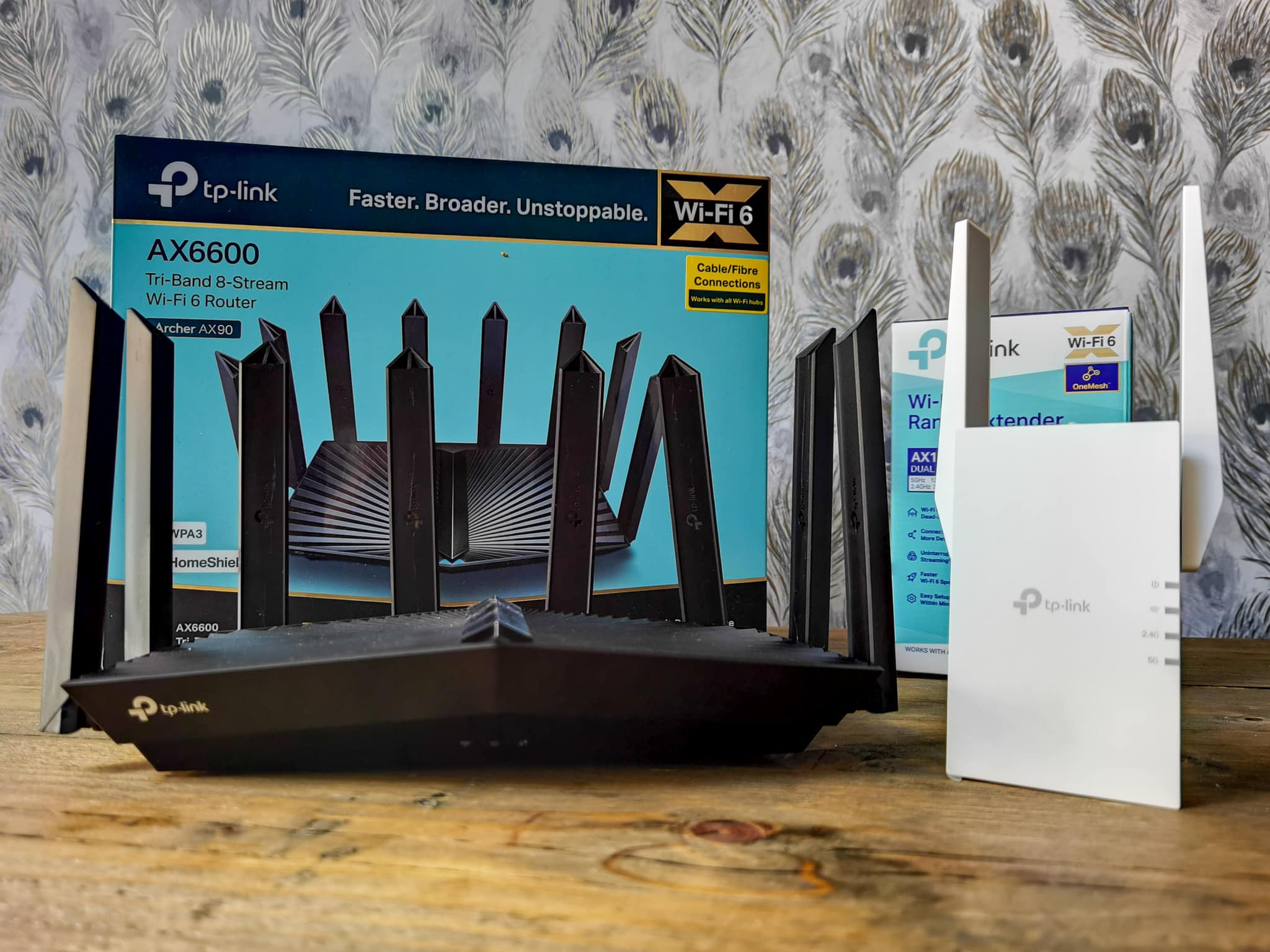 Overall
The TP-Link Archer AX90 router by itself is superb. It has all the important bits from a flagship Wi-Fi 6 router while being considerably more affordable than the AX11000 or models from other brands.
It then has the benefits of the OpenMesh system, allowing you to run a high-end router while still covering your entire home with Wi-Fi.
There are a few caveats to building a system with the RE505X. The extender is only a dual-band device with 300 Mbps at 2.4GHz and 1200 Mbps at 5GHz, which is what helps it be more affordable than competing solutions. However, this should still work very well for most people if you can use the router as your main Wi-Fi device and the RE505X to cover the black spots in your home.
The router is not without its quirks, though. I don't like the rebranding of HomeCare to HomeShield just so they can introduce a pro service.  The mismatched settings between app and web are not ideal, and getting 160Mhz to work may require some experimentation.
All those issues are forgivable considering that this is one of, if not the cheapest router with 2.5GbE and 4×4 160Mhz 5Ghz (plus mesh functionality).
Posted by Mighty Gadget Blog: UK Technology News and Reviews