We have already seen Asus and Netgear launch WiFi 6E routers, offering reliable ultra-fast connections using 160Mhz on the 6Ghz frequency.
TP-Link & Linksys are taking a different approach with their first WiFi 6E devices, and just straight in with a mesh system.
TP-Link have the Deco X76 Plus and the X96 Plus while Linksys have the Velop AXE8400. They are all similar systems, in that they offer a tri-band design with 2.4Ghz, 5Ghz and 6Ghz. With this approach, they will then use the 6Ghz as the backhaul for the data.
TP-Link Deco X76 Plus vs X96 Mesh WiFi 6E System Specification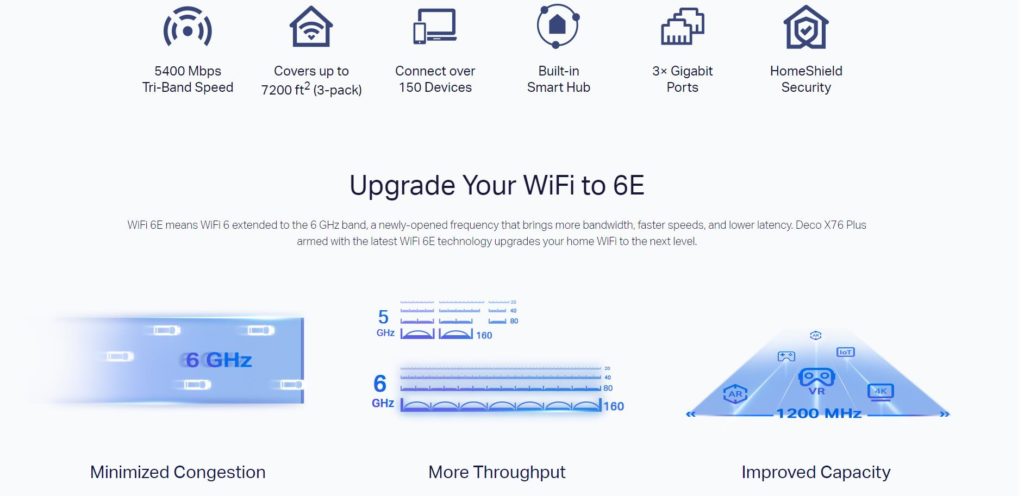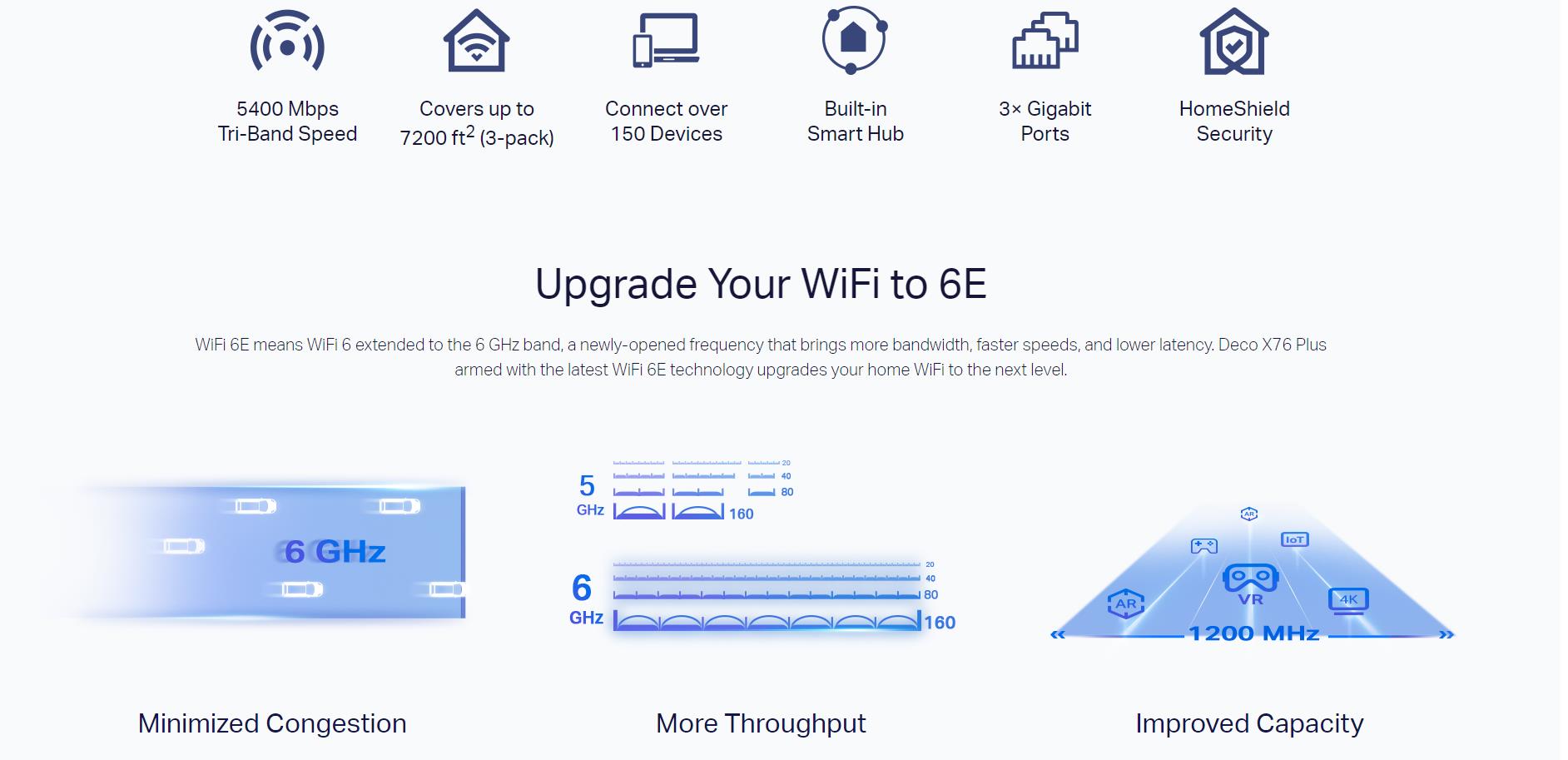 The Deco X76 Plus and  X96 have a slightly different Wi-Fi specification, with the X96 having more bandwidth available on its 5GHz channel.
The spec isn't 100% clear, but it looks like the 5Ghz channel will offer 4×4 MIMO, so at the moment you won't be able to make the most of those speeds, it will however handly more clients
The Qualcomm Networking Pro 1210 platform has up to 12 spatial streams, and peak speaks up to 8.4 Gbps
For the TP-Link Deco X76 Plus you get:
6 GHz: 2402 Mbps (802.11ax)
5 GHz: 2402 Mbps (802.11ax, HT160)
2.4 GHz: 574 Mbps (802.11ax)
For the TP-Link Deco X96 you get:
6 GHz: 2402 Mbps (802.11ax)
5 GHz: 4804 Mbps (802.11ax, HT160)
2.4 GHz: 574 Mbps (802.11ax)
So in theory, this is the first time a mesh system is able to provide a theoretical throughput of 2402 Mbps on the 5Ghz channel.
Annoyingly TP-Link hasn't including a multi-gig port on both systems. Instead, the X96 has 2 ports on with 1 being 2.5GbE and the other Gigabit. It looks like this is the same on both Deco units.
As for the Deco X76 Plus, you get three gigabit ports
Both of these routers are flagship systems so offers the suitably advanced feature. TP-Link, as always, have quite a good built-in HomeShield application offering free network security and parental controls
The then Plus nomenclature used on the X76 Plus indicates that this is also a Zigbee smart home controller.
Linksys AXE8400 Mesh WiFi 6E System Specification
Specs are a little more vague for the Linksys AXE8400, the press release states that it uses the Qualcomm Networking Pro 1210 Platform which is a 12-stream solution including 160MHz, brings unique differentiated features like Qualcomm 4K QAM support to deliver peak speeds of up to 8.4 Gbps.
A little routing around the internet indicates this should offer:
6 GHz: 4804 Mbps (802.11ax)
5 GHz: 2400 Mbps (802.11ax)
2.4 GHz: 1200 Mbps (802.11ax)
The exact MIMO config is not mentioned, but I will assume 4×4, 2×2, and I guess 4×4 with the 2.4Ghz channel.
Then for this system, you get a single 5 Gbps WAN port with four Gigabit LAN ports, it is not clear if you can use the WAN as a LAN in AP mode or on the satellite devices.
The Linksys AXE8400 system is compatible with Linksys Intelligent Mesh products and is backwards compatible with other Linksys Velop systems. This is quite interesting as the WiFi 6 gear from Netgear doesn't play nicely with the WiFi 5 options.
Then, prior to this being available, Belkin will release a new generation of its Linksys Aware motion-sensing technology. The new version will recognise third-party stationary WiFi devices—such as smart plugs, speakers, thermostats, and light bulbs—to expand the network's ability to detect motion inside the home.
With this optional service, your router can detect disruptions to your wireless mesh network as someone walks around inside your home, using multiple WiFi clients to triangulate precisely where the motion occurred. It will then send an alert to your smartphone.
However, Linksys Aware incurs a monthly fee of $2.99
Price and Availability
You are going to have to wait a while; the Linksys AXE8400 will be available beginning Spring/Summer 2021 in the US for MSRP $449.99 (1-pack), $849.99 (2-pack), and $1,199.99 (3-pack) from Linksys.com; global availability to follow in the second half of 2021.
For TP-Link, there is no word on price or an exact release date, it looks like it maybe the third quarter of 2021.
Overall
Vague specs and a long time until launch make these three systems equally exciting and disappointing. However, once they arrive, each system should offer incredible performance compared to the current systems available.
Posted by Mighty Gadget Blog: UK Technology News and Reviews