Last year saw a couple of affordable multi-gig switches launched, with the QNAP QSW-1105-5T being the stand out option or the Zyxel XGS1010 with its two 2.5GbE ports and 2 10Gb SFP+.
TRENDnet are now getting in on the action with the launch of two options, the TEG-S380 and TEG-S350 with 8 and 5 ports, respectively.
The 5-port model is particularily attractive being priced at just £129.99 GBP.  Though, with the growing number of multi-gig devices, including routers thanks to WiFi 6, I have found the 5 ports on my QNAP quickly run out.
The 8 port TEG-S380 is then priced at £169.99 GBP, which seems like a lot of money, but in the world of multi-gig switches, it turns out that this is the cheapest 8-port model you will find.
The cheapest option I can find from another brand would be twice the price with the TP-Link TL-SG3210XHP-M2 JetStream, though in its defence, it is POE and cloud-managed.
Full Specification:
8-Port Unmanaged 2.5G Switch, TEG-S380
5-Port Unmanaged 2.5G Switch, TEG-S350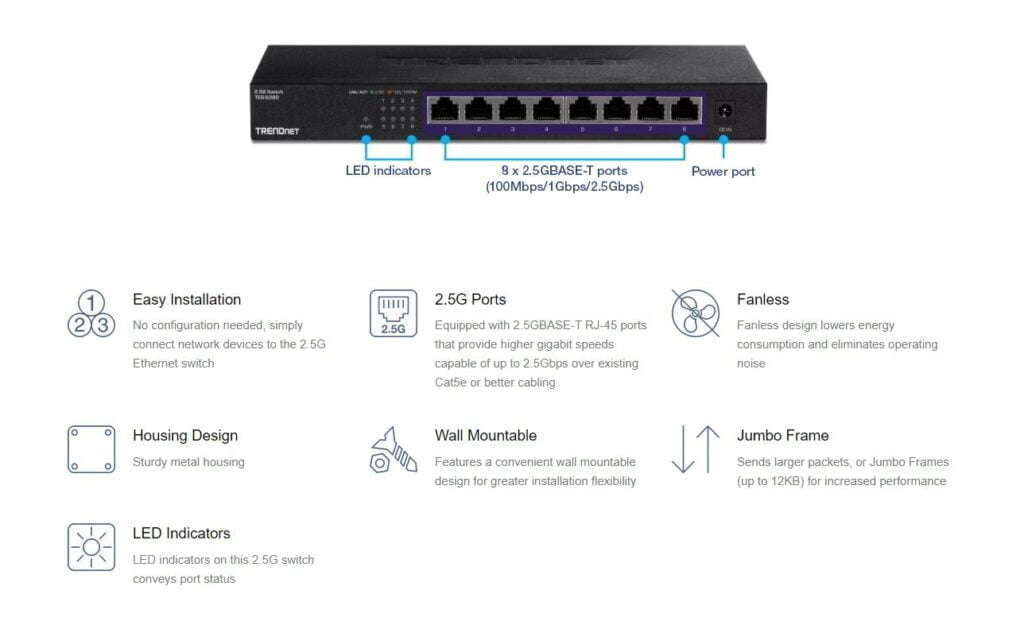 Full Press Release
TRENDnet is debuting one of the world's first 2.5G unmanaged network switches. Expanding its existing portfolio of multi-gigabit networking solutions, TRENDnet's budget-friendly 2.5G unmanaged switches launch with two models.
The 8-Port Unmanaged 2.5G Switch (TEG-S380) and the 5-Port Unmanaged 2.5G Switch (TEG-S350) are the latest additions to TRENDnet's Multi-Gigabit Networking Solutions family. Both switches include 2.5GBASE-T RJ-45 ports, which allow users to achieve up to 2.5Gbps over existing Cat5e (or better) cabling. TRENDnet's new 2.5G switches are cost-effective means of increasing a network's throughput, and helping to reduce or eliminate network bottlenecks.
"The world continues to evolve into a more and more digital place every day, and we're finally seeing networking speeds that can manage the sheer volume of data that we have collected and need to share on a daily basis," said Evan Davis, senior manager of solutions engineering at TRENDnet. "Today we have Wireless 6 routers and access points, as well as storage devices, with increased transfer speeds, that can greatly benefit from network switches that support higher throughput speeds, ultimately reducing bottlenecks and future-proofing the network."
These multi-gigabit switches also feature a durable metal housing, as well as a fanless design to eliminate distracting operating noise. For installation flexibility, the 2.5G switches are conveniently constructed to be mounted on the wall or placed on a desktop. These TRENDnet switches are IEEE 802.3bz compliant; they are also backward compatible with legacy technology hardware. No special configurations are required for these switches to connect and network devices to high-speed 2.5G Ethernet. 
The introduction of these 2.5G unmanaged network switches are the latest additions to TRENDnet's growing line of high-performance Multi-Gigabit Networking Solutions. TRENDnet recently launched its 2.5G PoE+ Injector (TPE-215GI), one of the first multi-gigabit PoE+ injector available in the market. Additionally, TRENDnet multi-gigabit solutions also currently include PCIe Network Adapters, such as the 2.5GBASE-T PCIe Network Adapter (TEG-25GECTX), and USB-C to Ethernet Adapters, such as the USB-C 3.1 to 2.5GBASE-T Ethernet Adapter (TUC-ET2G).
TRENDnet's 8-Port Unmanaged 2.5G Switch (TEG-S380) and the 5-Port Unmanaged 2.5G Switch (TEG-S350) are currently available for purchase. They can be found online on the TRENDnet Store, and worldwide through authorized distribution and retail partners.
Posted by Mighty Gadget Blog: UK Technology News and Reviews
Thanks for reading, check out Mighty Gadget Blog: UK Technology News and Reviews for more Tech news!