TRENDnet (Trendnet for the rest of this review) recently launched two affordable unmanaged 2.5G switches, one 5-port and the other 8-port.
Being an unmanaged switch, this will be a relatively short review, but I have been quite obsessed with multi-gig Ethernet in recent years and always on the quest for an affordable solution.
Price per port vs QNAP QSW-1105-5T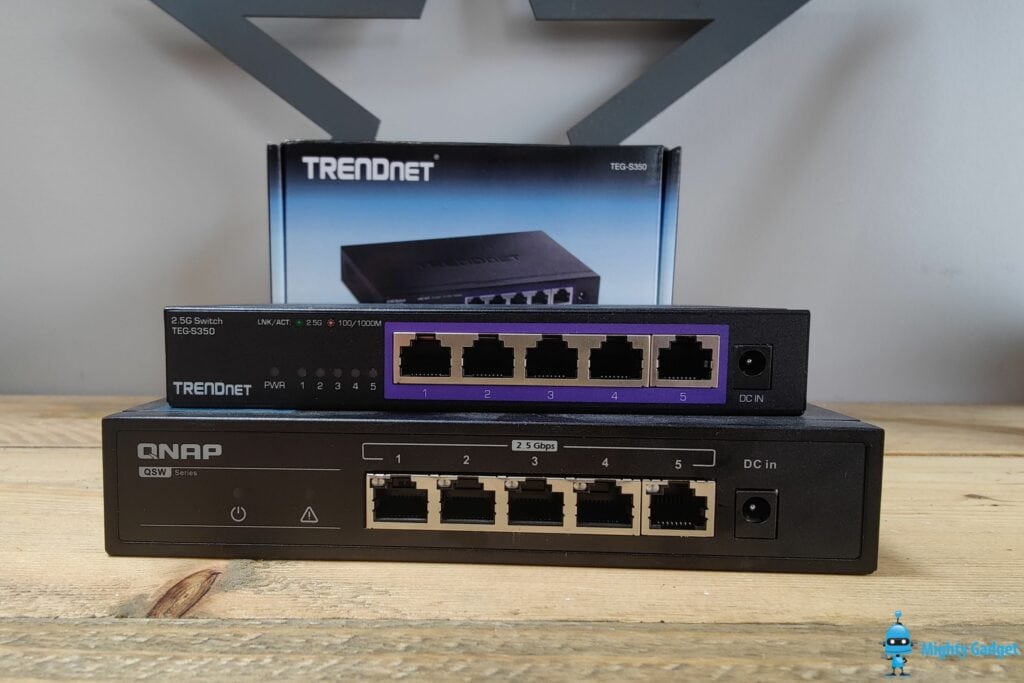 Assuming this works, the most important part of this review is pricing, so I will get that out of the way first.
The Trendnet TEG-S380 8-port switch has an RRP of £169.99, while the 5-port TEG-S350 is £129.99
That's £21.50 and £26 per port.
The 8-port model is the most interesting because, to the best of my knowledge, there are no other 2.5GbE or higher switches with 8 ports anywhere near this price.
The ZyXEL XS1930-10 is the closest I can think of, being £377.40. It is well worth the extra cash, being cloud-managed and full 10GbE + 2 SFP+ uplink ports, but I imagine many home users don't fancy spending close to £400 on a switch. It is also not fanless, which will make a big difference to some.
As for the 5-port model, the QNAP QSW-1105-5T is the standout/only competitor, being £108.49 or roughly £22 per port. I reviewed it very positively and have been using it up until now. However, I have found that intermittently it will drop connection rates down to 100Mbit and need rebooting, it is possible that something else on my networking is causing this. Amazon reviews are mixed, but this seems to be due to the seller shipping an EU plug, not UK.
Beyond the QNAP, there is not much else, I did originally give a favourable review to the Zyxel XGS1010; it is a good switch with 2x 10G SFP+, 2x 2.5GbE then 8-gigabit ports. However, it has gone up in price, and I'd say the spec isn't really comparable to the Trendnet or QNAP.
Cheaper to buy from the US
The UK price of the TEG-S350 is £130, there is no UK stock at the moment, so you can't buy it anyway. However, Amazon US has it for $162.66 (once you go through checkout and they add VAT). If using the poor Amazon currency conversion, this is £121.81, but if you have a card with favourable exchange rates, it should work out at £118.54 (at the time of writing)
The 8-port TEG-S380 is $212.27 (£158.97 Amazon rate or £154.69)
Full Specification:
8-Port Unmanaged 2.5G Switch, TEG-S380
5-Port Unmanaged 2.5G Switch, TEG-S350
Design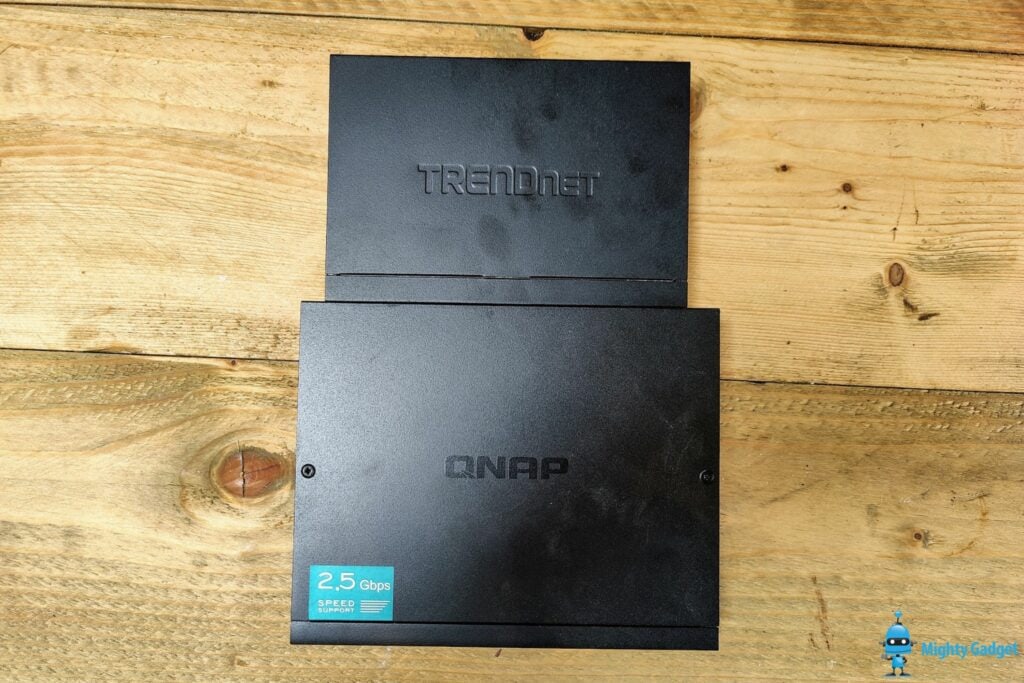 The main thing to note is that this is fanless, and the power port is forward-facing if that's something that bothers you.
It is slimmer and looks a bit more premium than the QNAP but no other major differences.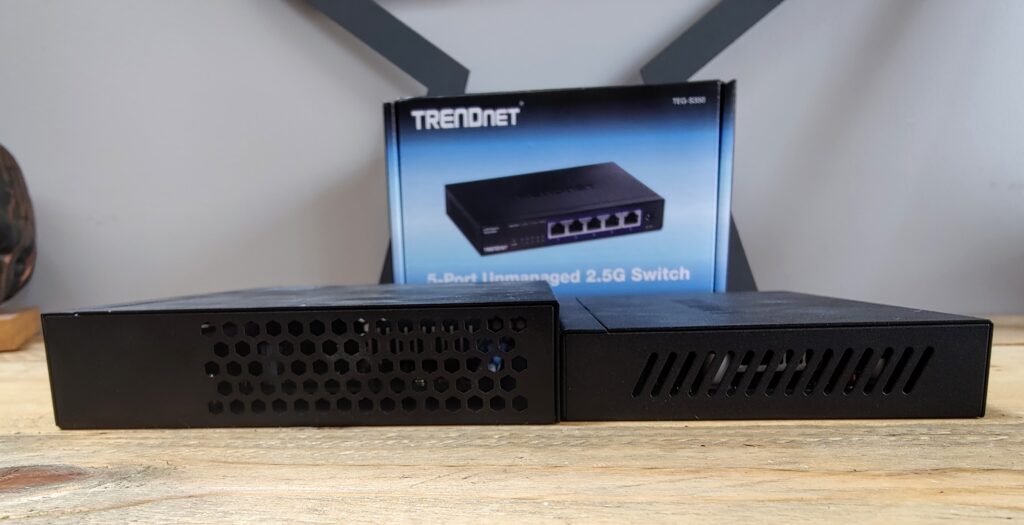 In Use
My system consists of:
AMD Ryzen 7 5800X
MSI MEG X570 UNIFY with 2.5GbE built-in
Kingston KC2500 1TB NVMe M.2 SSD
Zotac RTX 3080
My server is an AMD Ryzen 5 3600 with Asus X470 motherboard and ASUS XG-C100C 10GbE Nic running Ubuntu using a Samsung 970 Evo NVMe
I also tested with the TerraMaster F4-422 with 10GbE, but the drives in this are in RAID5.
iPerf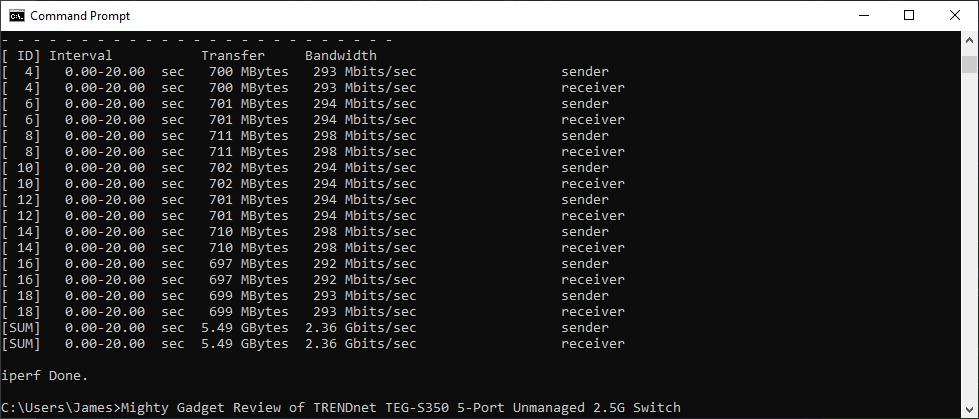 Using iPerf the test does report a touch under 2.5Gbit/sec with an average speed of 2.36 Gbits/sec. Retesting the QNAP and it scores an identical result.
File Transfer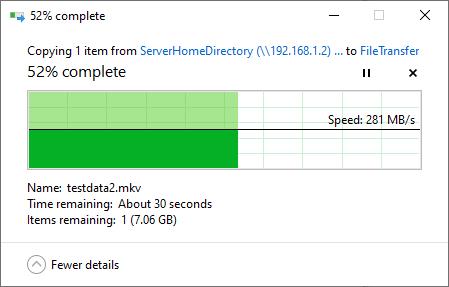 Transferring to and from NVMe drives on my server, the speeds sit at a steady 280MB/s when transferring a 15GB MKV file, which ended up taking 55 seconds to transfer, which, as you would expect, is well under half the time a gigabit connection would do it in.
280 MB/s works out as 2240Mbit/sec, so a little bit under the rated speed, but there are various overheads to account.
As you would expect, the QNAP transfers at an identical speed.
Overall
The Trendnet TEG-S350 is an excellent affordable unmanaged 2.5G switch, and it is logical to assume that the 8-port TEG-S380 will offer the same experience.
I have not experienced any stability issues or dropped speeds, all things that you would expect from a switch.
The price is extremely attractive, in particular the 8-port model. I'd certainly be happier if multi-gig was a lot more affordable, but this is the best you can get for now.
While many people will argue what's the point of multi-gig home networks, I'd argue it is becoming increasingly important. WiFi can no go beyond gigabit, as can 5G, and gigabit home internet is becoming common with the hope of multi-gig in the near future. It is our wired networks that are holding us back.
With everyone being a YouTuber nowadays and phones being able to record up to 8K, having that ability to transfer large files quickly between devices has is quickly become essential for both home users and business alike.
Posted by Mighty Gadget Blog: UK Technology News and Reviews
Thanks for reading, check out Mighty Gadget Blog: UK Technology News and Reviews for more Tech news!