I previously reviewed the Ubiquiti UniFi 6 Lite, which was my first experience using Unifi properly within my home. I was delighted with its performance for the price, and my compulsive spending got the better of me, so I ordered the Ubiquiti UniFi 6 Long Range as soon as I hit publish on the Lite review.
Poor Experience with Ubuiqiti Store EU Customer Support
My experience buying directly from Ubuiqiti has, however, not been fantastic. The Unifi 6 Lite came through OK, it took a while to get delivered, but it was over the Christmas period.
The LR was ordered at the start of January, with expected shipping on the 19th. I got an email a week before saying it will be shipped soon, but I may get stung with import fees, which they will refund. No problem there, and I appreciate the honesty. Unfortunately, the date came and went with no word on shipping
I emailed customer support on the 23rd and didn't get a reply for 2 weeks where they said it should be shipped in 14 days.
It got shipped shortly after their reply, but the DPD tracking number didn't work at all, so I was clueless about when it may show up. Clicking on the tracking now, it says the order has been created with no further updates.
It ended up being delivered on the 9th of February, two weeks after I got a shipment notification.
I am not alone in this complaint; it seems to be a common issue on the Ubiquiti subreddit with little to no login in when orders get sent out.
Covid and Brexit have obviously caused a lot of issues, some people have made comparisons to the various GPU and CPU shortages. While I am sure this is partly true, most other networking vendors haven't had this level of stock shortages. Ubiquiti were late to launch Wi-Fi 6, so I guess other companies already had built up stock levels.
My main problem was not the poor stock levels though, it is the complete lack of communication from Ubuiqiti. As a home user, it has not been the end of the world for me, but if I was installing access points for business, this could have caused some serious issues with clients waiting for installs.
To be fair to Ubiquiti, I have never dealt directly with Netgear, Zyxel or Engenius customer services. They could be just as bad, and I won't let me experience here reflect on my opinion of the overall hardware.
However, with regular complaints on Reddit, I would advise businesses to weigh up the pros and cons when considering Unifi over other cloud-managed providers.  Personally, I would try and buy from an authorised local vendor with confirmed stock levels where you will normally get far better customer service.
Ubiquiti UniFi 6 Lite vs UniFi 6 Long-Range Access Point Specifications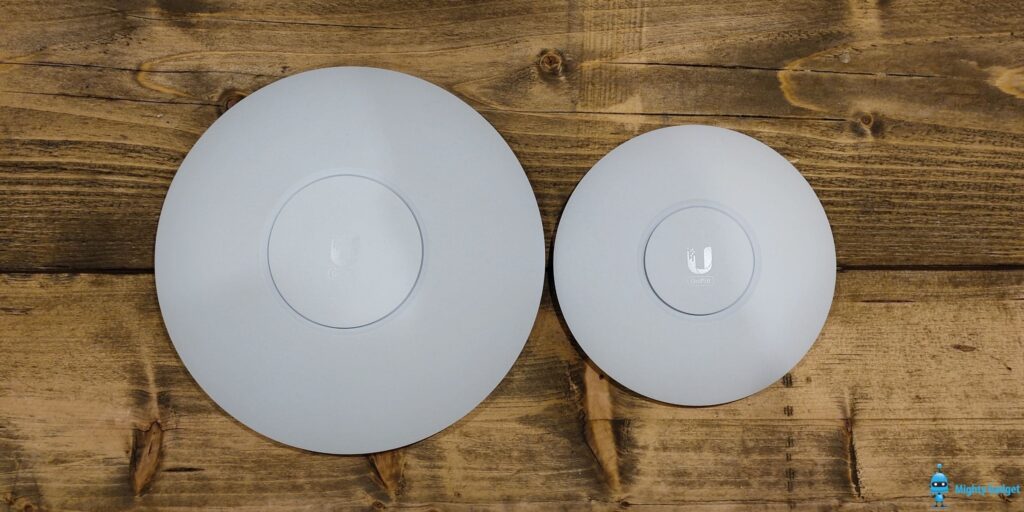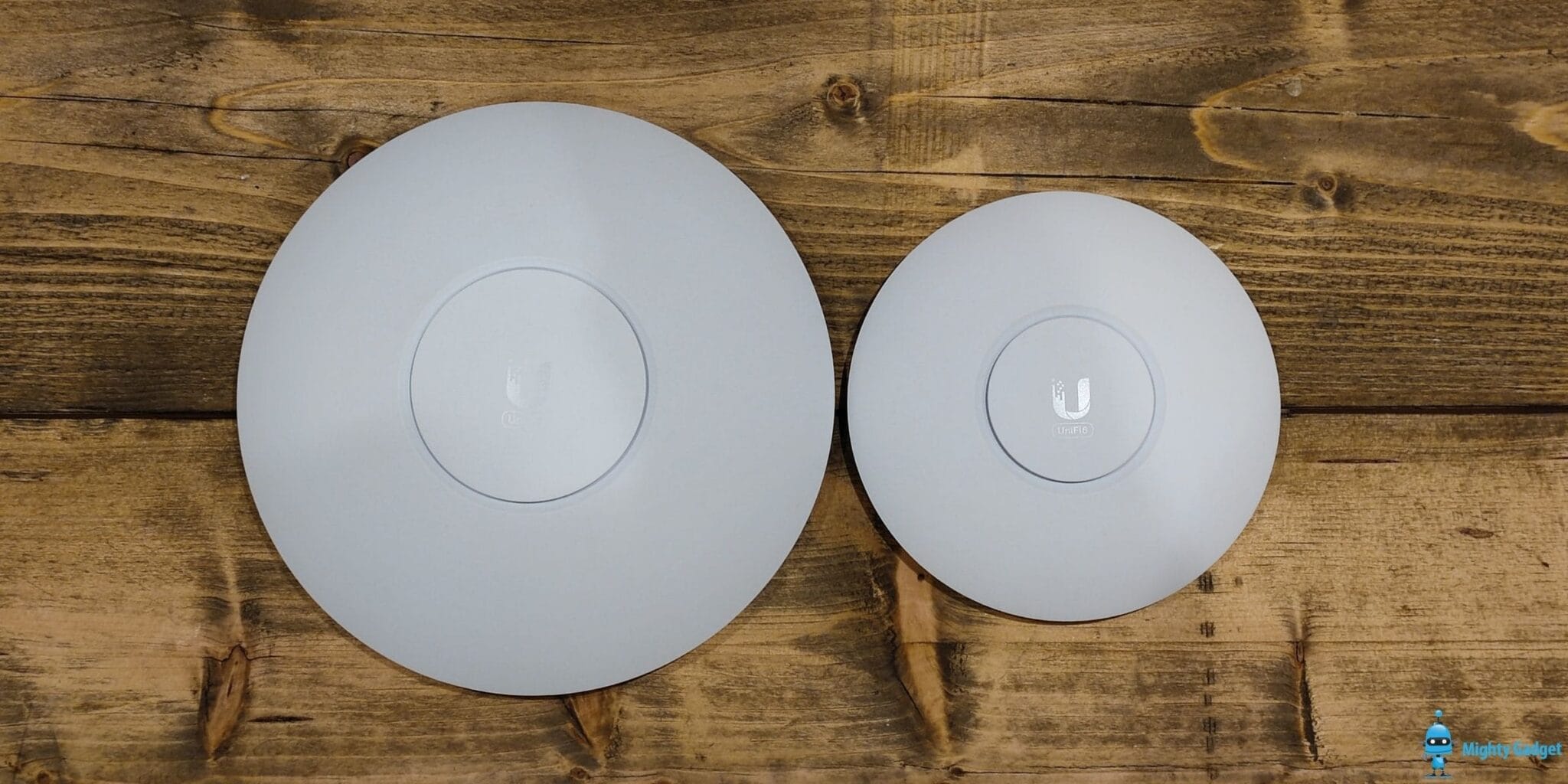 | | | |
| --- | --- | --- |
| | Ubiquiti UniFi 6 Lite | UniFi 6 Long-Range Access Point |
| Processor  | 880 MHz MIPS 1004 Kec | Dual-Core Cortex A53 at 1.35 GHz |
| Ram | 256 MB | 512 MB |
| MIMO | 2 x 2 | 4 x 4 |
| Channel Width | 20/40/80 | 20/40/80/160 |
| Wi-Fi 4 Suported Data Rate | 6.5 Mbps to 300 Mbps | 6.5 Mbps to 600 Mbps |
| Wi-Fi 5 Suported Data Rate | 6.5 Mbps to 866.7 Mbps |  6.5 Mbps to 1.7 Gbps |
| Wi-Fi 6 Suported Data Rate | 6.3 Mbps to 1.2 Gbps | 7.3 Mbps to 2.4 Gbps |
| Claimed Range  | Not stated | Not stated |
| Ethernet | Gigabit | Gigabit |
| Power Method | 802.3af PoE, Passive PoE (48V) | PoE+, Passive PoE (48V) |
| Max. Power Consumption | 12W | 16.5W |
| Max. TX Power | 23 dBm | 26 dBm |
| Antenna Gain 2.4Ghz/5Ghz | 2.8 dBi/3 dBi | 4 dBi / 5.5 dBi |
| Concurrent Clients | 300+ | 300+ |
| Operating temps  | 30 to 60° C (-22 to 140° F) |  -30 to 60° C (-22 to 140° F) |
| IP Rating | None stated   | IP54 rated (semi-outdoor) |
| Dimensions  | 160 x 160 x 32.65 mm | 220 x x 220 x 48 mm |
| Required Controler Version  |  5.14.3 or higher | 6.0.34 or higher |
| Price  | €79.00/€95.59 VAT incl. | €149.00 /€180.29 VAT incl. |
| | £87-ish | £165-ish |
I wrote a more detailed comparison of the UniFi 6 Lite vs UniFi 6 Long-Range and how they compare to the older Wi-Fi 5 models.
Basically, the U6-LR is just better all-round, it has more capacity with the 4×4 MIMO, superior antennas and the ability to use 160MHz vs 80MHz.
The main downside to it is that it is really quite large. As far as access points go though, the Unifi range is the best looking. So the massive circle on my ceiling still looks OK.
On paper and ignoring stock issues, there seems to be little reason for most people to opt for anything other than the two new UniFi 6. They are both priced extremely attractively in comparison to both the older counterparts and the rest of the industries offerings.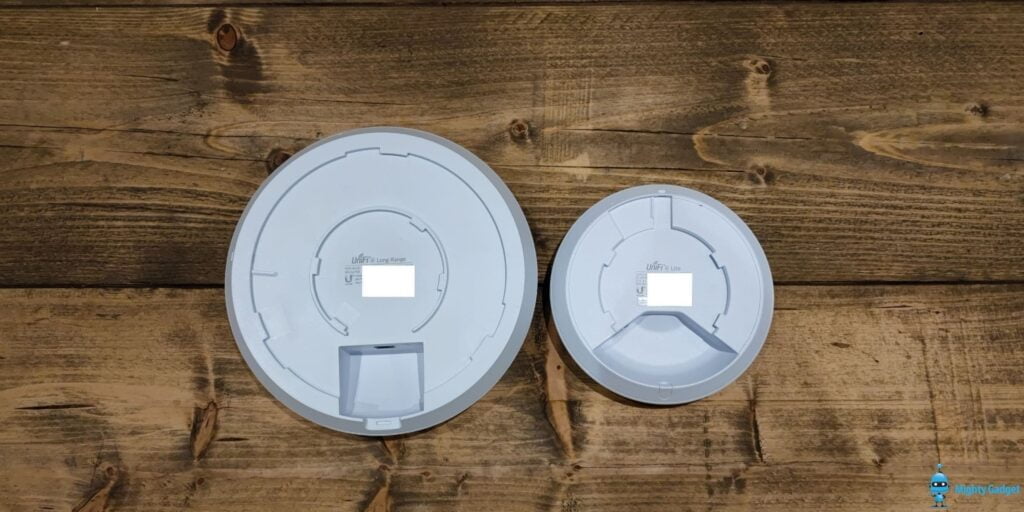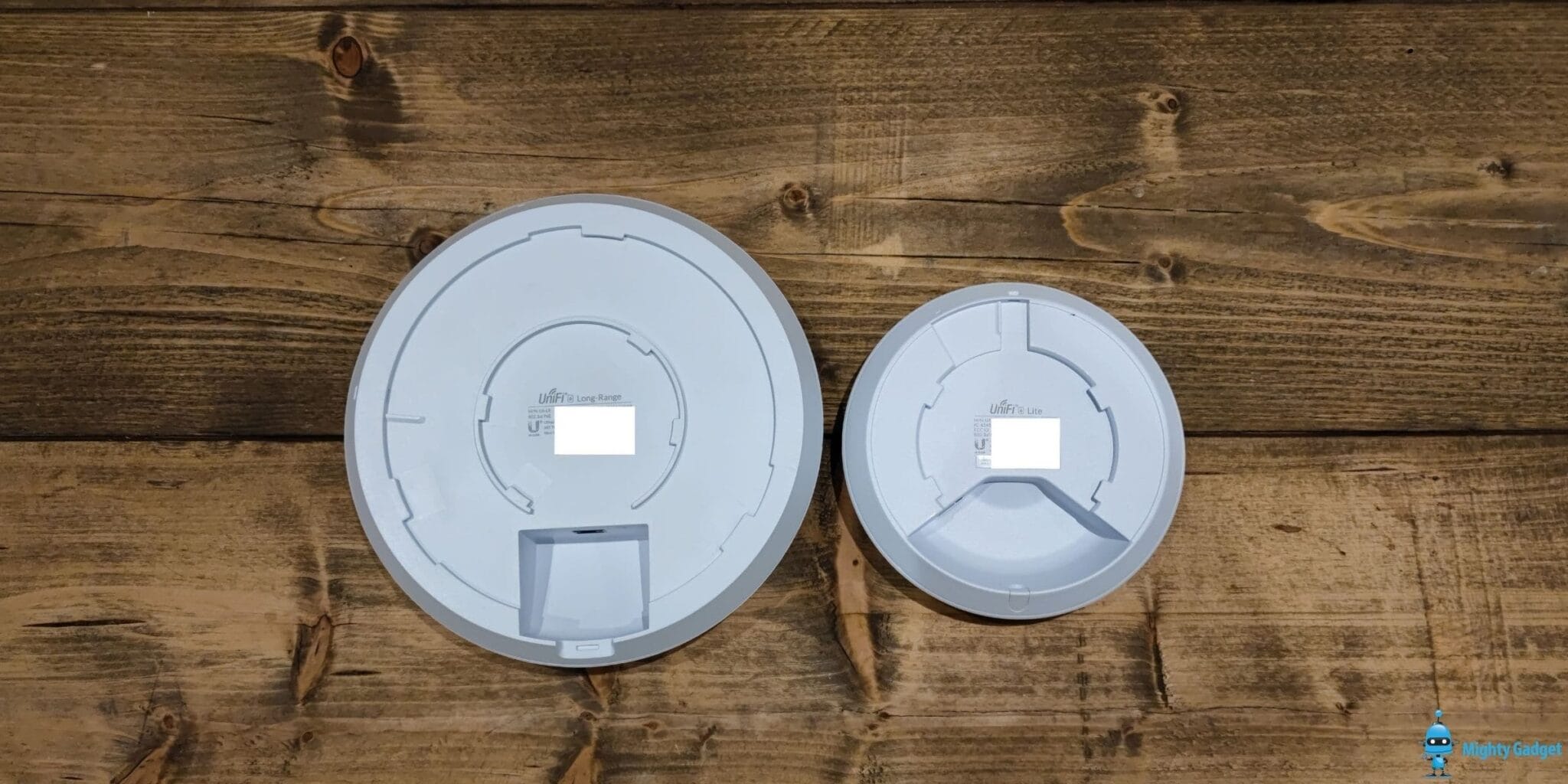 Setting up UniFi Network Controller in Docker
I already covered this in my previous review. The code used was:
docker run -d 
    --restart=unless-stopped 
    --net=host 
    --name=unifi 
    -e TZ='Europe/London' 
    -e RUNAS_UID0=false 
    -e UNIFI_UID=1000 
    -e UNIFI_GID=1000 
    -v /home/username/.config/appdata/unifi:/unifi 
    jacobalberty/unifi:stable-6
To avoid issues with invalid usernames, you need to connect to the controller via port 8443 and accept the SSL warning.
I was running an older version of the controller so I had to pull the new controller version (before trying to set the AP up (you need V6)
Setup and settings for UniFi 6 Lite Access Point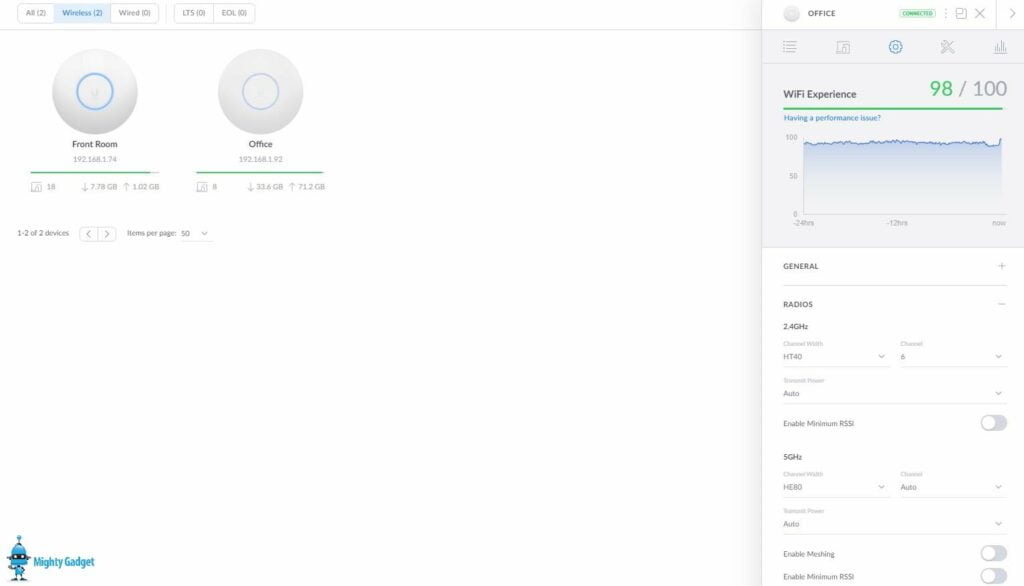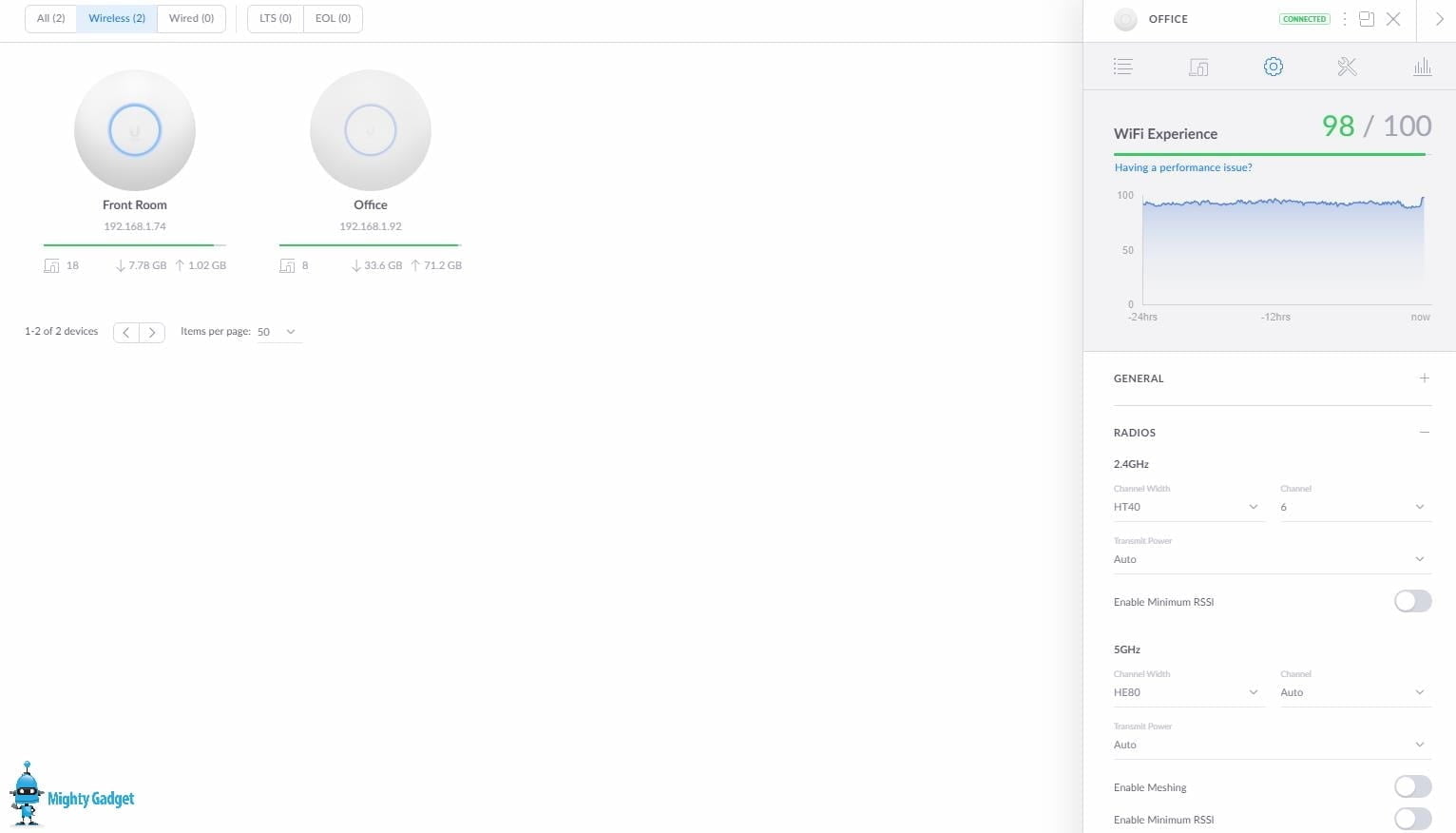 I won't go over the Unifi system too much. In short, it is excellent and easy to use. You can optionally leave these to auto optimise by themselves or manually tweak things until you are happy. I have experimented with various options to try and improve performance.
One option that everyone should consider changing is the channel width. With the LR model, you have the option for up to 160Mhz which will give you a theoretical transfer speed of 2400Mbps, though the gigabit Ethernet port will limit the overall performance.
In my system, I retained all the SSIDs of my old network so I have a completely separate 2.4Ghz and 5Ghz network.
Test Setup
Just the same as the Unifi review the hardware used for testing includes:
Performance – 5Ghz Wi-Fi 6
Performance has been outstanding. With this review, I ran both the LR and Lite in unison, giving me a better overall experience of the UniFi ecosystem.
It took a little experimenting to get things working the way I want. Living a few miles off a small airport sometimes makes DFS channels problematic. On the bright side, I live in a semi-detached house, surrounded by old neighbours, so while there is some Wi-Fi interference, it is minimal, the closest 5Ghz network has a signal of -80dbm
Using 160Mhz, I had no option but to use DFS for one AP so a used the Lite on channel 100 with the LR on channel 36 in 160Mhz.
The LR is located on the ceiling of my office, just like all other access point reviews. In this position, my main PC gets a strong 2.4Gbps connection in the Wi-FI status, with little jumping around.
iPerf3 Throughput Tests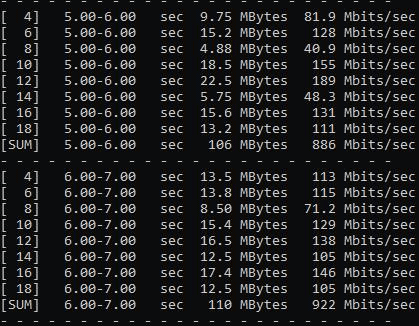 Wi-Fi 6 
Average throughput
Mbits/sec
Type
Netgear Nighthawk  RAX120
1208
Router (2.5GbE)
Netgear Nighthawk Pro Gaming XR1000
949
Router (Gigabit)
UniFi 6 LR 160Mhz
921
Access Point
Netgear Orbi Pro WiFi 6 
910
Mesh System
UniFi 6 LR 80Mhz
871
Access Point
Netgear MK63
869
Mesh System
UniFi 6 Lite
833
Access Point
TP-Link Deco X60
820
Mesh System
Netgear WAX610
811
Access Point
With iPerf3 there doesn't seem to be much gain to be had when using 160Mhz vs 80mhz the PC reports transfer speeds regularly in excess of 900 Mbits/sec. This is an outstanding speed for Wi-Fi 6 on 80Mhz.
With 160Mhz, the average speeds is consistently over 900 Mbits/sec whereas on 80Mhz it was more like 850 Mbits/sec. So I am only really seeing a 6% improvement in speed.
I would expect many people will find it easier to run this in 80Mhz with little to no performance loss.
Large file transfer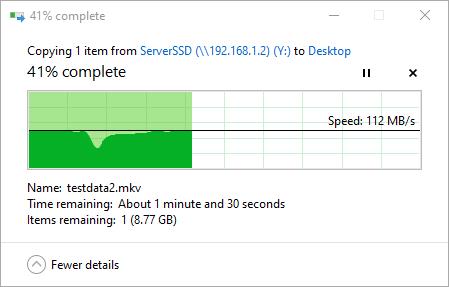 Large file transfers happily maxed out the gigabit ethernet connection, just with the odd drop off in performance. There is not much else to say here, I think this is the best performance of any access point I have used with only 2.5GbE equipped routers outperforming it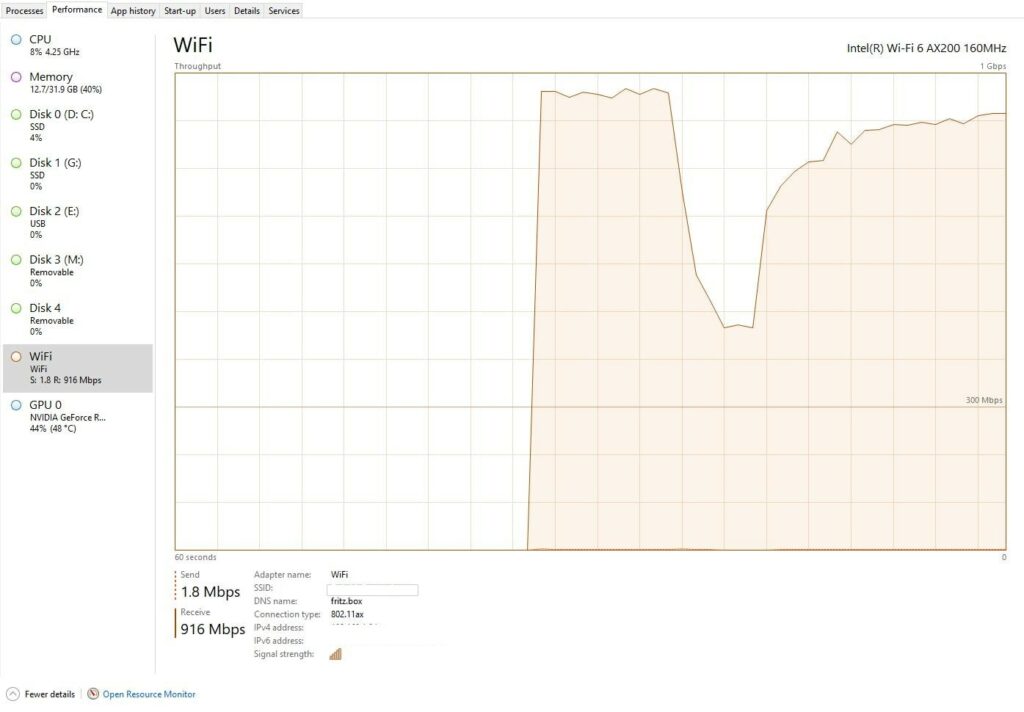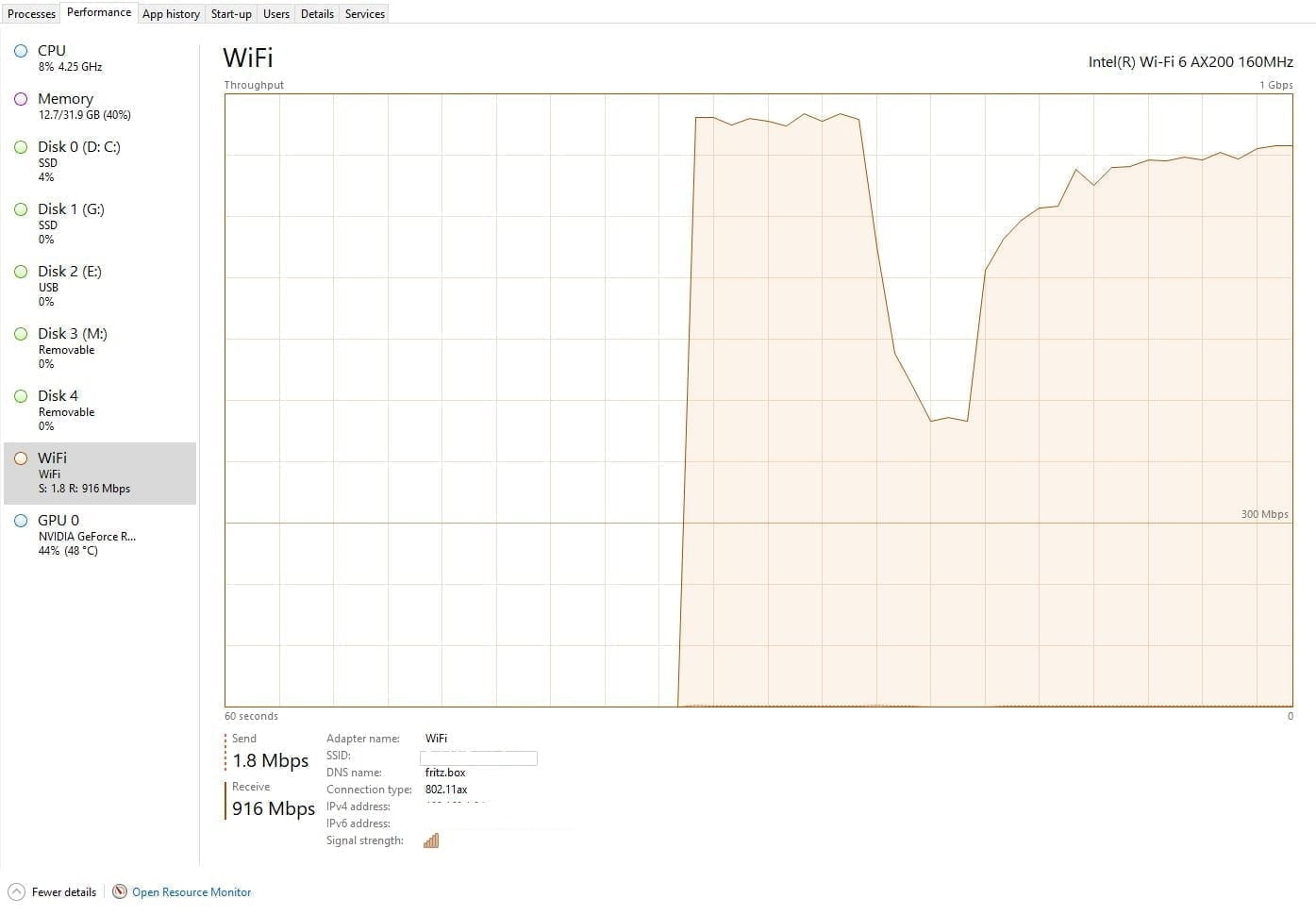 Range Testing
Range isn't magically increased compared to the Lite model. Leaving the access point using automatic power it actually seemed to perform a little bit worse than the Lite on the 5Ghz channel
I struggled to get a signal in my garage/gym, which to be fair few if any mesh systems or access points manage, but the Lite did just about do it. At 2.4Ghz I was able to decent enough signal to connect to my server at 30 Mbits/sec.
Most people recommend not to set power too high for the radio. Experimenting with different settings appeared to offer detrimental performance in close proximity, with speeds dropping down to 818 Mbits/sec on average in iPerf. Higher power didn't seem to affect range all that much either. I did get a signal in the garage with intermittently good speeds, but it would drop off or disconnect frequently. If/When I fully commit to Ubiquiti I will just get another Unifi 6 Lite for the gym.
For less extreme scenarios, the UniFi 6 Long-Range performs better than any other mesh system or access point I have used. In my living room, I comfortably get 500 Mbits/sec sat on my couch, with the AP the floor above.
In the kitchen, the furthest room inside the house away from the AP I get 300 Mbits/sec.
Performance – 2.4Ghz and 5Ghz Wi-Fi 5
I only use 2.4Ghz for IoT devices, so I am not too fussed about the overall performance here. My office PC happily connects at a reported 300Mbps, but throughput sits at around 100 Mbits/sec in iPerf. Range is superb as I previously mentioned, I get 30 Mbits/sec in the garage, which is down a level, through three brick walls and across a small back garden.
Wi-Fi 5 is also excellent, most devices are still on this, and you potentially get similar speeds as Wi-Fi 6.
The Huawei P30 Pro can utilise 160Mhz, unlike older Qualcomm based phones. Using iPerf3 on the Wi-Fi Speed Test Pro app the average speed over 1 minute is 713 Mbits/sec
Using a laptop with an Intel Wi-Fi module, again I can utilise 160Mhz allowing me to connect at 1.7 Gbps. With iperf, the laptop connects at 894 Mbits/sec and on 80Mhz it still managed an manged 68M
The Asus USB-AC68 can connect with 3×3 so should connect at over 1.2Gbps, but for some reason would only connect at 866Mbps as if it is using 2×2. I am 90% sure this is due to the Asus device, as it is a bit rubbish.
Price and Alternative Options
The UniFi 6 Long-Range Access Point is priced at €180.29 inc VAT and postage, this works out at around £158 making it by far the most affordable access point with 4×4 MIMO and 160Mhz.
Sadly, it is not in stock, and this seems to be an ongoing problem with Ubiquiti.
The UniFi 6 Lite Access Point is in stock and just €95.59, at around £84, most home users and small business are better off buying this, it is also in stock.
The Zyxel NWA210AX is the best alternative product from a different brand. At £203 it also has a 4×4 antenna (only on 5Ghz though), and it can also do 160Mhz. It has the added benefit of a 2.5GbE port so you should be able to exceed gigabit speeds. It then has a 2nd gigabit Ethernet port and DC input. There is also no need to set up a cloud controller, Zyxel Nebula is free of charge (for most features). However, the transmit output power is lower, but antenna gain about the same as the Unifi 6 LR. The main negative for the Zyxel system for home users or smaller business is that the most affordable Zyxel NWA110AX  is £170 (it has been as low as £135).
Netgear have the WAX214 Essentials for around £100, but it is locally managed
Overall
The UniFi 6 Long-Range offers incredible performance for the money and is the best performing access point I have used in the past year.
The only minor negatives I can think of is that for home users or small businesses, the LR probably doesn't offer much more performance than the Lite considering the price hike. The lack of a multi-gigabit ethernet port limits the overall performance for a single user, and the physical size of it may be off-putting in-home scenarios.
The UniFi 6 Long-Range is more geared towards commercial use with a greater number of users. The 4×4 design doesn't offer a great number of advantages in a small household, but multi-user-MIMO should be able to take advantage of this with more than one user access the AP at once.
At around £160 the LR is a small investment for a lot of businesses, and the lack of ongoing costs make it particularily appealing. As mentioned earlier, it would seem these savings come at the cost of customer support, but that's something people will need to think about based on their own needs.
For tech enthusiasts or consumer just wanting the best performance possible, the UniFi 6 Long-Range is still a great buy. It is not prohibitively expensive and you only really need one located in your main living area with the Lite model covering the outskirts of your property.
I have given this is a lower score than the Lite, purely for the fact I feel that the Lite offers better overall value for money.  
Posted by Mighty Gadget Blog: UK Technology News and Reviews