I have covered smart locks quite a lot in the past, it is an area of smart home technology I have always loved the thought of but it has never seemed to gain much traction in the mainstream market, unlike lighting or home heating.
I have already reviewed the Yale Conexis L1 Smart Door Lock and the Nuki Smart Lock. Both are excellent in their own right, but both have a few niggles that the Ultion Smart Lock potentially addresses.
Smart Lock popularity in the UK
One of the significant issues in the UK has been lack of compatibility with established brands such as August due to the less secure design that American doors work on.
Smart lock brands like August work on single cylinder deadbolts with just the deadbolt locking the door into place. This works well for smart locks because the mechanism can turn freely. With the European style multi-point system, we typically need to raise the handle to place the multi-point locks into place. This makes smart locks a little harder to be smart.
Smart lock options for multi-point doors in the UK
While there are plenty of options on Amazon, many of them are not for multi-point doors, and often from unknown brands.
To date there are only a few smart locks worth considering (in my option) including:
Ultion Smart vs Danalock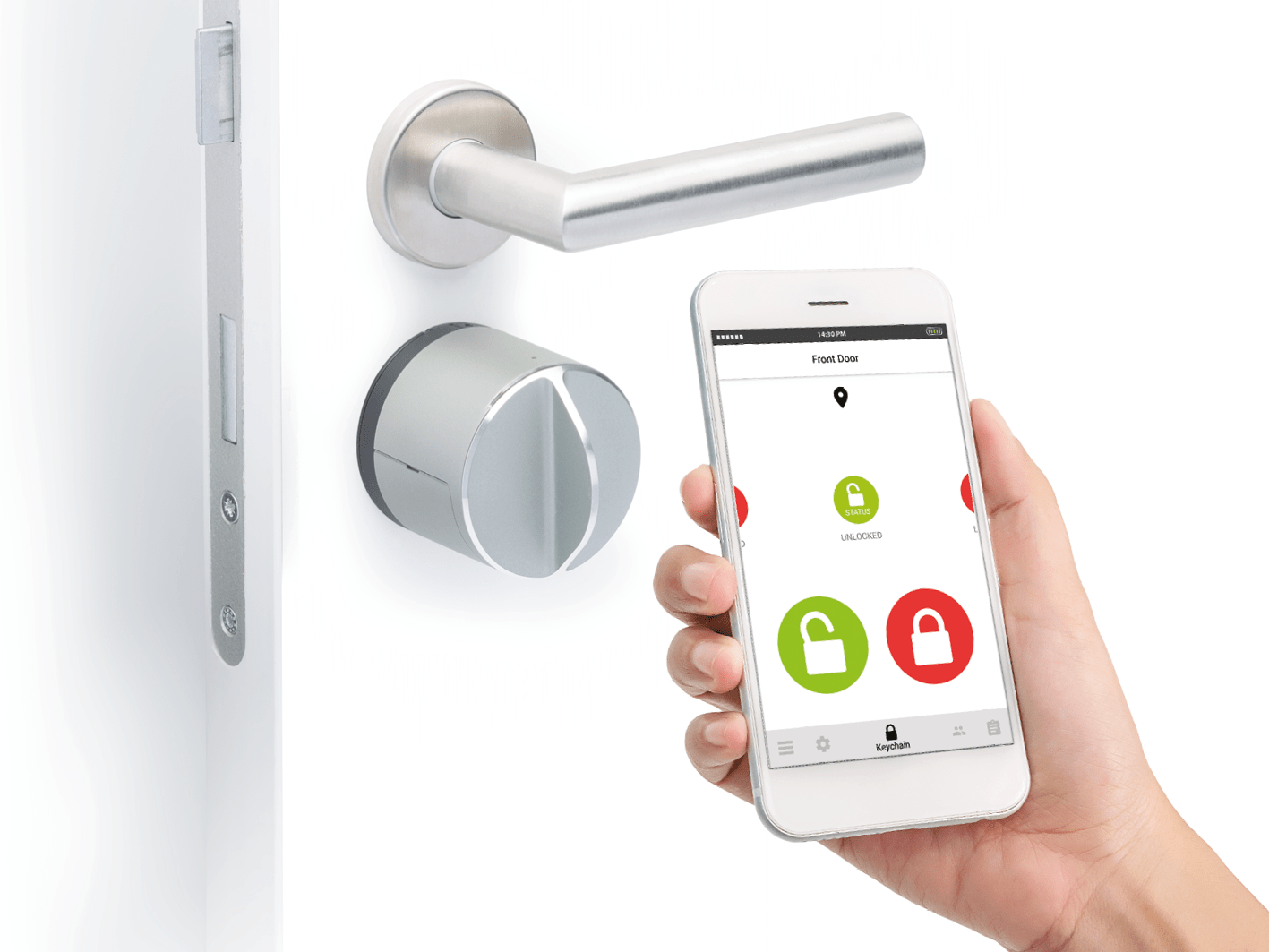 Basically, the Ultion Smart is a 3rd party implementation of the Danalock. They have taken the Danalock V3 and integrated it into the door handle. Then as part of the price, Ultion includes one of their own cylinders which are extremely high security being bump and snap proof. The cylinder itself comes with a £1000 guarantee if a burglar breaks it.
Smart Lock Concerns – Hacking, dead battery, and electrical failure
There are two significant concerns for people when investing in a smart lock: hacking and general failure.
In my opinion, hacking is not a serious concern for the average person. It will generally be easy to bump a lock, snap it, or just smash a window. All of which require considerably less skill than hacking and will almost always be faster.
In the case of Ultion/Danalock they use an advanced encryption method for transferring data (AES 256). By default, the lock is Bluetooth only, so you also need to be close by to it. Competing brands all offer similar levels of security.
The other issue is what happens if the lock fails somehow. This can be a malfunction of the lock side, a dead battery, or just user error for example if you get logged out of the app and don't know the password or forget your key tag.
Yale and Netatmo are electronic only, so potentially are more prone to problems. Both brands have a battery backup solution, the Yale one is a little cumbersome, but it will work. Both brands have physical NFC based keys, so in theory, if you have that you can always get in.
Again, in my opinion, both Nuki and Danalock/Ultion offer a superior (and simpler) solution. They still allow you to use your physical key.
In reality, I doubt there is much difference in the odds of being locked out with Yale/Netamo vs Ultion/Danalock/Nuki but having a physical key helps with the mental transition of moving to a smart lock.
Ultion Smart Lock features and specification
All in one system including door handles, cylinder and smart lock
Ultion High Security Key (3 Included) with £1000 guarantee
Options for Zigbee, Z-Wave, HomeKit
Remote Control (via 3rd Party Hub such as SmartThings)
Auto-Lock
Twist Assist
Hold Back Latch
Phone proximity auto-unlock
Ultion 3 Star Plus security
Digital Key Sharing (By Danalock app)
Optional keypad
Ultion Smart Installation & Set-Up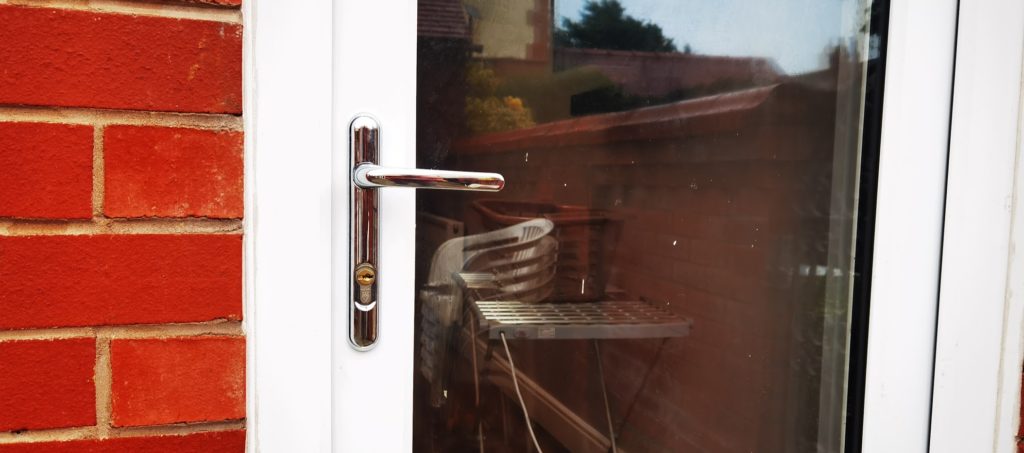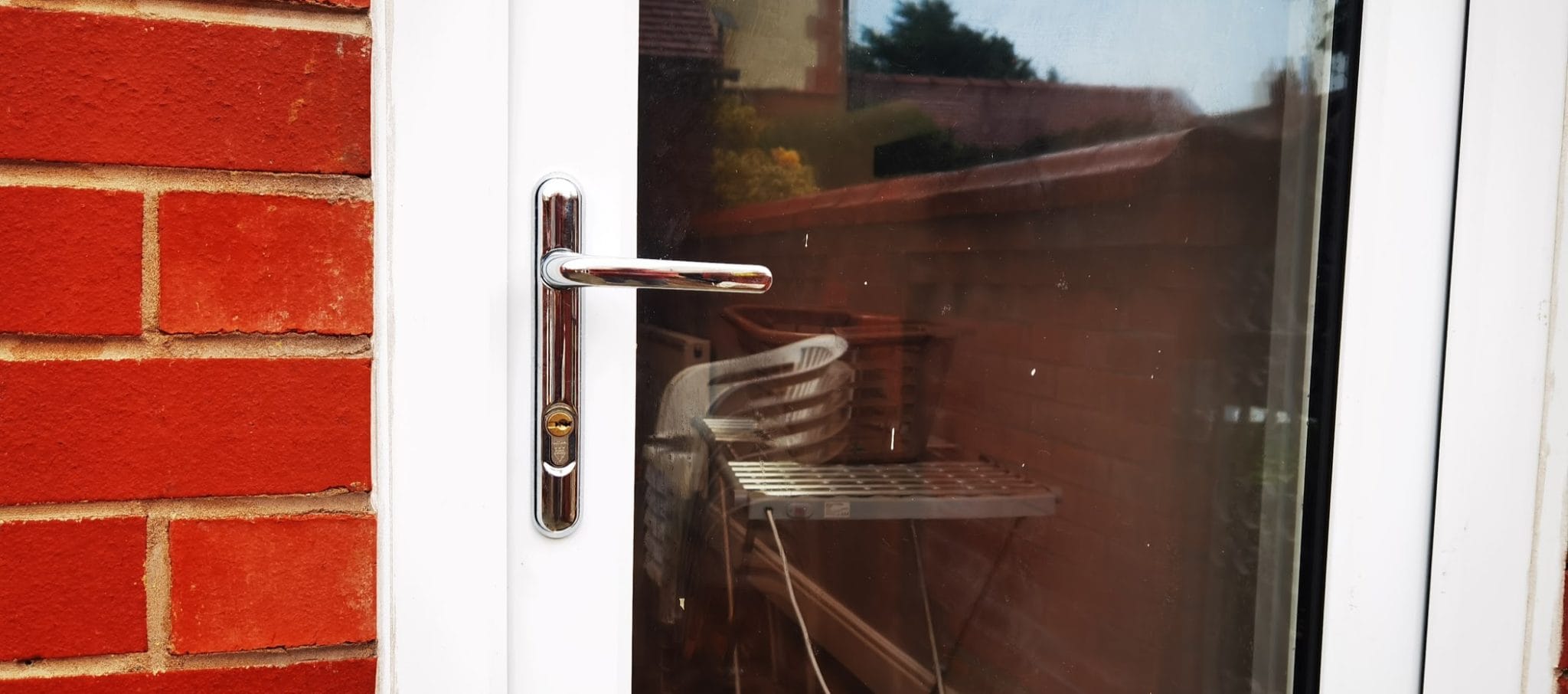 When you buy the Ultion, you can optionally pay £95 to have this installed for you, but for most people, I don't think this is needed (unless you are really averse to DIY and technology).
With me receiving this mid-lockdown, I had to install it myself, I was scheduled to have a video call to guide me through it, but due to Wi-Fi issues on my end, this failed.
However, physical installation is a piece of cake. The one important thing is to get handles for your lock with the screw holes in the right place. My first lock did not have them in the correct place, but Ultion should confirm this with you prior to sending out.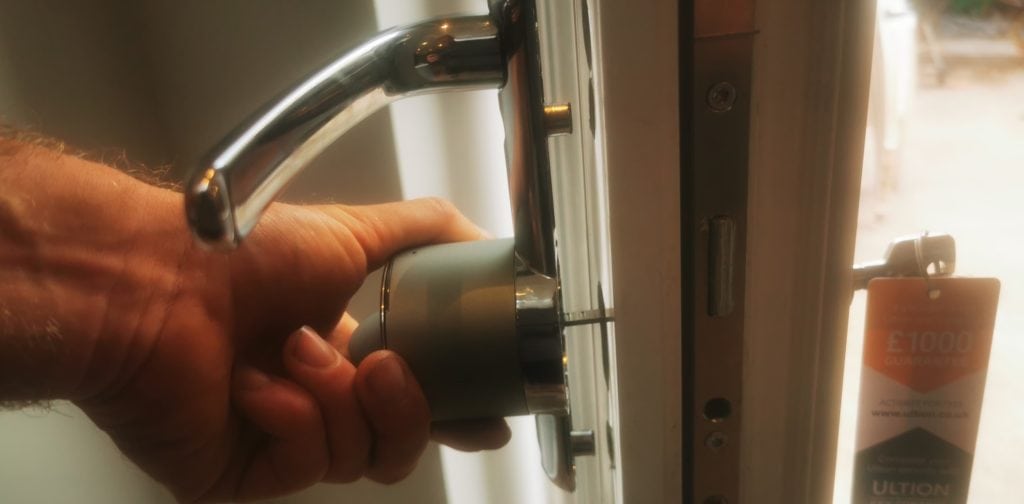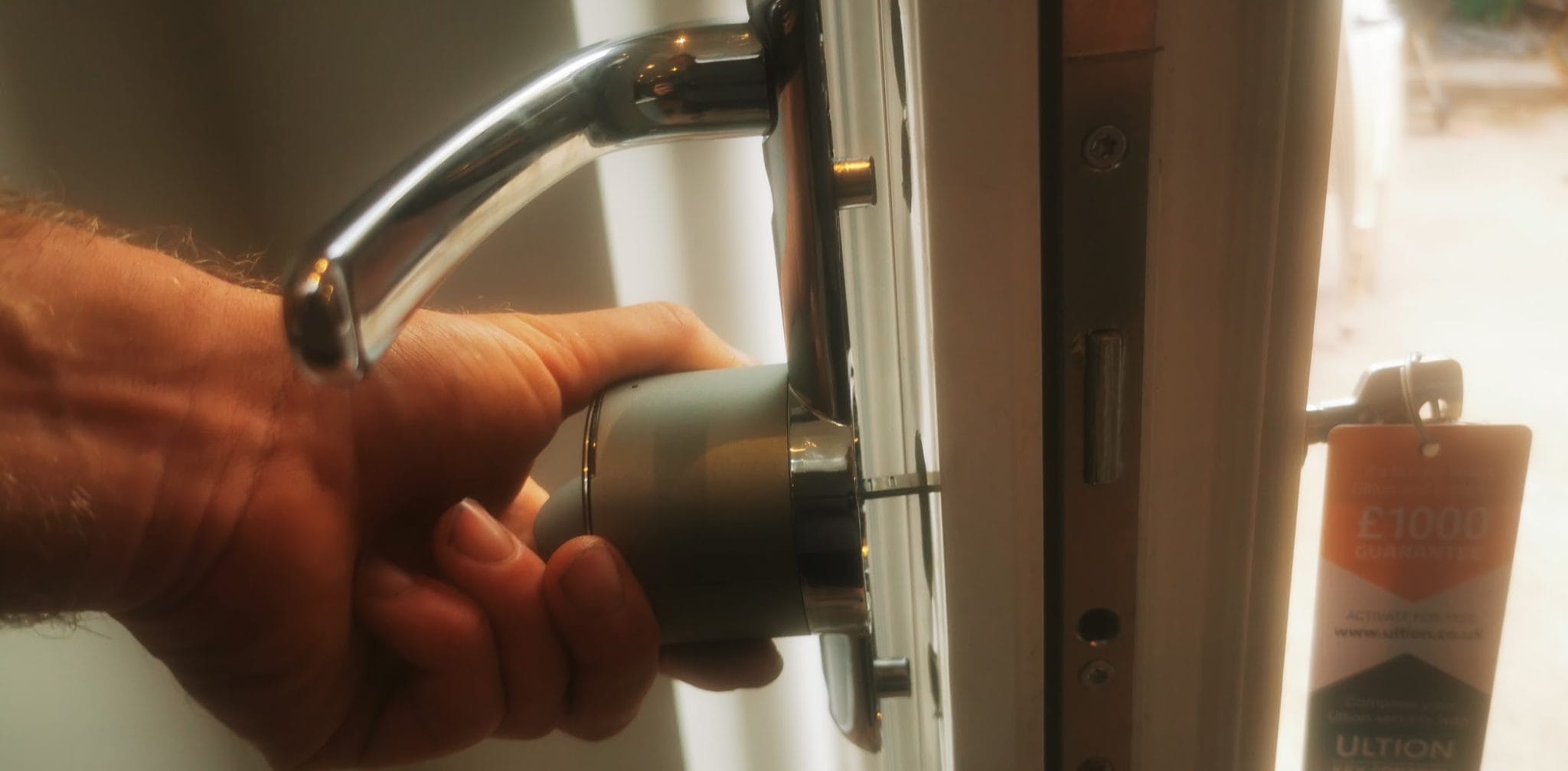 With the correct hardware, all you need to do is:
Unscrew you handles
Remove the screw holding the cylinder in place
Remove the cylinder – you may need to have your keys in place so the spinny bit of the cylinder (I don't know its technical name) is flush with the rest of the cylinder
Fit the new cylinder doing the reverse of the above.

The cylinder has a turning pin that extends out of it, allowing it to fit any depth of door. It has several notches allowing you to shorten by breaking the metal off if your lock doesn't fit flush.

Fit the handles.
With the lock fitted, you will need to download the Danalock app, set up an account, then add a new device to pair the system up.
Once paired up you need to run the calibration function under settings. This will allow the lock to work out how far it needs to turn things.
With the lock working, you can set up some of the added smart features. These include:
Auto-lock – locks the door after a pre-determined time (but you need to engage the multi-point)
Auto Unlock – unlock the door based on your phone location
Hold latch back – if you don't have a handle on the outside, this will hold the latch back for you.
Samsung SmartThings
There are a few versions of the Ultion/Danalock that you can buy. They all have Bluetooth as the default connection method, but then there is option for Z-Wave, Zigbee and HomeKit.
I went for the Z-Wave option, which also worth with SmartThings. Getting this to work wasn't quite as easy; you need the hub very close to the lock for it to pair up properly. So my first couple of attempts just did not work.
Your best option is to pair up the lock before you install it. For me, I as I realised this afterwards, I had to temporarily relocate and hub with a long ethernet cable (or I would have had to remove the lock).
Once in range, it was easy, then you can do all the typical home automation things you can with SmartThings
App Images
Firmware Upgrade
As I wrote this review, I did a firmware upgrade. This is done via the lock settings and firmware upgrade. It completed OK, but due to the way the app works, it wasn't too clear if it worked or I had potentially bricked the device.
As it relies on a new Bluetooth connection each time you load up the app, the firmware upgrade started, then my screen timed out. When I want back to the app, it would not connect at all.
A few minutes later, it worked fine. Not a massive issue, but worth noting to avoid panicking.
Performance
Overall it works, that's the main thing. There have been no significant errors, and nothing due to the lock itself.
Using the app, the phone establishes a connection with the lock via Bluetooth, every single time. All the lock settings are store on the lock itself. This is great for security, but it can be a little laggy when trying to do anything. It takes maybe a second to connect to the lock before you can unlock it, then when you click on the settings button it needs to sync the settings before you can do anything. It can be a bit annoying, but probably for the best.
Similarly, when you try and unlock the door, there is a bit of a delay between you pressing the unlock button and the lock turning. Not a massive issue, but perhaps a little slower than using an old-fashioned key in some scenarios.
Once I got it working with SmartThings I found it to be more responsive via SmartThings. Hitting lock/unlcock starts the mechanism almost instantaneously.
Beyond that, the lock has done exactly what I wanted it to. Both my and my partner have a physical key on our keychains so we can still use this if needed while using our phone if required whenever we want.
So far, this has come in use several times over the past few weeks. I go to bed extremely early, in the past, I have locked my partner out (many times), forgetting to take the keys out of the door when I lock it. I have done this once so far, saving her trying to wake me up. On one occasion, my partner failed to wake me up, so had to drive 20 minutes to her parents to sleep there. So this is quite an important feature for me.
Similarly, I have a gym in the garage, and my partner had locked me out. In this case, I didn't have my key on me at all, so I was able to use the app to unlock it.
While it none of these have happened with this yet, I have previously lost my keys running, locking me out for over an hour in the cold, covered in sweat. Other times I have been drunkenly locked out. So I don't understand why smart locks are not more popular.
Thumb lock auto turn
With this enabled, you only need to turn the lock a little and it auto-locks the rest. Not much to say about it apart from that, it works though, perhaps a little slower than it would be turning you key though.
Auto-lock
This works well, with physical limitations. You need to engage the multi-point lock first. This is not the fault of Ultion or Danalock, just the way our doors are designed.
The one issue here is that you want to use auto lock, you need to get into the habit of always lifting the handle. Otherwise, you will come downstairs in the morning to realise the door has been left unlocked all night.
Battery Life
I have had this fitted since the 11th of June, so a couple of days longer than a month. It is on out back door, which gets used the most, so the auto lock is going off several times per day.
During that period the battery has dropped 3%. Ultion claims that you should expect 1.5 years of usage.
The one downside is that it uses them weird little CR123A batteries, which were traditionally used in cameras and camcorders but now more common in wireless alarm systems and some home automation devices. They are cheap to buy; you just need to remember where they are when it comes to replacing them.
Price and Competition
This is priced at £229 if you buy direct from Ultion, and you can optionally pay £95 for installation. This includes the high-security cylinder from Ultion with 3 keys that is guaranteed for £1000 if someone breaks it.
I find this to be highly competitive. The Z-Wave Danalock is £179 on Amazon, so you pay £50 extra for an all in one solution including door handles and cylinder.
The Nuki Smart Lock 2.0 is around £200 for the main part, and you can get the combi giving remote access for £259. I like Nuki, but I find this to be quite expensive for a smart lock that is made from all plastic.
The Yale Conexis L1 Smart Door is just £189, and it has been as low as £159. Apart from being cheaper, the hardware feels a looks nicer; you also have the benefit of being able to use NFC keys which are a bit quicker than loading up an app. The downside is no physical key for a mechanical backup, and the AA batteries last for a bit less at around a year, if you get locked out you need to use a 12v battery to give it back up power (the lock and app should warn you prior to this though).
Added Accessories
I have only reviewed the smart lock itself, but there is a keypad you can buy, allowing you to bypass the need for the app completely. This is useful for delivery drivers or more often, rentals such as AirBnB allowing you to give people easy access without the need for a physical key.
Danalock sells a Danabridge V3 which then gives the lock remote control via the internet. Ultion don't advertise this, and I am not 100% sure if it would work, but I think it would. I am awaiting confirmation.
Overall
The Ultion Smart is the first lock I have installed and decided to keep in place. Admittedly, both the Yale and Nuki locks were only ever temporary installations due to home improvements; now I have a new kitchen I have been meaning to re-install one of them.
However, the fact that I continue to use the Ultion Smart is a testament to how good it is.
It is not perfect, the build quality isn't quite as good as the images make out, and the smart lock part on the inside is quite ugly. The plastic smart bit is the same hardware as Danalock, so not technically the fault of Ultion. It is not bad, but the overall appearance and build quality of the Yale is superior. I would have liked the smart lock part of this to be metal rather than plastic. Build quality and appearance is superior to the Nuki, though.
That's my biggest gripe really. The app could be prettier, and unlocking via the app is a little slow, as it needs to establish a Bluetooth connection. Then, of course, auto lock only works if you have engaged your multi points, but that's not a flaw of the lock itself.
While it doesn't look quite as nice as Yale, having an all in one solution is considerably more aesthetic than retrofitting a device to your existing hardware like you have to with Nuki.
At £229 it is not cheap; however, I would say it is a good buy compared to the other brands. At around £50 more than the Danalock itself, it is well worth the extra. It is a better buy than Nuki, and it is only a bit more expensive than Yale.
At the end of the day, this lock has worked exactly as advertised. I am not particularly bothered about going 100% smart for my door lock, I just want the ability to unlock the door in the even I don't have access to my keys, which happens more often than I care to admit. So far, I have not been locked out, and there have been no other errors with the automation, so it has worked perfectly.
Overall, this has been the best smart home lock I have reviewed to date.