I first posted about Wi-Fi 6E in February and have previously said the Qualcomm Snapdragon 875 is the best chance of a first client device, with routers with the new tech going mainstream at a much later date.
It looks like I was wrong, a few days ago, Intel quietly launched the new Intel Wi-Fi 6E AX210 M.2 adaptor. This is the sort of adaptor that is used in laptops and desktops, it gas 2×2 TX/RX streams, much the same as its predecessor the Intel AX200.
6GHz wireless spectrum
The main thing that differentiates this from the existing Intel AX200 is the ability to use the 6GHz wireless spectrum.
The ability to use the 6Ghz spectrum doesn't really alter the performance improvement of Wi-Fi 6 but massively opens up the available channels for Wi-Fi 6 to work at its maximum speeds.
With Wi-Fi 6 and 6E on 80hz, you will get 1200Mbps and 160Hz 2400Mbps on a client with 2×2 TX/RX streams. So far in my Wi-Fi 6 reviews, you have to use the 160Hz channel width if you want to exceed the gigabit throughput offered by most wired solutions.  
Currently, on the relatively congested 5Ghz channel, you only have six 80MHz and two 160MHz channels.
Using 6Ghz, you gain access to fourteen-80Mhz channels and seven 160Mhz channels, making it easily possible to run a mesh system or access points with no overlapping channels on the 160Mhz width.
Bluetooth 5.2
As an added bonus, the card also supports Bluetooth 5.2 whereas the AX200 has 5.1. It is not a huge improvement but should offer improved performance in general. This includes:
Isochronous Channels (ISOC)
LE Power Control (LEPC)
Enhanced Attribute Protocol (EATT)
Intel Wi-Fi 6E AX210 Price and Availability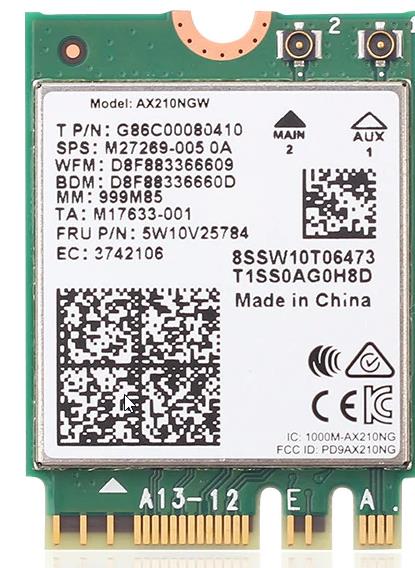 When the Intel AX200 was launched, it took a couple of months for availability, but the AX210 is already shipping from Chinese vendors, including Fenvi on Aliexpress. You can also buy the cards in bulk from Mouser.
When will we see routers with Wi-Fi 6E?
Qualcomm recently announced the Immersive Home 318 Platform which is an 8-stream system with 4×4 (6GHz) so in theory, if a client also supported 4×4 you could get 4800Mbps.
My first post in February announced the Broadcom BCM4389 chipset.
So vendors have the chipsets required to make a router or mesh system, and with the launch of the  AX210, it is inevitable we will see something soon.
I would say it is exceptionally likely someone will announce or demo a Wi-Fi 6E router during CES 2021.
I am still hoping Qualcomm will support Wi-Fi 6E on the Snapdragon 875, if this happens I think vendors will be much more eager to get the hardware out to support it.
Is there any point in buying a Wi-Fi 6 with 6E around the corner?
It depends on your needs and budget. Currently, Wi-Fi 6 routers offer close to gigabit speeds on the 80hz channel.  
Wi-Fi 6 Routers have only just become affordable, such as the Honor Router. Wi-Fi 6 mesh systems are still very expensive, and these are the things that will likely benefit from the increased number of 160Hz channels. The recently launched tri-band Netgear RBK752 is almost £450 for a two-pack, and the flagship RBK852 is £700. So you can expect a good tri-band Wi-Fi 6E mesh system to be prohibitively expensive, as will access points.
No phones support Wi-Fi 6E yet, and no existing laptops support it, so any tech you bought recently is not going to benefit from Wi-Fi 6E.
Then, of course, is how much does the average user need multi-gig Wi-Fi when most people only use it to access the Internet, and the average speed in the UK is 22.37Mbps.
So I wouldn't obsess too much about waiting for Wi-Fi 6E, unless you have particularly demanding Wi-Fi requirements.
Posted by Mighty Gadget Blog: UK Technology News and Reviews