I quite like the way Withings have just gone their own direction when it comes to wearables. Most smart/fitness watch brands sync as Fitbit and Honor/Huawei have gone down the road of as much functionality as possible without committing to a full OS like WearOS. These watches are good, but they tend to end up being a bit big and chunky, with the OLED displays never looking as sleek as a traditional watch.
Traditional Watch Style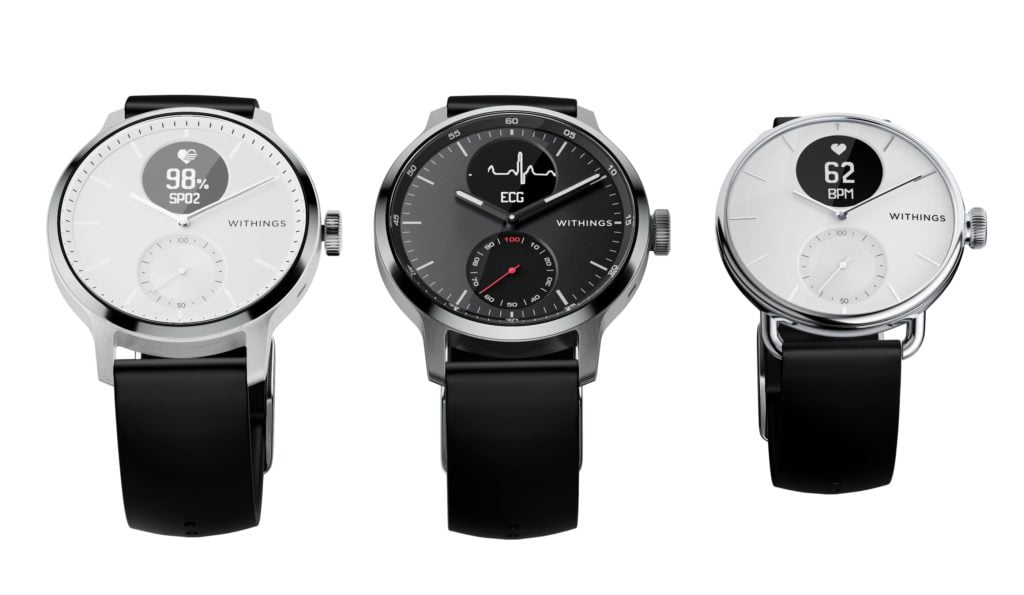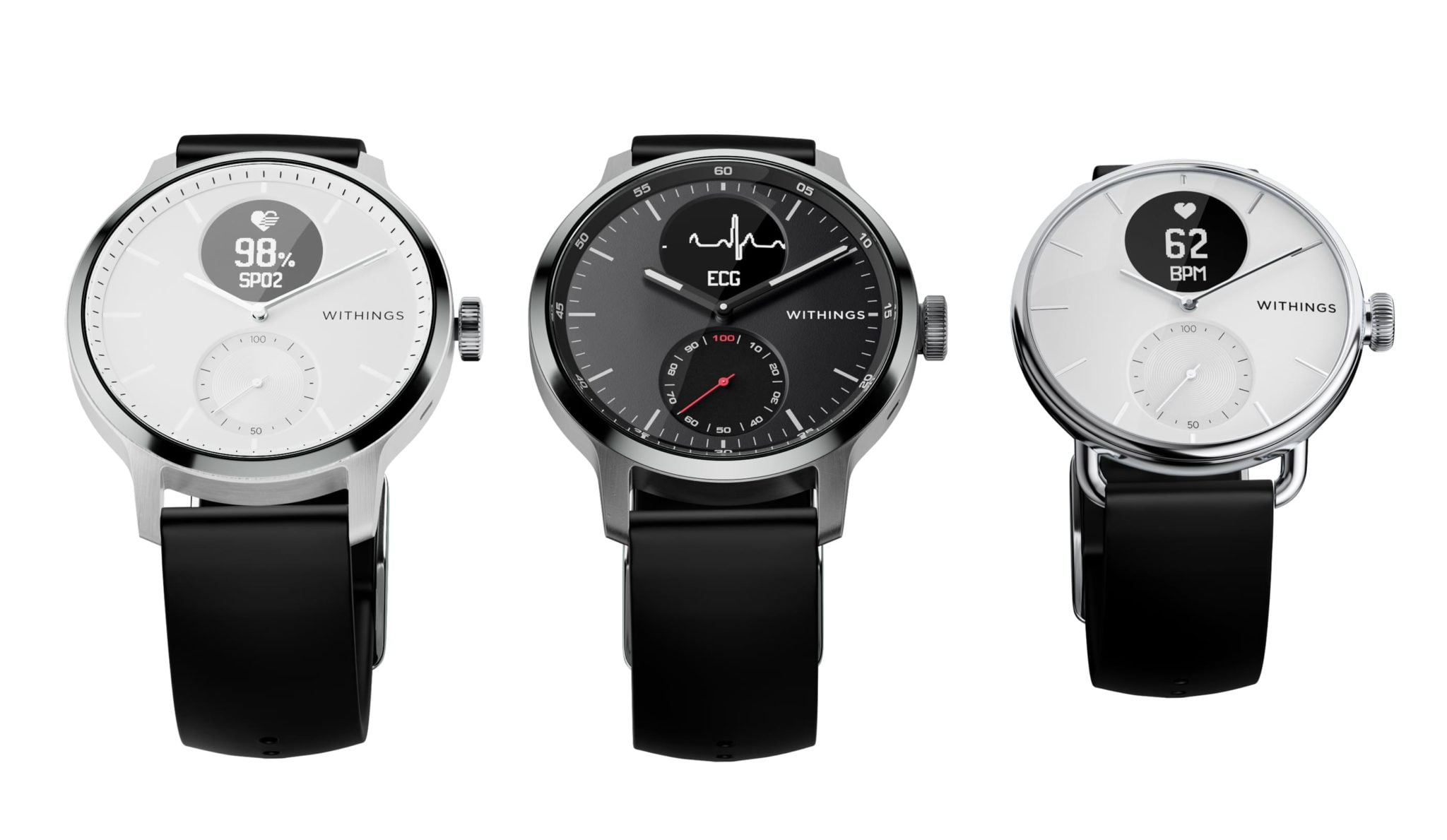 Withings, on the other hand, stuck to traditional designs and have added basic features on top of that. Admittedly, for someone like me, that runs and cycles, they have limited appeal, but for people that are interested in tracking basic health and fitness aspects of their daily life, these are fantastic options.
Unlike smartwatches and multisport watches, the Withings hybrid watches can be word 24/7 in all scenarios without looking stupid. These will easily transition from the gym to business meetings and then on to a formal evening meal without drawing critical looks, unlike my Garmin Fenix 6 Pro.
Withings ScanWatch Features Including ECG & Breathing Disturbances
The Withings ScanWatch is the most advanced to-date, introducing an electrocardiogram function as well as a new breathing disturbances feature (similar to their sleep matt).
With this you can now track:
Irregular beat detection: By recording heart rate periodically at the best time, ScanWatch sends a notification when an irregular heartbeat is detected.
Breathing disturbances detection: When activated, the Respiratory Scan can detect breathing disturbances via blood oxygen saturation levels, heart rate, breathing frequency and movement.
On-demand ECG: Medical-grade electrocardiogram in 30 seconds. Immediate results will be shown on the watch screen, and can be relayed in the app for a more in-depth diagnostic report.
Medical grade oxygen saturation: Provides on-demand medical-grade oxygen saturation level (SpO2) in just 30 seconds.
Heart rate tracking: Track heart rate continuously during workouts to optimize training, and monitor daily and overnight heart rate to help improve health over time.
Sleep tracking : Delivers a Sleep Score based on light and deep sleep cycles, sleep duration & wake-ups. Set a silent vibrating alarm and take advantage of Smart Wake-Up.
24/7 Activity tracking : Automatically tracks walk, biking, run, swim, sleep, distance, elevation (floor climbed) & calories burned.
Battery
With the watch having relatively basic functionality (compared to a smartwatch) and a very basic OLED display, the watches have one of the best batteries on the market at up to 30 days on a single charge plus 20 more days in power reserve mode (time and activity tracking only).
Withings Health Mate Ecosystem & Coronavirus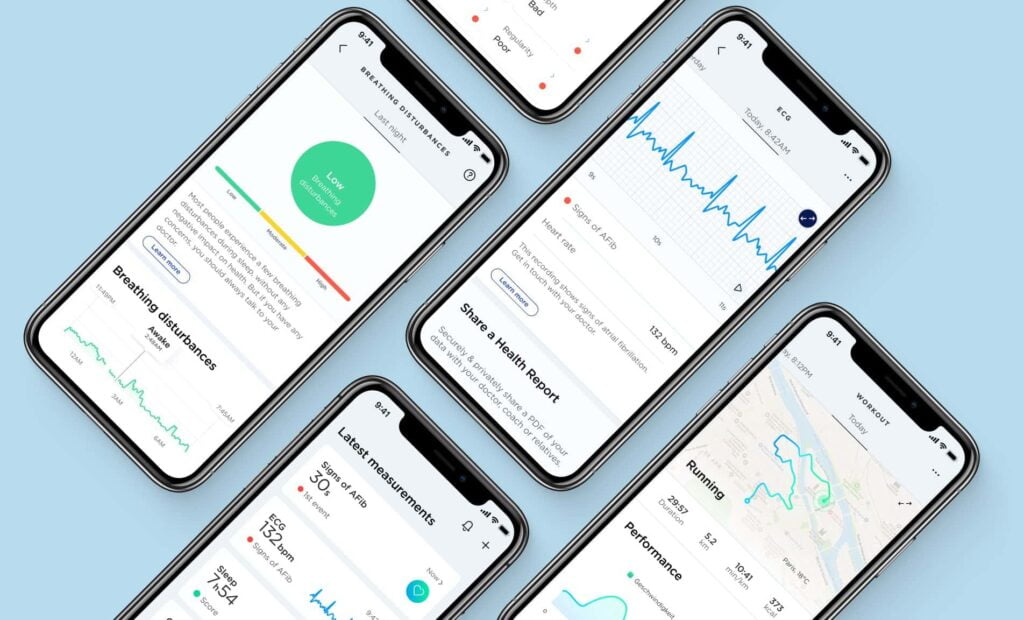 Withings have one of the most comprehensive ranges of health tech I can think of, and all the data gets drawn into one app, giving you a thorough insight into all your health and fitness statistics.
Their products include smart scales that can detect pulse wave velocity, a sleeping matt that can also detect sleeping disturbances, and smart blood pressure monitors, with one also having an ECG built-in.
With the ongoing coronavirus, having access to all this data can help you track and improve your overall health and fitness. In some cases, such as SPO2 levels it can even help you identify if you might have coronavirus.
Price, Availability & Alternative Options
One caveat is the price, at £249.95 you pay a premium for the looks compared to something more feature-rich such as the Fitbit Sense (£299), Fitbit Versa 3(£199), Garmin Vívoactive 4 (£279) or the Apple Watch Series 3 (£199).
Out of those, it is only the Sense that offers ECG, or you would need a £400 Apple Watch S5.
In my opinion, none of those options can compete with the looks of the Withings.
One other price issue is that you only get a synthetic rubber watch band with it. If you want something more premium like the leather wristband, that will set you back £45, a metal link wrist band is £79.95!