Smart locks are one of the most exciting prospects in the
world of smart homes and home automation. As the smart speaker and home
surveillance market have become saturated, smart locks have not gained a great
deal of traction in the UK. The exception appears to be in the US when August
is quite popular.
Using a key feels a bit archaic in a world of smartphones,
contactless payments, and semi-automated electric cars. In recent months I have
locked out my partner thanks to leaving the key in the door, locked myself out
after a run, and needed to replace the cylinder because the I couldn't find the
code for my extra secure bump proof Yale keys. So I am eager to ditch them.
I have previously reviewed the Nuki Smart Lock and was pleasantly surprised by it, though it did have issues which I will address later when comparing these products.
The Yale Conexis L1 Smart Lock has been around for a while
now, and Yale is about the biggest name in the lock business, so if anyone is going
to do it right, it should be Yale.
The Yale Conexis L1 is designed for multi-point doors, and
it approaches the problem as you might expect, you replace all the lock and
handle hardware. The lock has various electronics inside that turn the locking
mechanism, and you control this via phone, tag, or keycard.
The hardware looks and feels superb, it is weighty and heavy,
and you can choose various colours. If you have twin doors like me, it won't
match the other handle, but the overall design looks superb both inside and
out.
It used to have an RRP of £269.99, but Amazon has it on consistent offer for £169.99 around £30 cheaper than the Nuki, which has a far inferior look and build quality.

Last updated on 20th July 2019 6:03 am

Security
The inevitable concern people have when you say smart lock
is hackers. While this is a possibility, logically I don't see it being a huge
concern, though I guess it depends where you live. In Blackpool, I don't
imagine there are many hackers skilled enough to hack my door, they would also
then need to know I had the Conexis L1 and also want to rob my house.
Even with the possibility of hacking, it is often easier to
bump an older euro cylinder, unless you have gone out of your way to fit anti-bump
locks, you will almost certainly be susceptible to bumping, which takes
seconds, and limited skill. The other option which is quicker than hacking and
bumping is just to smash a window.
So the security of this lock is not a major concern for me.
This may be different for people living in Kensington though
I am sure they use more professional solutions for their security.
Dead Batteries
The actual issue this lock has is the likely hood of dead
batteries. I have not had it long enough to experience this, and the lock does
warn you when they are low. But if they die and you are out, you have to go
through an awkward process of providing backup power via a 9V battery.
Set-Up
The physical installation of this is easy being slightly
more involved than replacing the cylinder. I am terrible at DIY, and I managed
to fit everything within 30 mins.
It takes a little longer than fitting old fashioned
mechanical hardware because this lock comes with the ability to fit most door
widths and hole fittings. So you have to select the correct fixings and also
the tailbar that goes into the actuator. There are also some lugs that will
then fit into your existing holes on the door; these can be moved up and down
allowing this to fit most existing fittings.
A critical aspect of the installation is not to turn the thumb
turn when the install is complete. Me being me and not reading instructions, I
did not do this and messed around with it. Which I think caused me to have
issues getting it to work at first.
With it all set up, you can power it up via the 4 AA batteries and start the pairing process. The first part seems to be for the lock to learn the movement and requires you to press the pairing button then lift and lower the handle.
You then need to pair your fob which is done by holding the
sync button, waiting for the light and tapping it on the front of the lock. The
light on the front is not very bright, and it was a little confusing if it had
worked or not at first.
Once you have the first key set up you can set up the app, or other accessories. The app is very basic and looks quite dated, whereas the other Yale apps look a bit more modern. It is functional though, pairing it up only took a couple of minutes.
Before you use the lock, you should follow the checklist Yale provides to make sure everything works. When I did this, I found that everything did not work. The lock would lock and unlock with the thumb turn, but lifting the handle did nothing. Similarly when locked the keys did nothing. After quite a while of testing it, I reset the unit and redid everything, which led me to notice that I should have not turned the thumbscrew before completing the setup.
If something bad happens and you need to reset the lock, it is quite a convoluted processes that requires you to remove the internal hardware, detach its cable then power it up while holding the sync button.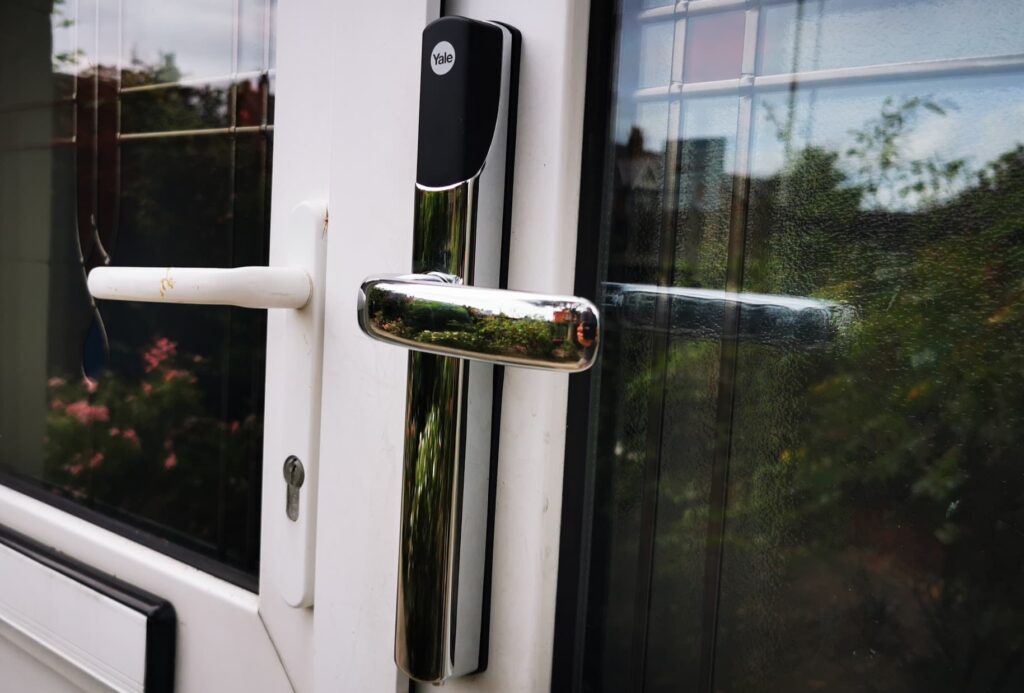 In Use
Once you have it all working the lock does work well. While
it is fantastic to be able to use my phone to unlock the door, in most
scenarios, it is less convenient than using a key fob. They do however sell
phone tags for £6.58 for a twin pack, it means you will end up with an ugly
Yale logo on the back of your phone, but this is a far more straightforward way
to do it. You also then don't have to worry about a dead battery on your phone
or deleting the app by mistake.
The Yale Conexis L1 is missing what I think of as important functionality for a smart lock. There is no remote unlock by default, you need a Yale Module 2 which then also needs a Yale Smart Home Alarm System to enable remote unlock. Alternatively, if you have a Z-Wave gateway, you can use the Z-Wave Module 2. To be fair, Nuki does this too, you have to buy the gateway separately for around £50.
Apart from remote unlocks the two different options also
allow audit trails, which could be viewed as creepy, but it is a good way to
keep track of children, cleaners and other temporary visitors.
While remote unlock is not available by default, you can send keys to people. These can either be permanent keys that always give access, or temporary keys that are restricted to a weekly schedule (day and time) with the option of setting a valid date range, too. Keys can be deactivated, so you remain in full control of your lock at all times.
Yale Conexis L1 vs Nuki Smart Lock 2.0
Yale and Nuki are two entirely different products achieving
the same function, and they both have pros and cons.
The Yale is by far the better made and better-looking product, it looks and feels premium and will suit a mansion just as well as my semidetached. However, the design is somewhat flawed as highlighted with the setup issues. There is no mechanical backup, battery failure means you have to go through an awkward process with a 9v battery. The 9v battery trick isn't the end of the world though, and you shouldn't have to do it often/ever, but the issue is what happens in the event of an actual electrical or software failure of the device? It most likely won't happen, but what if it does, and you only have one entry point? That's going to be an expensive fix.
The Nuki, on the other hand, can eliminate this issue
depending on how you set it up. If you use a thumb cylinder or a two-way
cylinder, you can fall back to a physical key. Technically, you can have a
mechanical failure too, but this is less likely and probably less expensive to
fix.
Personally, I am hoping that Yale launch a new version that
(somehow) uses a traditional style cylinder, but that can be turned
electronically, allowing you to use any option you please. Cars have done
something similar for years, so I don't imagine it is impossible to achieve.
Overall
I love the idea of the Yale Conexis L1 Smart Lock and once
set up correctly it does appear to work very well. It feels and looks like a
superb product, and I also think it is priced very well, considering what you
are getting.
Once set up properly I suspect you will have no issues with
it in the long term, and since getting it to work it has performed flawlessly.
However, for me, there will always be that niggling worry at the back of my
head of failure. As I have two entry points, this is less of an issue for me as
I can always fall back on to the door in the back garden, if I lived in a flat with
one door I think I would be too paranoid of being locked out. This is a common
issue with new technology though, people don't like to abandon tried and tested
systems, and it can take a long time for trust in more modern options to build
up.
Post from: Mighty Gadget – Gadget and Technology Blog