Announced back at CES 2020, the Yale Linus Smart Lock has only recently been made available.
This adopts a different approach to the Conexis L1 smart lock, and it addresses the concerns many users had with that. The lock retains its old-fashioned cylinder allowing you to optionally use you key when leaving or entering your property. You never have to worry about the battery dying or any other form of failure.
The Linus effectively does the same as the Nuki Smart Lock and Dana smart lock (which is the same as the Ultion Smart Lock), effectively acting as a smart key turner. I think this is a good approach to smart locks until we eventually adjust to the idea of having a full smart solution without keys.
Features
Fits on existing door hardware and cylinders
Easy installation
Retains mechanical cylinder allowing you to continue using keys
WiFi bridge offers remote functionality
Guest management allowing you to assign people keys then remove them
DoorSense technology: know when your door is closed or left ajar
24/7 activity feed
Yale app uses 2FA
Yale lock uses Bluetooth Low Energy (BLE) technology encryption, as well as AES 128 bit and TLS encryptions
You can disable the Yale access app and virtual keys at any time (if you lose your phone)
WiFi bridge allows Alexa/Google integration
Auto-lock and unlock as you come and go (auto-lock may not always be available)
Installation
My initial installation of the Linus was on externally opening French doors, which was my garage, now a gym. However, because the Linus is quite wide, it would catch on the plastic frame of the 2nd door when opening or closing. In hindsight, this was a glaringly obvious issue prior to installation, but I am sometimes a little bit dim. So the final installation is on my main front door, which is also French, but because they open inwards like normal, there is nothing for it to catch on.
Yale doesn't provide installation instructions in the box; you instead use the app and follow step by step instructions. You will first need to scan the QR code hidden inside the cap where the battery is. Written instructions or the ability to print them off would have been good, rather than having to constantly unlock my phone to check the next step, but not a major issue.
Linus Adjustable Cylinder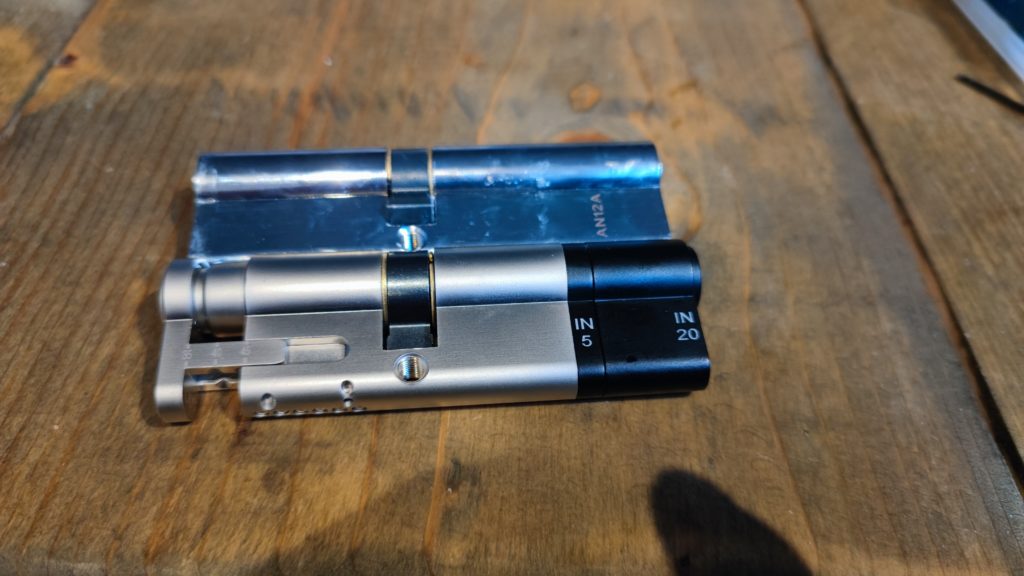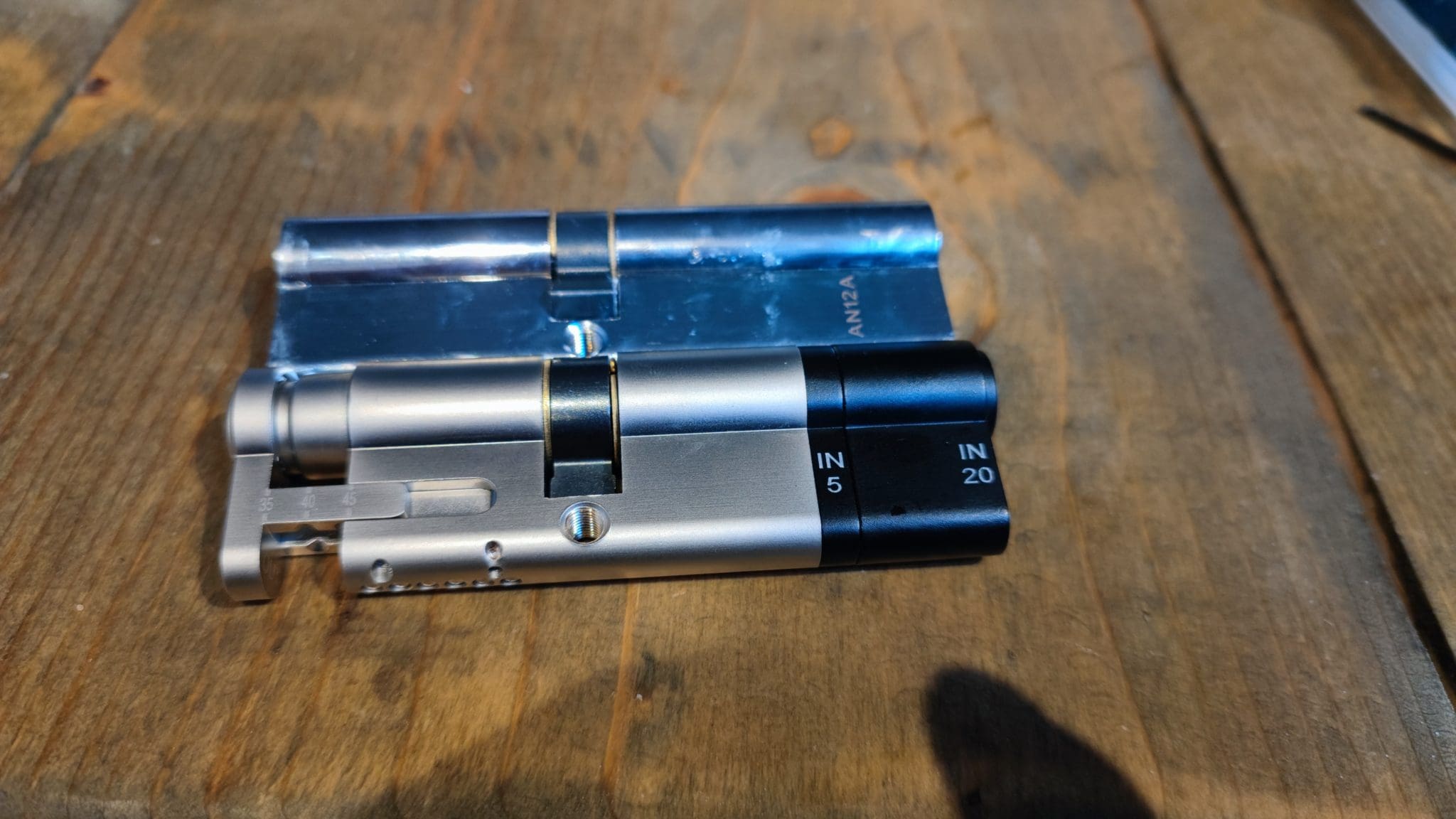 Yale also provided me with an adjustable cylinder, this isn't necessary, but due to the nature of this lock, you will either want a thumb turn lock, a cylinder that accepts keys on both sides or this.
Currently, the Linus Adjustable Cylinder is out of stock online, but it is not something I would worry about. You can buy a Yale high-security thumb turn lock for less money than the adjustable cylinder is. You just need to make sure you get the correct sized cylinder for your door.
At first, the cylinder looked intimidating difficult to install, there are quite a lot of bits to it, but it ends up being easy. The basic cylinder is short, you then have little extension bits for the inside, and outside, there are a couple of retainers where the outside extension slots into and these are held in place with some very tiny screws, so don't lose them (I lost one).
The end result is basically just a thumb turn lock with a little black pronged bit of metal that sticks out on the inside.
Installing the Linus Smart Lock – backplate
Depending on your door, the Linus may not flit flush against the frame. I suspect this will affect all UPVC doors in the UK, I can't remember seeing a door that doesn't have the handle wrap around the extruding cylinder.
This is the same issue I had with Nuki. However, the Linus uses an all-metal backplate and is designed well enough that it fits securely on top of my door handle.
The metal backplate has some 3M tape to help hold it in place, it then needs placing over the cylinder and the key placing through the hole. There are then some small screws which you can tighten and lock the backplate onto the cylinder. With these tightened, it remains quite secure sat on top of my handle.
There are a few screw holes on it too, so if it does sit flush you can easily screw it into place, and I may look into 3d printing plastic that extends the door hands down allowing me to screw it into place at the bottom.
Setting up the Linus Smart Lock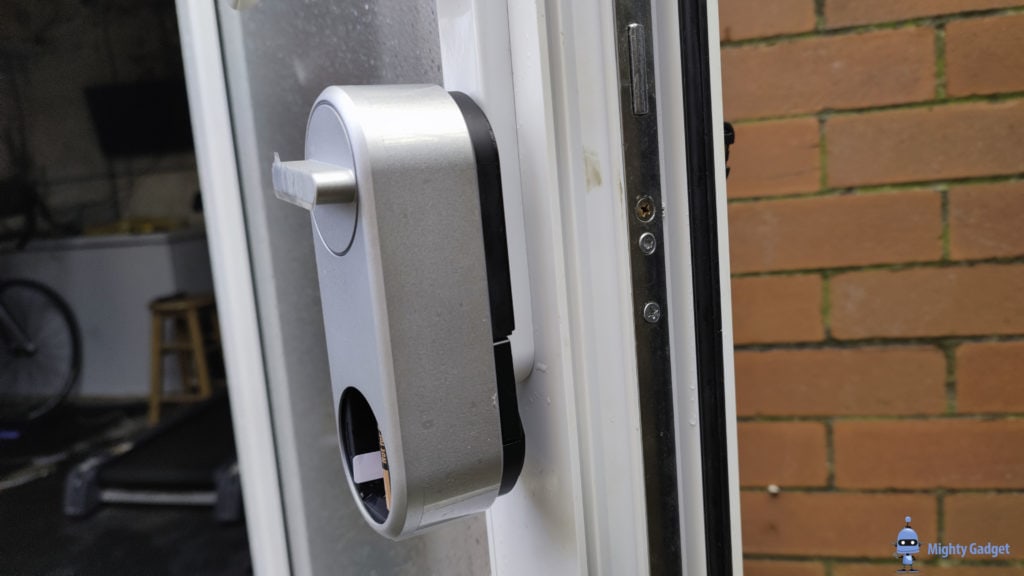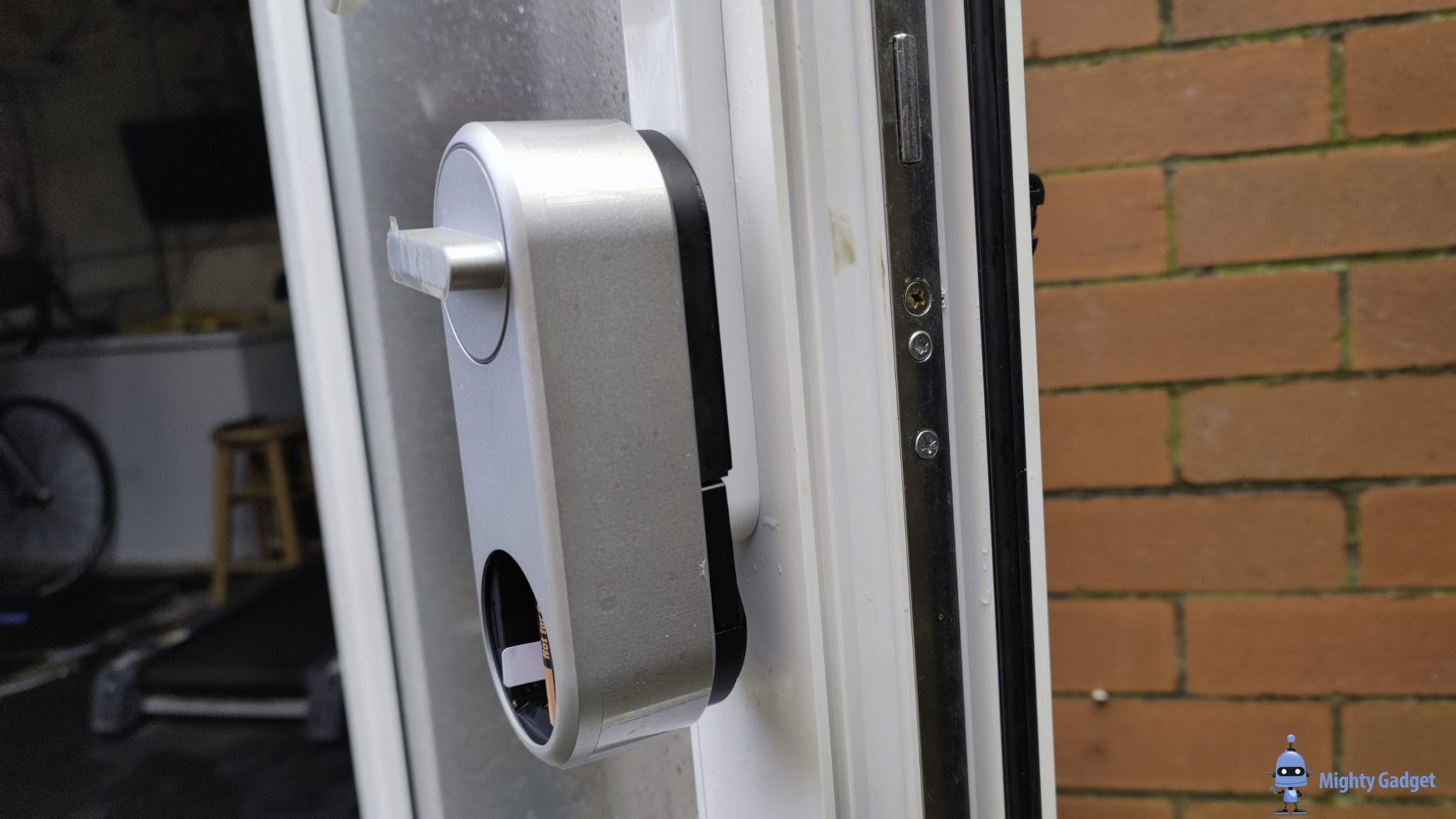 With the backplate installed, all you need to do is unclip the little wings on the Linus, fit it onto the backplate and clip them back into place.
While my initial installation may have taken half an hour or so, when I refitted it onto the front door, including adjusting the cylinder for that door, it was all done in under 15 mins. It is quite a simple lock to fit.
With the Linus physically installed, you go through the basic set up procedure. The Linus itself uses Bluetooth so not much to do with pairing it up. You then need to calibrate it, which involves setting the thumb turn to various locking and unlocked points.
You can also optionally install the door sense, by all accounts, this is just a magnet that sits in line with the Yale logo, then the lock can recognise when they are lined up.
Installing the Linus Connect Bridge and Keypad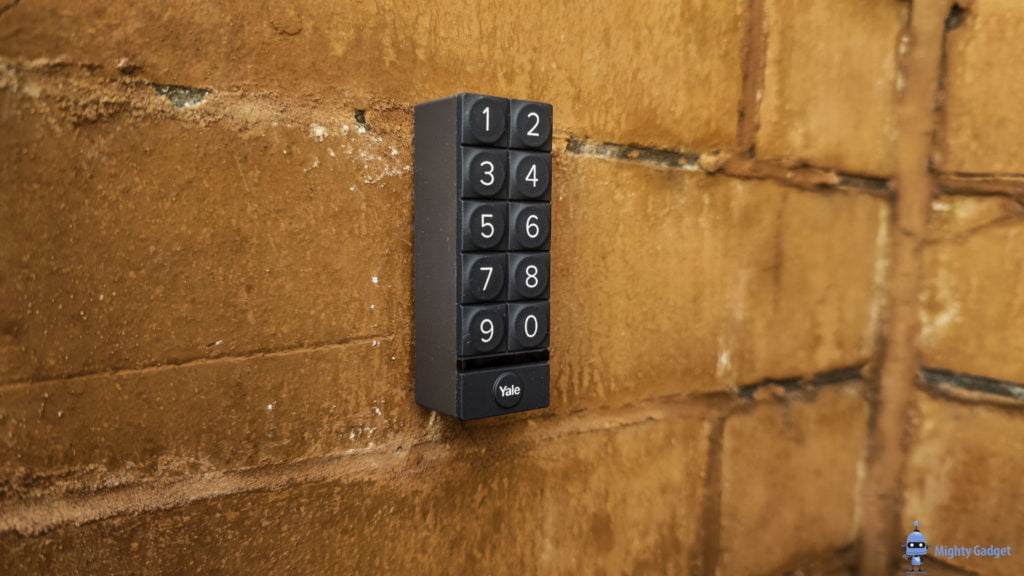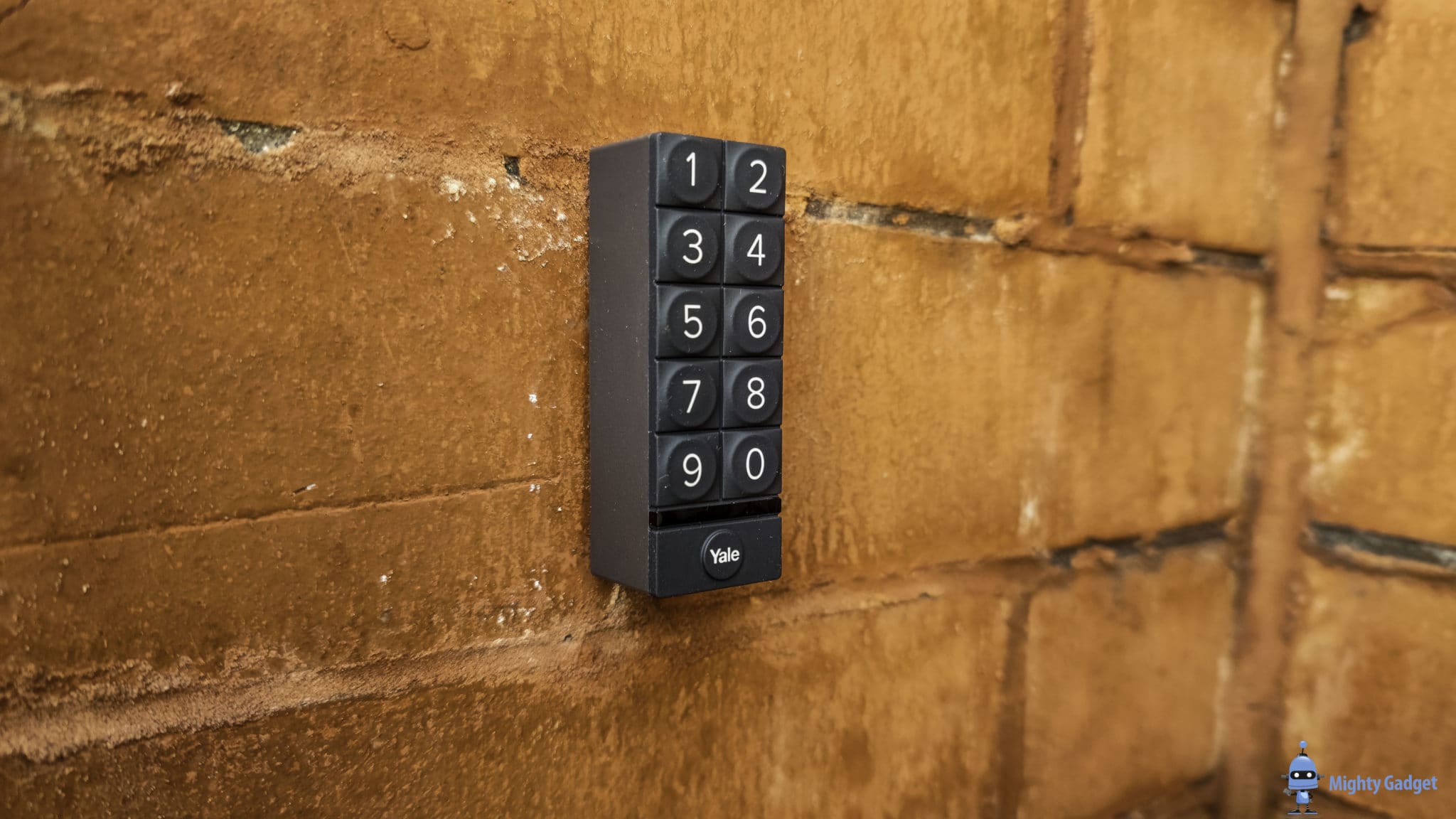 To make the most of the Linus, you will likely want the connect bridge and smart keypad.
With the lock set up, you will be asked if you want to pair a connect bridge, this then follows the usual IoT setup of passing the WiFi details over to the device.
The keypad was a little more tricky, it took me a little while to find the menu item to add it. In the top left corner is a menu button and then set up new device, as if adding a new lock. However, this can be used for any of the devices. The QR code refused to work for me, so I ended up having to manually type in the serial number. Once that was done, everything went smoothly. 
Setting up Amazon Alexa
The Linus supports Amazon Alexa, but I have not found much use for it. Setting it up requires you to login with your email and password, but the app generally uses you phone number. You do provide an email during set up, so you need to remember what email you used.
With the Yale Access skill linked up, you can enable door unlocking via voice commands, which I don't have much interest in doing. I tried to set up a routine but was informed my device is not compatible with this. So there is room for improvement here, having lights switch on or off when the door unlocks would be a useful routine.  
In Use
So far, the lock has worked exactly how I wanted it to. The only minor gripe is that due to the Bluetooth connectivity, there is a delay with locking/unlocking. In particular with the keypad, you are sometimes left waiting a few seconds wondering if you have locked/unlocked the door properly. There time it takes to do this also varies quite a bit, this seems to be an inevitable issue with Bluetooth, and I can't think of any superior solution other than using a new Bluetooth version (currently 4.2).
For phone use, each user will need their own account, and you can send invites to users, each user needs to do 2FA via SMS so the app remains secure. User can then have their own unique pin code on the keypad, and with the wireless bridge, you can have notifications set up for various scenarios. I have it for every event, but you can set it up for specific users, if the door is left ajar or if the door is locked via the one-touch keypad.
I quite like these notifications, and it avoids you having to question if you have locked the door whenever you go away somewhere. It will also have good commercial applications, either for Airbnb hosts or even office use, allowing you to know when staff enter the property.
On the inside, I find that the thumb turn lock has a pleasantly mechanical feel to it with a clunk when you have the lock engage. There is no auto turn feature; unlike Ultion, however, I prefer not to use it as you get that physical feedback knowing the lock is engaged.
When the door is unlocked/locked via app/keypad/automatically it lets off an audible beep, again providing some mental reassurance of the current lock state.
Auto-Lock and Unlock
The Linus is advertised as having an auto-lock feature, however, this is not available on my phones. I am not sure exactly why, but my best guess would be that I have lift up handles so it has automatically removed this option.
I have briefly use the auto unlock, which uses geofencing to unlock your door as you approach. It seems to work well, but I get paranoid about security so prefer knowing that I have locked/unlocked the door myself.
Price and Alternative Options
The Yale Linus is priced at £219.99, then the Connect Bridge is £69.99 and the keypad is £59.99. So for the full solution, it is about £350 + the cost of a new cylinder if you need one. Which makes it more expensive than competing options.
This includes the Yale Conexis L1, which is £199 RRP and currently £184.49. The Conexis is a complete solution with handles, so it seems odd that the Linus would be more expensive.
The Nuki Combo 2.0 is £250 RRP and currently £230.44 including a door sensor and wireless bridge so about £60 less than the Linus.
The Ultion Smart is £259 which includes all the hardware and cylinder, smart connectivity is via Z-Wave/SmartThings or HomeKit
The Danalock V3 which is the Ultion minus the hardware and cylinder is £189.55
Overall
The Yale Linus Smart Lock isn't perfect, it is physically large and not the most attractive of solutions, depending on your door and hardware it won't sit flush against the door. I think these issues should only affect UPVC doors where the hardware covers the protruding cylinder.
However, if you don't mind living with that, or don't have that issue, this is the best smart lock I have tried to date. Build quality and overall performance is considerably better than the Nuki, with the Nuki, I couldn't get that to mount reliably on the UPVC door handles at all.
While not aesthetic as the Ultion Smart Lock, I have preferred the overall smart lock performance. The Yale wireless module is generally more reliable than the Bluetooth connection with SmartThings I have on the Ultion, and I am like the notifications I can get with Yale. A minor difference, but I also prefer the thumb turn mechanism of the Yale vs Ultion.
However, it is worth noting the Linus is priced quite a bit higher than the competing brands, so I wouldn't rule Nuki or Ultion out of any purchasing decision.
This has done everything I have wanted a smart lock to do and remained reliable. I have almost exclusively used the keypad for entry and exit, it is not instantaneous, but it is often quicker than trying to root my keys out.
The main selling point is of course that you can continue to use an old-fashioned key, my partner still does this, and you don't have to worry about the smart lock somehow failing. A side benefit of this is that you also keep your external hardware, allowing you to maintain your chosen aesthetic. Keeping your hardware also makes it harder for people to recognise you are using a smart lock which may provide some additional reassurance against the almost impossible scenario of hacking (I find it easy to tell if a house is using the Connexis L1 from quite a distance).
Since reviewing this, I have left it on my front door and finally feel confident enough in a smart lock for it to be my main door lock.
Hopefully, Yale will follow the footsteps of Ultion/Dana and do a future version with a Linus integrated into UPVC door hands, much like the Conexis.
Posted by Mighty Gadget Blog: UK Technology News and Reviews