This month, Yale expanded its home surveillance product range with some new cameras.
One of the big advantages of the Yale cameras is that there is no monthly fee, unlike Ring and Arlo. You have options to record to microSD or the Yale Smart Home CCTV system. However, it is worth noting the Yale CCTV system is not ONVIF, nor are the cameras, so you need to stick to the same brand, which is similar to how Ezviz works, but other brands such as Reolink are more flexible.
The new range includes the Indoor Wi-Fi Camera – Pan & Tilt, as well as the Indoor Wi-Fi Camera – Full HD, and Front Door Wi-Fi Camera – Light & Siren. All cameras come with additional functionalities including the ability to share the cameras with family and friends, schedule loop and motion detection recordings, and group up to four cameras together.
The Yale View App itself allows you to receive motion detection notifications, and enable live viewing of your home, no matter where you are. Now, you can check in on your pets or make sure your loved ones got home safely via the touch of a button on the app.
See Also: SwitchBot Curtain Review
The brand new Indoor Wi-Fi Camera – Pan & Tilt, enables users to move the camera up, down, left and right. And with a pan of 0-355°, homeowners can monitor every corner of their room. The camera will also automatically follow any movement in the room so you'll never miss a thing!
For extra peace of mind, the smart tracking feature will activate instant alerts when moving objects are detected in important areas. For privacy, the lens can be hidden via the privacy mode on the Yale View App, leaving you in full control.
The camera has the function for app playback and recordable footage, when used with a microSD card, enabling you to review footage.
With 10m night vision the Indoor Wi-Fi Camera – Pan & Tilt is suitable for use both day and night, and the x16 digital zoom ensures you can have a clear and close-up picture via your smartphone, and the alarm will alert you to any suspicious activity.
The sleek design of this camera ensures it doesn't look out of place in any home, whether it be in the kitchen, living room or home office. It's perfect for keeping an eye on the kids and enables you to have two-way real-time conversations via the smartphone app.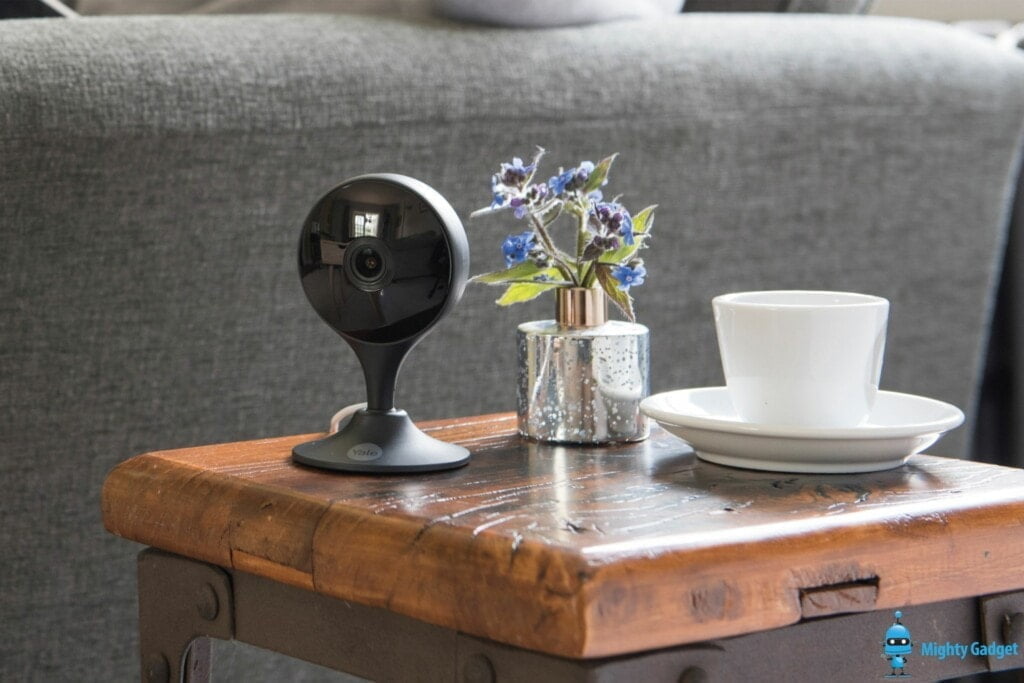 The Indoor Wi-Fi Camera – Full HD provides another way to help you to stay connected to what's happening inside your home. Like the Indoor Wi-Fi Camera – Pan & Tilt, it also has a two-way real-time conversation function and motion detection. The motion detection can be customised, so the camera monitors certain areas of your home, and the in-built alarm will alert you to any intruders.
The full HD 1080p camera is simple to set up and with a handy magnetic base, installation is simple and it's easy to move around the home. With the 10m night vision, you can always have an eye on what's happening at home day and night, even when you're not there. Like the Pan & Tilt Camera, when a MicroSD is connected, the camera provides app playback and recordable footage, so you never have to miss a moment.
Front Door Wi-Fi Camera – Light & Siren helps you to keep track of anyone coming and going throughout the day. The smart camera features motion detection and real-time conversation functionalities so you can tell the postman to leave your package at the door or leave it with a neighbour, while the built-in light and siren create an active deterrent for unwanted visitors at your doorstep.
The weatherproof functionality and 10m night vision enable the Front Door Wi-Fi Camera to be used both indoors and outdoors.
In addition to intuitive user experience and easy installation, all cameras from the new Yale Smart WiFi Camera Range can be integrated with leading voice assistants such as the Google Assistant and Alexa and can be viewed on your favourite screen enabled smart speaker, making busy modern life that bit easier.
Posted by Mighty Gadget Blog: UK Technology News and Reviews
Thanks for reading, check out Mighty Gadget Blog: UK Technology News and Reviews for more Tech news!