I have reviewed quite a bit of the Zyxel Nebula ecosystem now, including some of the older WiFI 5 access points and the flagship Zyxel WAX650S WiFi 6 access point, which will set you back over £600.
I have had my eye on the Zyxel NWA210AX for a while now, it seems to be the sweet spot in the Zyxel range. It is only £50 more than the most affordable Zyxel NWA110AX but with 4×4 MIMO, 2.5GbE and up to 160Mhz bandwidth.
My most recent reviews have been the UniFi 6 Lite and the UniFi 6 Long-Range, and I feel that the Zyxel system offers the best alternative to Ubiquiti UniFi. Therefore I have compared them quite a bit in this post. There are also superb solutions from the likes of Netgear Insight, Engenius Cloud, and TP-Link Omada.
Specification
Dual-radio (dual 4×4 + 2×2) 802.11ax (WiFi 6) AP provides maximum data rate of 2975 Mbps.
Bandwidth – up to 160Mhz
One (1) 2.5GbE RJ45 port and one (1) 1GbE RJ45 port.
Supports IEEE 802.3at PoE+ standard.
OFDMA is arguably the best innovation of WiFi, delivering the highest performance and low latency for all scenarios.
NebulaFlex allows users to switch between standalone or intuitive Nebula cloud-managed modes as needed.
Advanced Cellular Coexistence minimises interferences from 4G/5G cellular networks.
The latest WPA3 security protocol provides safer connectivity.
The powerful hardware provides 6x Surge protection and 2x ESD protection.
Zyxel NebulaFlex vs NebulaFlex Pro – What is different that makes the Pro so expensive?
The NebulaFlex Pro models seem disproportionately expensive compared to the standard NebulaFlex. There are important differences, but I suspect the one justification for the price is that Zyxel knows the Pro models will be specifically used in larger businesses. 
The biggest difference is that all the NebulaFlex Pro have three workings modes, cloud-managed, standalone or via an on-premises controller.
Then the antenna design also offers variable mounting options; the lower down models have options for wall or ceiling, which you manually switch, whereas the  Zyxel WAX650S has a smart antenna.
Then the NebulaFlex Pro devices receive a 1 year Nebula License for free,
The on-premises controller and antenna optimisation will be both very important for a larger business, but I think most smaller business will prefer the lower cost of the standard NebulaFlex even if the mounting options are less flexible/optimised.
Zyxel NWA210AX vs NWA110AX  vs Unifi 6 LR vs Unifi 6 Lite Specifications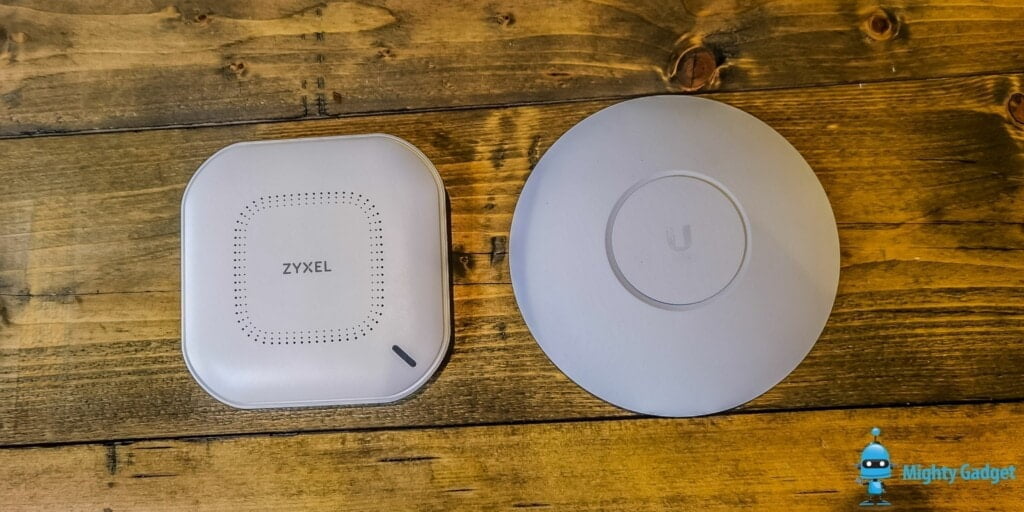 The Zyxel APs lack an IP rating, but Zyxel sells a weatherproof enclosure certified to IPX5. Personally, I am not sure I'd trust my expensive AP in any exposed position, and I know a few people on Reddit have moaned about the IP rated Unifi gear getting water damaged.
Set-Up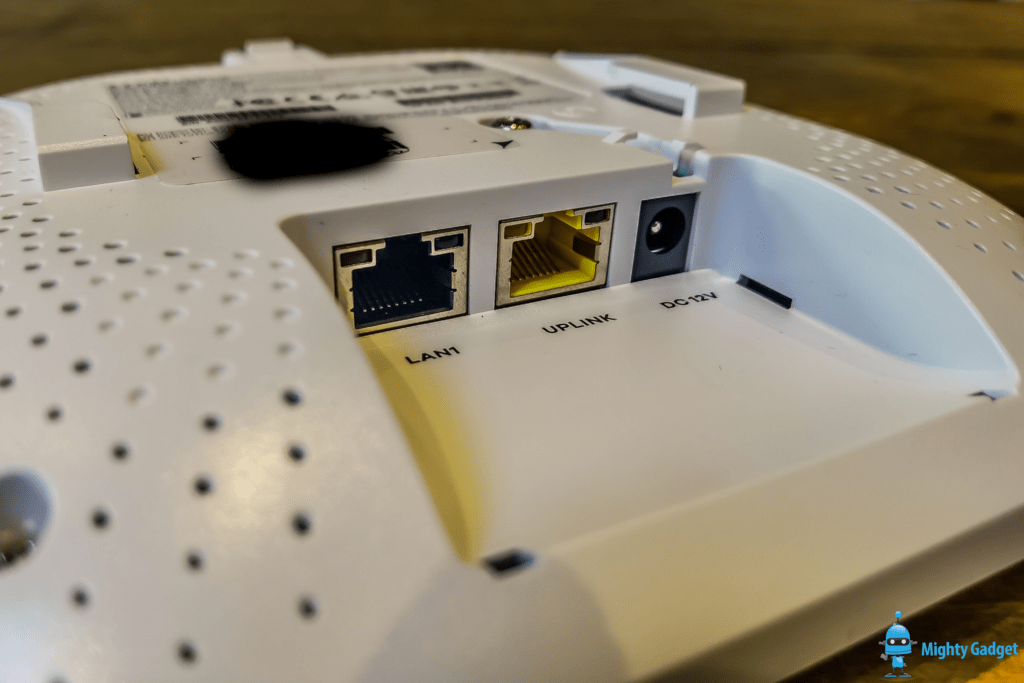 I already use Zyxel Nebula, so I had an account with the app installed, so for me, installation took minutes, if not seconds. With the app you just need to scan in the QR code and this will register within the system. From there you can customise it how you want.
I don't normally mention the physical installation; I am rubbish at DIY and certainly not experienced with access point installation. I found this much easier than the  Unifi 6 LR, even though the Unifi came with a much more impressive-looking installation pack.
The mounting plate is plastic for this vs metal on the Unifi, so arguably not as good build quality. However, it was incredibly easy to slide the AP onto or get off the mounting mechanism. I had a bit of a nightmare with the Unifi. This probably won't be a huge issue for most people, especially when you mount something once and never touch it again, but me swapping things in and out a lot, it made a big difference.
Zyxel Nebula Cloud Management vs Unifi Cloud Controller
I won't go into Zyxel Nebula too much, I have covered it before. The system is superb, with the vast majority of its functionality available free of charge. Some bits are walled off under subscription, but I think most home users and small companies can live without it. I have never experienced any downtime since using this system, and it simplifies the setup process and reduces the initial cost vs Unifi.
The Zyxel NWA210AX can be used standalone via its web interface, so you are not locked into the cloud system, but it seems like a waste to spend £200 on an AP then manage everything manually via a local browser connection.
If you already have a server, you can set up the Unifi controller in docker. This is what I did, but it is more work and more prone to breaking (certainly on my server). The cloud key provides a simpler solution, but the Unifi Cloud Key Gen2 costs in excess of £150.
To be clear, I like both systems; I am not saying one is better than the other, but Zyxel definitely has a tempting proposition with its free cloud system. 
Performance
160Mhz peak speeds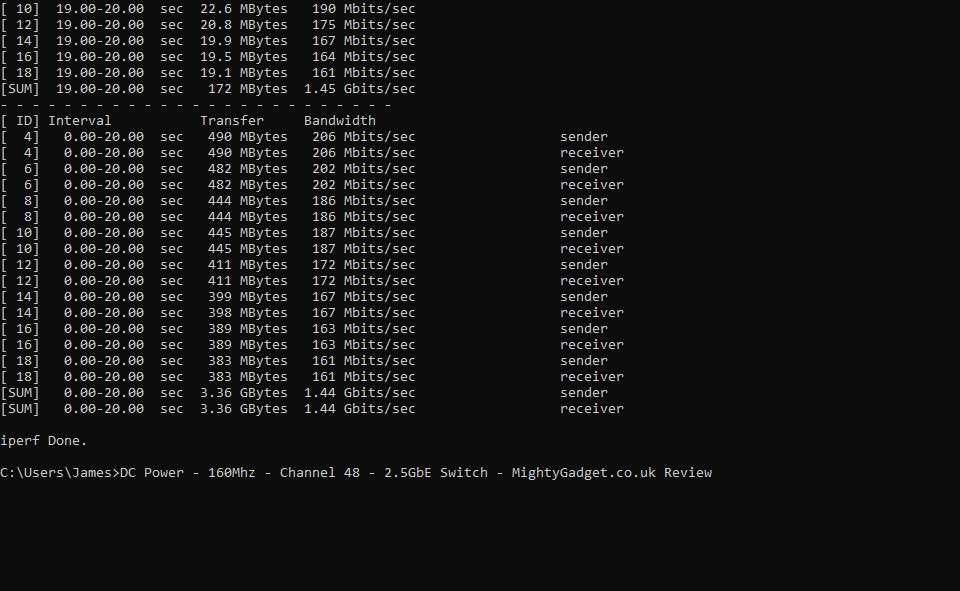 As I don't have a fancy 2.5GbE POE switch, I had to jump through a few hoops to get this working at faster than gigabit. The obvious solution was to use DC power then the Zyxel XGS1210-12 2.5GbE switch, however, I had issues with the AP losing power. I wasn't using the official power adaptor so this was likely the cause, but it met the required output spec.
So the second option was a POE injector, the Engenius one I have didn't work at full speed, only registering gigabit, but the random no-name one I have does work.
With iPerf connecting via short-range, I was able to achieve speeds of 1.5Gbits/sec, which is the fastest speed I have achieved on any device, outperforming the Netgear RAX120 WiFi 6 router.This is also 62% greater than the 921Mbits/sec the U6-LR managed.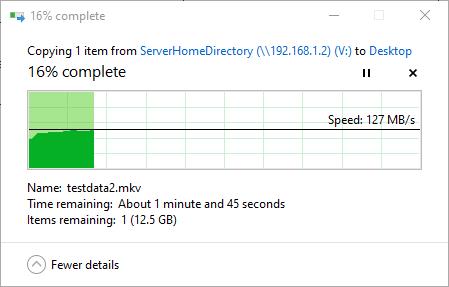 Large file transfer speeds were not quite as impressive, with speeds sitting steady at 120-125MB/s but this is still a 10%+ improvement over the U6-LR.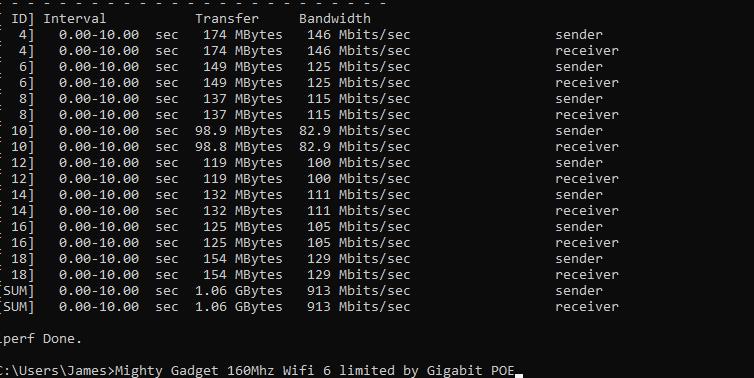 Switching this over to a gigabit POE switch but keeping 160Mhz achieved 915 Mbits/sec, which is fractionally less than the U6-LR. File transfers were basically identical, with both access points able to fully saturate the gigabit Ethernet.
Running multiples access points using 160Mhz will likely cause issues, but in my case, I run a single AP in the centre of my house in this mode, with the others running at 80Mhz.
80Mhz peak speeds
Switching the AP to 80Mhz bandwidth again achieves fractionally higher results than the U6-LR, with 882 Mbits/sec. This result is also superior to the UniFi 6 Lite, and Netgear WAX610, both of which are lower specced access points.
With this mode, large file transfer speeds sit at just under 100MB/s
WiFi 5 80Mhz & 160Mhz
With WiFi 5 at 160Mhz, you can connect at up to 1700Mbps vs 2400Mbps on WiFi 6, and the iPerf results were much closer, with speeds sitting just before 900Mbits/sec
WiFi 5 @ 80Mhz achieved speeds on the higher end of what to expect with 680 Mbits/sec.
2.4Ghz
I avoid 2.4Ghz like the plague, restricting it to IoT devices only, so the performance of this has never bothered me. Windows reports a lower connection rate than the U6-LR at 287Mbps but performance within iperf was considerably better at 141 Mbits/sec vs 100 Mbits/sec.
Range
Range is superb, in fact, most APs that I have reviewed in my house have all offered excellent range performance.
In my office, upstairs in the middle of the house, this easily covers the property with usable WIFI speeds.
Then, my garage, now a gym, sits across the back garden, this position has always been extremely difficult to get a WiFi signal. Stood in the open door, I was able to achieve an impressive 100Mbps+ via Speedtest.net and using OpensSeedTest on my internal network. Moving inside the garage drops off down to sub 20Mbps. This is better than what I achieved with the two Unifi APs, but it is close enough that I wouldn't factor it into my buying decision too much.
Price and Alternatives
The Zyxel NWA210AX is available on Amazon typically for under £205
The Unifi 6 LR is quite a bit cheaper at €180.29 or £156, and it looks like they have stock currently.
There are no other affordable access points that can do 160MHz. However, quite a few have 4×4 radios with 2.5GbE, which should be able to handle high-density environments such as offices. This includes options from Netgear and Engenius.
Zyxel NWA210AX WiFi 6 Access Point Review Summary
I love the Zyxel NWA210AX WiFi 6 access point, and I think it is the best high-performance access point option on the market for home users, SOHO & SMB. In fact, it is the only reasonably priced AP that can go beyond gigabit.
There are several caveats to this, though. To make the most out of it, you will ideally want to multi-gig POE switch. Currently, these are very expensive.
While I think this is better than the excellent Unifi 6 LR due to the superior speeds provided by 160Mhz, Zyxel can't quite compete with the Unifi WiFi 6 Lite, yet. Ignoring the ongoing supply issues of the U6-Lite, it is a good £50 cheaper than the most affordable NWA110AX WiFi 6 access point Zyxel have. Businesses may not be too fussed about this price difference, but home or SOHO users may find the price a little high.
For gigabit POE, you can pick up an Unifi US-8-60W for under £100, whereas the cheapest Zyxel GS1920-8HPv2 is £187. It's a different power spec, but people looking for an affordable solution to drive access points will likely favour Ubiquiti.
However, there is no denying that the Zyxel NWA210AX is fantastic and the best performing access point I have reviewed recently.
Zyxel NWA210AX WiFi 6 Access Point Review
Overall
Posted by Mighty Gadget Blog: UK Technology News and Reviews
Thanks for reading, check out Mighty Gadget Blog: UK Technology News and Reviews for more Tech news!